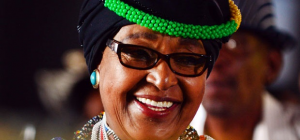 There is a saying in South Africa which goes "If you strike a woman, you strike a rock."  Winnie Madikizela Mandela was a rock.  She proved to be tougher than a rock and over time has cemented her title as 'Mother of the Nation of South Africa'.
Why is this an important fact?  South Africa was under the political and social system known as apartheid, where citizens of indigenous African descent were subjected to a harsh and cruel caste system, while European white descendants enjoyed much higher levels of wealth, health and social freedom.
Winnie Mandela had completed her studies as a medical social worker and had won a scholarship to study in America.  But when she witnessed the deplorable conditions that many of her patients lived in, she humbly declined the offer and decided to stay in South Africa to work as the first black medical social worker at Ba-rag-wa-nath Hospital in Johannesburg. She never lost her humility and it enabled her to achieve success in her many trials and challenges.
In 1958 she married attorney Nelson Mandela, who was the leader of the African National Congress (ANC), an organization with the goal of ending South Africa's apartheid system of racial segregation, and she moved into Mandela's home in Soweto. During the early days of their marriage, her husband was routinely arrested and was eventually sentenced in 1964 to life imprisonment, leaving Winnie to raise their two small daughters, Zanani and Zindzi, on her own.
Nonetheless, her courage soared to great heights, as she vowed to continue working with integrity to end apartheid even though she knew it would prove to be extremely difficult. She never changed her core values in pursuit of this objective.
Winnie Mandela was constantly monitored by the Government, was arrested under the Suppression of Terrorism Act and spent more than one year in solitary confinement, where she was tortured.  She was so passionate and believed that her cause was just, that upon her release she continued her activism and was jailed several more times.  She had courage beyond measure.
Following the Soweto uprisings in 1976 in which hundreds of students were killed, she continued to be supportive of the students and their anti-apartheid struggles and was forced by the Government to relocate to the border town of Brandfort where she was placed under house arrest. She described the experience as alienating and heart-wrenching, yet she refused to give up the fight. Such was her confidence that she continued to speak out and continued to criticize the Government and its apartheid system.
She was a fearless warrior, and in a 1981 BBC programme she discussed South Africa's economic power and might and confidently spoke about the ability of black South Africans to overturn the apartheid system.
That's how honest Winnie Madikizela Mandela was — she told it like it was, knowing fully well that the white Government was listening and could abuse her for not saying what they wanted to hear. It is said that she had little tolerance for telling people only what they wanted to hear.
In 1985, after her home was firebombed, Winnie returned to Soweto and continued to criticize the regime in her own truthful way, and regardless of what anyone may say about her, one thing remains irrefutable — that she was a selfless leader who lived her life for her people.
She may have made tough decisions that to some may appear harsh, if not ill-advised, but unless one understands the context of the struggle she dedicated her life to overcome, it is best to put all judgement aside.
Her prophesy did come to pass and she lived to see the irreparable cracks appear in the Apartheid system, brought about by the might of the indigenous black South Africans and other freedom fighters, as South Africa's first multi-racial elections in which full enfranchisement was granted, were held on April 27, 1994. The ANC won 62% of the votes in the election, and Nelson Mandela, as leader of the ANC, was inaugurated on May 10, 1994 as the country's first black President.
Winnie Madikizela Mandela died at the Netcare Milpark Hospital in Johannesburg on April 2nd, 2018 at the age of 81.
We of the Universal Negro Improvement Association-African Communities League, Jamaica are pleased to honour the memory and life of this great lady through this tribute and we are thankful that she was sent as a gift and role-model to the black people of South Africa and to all black peoples in the rest of Africa and the Diaspora, to teach us that we too can emulate the many leadership traits she possessed that enabled her to achieve so much success in her life, despite the many challenges.
May her soul rest in peace, and light perpetually shine upon her.