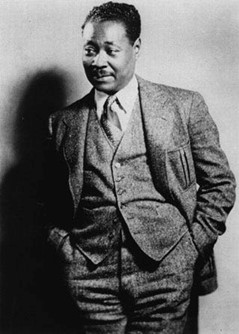 If we must die, let it not be like hogs
Hunted and penned in an inglorious spot,
While round us bark the mad and hungry dogs,
Making their mock at our accursèd lot.
If we must die, O let us nobly die,
So that our precious blood may not be shed
In vain; then even the monsters we defy
Shall be constrained to honor us though dead!
O kinsmen! we must meet the common foe!
Though far outnumbered let us show us brave,
And for their thousand blows deal one death-blow!
What though before us lies the open grave?
Like men we'll face the murderous, cowardly pack,
Pressed to the wall, dying, but fighting back!
— Claude McKay
When I attended primary and secondary schools in Jamaica the above poem, If We Must Die, and the name of its author would arise in conversations occasionally. It was touted as a great poem, recognized for its literary genius. It was asserted that the late Winston Churchill had read and used it in one of his famous speeches, though such an assertion turned out to be a dubious one. What was certain, however, was that it was extolled for its innate creative expression and for its emotive power, that it won international acclaim, engendering Black racial pride in America, and national pride because the poet was, himself, a proud Jamaican. We are not short of role models; we just need to rediscover them and get to know them.
Every time that I heard those well-crafted words performed energetically and with an air of defiance, or whenever I had the opportunity to read them to myself, out loud, or to family and friends, intoxicated by my unfulfilled dreams of becoming an iconic thespian, an avatar of English Literature, dressed in fine, elaborate costumes before enthralled and adoring audiences with boisterous shouts of "Encore! Encore! Encore!" — "Mi head would ah swell big, big, big", as we would say in Jamaican parlance, connoting my own sense of racial and Jamaican national pride. But what was the poem all about? Why was it written? In fact, who was Claude McKay?
Having just completed reading Claude McKay's autobiography, A Long Way From Home, a fascinating document which I greedily consumed along with sporadic research "on the side", done in order to compare and contrast, and to contest or confirm what he had said of himself with what others had said of him through more "objective" biographical lenses than his own, I was overcome by his life experiences, from his humble beginnings in Clarendon, Jamaica, when he was born on September 15, 1890 to his later sojourn in the rest of the world until the time of his passing on May 22, 1948. Many basked in his intellectual luminescence and were moved by his creative prowess. What a mind! What a memory! The great Afro-American novelist, poet, playwright, essayist and Civil Rights activist, James Baldwin, for example, who found himself downstream from the Harlem Renaissance, which spanned the 1920s and the 1930s, which McKay was a part of, suckled at the paps of his writings which oozed creative inspiration and Black pride.
If We Must Die, was penned in 1919, during a time of great industrial and racial conflict which occurred within the United States when he, while working as a waiter, among fellow Black men, on passenger trains, feared for his life. Some of his co-workers armed themselves and huddled together during downtimes between working on trains, against the specter of racial violence and white-on-Black lynchings. As I read the context that he provided for the poem and of its gradual acceptance by the Afro-American community, and even by some in white society, I soon realized that the historical forces which gave rise to them are still at work today as they were in early 20th century America. There are, for instance, statistics which reveal how Black Americans have been arming themselves at alarming rates against the dark, ominous clouds of violent white nationalistic racism which is now the scourge of the land in the age of populist "Trumpism". America has grown for the better in many ways since 1919, but it, clearly, has quite a way to go in terms of arriving at a "more perfect union".
In the past, the poem first came to mind, to one such as me, one who is not among the literati or the coterie of English Literature, whenever McKay's name was mentioned. It marked him as a poet extraordinaire. In fact, he saw himself, more than anything else, as a poet. But If We Must Die proved only to be the tip of the proverbial iceberg in respect to his acute social consciousness and his concomitant political activism, albeit, not of the kind which matched the grandeur, scope and appeal of Garvey's.
Nonetheless, McKay's contribution was just as fundamental to Afro-American intellectual, cultural and political life, and some might argue, that was even more so than Marcus Garvey's. McKay's activism began after he met and was influenced by Dr. W.E.B Du Bois.
McKay was a contemporary of Garvey and arrived in the United States in 1912, before Garvey did in 1916. His essays, as well as his poems and his novels, challenged the threadbare racist ideas about Black people in the United States that were being bandied about at the time, and also the disrespect that was shown to the history of Africa and of her diaspora, a struggle which continues today. He occasionally wrote articles for Garvey's publication. His writings, therefore, are still relevant in the year 2023, especially in light of the push being made by some in white racist America today to denigrate, misrepresent and completely dismiss Afro-American History as it is being taught in the American educational system.
McKay's polemic against British literary icon H.G. Wells, for example, as he recounted in his autobiography, is consistent with the angst and the criticisms that have been levied against the governor of the State of Florida and against his political surrogates around the country who stoutly and brazenly oppose the teaching of Black History, which has been derisively and misleadingly recasted as "woke", a term with a murky definition. In chapter 11 of his autobiography, McKay wrote, in response to history written by Wells, a person he actually met, as follows:
"If it is worth recording, I may say here that I took a violent prejudice again [sic] Mr. Wells's History. I felt something flippant in the style and I did not like Mr. Wells's attitude toward coloured people in general and Africa and Negroes in particular. In the League of Free Nations book he put out in 1918 he said: 'Africa is the source upon which our modern comforts and conveniences depend….The most obvious danger of Africa is the militarization of the black….The Negro makes a good soldier, he is hardy, he stands the sea and he stands the cold….' I suppose the average white reader will exclaim: 'And what's wrong with that? It is wise and sane and humanitarian.' But he should remember that I am Negro and think that the greatest danger of Africa is not the militarization of the black, but the ruthless exploitation of the African by the European. There is also something to be said in favour of native comforts and conveniences.
Before the arrival of the European with gunpowder the African was accustomed to protecting his rights with arrow and spear. Now, against modern civilization, he must needs learn the use of modern methods and weapons. The liberal apologists of the European grip on Africa may be very unctuous [sic] and sentimental about native rights. But the conditions indicate that if the natives must survive, they must themselves learn and practice the art of self-protection. Mr. Wells always seems to be shouting about his unusually scientific mind. Yet I must confess that I was shocked by the plan of his large tome outlining world history. Because it appears there as if Africa and Africans have not been of enormous importance to world history. Mr. Wells mentions Africa in his language-formation section and leaves Africa there as if nothing more developed. One learns more of Africa from earlier historians than Mr. Wells, who did not know science."
Having laid the groundwork for his assault, McKay then took the famed H.G. Wells to school. He went on, in his acerbic criticism of H.G. Wells, by saying,
"Herodotus gives us some remarkable information that he acquired by travelling 400 years before Jesus Christ. And Ptolemy, the Egyptian geographer, has rendered a remarkable description of Central Africa in the second century after Christ, although I learned as a school boy that it was discovered by David Livingstone. And as late as the 15th century, in the high tide of the European renaissance, Leo the African adventured below the Sahara to give the world historical facts about the Negro nations. Mr. Wells gives a large outline of the nations of Europe and a not-so-large one of the nations of Asia. He makes no mention of the great Negro nations of Western Africa and Western Sudan before and after the Moslem invasion; of the Negroid nations of Songhoy and Ghana, Fezzan and Timbuctu, Yoruba and Benin, Ashanti and Dahomey, which were arrested in their growth and finally annihilated by the slave traffic and European imperialism, nor of the Senegalese who played a dominant part in the history of Morocco and the conquest of Spain."
Claude McKay was not just exposed to formal academic studies, but he learned, and he wrote from lessons that were derived from living among and labouring with workers in America and Europe. He was well travelled, spending considerable time outside of America in Britain, in The Soviet Union — where he was feted by the political and cultural elites, by ordinary men and women in the street, and by the Russian armed forces — and in other parts of Europe and North Africa. He interacted with many famous people, for example George Bernard Shaw, Leon Trotsky, Paul Robeson, Charlie Chaplin, W.E.B. Du Bois, Ernest Hemingway, George Washington Carver and Professor Alain Locke who was a key figure in the Harlem Renaissance.
He was a cultural giant, so much so that the Order of Jamaica was conferred upon him, posthumously.
Claude McKay personified the spirit behind his poem, If We Must Die, though he was a flawed individual, and he came to eschew all forms of totalitarianism. Many in our current Congress and among the electorate seem to be enthralled with oligarchy from afar, but McKay provides a more sober and credible testimony, based on what he had seen in the world, first-hand and up close. On this subject he recorded the following words in his autobiography:
"Wherever I travelled in Europe and Africa I was impressed by the phenomenon of the emphasis on group life, whether the idea behind it was Communist co-operative or Fascist collective or regional autonomy. I have lived under a Communist dictatorship in Russia, two Fascist dictatorships in Europe, and the French colonial dictatorship in Morocco. I don't like dictatorship."
Who was Claude McKay? He was more than a Jamaican. He was more than a Black man. He was more than a poet. He was more than a naturalized American. He was and he continues to be among the best of us. We are not short of role models; we just need to rediscover them and get to know them.