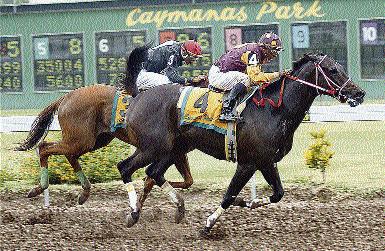 Happy New Year to all those who dressed up to go downstairs and bring in the New Year at home…
2021 went out with a bang at Caymanas Park as Anthony "Baba" Nunes showed the mettle only real champions possess and produced the type of back to the wall effort of which his father, former champion Nigel Nunes, would be proud.
Entering the last two race days almost $2 million behind, he not only won both big purse racers on offer but saddled six winners over the two days to dispose of the challenge from young Jason DaCosta and secure his third consecutive championship.
So congratulations to the Champ. Not only did he show true grit on the track but also panache, eloquence and class off it as his post final race day tribute to his closest rival was not only generous but clearly heartfelt.
The obvious question now is what's new for 2022? Let's begin with our annual selection of five horses to follow during the year. At the start of 2021 nominees to follow were Bern Notice; Double Crown; Father Patrick; Nuclear Noon; and Katalina. They produced 14 wins among them (each at least one) and a significant level stakes profit. Father Patrick ended the year as Jamaica's leading sprinter.
So, to what can we look forward in 2022?
Excessive Force [5 ch.c Broken Vow-Revered Kiss (Smart Strike)] like Father Patrick last year, another 5yo unusually finds itself into a list like this usually dominated by lightly-raced unexposed sorts. But this classy imported colt, although quirky and not the most consistent, has shown enough to establish that, on a going day, he can win races in better company than Overnight Allowance where he currently runs. He has only 19 career races so should have much more in the tank, especially if connections give in and order a gelding operation. He seems best at around 1,600m and goes well for Linton Steadman.
A.C.K. Stables (Philip Feanny)
Jordon Reign's [4 b.g. Mosler-Dearie Be Good (Scrinshaw)] has shown unlimited potential in only three starts winning his first two in facile fashion before showing progress despite narrowly failing to catch the more experienced winner after dueling throughout and running green (swerved under pressure) in upper stretch before rallying again inside the final 100m. He's yet to race beyond 1,100m and is bred on both sides to sprint (his sire won the six furlongs Laurel Dash) but he shapes like he might relish beyond 1,200m. Wherever he goes, he's one to follow.
Roam (Ian Parsard)
Power Ranking [3yo b.c. Casual Trick-Escandalosa (Chapter One)] is the sort to progress markedly as a three-year-old and is with the perfect patient trainer to ensure this. A big, scopey type he made a winning debut over what, on pedigree, was a woefully inadequate 900m. Treated with Lasix next time over 1,200m, he was unfortunately taken wide at the turn but stayed on very well in the final 200m just failing to catch subsequent Jamaica two-year-old Stakes winner Golden Wattle by three-quarters of a length. His inexperience showed nine days later in the big race itself (blinkers removed) when he disputed a hot pace before weakening long before stamina became an issue.
He's a half-brother to Omeya (by Milt's Overture) who won a 12 furlongs Stakes race at Keeneland. His dam, a smart Florida sprinter, won 5 of 13 career starts including on a sloppy surface. There's plenty stamina influence from his sire who is by Preakness/Travers winner Bernadini out of Oaks Winner Casual Look. This is a real 2022 Derby prospect!
Richard and Milade Azan (Richard Azan)
She's My Destiny [3yo ch.f. Bern Identity-Woman is Boss (Traditional) ] has managed only four starts but won three of them the latest in very impressive fashion coming off a six-months absence. She dismissed a competitive field of non-winners of three in the manner of a high-class filly slumming in restricted allowances and destined for much better things. By year end she could well capture Father Patrick's throne. In the meantime, she should provide backers with repeated success.
Everton A. Rose/Akim T. Mahadiow (Jason A. DaCosta)
Slam [3yo b.c. Sensational Slam-Bedroom Chatter (Super Saver)] was given a gentle introduction to racing on December 12 over 800m but, although running green for a long way, finished with purpose (not knocked about) to end up four lengths 2nd to impressive all the way winner Power of Faith. His sire was a Stakes winning sprinter in New York while his dam is stoutly bred being by Kentucky Derby winner Super Saver. He should improve markedly for his debut run and continue to progress and win races in 2022.
A.C.K. Stables (Philip Feanny)
P.S. After this column was submitted I received the very sad news of the passing of Jimmy Moss-Solomon. Much has been said of his contribution to business but it was his selfless contribution of expertise to public service that impressed me and the fact he was lead columnist for this publication that enticed an idle Tout to join the team. His calm input to national discourse was acutely patriotic but never tribal. R.I.P. Jimmy. You will be missed.
DEPARTMENTS:
Clocked-In
Abbreviations: CT = "Corrected Time"; TV = "Track Variant" (a calculation of track conditions' effect on official times to arrive at "real/corrected" times); TVs are expressed in fifths of a second; "minus" (-) means a fast track; "plus" (+) a slow track (e.g -2 is fast by 2/5th second). Variants beside horse's names represent the difference between its official time and the grade standard.
JANUARY 1, 2022 [TV-0.2 per 200m (Round) +4 (straight)]
Race 10 (Native Bred 4yonw2/Imported 4yo maidens; 1300m; TV-1) could be a KEY RACE.
Sweet Majesty (-9) progressed again on her third race without cheek pieces and stormed clear by seven lengths in 1:19.2! Her CT (1:19.3) is only 3/5th second slower than Overnight Allowance standard so, bearing in mind she was 5th in the 2021 Oaks, she clearly has more races to win.
Baton Rouge (-2),latelyconsistent, was 2nd with a CT of 1:21.0 which is 1 2/5th second faster than the grade. Compensation waits.
Prince Marshall (-1), 3rd, is a lightly-raced 4yo with plenty in the tank. He was running his second race after six months absence and 6th lifetime. A CT of 1:21.1 ensures he has at least one of these to win.
Rising Saint (+0.5) looked a picture beforehand; ran accordingly; and produced a CT of 1:21.2' – more than a second faster than 4yonw2 standard.
Overseas Betting Opportunities (OBOs)
As a new year dawns, OBOs also look ahead to outstanding ante-post betting options the most intriguing of which, at this time of year, are always Golf's Majors. It's the time when golf bettors' minds turn to dreaming the impossible dream of profiting from a "Round-the-Clock" in the Majors.
Augusta is always the most predictable Major venue as the Masters, scheduled for April 7, is played there every year. The course is said to favour long hitters and great putters but the reality of it is it's a second shot course where the best iron players usually succeed. The world's best iron player today is Justin Thomas, so he and Brooks Koepka are my two against the field. Koepka has been injured but is coming back to his best and is going to be very hard to beat in all of the 2022 Majors.
The US PGA Championship is up next (May 19; Southern Hills, Tulsa, Oklahoma) with memories of 51 years old Phil Mickelson winning last year at Kiawah Island, South Carolina still fresh. I don't expect any such shock this year as brilliant young golfer Collin Morikawa, with two Majors already under his belt, has a glorious chance to win number three. His college rival Matthew Wolff, who has had temperament trouble but seems back on track, is a big danger.
The US Open will begin on June 16 at Brookline Club in Massachusetts where then unknown amateur Francis Ouimet won the 1913 US Open (inspiring plenty including the 2005 Disney movie The Greatest Game Ever Played) and young English bulldog Matthew Fitzpatrick won a US amateur championship in 2013. Fitzpatrick has long been on my shortlist as a potential Major Champion and this is his best chance.
Finally, The Open (known in USA as the British Open) returns to the home of golf, namely the Old Course at St Andrews, on July 14. I'm expecting smooth, stylish South African Louis Oosthuizen (pronounced "Wisthazen" except by American commentators) who has come so close so often to return to the winners' enclosure at a course where he romped his only Major. Young Scot Robert MacIntyre and presumptive best-player-never-to-win-a-Major Rickie Fowler should be his biggest dangers.
It's not too early to start building a Cheltenham Festival ante-post portfolio:
Champ [9yo b.g King's Theatre-China Sky (Definite Article)] Irish trained horses are expected to dominate this year's Festival and the Gold Cup is no different with the first four in current markets all Irish trained. But don't ignore Cheltenham Master Nicky Henderson who seems to have laid out Champ for this race after something went amiss and he had to be pulled up in 2021. He took 274 days off and then tuned up with an easy win in a Grade One Hurdle over 3m½f (Ascot) on December 18. Generally available at 25-1 he's a mouth-watering each way ante-post punt.
Good Luck!