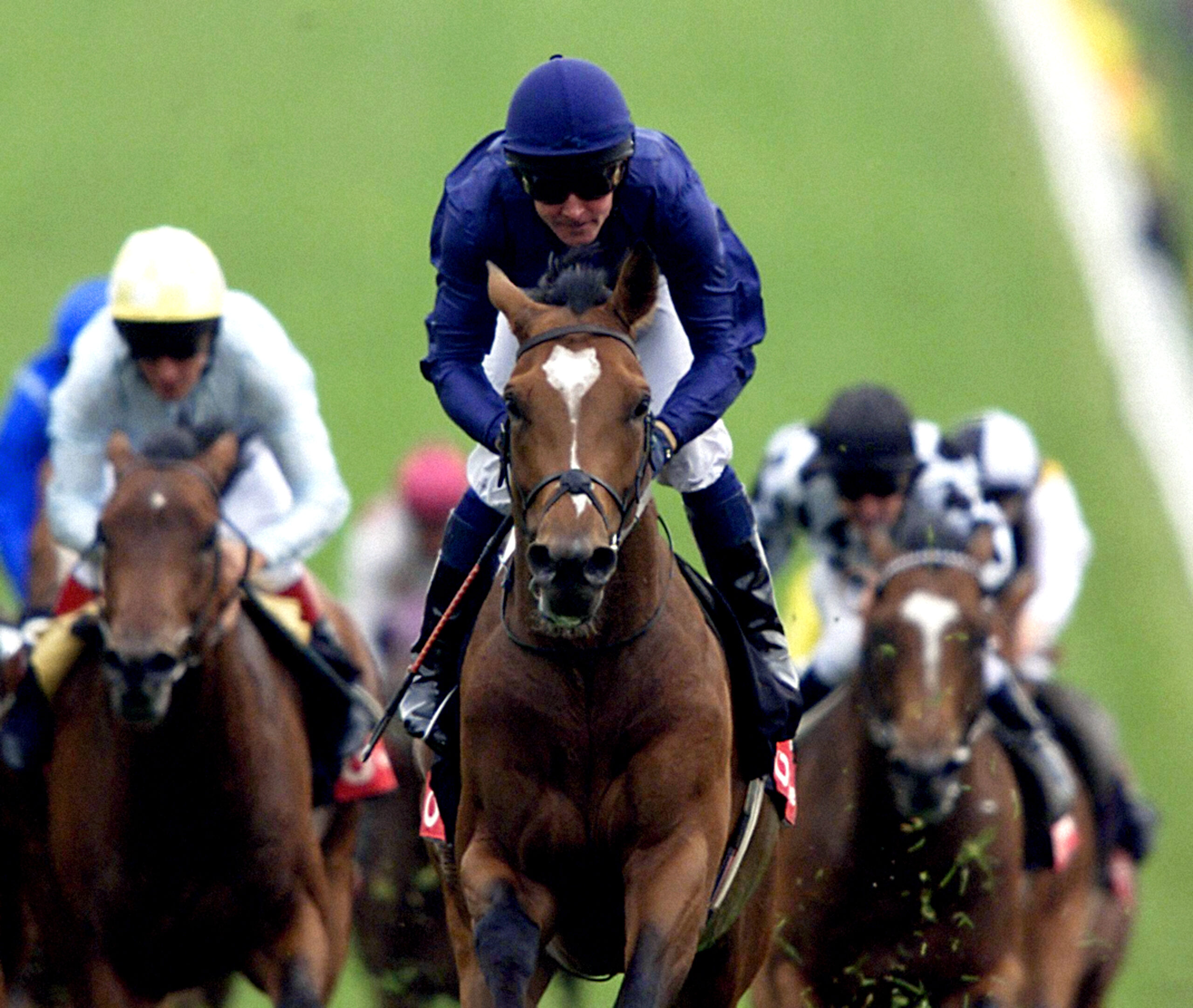 On Saturday, July 10, a shadow was cast over the entire horseracing world.
It was thrown by news that Galileo [(b.h. Sadler's Wells-Urban Sea (Miswaki)], acknowledged as the best sire of all time; brilliant winner of the English Derby, Irish Derby, King George VI and Queen Elizabeth Stakes; and revolutionary 12-time British and Irish champion sire, had been euthanized at Coolmore Stud at the age of 23 after battling a chronic, non-responsive, debilitating injury to his left fore. Encomiums came swiftly and glowed brighter than Richard Branson's spaceship. Aidan O.Brien who trained Galileo for his entire racing career and is instrumental in Coolmore's Irish operations, said:
"He was unique and we will never see the like of him again. The determination he put into his stock was something else — that's what made him different.
"You would train a lot of horses, different types of horses who all have different traits, but very few of them, in fact none of them, put that mental trait into their horses the way Galileo did. What he put into their minds, that genuineness, was out of this world"
John Magnier, owner of Coolmore, was quoted as saying:
"It is a very sad day but we all feel incredibly fortunate to have had Galileo here at Coolmore. I would like to thank the dedicated people who looked after him so well all along the way. He was always a very special horse to us and was the first Derby winner we had at Ballydoyle in the post-Vincent O'Brien era. I would also like to thank Aidan and his team for the brilliant job they did with him.
"The effect he is having on the breed through his sons and daughters will be a lasting legacy, and his phenomenal success really is unprecedented."
Galileo was a champion race horse by a multi-champion sire (Sadler's Wells) out of an Arc de Triomphe winner (Urban Sea) that performed with incredible success at the highest level. When he retired to stud he was treated like a King and pampered throughout his stud career. He lived to the grand old age of 23 and never was without the best care, companionship and comfort money could buy.
This led me to consider what happens to those not-so-successful horses when their racing life ends. All horsemen know that the overwhelming majority of retired racers don't get the Galileo treatment. Many of the mares go to stud farms in the hope that they will produce progeny worthy of racetrack success and are treated well, but retired males are usually geldings who have zero use at stud. This is because, in Jamaica, we take the unfortunate attitude to colts that they should be "cut' as soon as possible in order to make their trainer's job easier and because it's felt they have no commercial future as stallions.
A Jamaican stud farm will go to America and buy a well bred stallion that may have problems masked by race day medication but won't consider using that stallion's male progeny, even classic winners, as future stallions. They return to USA and buy more mediocre stock for their stud operations.
So the large majority of colts are gelded early and raced until they literally fall down (every race day "late" scratches for lameness proliferate) and then discarded when they can no longer earn. Some are simply "let go" while others are sold off or given away to whoever will relieve the owner of paying for keep and care. Their post-racing lives are often miserable and painful.
So what will we do about it? Are stakeholders crying out for more prepared to contribute a small percentage of already excessive "bonuses" to create a retired horses' welfare fund? Or will they continue the mad scramble for more in their own pockets without caring for horses that are the source of "more"?
Do we have the cadre of horse racing journalists capable and prepared to do an investigative exposé of what happens to some of these lesser lights after their racing life is over? Or do they call themselves "racing journalists" because they can say "my selection in the next race is…" and nothing else?
DEPARTMENTS:
Clocked-In
Abbreviations: CT = "Corrected Time"; TV = "Track Variant" (a calculation of track conditions' effect on official times to arrive at "real/corrected" times); TVs are expressed in fifths of a second; "minus" (-) means a fast track; "plus" (+) a slow track (e.g -2 is fast by 2/5th second). Variants beside horse's names represent the difference between its official time and the grade standard.
JULY 10, 2021 [TV+0.5 per 200m (Round) +7 (straight)]
Billy Whizz (-5) made hacks of a depleted field (Race 10; 3yonw2; 1,200m; TV+3) clocking 1.13.2! His CT (1.12.4) equals Overnight Allowance and 3yonw4 standards so, with normal improvement, he's one to follow.
JULY 12, 2021 [TV+0.4 per 200m (Round) +8 (straight)]
Race 9 (4yonw3; 1500m; TV+3) could be a key race!
Fearless Champion (-5) finally came good in third time blinkers winning in 1:33.4! His CT (1:33.1) equals Overnight Allowance standard so one of those should be his (especially over further). On his way there, a 4yonw4 (Standard 1:34.0) should be no problem.
Kay Boy (-1) and Attorney General (-0) 2nd and 3rd respectively earned CTs of 1:34.0/1:34.1 against nw3 standard of 1:34.4. Both have one of these to win at around 1600m.
Overseas Betting Opportunities (OBOs)
Tomorrow's marquee event is the Group 1 King George VI and Queen Elizabeth Stakes to be run over 1½ miles at Ascot (1535GMT; 9:35 am Jamaica Time). Aidan O'Brien's super filly Love is the big ante-post favourite after her classy win at Royal Ascot in the Group 1 Prince of Wales's Stakes. She was dropping down to 10f there after winning two Group One 1½ mile races confined to fillies. Also the colts she beat then were slightly below the top drawer and headed by stable companion Armory (3rd).
So, at cramped odds, she has to be opposed tomorrow. The best candidate is Misriff because, after being completely unsuited by the muddling pace he encountered in a four runner Coral-Eclipse at Sandown after 98 days break, he should be at peak fitness and relish the likely faster gallop he could experience this time.
Glorious Goodwood begins on July 27 before our next issue. As usual, it's far too early to be definitive about anything but I can't help noticing that the cutely named Meraas (Notebook horse from last August) is entered in the Stewards' Cup (July 31; 6f; 1535GMT; 9:35 am Jamaica Time). I wrote then:
"Meraas [3b.c Oasis Dream-Rehn's Nest (Authorized)]. He ran a cracker in the Stewards Cup as a 3yo racing on the unfavoured far side (2¼ lengths 6th of 27) and encountering fast ground for the first time. This unexposed, progressive colt from Mark Johnston's high-powered barn is an exciting prospect and one to keep onside for big autumn sprints when the going eases"
He has raced only four times since finding five furlongs and an inexperienced apprentice unsuitable at York in August and five and a half furlongs in the Portland on quickish ground also too sharp in the Portland at Doncaster in September. He was gelded and underwent wind surgery during a 294 days break before finishing 2½ lengths 3rd of 3 to Danzeno on reappearance in a Haydock conditions race then 4¾ lengths 5th of 11 to Commanche Falls whilerunning very much as if the race was needed.
He has obviously been laid out for this and, with a better draw (high numbers favoured) and any more unseasonal rain (as has been the case throughout Europe this summer) he could prove a tasty each way flutter.
The Newmarket July meet produced some eye-catching performances. Here's one for your "Notebook Horse" portfolio:
Ehraz [2yo ch.c Showcasing-Exrating (Exceed and Excel)] He was runner-up on debut in the seven furlongs maiden to exciting prospect Noble Truth, shaping with plenty of promise as he made rapid headway over two furlongs out to get into contention before succumbing to the winner's impressive turn of foot. Significant improvement is likely and he seems a cinch to win at least a maiden before going on to much better things.
Good Luck!