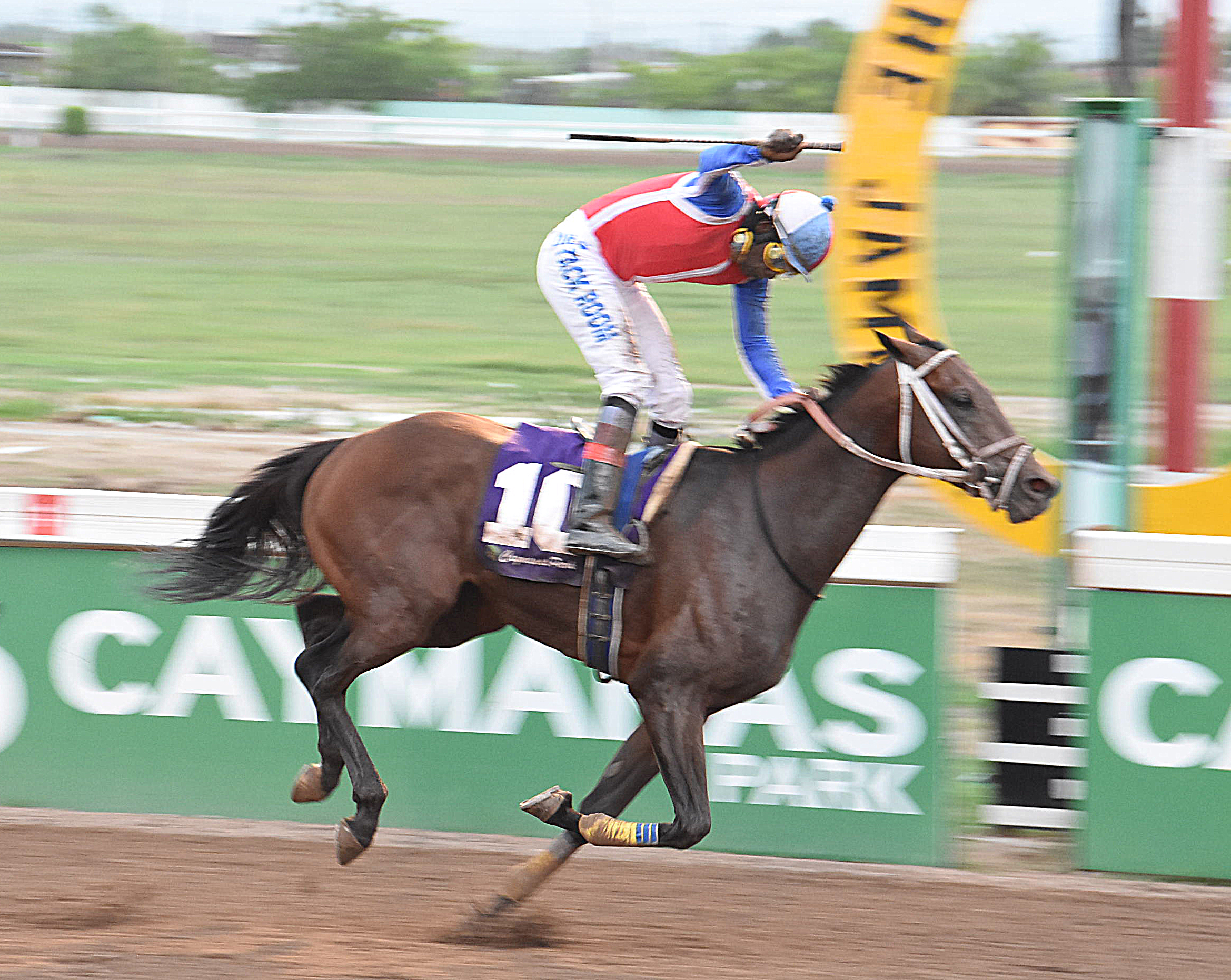 For a long time now I've been shouting epithets at local Starters (convinced they can hear me) as they appear to hold horses in the gates interminably almost as if they want something bad to happen.
In international racing, the difference is stark. Horses are loaded on time and are let go within seconds of the last one in. Experience has trained Jockeys to be ready upon stalls entry. If I had a dollar for each time I've seen horses act up in Jamaican stalls and injure themselves or their (or others') chances after being kept there endlessly, I'd be a rich man.
Saturday's St. Leger was destroyed at the starting gates after favourite Miniature Man was antsy behind the gates. As is the local habit, he and second-favourite Further and Beyond loaded last instead of in race card order. Jamaican Starters seem to believe the Tote dictates how horses are handled.
So a fractious Miniature Man and skittish gate handlers (who seem clueless how to deal with equine pre-race jitters) meant 10 starters waited for the favourites to be loaded. Finally, Miniature Man was loaded into the number three box (then Further and Beyond, who gave no trouble at all, entered number 8). By this time #1 Prince Marshall had enough; railed up and flipped in the gate causing much consternation in boxes 2 (Santorini) and 3.
Santorini and Miniature Man were taken out and, after Prince Marshall was extracted and scratched, they were re-loaded but not before Miniature Man showed more anxiety. To the surprise of nobody with horse sense, the result was a race that became a complete mess. After hanging around in the gates for way too long, #7 She's a Wonder was unexpectedly slowly away and failed to lead. Miniature Man, clearly discombobulated by pre-race kerfuffles, uncharacteristically headed for the lead as fast as he could; engaged in a three-way tussle for pole position; and was beaten too far out for stamina to have been the issue.
But the Booby Prize goes to Dane Nelson who benefitted most from the starting gate incompetence yet rode very impatiently to get involved in that same three-way speed duel. Despite this rush of something to Nelson's head, Further and Beyond pointed over 400m out and kept on determinedly when headed by the beautifully ridden winner to repel a host of challengers for second up the straight. Obviously he has no stamina issues so, if something is done in the interim to infuse patience into horse or rider, he'll be a big player come Derby Day.
The winner Calculus was superbly ridden by "big race jockey" Shane Ellis staying away from the mad early scramble for the lead and being expertly manoeuvered to reserve an inside position from 800m out. He quickened nicely to lead 400m out and drew off up the lane. Thanks to a patient and intelligent ride, Calculus got the run of the race but credit must also go to trainer Gary Subratie who fitted a figure eight to make him more amenable to restraint.
This segment is closed on a very sad note as racing recently lost two stalwarts in trainer Richard Todd and racing journalist Orville "Clarkie" Clarke. Richard Todd, a scion of a committed horse racing family headed by father L.C. Todd and mother Monica Todd, and father of quality trainer Steven Todd, collapsed at the track on June 8. All attempts to revive him were unsuccessful and he passed away.
Todd was the consummate horseman whose dedication to the sport led him to get involved above and beyond the call of duty as a persistent advocate for the sport's betterment. He was the founding President of United Racehorse Trainers Association and a Promoter's consultant on racetrack issues. Richard was a clear thinker who was driven to serve his fellow trainers in particular and horseracing in general rather than seek only personal profit. He was a good man. He will be missed.
The thing I remember most about my friend "Clarkie" was his congenital friendliness. In a word, "Clarkie" was collegial. He never had a wry word for anyone and preferred to hide his enlightenment under as many bushels as he could instead of seeking self-promoting personal hype.
Obituaries have recorded "Clarkie" became The Gleaner's main racing writer in 1982 but what the obits don't mention is that he faced the daunting task of filling massive shoes left behind by very popular and knowledgeable predecessor Gussie "Hot Tip" Marks. That Clarkie successfully did so despite his generally unassuming nature is the highest testament to his character and competence.
In the 1990s, disgusted with horseracing media in the post-Del Weller era, I created and produced an innovative radio programme called The Angel and the Tout, "Clarkie" was an automatic choice to play the show's first "Tout". He was magnificent in the role. His tipping, on the show and elsewhere during his "day job", was sound and logical. As a result he became a multiple Champion Tipster – an achievement of which he was most proud.
I recall a funny incident after the show moved from its original home at KLAS to Hot 102. We were gathered outside the studio waiting our turn when we got the nod that we were on. "Clarkie" immediately whipped out his comb and hand mirror and ensured he looked his best.
"Clarkie", my friend, your shoes are as big as Hot Tip's but you'll have to keep them for a while as nobody seems anxious to fill them. Walk good! Good duppy will walk with you.
DEPARTMENTS:
Clocked-In
Abbreviations: CT = "Corrected Time"; TV = "Track Variant" (a calculation of track conditions' effect on official times to arrive at "real/corrected" times); TVs are expressed in fifths of a second; "minus" (-) means a fast track; "plus" (+) a slow track (e.g -2 is fast by 2/5th second). Variants beside horse's names represent the difference between its official time and the grade standard.
JULY 3, 2021 [TV-0.1 per 200m (Round) -5 (straight)]
Primal Fear (-9) was a length second (Race 6; 4yonw3; 1,000m straight; TV-5) as the winner clocked 0.57.4! Primal Fear's CT (0.59.0) signals a welcome return to 2020 form and represents 4/5th second faster than the grade standard. He remains relatively unexposed and, in 2020, beat Big Big Daddy (subsequently won nw4) and Sencity (won nw3/3rd in nw4) at 1600m. He looks nailed on to win one of these.
Overseas Betting Opportunities (OBOs)
Last issue my Irish Derby preview concluded "I'm confidently expecting Dante winner and Epsom Derby 3rd Hurricane Lane to confirm Dante form." So said, so done as Hurricane Lane stayed on determinedly to get up in the last stride at a value price of 4-1.
Tomorrow is the Newmarket July Meeting's final day which features the Group 1 July Cup (6f; 1625GMT; 10:25 am Jamaica Time) and is hyped as the clash between new sprint sensations Starman and Oxted. As usual the ground should prove decisive. Starman is an unexposed four-year-old after only five career starts (four wins) but flopped badly on soft at Ascot in November (Group 1 Champions sprint). He reappeared at York where he narrowly beat Nahaarr(re-opposes) in the Group 2 Duke of York Stakes (good to soft) then was withdrawn from Royal Ascot's Commonwealth Cup after the deluge.
Oxtedwas marketed as the new sprinting superstar after winning this race last year (good) but was beaten by a length in the same Ascot race that Starman flopped then finished 3½ lengths behind Starman at York before returning to his brilliant best in Royal Ascot's King Stand's Stakes (5f; good to firm).
So, if the ground comes up softer than good, it could pay to avoid both in favour of Charlie Appleby's progressive three-year-old Creative Force who has won five of six starts to date including the Group 3 Jersey Stakes at Royal Ascot (7f; soft) on last.
Next week the long awaited Open Golf Championship at Royal St George's (postponed last year) will tee off and I'm confidently expecting Englishman Paul Casey to finally register the Major Championship he has so richly deserved for so long. He's playing out of his skin this year at 46 years old. Just the other day at Kiawah Island, Phil "The Thrill" Mickelson proved Sparrow's thesis that age is just a number.
On July 3, two "Notebook Horses" Came from the Dark (5-1) and Arecibo (8-1) were separated by a neck in a Group 3 six furlong Sandown sprint resulting in a 43-1 Straight Forecast. Let's see if we can do it again by adding another Notebook Horse coming out of Royal Ascot to your portfolio:
Berkshire Shadow [2 b.g. Dark Angel-Angel Vision (Oasis Dream)]improved markedlyto win the Coventry in commanding fashion showing an exciting turn of foot and is now unbeaten in two starts. Without doubt a leading contender for the Dewhurst and then next year's 2,000 Guineas
Good Luck!