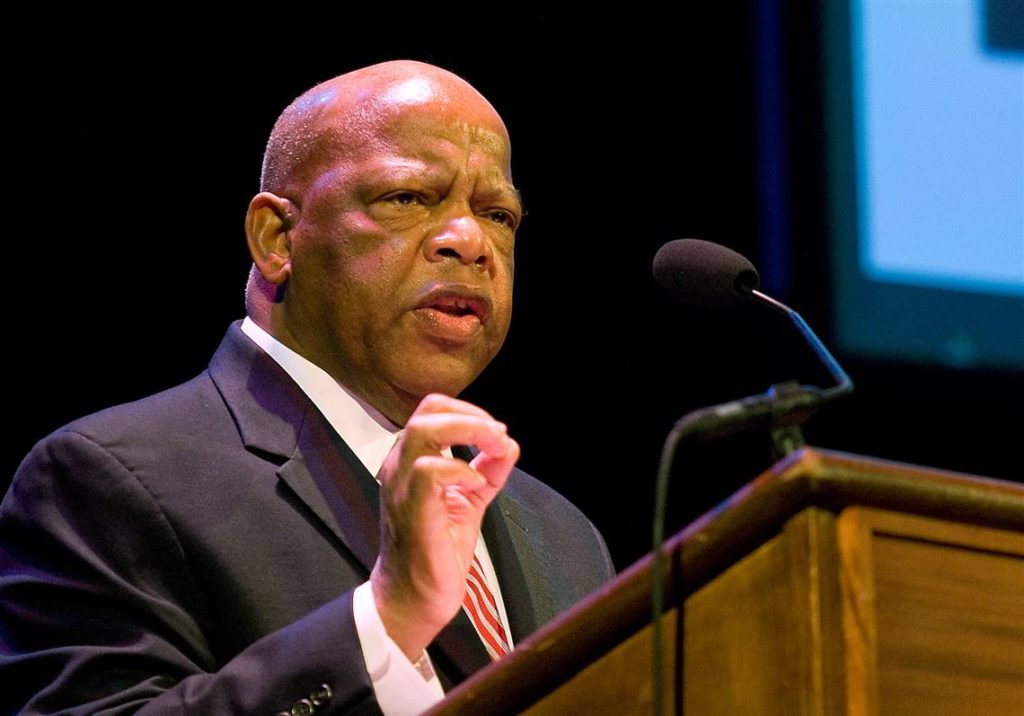 John R. Lewis, a member of United States Congress since 1987, will be remembered as a civil rights hero in the United States, but his work symbolizes the struggle of people around the world. He died at the age of 80 on July 17, 2020, knowing that his efforts needed to live on.
From a very early age he realized a potent voice that he used to emphasize what he believed was the essential and challenging issue of his time — that racial justice must be fought for against all odds.
One of his earliest adventures was on the same podium as Dr. Martin Luther King Jr when Dr. King gave his "I have a Dream" speech in Washington, DC. One of his last was a public appearance with the Mayor of D.C., Muriel D. Bowser, on June 7, 2020 at the Black Lives Matter Plaza.
His legacy will be passed on to school children for generations to come. The struggle for equality and justice was etched in his face. Battles won and fought left enduring stories and created a photo that showed strength and resilience. His physical and emotional scars were forces that kept him fighting. He sang a song with a melody that carried a message that will resonate and endure through the years of struggle to come.
From his early days of protest at the Edmund Pettus Bridge in Selma in March 1965, (what is known in U.S. civil rights history as Bloody Sunday), he never gave up. Even the mounted police and posse of white men who stopped the march and beat him up could not stop what was built into his heart and soul — justice and equality were human rights that should not be denied anyone.
At age 80 he accomplished more to bring the races together than most of us could even dream of in our lifetimes. The Washington Post obituary July 17, 2020 recounted his statement in December 2019 when he first announced his battle against cancer. He said, "I have been in some kind of fight — for freedom, equality, basic human rights — for nearly my entire life… I have never faced a fight quite like the one I have now."
He never gave up. His was a fire of life that kept going and going in spite of the odds.
His leadership in government and on the streets promoted non-violence and a discourse filled with hard truths. His speech was forceful and insightful. He wasn't' afraid to tell it like it is, no matter how much it might raise eyebrows of both those who believed what he preached and those who denied him. He wasn't afraid to stand up against those who opposed him or those whose policies effectively denied justice.
He maintained an adversarial but dignified role against government officials and civic leaders who promoted disunity and injustice. His words and actions were those of a man who thought about the betterment of the country and the world. He was a man whose voice caused leaders and the wisest thinkers to stop and reflect. He was a man who generated a power that garnered a diverse audience whenever he spoke.
From his first public presentation with Dr. Martin Luther King Jr on the steps of the Washington monument at the age of 23, Lewis was recorded saying, "…the time will come when we will not confine our marching to Washington… We must say, 'Wake up, America, wake up!' For we cannot stop, and we will not be patient." Looking back on those words today we see how prophetic he was.
He will live on in the civil rights movement just as Mahatma Ghandi, W.E. DuBois, Marcus Garvey, Dr. Martin Luther King Jr, Elijah Cummings and so many other brave souls who have gone before.
The promise, 'We shall never forget.' harkens the memories of these great leaders and activists. We must never forget their sacrifices and their true spirit as it will carry us all forward to a better republic, to a better world.