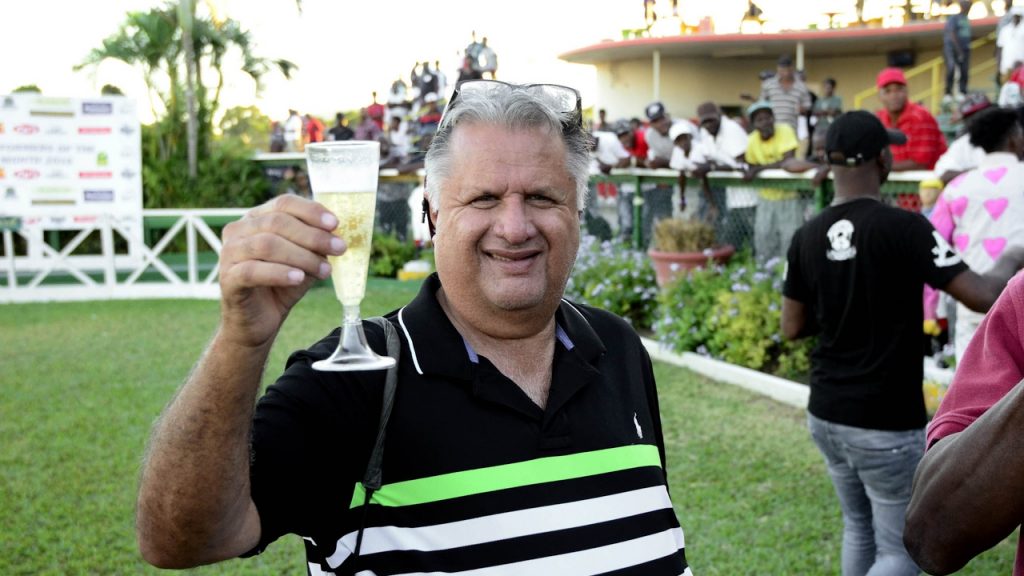 The true story of the life and times of legendary 18-time Champion Trainer Wayne DaCosta, indisputably the greatest of all time, is an inspirational tale.
I can tell that story because I lived most of it with him. We met a lifetime ago when our families became inextricably intertwined. He was "courting" Elizabeth McCulloch who was to become the world's best wife and mother. She's the cornerstone of his ability to focus on his profession with a laser-like intensity that tolerated nothing less than excellence. At that time, Liz's sister, Dianne, was being "courted" by She Who Must Be Obeyed's (SWMBO) brother Michael McLean. I was attached at the hip (well, more like ankle restraint) to SWMBO (Karen McLean). All three couples married and remained together for decades until death has parted one.
The McCulloch home on Glenhope Avenue was a hub of merriment overseen by Matriarch Joan who belied her elder status by joyously joining in with whatever was going on. Parties and card games were standards. All were welcome, including family; friends and neighbours who joined the fun.
Despite early setbacks due to his parents' divorce, Wayne learned the value of a large but close-knit family at Joan's home on Glenhope. In my life I've not met anyone with more love of family than Liz. So Liz taught Wayne that family was all-important. Everything he did or accomplished in life was so he could provide for family. He lived for his family but especially for Jason (his protégé) and Stephanie (his delight) for whom his love knew no bounds.
His love for horseracing, founded on his love for horses, has been well documented. But, his focus was always on how horseracing could allow him to make his family happy.
For him, that was it. That was ALL.
Shortly after marrying, Michael and Dianne migrated to England so it was left to Wayne, Liz, Karen and I to keep togetherness going. We went to drive-in movies at Harbour View. In those days, sound was transmitted by small speakers mounted on aluminium poles beside each parking space to be rested on windows like trays at drive-in restaurants. As soon as we parked, Wayne would get out of the car, affix the speaker; sit down with his back resting on the pole and promptly fall asleep.
No wonder he had back trouble late in life!
Wayne could sleep anywhere. His obsession with doing his job excellently meant he was at the track no later than 5:15a.m. Every. Morning! Up to recently he returned every afternoon until night. So he slept where he could. I've seen Wayne asleep on his favourite chair in the living room when Liz was forced to wake him to speak to an owner. Wayne conducted an entire conversation giving all the detailed information required then handed the phone to Liz and returned to sleep. Later he'd have zero recollection of the phone call.
We went to concerts together. I remember Wayne, Liz, Joan, Karen and I at the National Arena to see The Spinners. A highlight of that concert was the opening act — a young, up and coming band called Chalice. The last concert we attended together was the famous Celine Dion performance at Jamaica Jazz and Blues.
We spent days together at Casa Tout or Waterworks enjoying family togetherness. And music. And home-cooked food. Our three sons loved Uncle Wayne's steaks that he grilled himself! I have two abiding memories. First: When our eldest was born SWMBO had a crib specially made. It was huge. We lived in a narrow townhouse with steep stairs. It was Wayne who helped me carry that crib up those stairs.
Second abiding memory is of days leading up to Hurricane Ivan's visit. SWMBO had taken our second son to settle him at Lawrence U (Wisconsin). The eldest was already at Ithaca (upstate New York) so I was alone with SputNick aged 10. I answered a knock at the front door to find Wayne DaCosta. "Pack up" he ordered. "You're staying with us". SputNick took over their home. Aunty Liz has been his second mother ever since.
Then there was the incidental matter of horseracing. Wayne and I would pore over the form endlessly until we'd worked out all the permutations that would give us the edge we needed to defeat a Tote that deducted an extortionate 30% before declaring dividends. Much has been written and broadcast about the brilliant Thornbird (in my opinion, the best horse he has trained) but my everlasting memory is for horses like Court's Tudor that provided a first huge success at the bookies and bought Wayne his first "new" car. His incredible conditioning of unheralded horses like Jim Dandy, Court's Tudor, Simplicity, Lifeguard and Splash Back, due to his uncompromising attention to detail, won him his first championship with less than 10 horses.
It was a treat to sit beside him in the North Lounge (his domain) and hear a lisp-tongued Wayne cheer home "Thimplicity" at the top of his lungs!
Later on, one horse confirmed Wayne was an inspiration to all punters. Then, in 1993, he was finally allotted additional stalls (had been at a marked numbers disadvantage throughout the 1980s) and a new system of racing was introduced that emphasized the ability to understand conditions and place your horses (previously a "handicapper" told you where to run and trainers simply trained) so his unlimited potential was fulfilled. But his number one expertise was customer care. He wanted every owner to profit no matter the horse's quality. He treated each horse individually and mapped out a plan for each and every one to earn. He was peerless in that regard. Also he was available to brief and consult with owners 24/7.
For me it's nowhere near enough for SVREL to name a race after this horseracing legend. I expect a Grade 1 two-year-old race to memorialize him. But Wayne DaCosta was more than a great trainer to be remembered during one race on one day each year. Wayne DaCosta was an inspiration to horseracing and Jamaica. For me the only fitting tribute to this horseracing colossus would be to re-name the North Lounge The Wayne DaCosta Lounge. THAT would be a fitting memorial for a man who, for decades, dominated a sport he loved and whose all-encompassing influence and personality was embraced by fellow horsemen and on display every raceday from that stand.
DEPARTMENTS:
Clocked-In
Abbreviations: CT = "Corrected Time"; TV = "Track Variant" (a calculation of track conditions' effect on official times to arrive at "real/corrected" times); TVs are expressed in fifths of a second; "minus" (-) means a fast track; "plus" (+) a slow track (e.g -2 is fast by 2/5th second). Variants beside horse's names represent the difference between its official time and the grade standard.
MARCH 7, 2021 [TV+0.4 per 200m (Round) -4 (800str)]
Race 6 (5yonw3; 1200m; TV+1) is a Key Race!
Clocked-In tip Custer (-12) resumed progress with headgear removed winning by seven lengths in 1:13.2! His CT (1:13.0) is almost two seconds faster than nw4 standard (1:14.4) and only 1/5th second slower than Overnight allowance where he should win with soon enough. He's a cinch at nw4 or in any claiming race.
The 2nd Uncle Vernon (-5) earned a CT of 1:14.0, almost two seconds faster than this grade. Losses only lent! The 3rd DE Inevitable (-2') owns a CT of 1:14.3' or 1.3 seconds faster than the grade.
Note: After this was submitted Uncle Vernon won a nw3 on March 30
Overseas Betting Opportunities (OBOs)
The Aintree Grand National (world's most popular betting race) is scheduled for 1715 GMT (11.15am Jamaica Time) on April 10. The most likely winner is favourite Cloth Cap but he has been the subject of a massive gamble (4/1 from 14/1) so is much too short to compensate for the uncertainties of a 40 horse field going 4m2½f jumping 30 of racing's stiffest fences. I've a sneaking liking for 50/1 outsider OK Corral who is sure to relish this flat track; likely quick ground; and marathon trip. He was absent 416 days after winning a listed handicap chase at Doncaster (flat track) before getting a pipe opener at unsuitable Cheltenham (stiff undulating track) on uncomfortably soft ground.
Also featuring next week is the 2021 Masters. I've long favoured Justin Thomas for this but recently included his pal Jordan Spieth in the shortlist since this Augusta specialist's form returned. An interesting outsider is in-form Brian Harman a lefty on a course that suits lefties.
Finally, a Notebook Horse for the new Flat season:
Top Rank [5 gr.h. Dark Angel-Countess Ferrama (Authorized)] continued to progress after an upwardly mobile 4yo career when winning the listed Doncaster Mile (March 27; good) in fine style under a 5lb penalty for his 2020 Group 3 win. He goes well on soft ground so is unlikely to be a summer horse but look for him in the spring and again in the autumn.
Good Luck!