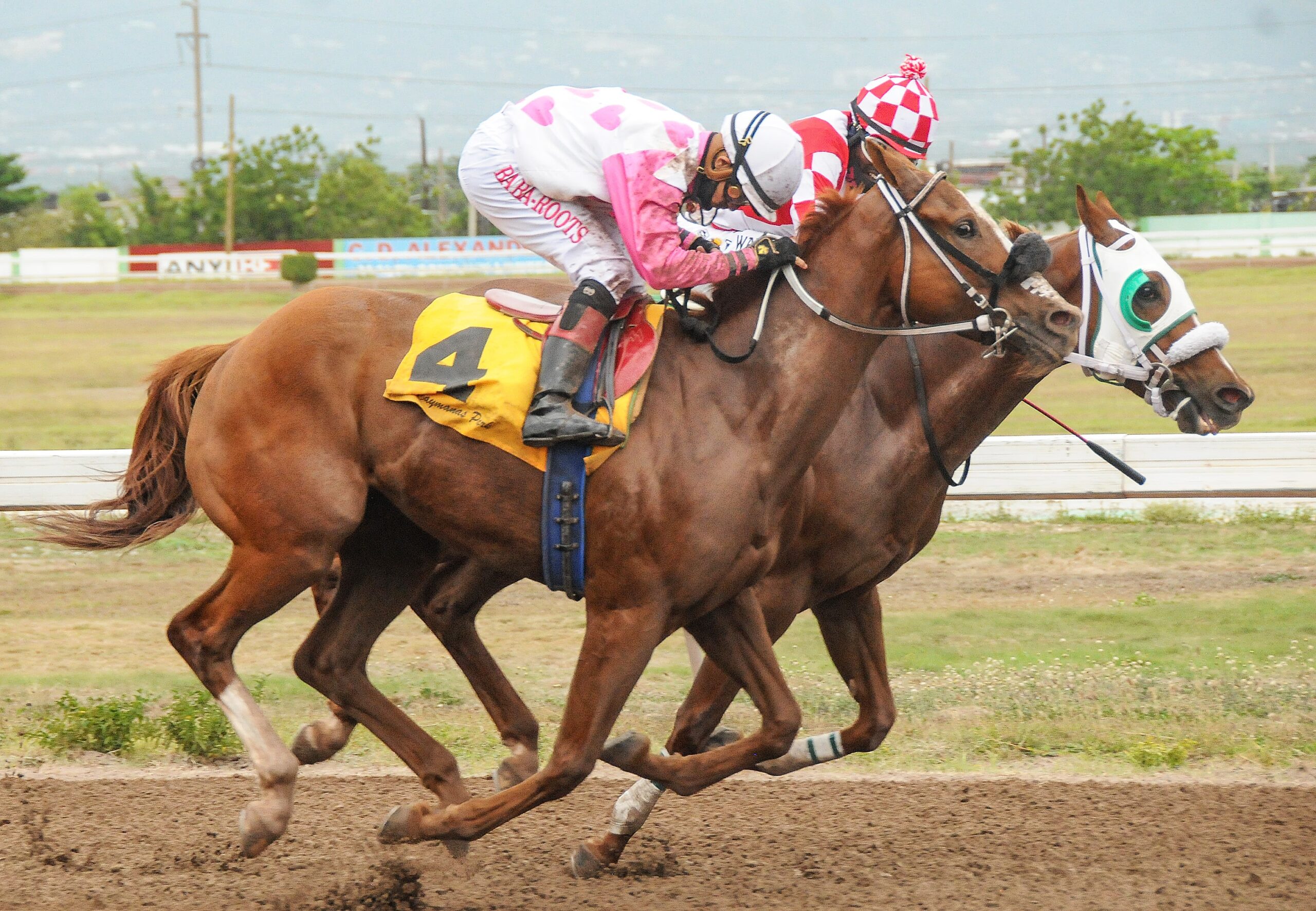 Horseracing regulation is all about protection of the punter.
As a sport inextricably linked to gambling that earns every dollar of revenue from punters betting on races, there can be no greater priority. Regulators must be seen to be intolerant of corruption in racing to maintain punters' confidence in the outcome of races and the fate of their bets. The mantra should be "Protect the Punter – protect the industry."
In the 1980s legendary Jamaica Racing Commission (JRC) Chairman Dennis Lalor understood and applied that mantra strictly without fear or favour. One example of this was the case of Jamaica's most promising jockey, Michael Redwood, who was found guilty of not riding a horse on its merit and suspended for five years. The message to jockeys and the betting public was clear and emphatic — JRC would not tolerate corrupt practice and would always move to protect the betting public.
Redwood proved another excellent example of the righteousness of Romans 8:28as he eventually migrated to the USA and became a very successful assistant trainer. The suspension turned out to be just the jolt he needed to make his life better.
I recalled that event as I read of the case of USA jockey Tomas Mejia who was recently suspended for 10 years, warned off all New Jersey courses and fined US$5,000 by the Monmouth Park stewards for possessing an electrical device during the running of a race on September 3. Photographic evidence was presented to the stewards, proving Mejia had the electrical device upon his entrance to the winner's enclosure after winning aboard Strongerthanuknow and prior to dismounting.
Strongerthanuknow won a 5f allowance race. In third place entering the home straight, the filly surged late under urging from Mejia to catch 4-5 favourite Mumbai. Since the stewards couldn't prove Mejia used the battery in the race they didn't disqualify Strongerthanuknow. In addition, the stewards referred the matter to the New Jersey Racing Commission and recommended Mejia's licence be permanently revoked.
Mejia's suspension is double the five-year penalty given to Roman Chapa by the Texas Racing Commission for carrying a buzzer in a race at Sam Houston Race Park in 2015, one of multiple infractions the rider had for electronic shocking devices. Chapa was also fined US$100,000.
Back home, in 1985, when Dennis Lalor was still in charge, apprentice Wayne Bailey was warned off all courses, and other places where the rules of racing are in force, for a period of three years after being found with a "battery" prior to the start of the 10th race on April 20.
Dennis demitted office circa 1989. In an unusual move, still active former Champion Trainer, the late Reynold "Ren" Gonzales, was appointed JRC Chairman. In September 1998, a "battery" was found in an area where starting-gate attendants frequented. "Investigation" was cursory. No one was implicated or sanctioned.
In January 2019, when former banker, racehorse owner and breeder Clovis Metcalfe was already JRC Chairman, apprentice Jawani Forbes, now back in the saddle, was given a two-year ban and a fine of $250,000 by JRC's First Instance Tribunal. He was found guilty of possessing or using an electrical device to ride Jon Marshall. He was held at the starting gate with the "battery" but was allowed to ride without it.
This had an eerie feeling of déjà vu because, in August 2018, apprentice Anthony Allen was found with a "battery". At that time JRC Chairman Metcalfe told The Gleaner that Allen, who was to ride Jon Marshall, was found with the device in his gloves at the starting gate after he was searched. Jon Marshall was scratched.
"We asked him why he had it. He said it was to assist the horse [to] hold up his head and run better. He was seeking an unfair advantage," Metcalfe said. "We subsequently disqualified Jon Marshall from the race."
Metcalfe also said: "The commission is committed to transparency and integrity in the sport. Dishonesty at all levels will not be tolerated. This is mandatory if we are to grow the sport and win stakeholders' confidence."
Allen was eventually suspended for two years. I can find no report of any further investigation. Isn't it odd that two jockeys are found with batteries to ride the same horse?
As technology advances, corruption is increasingly facilitated. This is no time to keep punters in the dark or to hand out relatively mild sanctions for corrupt practice. Regulators must be more vigilant and more severe.
Protect the punter – protect the industry!
DEPARTMENTS:
Clocked-In
Abbreviations: CT = "Corrected Time"; TV = "Track Variant" (a calculation of track conditions' effect on official times to arrive at "real/corrected" times); TVs are expressed in fifths of a second; "minus" (-) means a fast track; "plus" (+) a slow track (e.g -2 is fast by 2/5th second). Variants beside horse's names represent the difference between its official time and the grade standard.
SEPTEMBER 15, 2021 [TV+0.1 per 200m (Round); -2 (straight)]
Double Diva (-8) won by nine lengths (Race 2; 3yonw2/Imported maidens; 1100m; TV+0') clocking 1:06.0! She's an importee running her sophomore race (five months after debut) so clearly has plenty to come. Her CT (1:05.4')is faster than Overnight Allowance standard (1:06.1). She's one to follow.
SEPTEMBER 18, 2021 [TV+0.1 per 200m (Round); -2 (straight)]
Race 2 (5yonw2; 1600m; TV+1) is a KEY RACE!
Bloodfire/Funky Fashion (-6) were separated by a head (former tenderly ridden after almost two years of consecutive layoffs) with Doctor Grey (-4) third. The trio finished 15½ lengths clear. The winning time (1:43.3) produced a CT of 1:43.2 (2/5th second faster than non-winners of three) 1 2/5th seconds faster than non-winners of two. The second/third seems sure to win one of these. The winner only needs to stay sound up to progress.
Aphelios (-7) came good on his 4th start (Race 1; 3yo maiden condition; 1200m; TV+0') winning by 11 ½ lengths in 1:13.3. His CT (1:13.2') is 9/10th second faster than non-winners of two. He can run up a sequence.
Overseas Betting Opportunities (OBOs)
On Sunday Paris hosts the Arc De Triomphe, a race which has been devalued by withdrawals of my long time fancy Wonderful Tonight (a filly out of the very top drawer) and former ante-post favourite St. Mark's Basilica.
New favourite is high quality 5yo mare Tarnawa who won the Group 1 Prix Vermielle (for fillies and mares) over course and distance and the Breeders Cup Turf at Keeneland in 2020. She was ¾l second of four, keeping on well towards the finish, to St. Mark's Basilica last time out in the Group 1 Irish Champions Stakes (10f; Leopardstown). She'll relish the return to Longchamp and 12 furlongs but is short enough in the market and could be vulnerable to an improving younger horse.
The two to concentrate on are French 3yo colt Sealiway (1¾l second to St Mark's Basilica in the French Derby as a 53-1 chance) and 4yo filly Raabihah (4l 5th to stable companion Sottsass last year after finishing 3l second to Tarnawa on fastish ground). The former is trying 12f for the first time and showers are expected this week so the latter is preferred.
On Saturday October 9, Newmarket hosts the Group 1 Dewhurst Stakes (2yo; 7f; 1455GMT – usually a significant pointer to the next year's 2,000 Guineas) and the second leg of the famed Autumn Double, the Cesarewitch handicap (3yo+; 2m2f; 1535GMT), the last of the season's big handicaps featuring a huge field of stayers making betting as exciting as it is difficult.
Gosdolphin has had a wonderful year so far that I anticipate could end with its first Breeders Cup Classic winner in Essential Quality. It also owns the Dewhurst's ante-post favourite in unbeaten (3 for 3) Oasis Dreamcolt Native Trail trained by rising star Charlie Appleby. The favourite strikes me as likely to prove best on easy ground (which he could get at this time of year) but is short enough in the betting so I'll oppose him with my early 2,000 Guineas pick Berkshire Shadow who ran flat at York on last but has been exciting on right-handed tracks including when a staying on ¾l second to Angel Bleu on unsuitable soft ground in the Vintage Stakes at Goodwood. He's the value bet if taking his chances.
For the Cesarewitch, I'm a big fan of Irish raider Coltor who won a premier handicap last time out at Galway — a right-handed, undulating testing track similar to Newmarket. He'll be spot on for this.
As usual, we close with another "Notebook Horse":
Marhaba The Champ [3yo ch.c. Galileo-Lady of the Desert (Rahy)] was a big time eye-catcher on debut (September 17; Ayr; Novices; 7f; good to firm). Despite briefly running green under pressure, he rallied on the inside final furlong (waited with earlier) to pass the post less than two lengths behind the winner (stable mate) in fifth. He obviously has potential and should win at least another Novice event in the near future.
Good Luck!