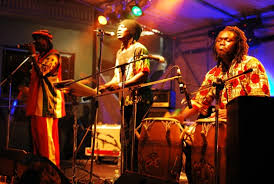 In this issue I share information about 6 of the artistes in the 58 albums which are the works of pioneers in our rich musical history.
1,000 Volts of Holt – John Holt – 1973 – BMG/Trojan
John Kenneth Holt CD was one of Jamaica's greatest singers, renowned for his distinctive sounding voice. John was a member of the Binders and Paragons and started his recording career at Studio One in 1965 but later recorded a string of hits with Duke Reid at his Treasure Isle studio between 1966 and 1968.
Holt was therefore a big local star by the time he wrapped his mellifluous voice around the 12 covers that are included on this most pleasant and relaxing collection. The UK has always found easy listening, lovers rock style reggae very appealing and in 1973 pop producer Tony Ashfield teamed with Peter Coleman, Rosetta Highwater, Carlton Lee, Trevor Newman, Nicky Ryan, Doris Troy, Joanna Williams and Holt to release an album specifically geared towards that market. Although the songs were recorded in Kingston at Dynamic Sounds, the light reggae arrangements illumined by stylish keyboards and delightful guitar gave the album a global sound. It certainly doesn't sound like any of the albums made in Jamaica during that period.
Never Never Never, Baby I'm a Want You, I'd Love You to Want Me, Killing Me Softly With Her Song, You Baby, Too Much Love, Mr. Bojangles and Help Me Make It Through the Night; are the best songs on this high quality album. His resplendent version of Mr. Bojangles is a personal favourite, while Help Me Make It Through the Night was a smash hit in the UK. The song, which was written and originally performed by American country singer Kris Kristofferson, peaked at number 6 on the UK Singles Chart in 1974.
Holt also had another major global hit via American rock band Blondie and British pop girl group Atomic Kitten, that both covered The Tide is High, a song John wrote and sung during his days with the Paragons. Blondie's version, released in 1980, went to number 1 in the UK, USA, Canada, and New Zealand. Atomic Kitten's version of the same song went to number one in the UK in 2002. The lead singer of Blondie had indicated that she had purchased a mixed CD of rock steady music while visiting London when she heard The Tide is High for the first time and immediately decided to record the song. John's popularity in the UK no doubt contributed to his work being so widely available in that market.
John Holt died in London, England on October 19, 2014 at the age of 67. October 19 is also the birth date of Peter Tosh.
38. Eric Donaldson – Jaguar/Love of The Common People – 1971 – Jaguar/JAG5401
Eric Donaldson is regularly referred to, disparagingly so in my humble opinion, as "Mr. Festival", in local music circles. While winning Jamaica's Festival Song Contest an incomparable seven times, would suggest that the moniker is fitting, Eric Donaldson's legacy goes way beyond that.
His recording career started in 1964 as a part of a group called the West Indians with Leslie Burke and Hector Brooks. Though the group recorded songs at Studio One, they didn't get their first hit until 1968 with the J.J. Johnson-produced, Right on Time. The group's name was subsequently changed to Kilowatts, but with further success eluding the group, Donaldson decided to pursue a solo career and submitted Cherry Oh Baby, which was rejected by a producer, to the 1971 Jamaica Festival Song Competition. Forty-nine years and 34 albums later, Eric Donaldson is still in demand, especially in Brazil and Southern African countries, where he has carved out a distinctive niche market for his style of reggae music.
Jaguar was Donaldson's first studio album and was reissued in 1993 as Love of The Common People, with 5 new songs. The Tommy Cowan and late Bunny Lee-produced album had the Inner Circle Band, Carlton Lee and Karl Pitterson as backing band and engineers respectively.
Miserable Woman, Got to Get You off My Mind, Please Let Me Know, Go Away, Never On a Sunday, Just Can't Happen This Way, Build my World and an exceptional version of The Lion Sleeps; are among the songs on the album, but it's Cherry Oh Baby that has caused my favourite album from the Kent Village icon to be edged out as Donaldson's most influential work.
Cherry Oh Baby was covered by the Rolling Stones on their 1976 album, Black & Blue and UB40 on their 1883 hit album Labour of Love, while the 'riddim' has been reworked on countless occasions. UB40's version of the song reached number 12 on the UK Singles Chart and Tony Rebel's local hit Sweet Jamaica from his 1992 album Vibes of the Times sampled the song. Shaka Shamba's Reggae Fight, Mad Cobra's Tek Him and Admiral Tibet's Don't Try to Diss Me Girl are all popular dancehall songs that have sampled Donaldson's most influential song, which he wrote as a 17-year-old.
Despite the global and local influence of Cherry Oh Baby, my favourite song on the album is the John Hurley & Ronnie Wilkins-written Love of a Common People; a song that has been covered multiple times but suits Eric's amazing falsetto: Living on free food tickets, water in the milk, from a hole in the roof where the rain came through, what can you do, hmmm? It's a good thing you don't have a bus fare, it would fall through the hole in your pocket and you'd lose it in the snow on the ground, you got to walk to town to find a job.
As I had indicated in part 1 of my article, the series is a global outlook and because of this Eric Donaldson had to be considered. He has been the most popular reggae artiste in Brazil for the past 4 decades and all his 34 albums are collector's items in South America's largest and most populated country. His albums, especially the ones in the 1970s, are enormously popular in Southern Africa, especially South Africa, Zambia, and Zimbabwe.
When I had conceptualized the idea for this series, the scant regard shown to our musical icons locally was one of the driving forces, and Eric Donaldson was one of the main persons who was at the forefront of my mind. I was therefore most pleased to witness Eric Donaldson being awarded the Order of Distinction in the rank of officer (OD) on Monday, October 19, 2020.
37. Welcome to Jamrock – Junior Gong – 2005 – Universal Records
Being the youngest son of the King of Reggae and Miss World 1976, who incidentally is also a musician, suggests that music permeates Damian Robert Nesta "Junior Gong" Marley. Damian was only 2 when his famous father died, but Junior Gong's lyrical prowess is a clear indication that music does in fact permeates his DNA.
Damian started his musical career at age 13, as a part of the Shepherds — a musical group including the daughter of Freddie McGregor and the son of Third World's Cat Coore. The group disbanded in the early 1990s and by 1996 he released his first solo album, Mr. Marley.
Welcome to Jamrock was Gong's third studio album and the one that opened most naysayers' eyes as to the true talent of an incredible writer. His second album, Halfway Tree, had longed opened my eyes and Distant Relatives, his fourth and my favourite album from the "youngest veteran", cemented his status as one of Jamaica's greatest lyricists.
Errol Brown, James "Bonzai" Caruso, Commissioner Gordon, Shiah Coore, Gary Corbett, Noel Davey, Sean Deidrick, Paul Fakhourie, Dean Frazer, Jazzwad, Marc Stephen Lee, Julian Marley, Stephen Marley, Roland McDermott, Gregory Morris, Stephen "Asher" Noel, Alfredo Olivia, Owen Reid, Craig "Niteman" Taylor, Uziah "Sticky" Thompson, Dan Warner and Larry Warrilow; were the musicians and engineer who worked behind the scene of Junior Gong's most commercially successful album.
Older brother Stephen was both the Executive Producer and a guest artiste on the album, which also had Black Thought, Bounty Killer, Bobby Brown, Eek-a-Mouse, Rovleta Frazer, King Swamp, Nas, The Roots, Franklin Thompson, Bunny Wailer and Roselyn Williams; all adding their voices to the 14 tracks recording.
The albums feature several interesting samples, the most famous being Ini Kamoze's 1984 track World-A-Music, produced by Sly & Robbie, on the title track. The militant, Confrontation features a spoken introduction by Bunny Wailer and speeches from Marcus Garvey and Haile Selassie I; Road to Zion features a sample from Ella Fitzgerald, Russian Lullaby, Move includes a sample from his father's monster hit Exodus, The Master has Come Back showcases Bide Up by Bunny Wailer, All Night samples The Skatalites hit Nimrod, There For You contains a sample from The Jacksons Heartbreak Hotel and Khaki Suit includes For Hire and Removal, by the eccentric Eek-A-Mouse.
The single, Welcome to Jamrock, personifies the real Jamaica: crime, poverty, political corruption and unending violence with the young Gong challenging those in authority to stop the mayhem, just like his father did 30 years earlier. Despite the global popularity of the single however, my favourite track on the album is For the Babies: There is no debating, no running away thing, a new life is awakening from his ejaculating, it's in the oven baking, takes two for the making, he's right there through the cravings, and early morning waking, school and educating, sports and recreating, karate and ballet thing, teenager of today thing, fathers still relating, still communicating and they'll always embrace him, cause they cannot replace him. History of the babies, beginning of the ages, you're flipping through the pages, and up and through the 80's, some are gang related, drug affiliated, some intoxicated, headed for the snake pit and papa locked in cages, and mama's lacking wages and this is what they face with upon a daily basis, bleaching out dem faces, running from dem races, shooting up dem places, killing other babies, as bitter as the taste is and words cannot explain it, just walk the narrow pavement and speak of love not hatred.
For the Babies resonated with me from the first time I heard the album as it aptly outlines the central reason behind Jamaica's incessant crime; the lack of fathers in homes. Seventy per cent of household in Jamaica are headed by females, and young men in most inner-city communities are given more "ratings" based on how many different baby mothers they have. It's like we are still living on the plantation when the slave masters used our fathers and brothers as "breeders". As Jah 9 pointed out in Highly: this is the kind of weakness that would cause a race to fail.
The album debuted at number 7 in the USA on the Billboard Hot 200, while the single peaked at 55 on the Billboard Hot 100, number 18 on R&B charts and number 12 on the rap charts. It also peaked at number 13 in the UK, was certified Gold in Canada, United Kingdom and the United States.
Welcome to Jamrock won the Best Reggae Album award at the 2005 Grammy Awards and the single won for the Best Urban/Alternative Performance. This was the first and remains the only time that any reggae artiste has won two Grammy Awards for one album.
The single was listed at number 270 on Pitchfork Media's Top 500 songs of the 2000s and is featured on FIFA 06, Midnight Club 3: Dub Edition Remix and The Sims 2: Bon Voyage, where it is recorded in the game's fictional language. American superstar, Alicia Keys has also recorded a version of Welcome to Jamrock.
36.'Til Shiloh – Buju Banton – 1995 – Loose Cannon/Island Records
Mark Anthony Myrie was already a topflight dancehall artiste with 3 pivotal dancehall albums; Stamina Daddy, Mr. Mention and a personal favourite, Voice of Jamaica; released between 1992 and 1993, when he released 'Til Shiloh (means forever). The album marked a departure from the hardcore dancehall artiste to a more roots oriented one and the transformation was unlike anything seen previously in local music.
Carlton Batts, Dalton Brownie, Glen Brownie, Junior Chin, Cleveland "Clevie" Browne, Bobby Digital, Sly Dunbar, Dean Frazer, Donovan Germain, Sylvester Gordon, Leroy Mafia, Gary Jackson, Robert Lyn, Wycliffe "Steely" Johnson, Gary Sutherland, Andrew Thomas, Handel Tucker, Andre "Dready Ranks" Tyrell, Lloyd "Gitsy" Willis, Junior "Left Toe" Don, Mikey Williamson, Tony Kelly and Dave Fluxy; were the all-star cast assembled by Gargamel's management to produce this definitive body of work.
Wayne Wonder, Garnett Silk, 2 Friends Crew and Marcia Griffiths; also added their vocals to the 14-track album which had Lisa Cortes as its Executive Director. The album was reissued in 2002 with 3 additional tracks while a 25th anniversary edition was released in 2020 with 2 new songs.
'Til I'm Laid to Rest, Murderer, Champion, Untold Stories and Wanna Be Loved; are all considered classics today and are usually included in the Banton's live set when he performs locally or internationally. Not an Easy Road is, however, my favourite song on the album and has been a source of inspiration on numerous occasions: From the minute of birth you enter this earth, obstacles deh inna your way to overcome first, throughout everyday they seem to get worse, oh my God, cast away this curse everybody a try fi mek every ends meet, through every way they endeavor, Lord God you see it, no matter what the world may say out ah street, must affi survive, won't accept defeat, now I'm weary, tired and dreary, got no time to waste, you better know that, it's not an easy road and many see the glamour and the glitter so them think a bed a rose.
The album reached number 27 on the US Top R&B/Hip-Hop charts, peaked at number 148 on the Billboard Top 200 Chart and was certified Gold in the United States.
'Til Shiloh was listed in the 1999 book, The Rough Guide: Reggae: 100 Essential CDs.