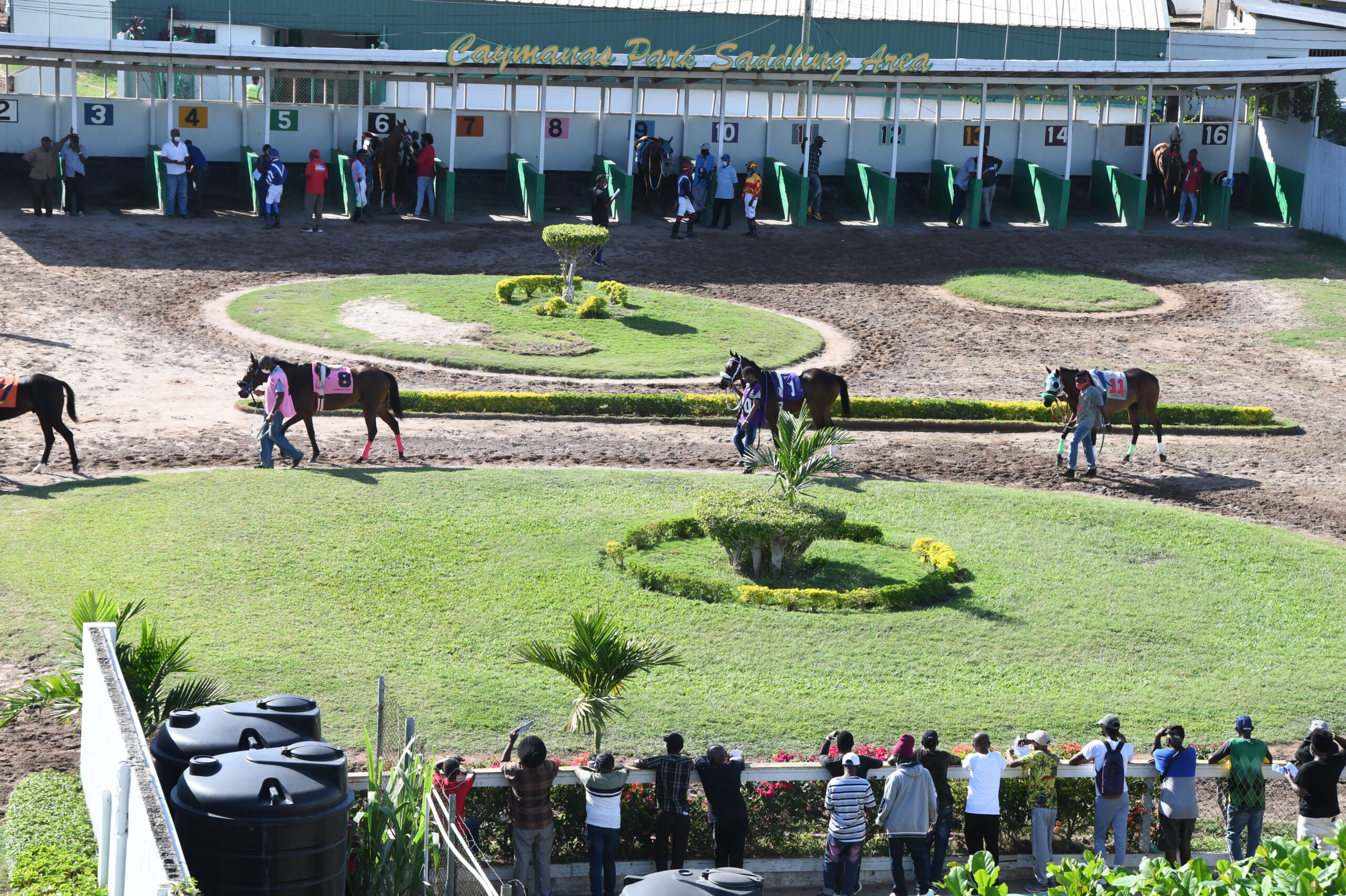 On January 21 news broke that, again, unrest raged at Caymanas Park.
Yet again, the fundamental bone of contention was the slow pace of purse increase negotiations and minimal offers made by the Promoter (SVREL), which many racehorse trainers felt were contemptuous. The incongruously named United Racehorse Trainers Association (URTA) threatened to withhold nominations as of January 25 unless a 10% increase (about $70 million) was offered.
But a breakaway faction from the disunited UTRA wasn't very supportive of the threat, while jockeys, on standby if needed, also preferred racing to continue with further negotiations. Jockeys' Association President Robert Halledeen said jockeys would ride whatever horses were nominated but he sounded as if, for him and his members, the more nominations the better.
My overwhelming reaction to this uproar was "yawn".
We've seen this clumsy, hysterical reaction to inadequate purses sporadically over the past 40 years. On every occasion, the result was the corporate Promoter simply waited for individual horsemen to feel the pinch of unemployment and turn on each other. Then the Promoter would make a slightly better offer (far below acceptable) which trainers quickly accepted. Then the self-destructive cycle of dissatisfied horsemen treading water until the next "strike" resumed.
In the Danny Melville era, stakeholders were shown the realities of horseracing promotion and convinced that unity of purpose and action was the only way for all to benefit. The track went without any industrial dispute for a decade but, towards the end of his time, Danny also experienced flare ups of this hostility to the Promoter often based on personal grievances.
Horseracing is a unique industry. Most stakeholders are independent of the Promoter but everyone, including the Promoter, is essentially paid by the same source, namely betting in the Tote. So it's in everybody's best interest for Tote betting to continue, grow, and prosper.
Trainers seem determined to achieve self-destruction using the same old scorched earth strategy of threatening to pick up their marbles and go home if, like Oliver, they don't get "more". This stupid, selfish strategy has failed them for four decades.
Trainers must understand the main beneficiaries of purse increases should be owners who, apart from breeders and promoters, are the only significant investors in the product from which trainers earn a livelihood. Oddly enough, Owners Association silence in this latest revolt was deafening. It's almost as if owners are asking "What's in this for us?"
So, trainers need to be more strategic than just holding out begging bowls, demanding more and threatening to diminish owners' already rocky fiscal resources as a negotiating tool. How do trainers propose to contribute to "increased purses" for owners? I expect genuine cooperative negotiations to include trainers agreeing to reduce or recalibrate their world highest 15% "bonus". It could be reduced to the international 10% standard or graduated depending on race finishing position.
Trainers already charge a daily fee for the keep and care of all horses.
Trainers should also understand the realities of the two-year pandemic's effect on SVREL's ability to pay. Their plan should be to sit down with SVREL and point out where savings can be made. By this method, trainers can credibly propose better for SVREL and request a share of the savings.
A "lockdown" hurts all horsemen more than it can hurt SVREL. Trainers KNOW from experience SVREL can simply close the track; layoff race day staff; turn on simulcast TV; and wait for hungry trainers to start eating horses for lunch. I thought a younger generation was more commercially pragmatic than revolutionaries of bygone days. Where's the collaborative approach needed in EVERY multi-stakeholder industry?
So, surprise, surprise, SVREL simply waited for factionalism to rear its ugly head then wrote offering an "incentive valued at $50,000 per race" payable to 1st to 6th placed finishers effective Feb 1-Jun 30 (costing only $16 million) and promised to "effect" the "proposed committee" in a 2020 MOU on July 1. With tail firmly between legs, UTRA quickly accepted and withdrew the "lockdown" threat. The cycle of self-destruction continues.
Round and round the Mulberry Bush
the Monkey chased the Weasel.
The Monkey thought it was all in fun.
Pop goes the Weasel
When will they ever learn? Is there any hope for an infusion of common sense and common purpose next time?
DEPARTMENTS:
Clocked-In
Abbreviations: CT = "Corrected Time"; TV = "Track Variant" (a calculation of track conditions' effect on official times to arrive at "real/corrected" times); TVs are expressed in fifths of a second; "minus" (-) means a fast track; "plus" (+) a slow track (e.g -2 is fast by 2/5th second). Variants beside horse's names represent the difference between its official time and the grade standard.
In January 21's column I wrote that Prince Marshall (-1), 3rd, in a 1,300m race for four-year-old non-winners of two "is a lightly-raced 4yo with plenty in the tank. He was running his second race after six months absence and 6th lifetime. A CT of 1:21.1 ensures he has at least one of these to win."
He duly demolished non-winners of two at overlay odds of 8-5 (yum, yum) and earned another entry here.
JANUARY 22, 2022 [TV+0.4 per 200m (Round) +4 (straight)]
Prince Marshall (-8) dominated (Race 9; 4yo+nw2; 1400m; TV+3) clocking 1.27.3! His CT (1:27.0) is over a second faster than non-winners of 3 and 1/5th second faster than nw4! As an unexposed, progressive four-year-old with plenty still in the tank, he can run up a sequence
JANUARY 29, 2022 [TV+0.2 per 200m (Round) +5 (straight)]
Race 5 (4yonw2; 1200m; TV+1) is a KEY RACE
Sweetyman (-6) progressed again; made all; hung on by a nose from Mine That Cat (staying on). Their joint time was 1:14.0! Their CT, 1:13.4, is 3/5th second faster than non-winners of three standard and 1 2/5th second faster than nw2. The unexposed winner can win again while the second, regaining form, after an extended stay in the doldrums, is one to be on at 1400m+.
The 3rd Proseco (-4) produced a CT of 1:`14.1 – a second faster than the grade average.
Overseas Betting Opportunities (OBOs)
Last time, I wrote about the Pegasus World Cup "The deserved Pegasus World Cup favourite is Breeders Cup Classic winner Knicks Go but it should be remembered that Life Is Good was considered a good thing to win the Triple Crown until he suffered an injury before the Kentucky Derby. He returned after the Triple Crown to dominate the Breeders Cup Mile at Del Mar. As an unexposed four-year-old with plenty in the tank, he's taken to upset the big favourite."
Life Is Good duly obliged at a shade of odds-on (guess we've more readers than we thought).
The Grade 1 Irish Gold Cup Chase (2m107y; Leopardstown; 1515GMT; 10:15 am Jamaica Time) is the big event tomorrow. The current favourite Minella Indo seems vulnerable. Three of his four wins over fences and both hurdles wins have come on undulating galloping tracks with stiff finishes. Last time out, as second favourite, he was pulled up in the King George at Kempton (a flat quick track). At Leopardstown, a flat galloping tack, his previous form figures are F/4th of 5 both as favourite.
So there's plenty incentive to oppose the favourite and most likely candidates are the Willie Mullins pair of Kemboy (two wins; three seconds; one third; one fourth from seven starts at the track) and Asterion Forlonge (2nd and rallying when over-jumped at the last and fell in the King George). Experience at Leopardstown and proven class at the trip make Kemboy the pick over his younger, highly regarded stable mate.
In NFL, my preseason Super Bowl pick, Buffalo Bills, were eliminated in excruciating fashion in the divisional play-off round at Kansas City in overtime without getting a chance to touch the ball. Those overtime rules need updating to allow for a full 30 minutes of play. If there's still a tie there should be an adaptation of real football's "penalty kicks" by way of rounds of Field Goal tries starting at extra point distance and increasing by five yards each round.
Anyhow, the Super Bowl will be contested by play-offs surprise package Cincinnati Bengals who won the AFC Championship game at Arrowhead after a terrific comeback topped off by an interception of Patrick Mahomes in overtime, and Los Angeles Rams who engineered their own comeback at home erasing a 10-point deficit to defeat the Forty-Niners 20-17.
The Bengals have over-achieved but the dream ends in Los Angeles where I expect the Los Angeles Rams to win the Super Bowl.
Let's add to your Cheltenham Festival ante-post portfolio:
Thyme Hill [7yo b.g. Kayf Tara-Rosita Bay (Hernando)] already earned a spot as "one to follow" over hurdles (October 15, 2021 "Nothing Wrong with the Track") but is now a specifically advised ante-post wager for the Stayers' Hurdle after an impressive effort in the Grade 1 Long Walk at Ascot (keeping on 1¾ lengths 2nd to Champ). He won't want it too soft at Cheltenham.
Good Luck!