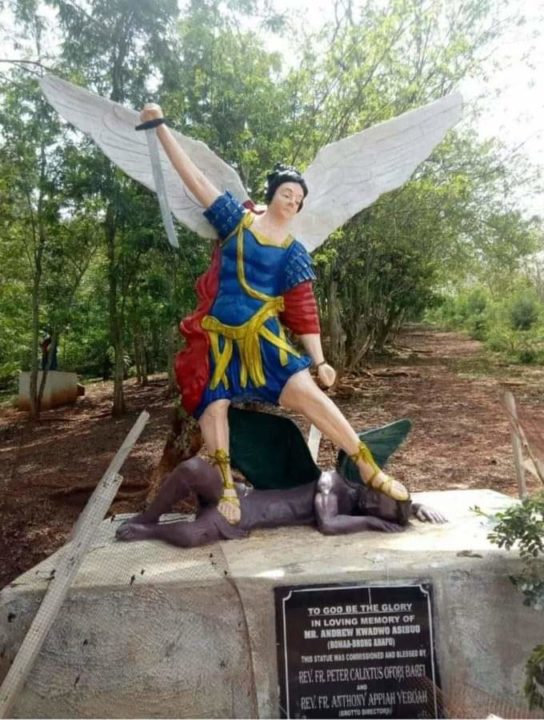 "The most disastrous aspect of colonization which you are the most reluctant to release from your mind is their colonization of the image of God" — Dr. Frances Cress-Welsing
I had no intention of returning to the issue of religious signs and symbols so quickly after my previous article "New signs and symbols for a new beginning", however the revolting discovery that the insignia worn by Jamaica's Head of State, Governor General (GG) Sir Patrick Allen, depicts a white saint trampling a black devil and the declaration by the Archbishop of Canterbury and Head of the Church of England, Justin Welby, that the church should reconsider its portrayal of Jesus as a white man, have made my return preordained.
During Mutabaruka's Cutting Edge programme on Wednesday, June 23, 2020, he related a story that all Blacks should not only hear, but listen to repeatedly. He had visited a school while on tour in Germany some time ago and asked the students to draw a picture of Jesus, their saviour. All the students drew the white, blue-eyed European that is used to depict Jesus.
On his return to Jamaica, he visited Maggoty High School and asked a class of students to complete the same task. All the students produced the same image as the German students did. What image do you think the students, in both schools, would reproduce if they were asked to draw the devil? When a black child is indoctrinated from birth that Jesus is coming back to save him/her and the imagery of Jesus that he/she has is that of an unknown European male, mental emancipation of the black mind will continue to be a fleeting illusion – always being pursued but never attained. The late Icon Vaughn "Akae Beka " Benjamin warning about the "damage of the false Christianity", from his 1997 hit Bushman is sounding even more ominous today.
Last year when the Government of Jamaica announced plans to repeal the 1898 Obeah Act, the Jamaica Council of Churches (JCC) and Christian groups were among the first to voice their disagreement. Obeah was first made illegal in Jamaica in 1760, shortly after the end of Tacky's rebellion, which was the largest slave revolt in the English-speaking Caribbean in the 18th Century. The colonizers had learned that Tacky and his other brave heroes were advised by Obeah men who gave them courage, solidarity and spiritual protection. The law made Obeah a crime punishable by death.
The Church at the time supported the ban on the Spiritual Healing System which originated on the Gold Coast of Ghana. 259 years have passed since the ban and the Church's position has remained unchanged. I now understand why a humble Marley felt like "bombing a church", having come to the realization that the preachers have been lying and will continue to lie. Like Rastafarian empress Jah 9, I am also demanding an answer from "Mr. Preacher Man" as to why "the tool of our oppressors" is still playing such a germane role in the life of African people. And unlike Jahmali, I refuse to contemplate whether the oppression "was ordained", as some misguided Africans still believe today.
Up to the time of writing, news of the GG's racist insignia has been in the public domain for almost a month and outside of the GG's pathetic puny response, I am yet to hear the JCC or Christian groups' position on this very appalling representation of black people. Do they agree that the Christian God is white and that the Christian devil is black? I'm certain the popular retort would be that the colour doesn't matter but as Tarrus Riley succinctly puts it in "Love Created I", "You tell me, it's not about colour, still you refuse to take the picture off the wall, all you do is trick the brothers, keep them confused, they don't know who to call in this critical war. You tell me of a paradise in the sky, but that's a lie".
This contaminated concept that everything Godly/angelic is white and everything devilish/satanic is black, comes directly from Christianity and with most of us proudly passing on the contamination to future generations, the mental emancipation that Garvey and Marley spoke about, increasingly seems a pipe dream.
Many other Jamaican musicians have attempted to wake up the masses but while most of us hear the message, we refuse to listen.
Reggae Icon James "Jimmy Cliff' Chambers was surprisingly one of the first Jamaican artistes to sound the alarm in his 1972 classic "The Harder They Come", still the best reggae movie soundtrack.
Well they tell me of a pie up in the sky
Waiting for me when I die
But between the day you born and when you die
They never seem to hear your cry
So as sure as the sun will shine
I'm gonna get my share of what's mine
The harder they come
The harder they fall
One and all.
Cliff's "Piece of the pie" from his 1983 album "Power & the Glory" (his best album and among the best reggae albums ever made) is an extension of "The harder they come":
They robbed our fathers of their gold
And tried to take their soul
We realize we know the score
So don't try that no more
No tricks, no traps, no lies, no gripes
Can't hold us anymore
We've had enough of jive and bluff
We want our share for sure
We want our piece of the pie
Right here, right now.
Bunny Wailer's 1976 classic, "Reincarnated Souls" had prophesied the ushering in of the Age of Aquarius, a time when astrologers believe that "humanity will take control of the Earth and its own destiny as its rightful heritage, with the destiny of humanity being the revelation of truth and the expansion of consciousness".
Peter Tosh did not sit on the fence when the topic of religion/Jesus came up and while "Get up Stand Up" (the version released on Talking Blues in 1991, is more militant) remains his most popular wake up song, "Stand Firm", is his most potent:
Dis ya one come tell I say
Another one come tell I say
If you want to be saved son
You got to go in your grave son
Pack of bullshit
That is bullshit I say.
The other one come tell I say
If you want to be in the light son
You've got to love Jesus Christ son
That is fantasy
Whole pack of ignorancy – I say
All you have to do
Live clean let your works be seen my brothers.
Dis a one come tell I say
Another one come tell say
To be in the light
Got to check Jesus Christ
Talk it like gladness
But that is madness I say.
Miguel Collins, the most potent lyricist to emerge from Jamaica in the last 40 years, has certainly been waking up African people since he exploded on the scene in the late 90s. His "No white God" bears the hallmark of an artiste who is immensely knowledgeable about the fallacy of a white saviour, while on "Inna dem face", Sizzla doesn't mince his words:
When I all a chant ah know ah nuff ah go fry
The rivers ah go stop and dem flesh gwan dry
All now dem a look fi see God come from sky
Ah bellow pon dem Jesus nah get no reply
Can you do without this Earth?
Can the Christian faith do without its white Jesus or will all denominations unite to create culturally/racially acceptable versions of Jesus for each region/race? Or, will this run contrary to Hebrews 13:8which states "Jesus Christ is the same yesterday and today and forever"? What about the symbols of white angels and black devils? Would it be politically correct to change the devil to caucasian or Asian? Is the image of Jesus too contaminated for non-whites to continue using?
Should the brand be retired like Aunt Jemima and the cream-coloured Band-Aids? We are certainly living in interesting times and as an African it should not be up for debate as to whether all these racist religious symbols should be physically removed from the African space. As a matter of fact, the "Tiefing Queen", her representative, the "Private Council" and all titles and symbols associated with the brutal British need to be removed forthwith from the African space.
It was National Hero Marcus Garvey who said 'if the white man has the idea of a white God, let him worship his God as he desires, Whilst our God has no colour, yet it is human to see everything through one's own spectacles, and since the white people have seen their God through white spectacles, we only now started out (late though it be) to see our God through our own spectacles".
This year marks 80 years since the great man has left us and we are still seeing God through the white man's spectacles? Arise African people; the Age of Aquarius has certainly arrived for us.