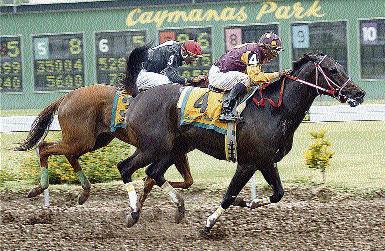 Abuse of horseflesh in the name of sport and entertainment continues unabated at Caymanas Park.
In Public Opinion's issue of June 25, 2021 (Whipping up interest in the St. Leger), I decried the cruel habit of whipping a race horse allegedly to make it run faster. I wrote:
"A few months ago iconic broadcaster Fae Ellington…. asked me why are so many horses being hit so often with a whip.
The only response I could muster was along the lines of admitting that human beings, generally less intelligent than horses, loved a show and the sight of horses running down the stretch with jockeys' whips flying made for good TV. There's no other sporting or biological reason for it."
There's no difference in outcomes between beating a child and beating a horse. Both are traumatized so perform fearfully and do just enough to avoid further abuse. I keep trying to teach turfites that horses are people too. Just as no human, of any age, would enjoy being ridden by a 50+kg person (with or without a whip) neither does any horse.
Horses are born on a farm where their formative years are spent frolicking in large paddocks filled with lush grass for snacks. They are fed and groomed regularly. Most children have similar upbringings. Suddenly, young horses (at an age equivalent to a child of ten) are taken away from home and sent to a boarding school where some inconsiderate jackass tries to force them to wear a saddle and bridle. Then (horror of horrors) the jackass mounts up to "school" the horse in being ridden. Can you imagine?
Horses initially revolt. We've seen innumerable cowboy movie scenes with wild horses acting like bucking broncos until they realize humans have no plan to stop no matter how loudly they protest. So they surrender. This is euphemistically called "breaking" a horse.
So horses submit but NEVER get around to liking being ridden. This is the reason you often see them misbehaving at the track especially when asked to enter a claustrophobic metal stall that hurts when you hit it and offers zero comforts of home. Have you ever asked yourself why some jockeys (usually the better ones) take their feet out of the stirrups when heading down to the starting gates? It's a ploy to trick a temperamental horse into believing it isn't being ridden so it'll relax and go with the flow. The best jockeys don't fight their horses in races. They try their best, using balancing techniques, to pretend they aren't there. The best I ever saw at this was George HoSang who often appeared a mere passenger on his mounts. Lester Piggott was a completely different individual who insisted on dominating his mounts. Lester's mounts did as they were told or else…
Whipping only makes an already uncomfortable environment frightening. Whips should only be used (sparingly) as a last resort. I cringe every time I see some idiot whipping a horse repeatedly even though the horse is winning by a city block or clearly shying away from the whip. It's just another symptom of the violent society in which our jockeys were nurtured.
In my June 25, 2021 column I set out the rules in England surrounding whip use which then included a maximum of seven times in a Flat race and eight in a Jump race. Detailed rules were passed to include the amount of force that could be used and the conditions of "acceptable use".
Recently the British Horseracing Authority (BHA) revisited those rules to tighten them even further and provide for harsher sanctions. According to the Racing Post: "Winners of races could be disqualified if their rider contravenes whip rules under new regulations announced by [BHA]. Under the revised rules, a jump jockey who uses their whip 12 or more times (11 strikes or more for Flat jockeys) in any race could be thrown out. In major races, as well as being disqualified, the jockey could also receive a 28-day ban."
Additionally, jockeys will only be allowed to use the whip in the backhand position. These ramped up rules were imposed after widespread consultation with industry stakeholders. It's believed the result of this year's Grand National was the trigger for the rules revision which is expected to come into force this autumn.
Amateur jockey Sam Waley-Cohen who won the race was suspended for nine days (irrelevant as it was his last ride before retirement) and fined £400 for using his whip above the permitted level (after jumping the last fence) and in the incorrect place (on the run to the line). No doubt Sam laughed all the way to the bank.
In Jamaica, we have no rule protecting horses from whip abuse. This is a disgrace. Owners and trainers who would be incensed if their children were whipped at school turn blind eyes to jockeys notorious for overuse of the whip. As a 60th birthday present can we give Jamaica some relief from animal abuse in the name of sport?
Let's hope this weekend's Derby will be run without any abuse of any kind. It's billed as a rematch between Blue Vinyl and Atomica. As between those two, I confidently expect Atomica to turn the tables on her St Leger conqueror. In that race she received an atrocious ride (reminiscent of the ride another Dane gave Further and Beyond in last year's Derby). Although I suppose a change of jockey is too much for which to ask (trainers tend to be more sympathetic to their jockeys than their owners), I do expect an improved tactical race which should be enough to reverse St. Leger placing. However, both could fall victim to a lightly raced outsider who is sure to stay and whose profile reminds me very much of 1972 Derby winner Balladier.
In June 24's Clocked-In Department I wrote this about the second-placed finisher in a 1,600m maiden condition race on June 18:
"Monsieur Blue (-0) earned a CT (1:41.2) that's 3/5th second faster than maiden special weight (a higher grade). He looks like a real stayer in the making and an attractive each way punt for the Derby."
He was withdrawn from his next intended start but subsequently trotted up by eight lengths in a 1,600m maiden special weight on July 23. Ignore him at your peril.
DEPARTMENTS:
Clocked-In
Abbreviations: CT = "Corrected Time"; TV = "Track Variant" (a calculation of track conditions' effect on official times to arrive at "real/corrected" times); TVs are expressed in fifths of a second; "minus" (-) means a fast track; "plus" (+) a slow track (e.g -2 is fast by 2/5th second). Variants beside horse's names represent the difference between its official time and the grade standard.
SUNDAY JULY 17, 2022 [TV+1.0 per 200m (Round); +12 (straight)]
The first two (Race 7; 4yonw3/Imported 4yonw2; 1500m; TV+7.5) finished ten lengths clear of the third.
Katalina (-1) has taken forever to confirm two-year-old promise and obviously has issues but came good here clocking 1:34.3 on a very slow track. Her CT (1:33.0') is half a second faster than Overnight Allowance standard. She has more races to win.
Heavenly Glitter (+1), 2nd, clocked 1:35.0. That's a CT of 1:33.2' which is more than a second faster than the grade average. Losses are only lent.
Overseas Betting Opportunities (OBOs)
Tomorrow the Shergar Cup races will be contested at Ascot. It's an offbeat event in which teams of jockeys compete for the Cup. It was inaugurated in 1999 at Goodwood but switched to Ascot in 2000.
As usual, PO's deadline comes too soon for confident predictions but Neptunian,an unexposed three-year-old who showed marked improvement to win last time out, should have no problem with the drop to five furlongs and looks a decent each way flutter in the Dash (0-105 handicap; 1410GMT; 8.10am Jamaica Time).
Top weight Alfred Boucher, a strong second to Soapy Stevens (since won at Newmarket and ran a cracker to be 1¼ length 4th to Trawlerman in a valuable Goodwood handicap) over two miles at Chester has a chance second to none in the Stayers (0-100 handicap; 1m7f209y; 1445GMT; 8.45 a.m Jamaica Time).
In the mile (0-105 handicap; 1555GMT' 9:55a.m Jamaica Time), unexposed four-year-old Montassib looks nailed on to improve for this step up in trip and is an attractive each way bet.
Last issue's notebook horse Zarga disappointed at Glorious Goodwood (good to firm) but that track is notoriously quirky so she can be given another chance on a flat track like York.
Here's another notebook horse for you:
Sheer Rocks [3yo ch.c Iffraaj-Paradise Cove (Harbour Watch)]
"Unlucky in running" is a standard refrain at Goodwood but Sheer Rocks, usually a prominent runner, was severely hampered at the start of the Oliver Brown Handicap (0-90; 1m3f) and shuffled back. Still he managed to run on for fourth (nearest at the finish) and should make amends soon. He's one to look out for at York in August.
Good Luck!