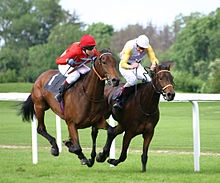 Jamaica's brainless, unoriginal, sycophantic horse racing media "analysts" are at it again.
From as far back as July this year, one excitable radio commentator announced that Anthony "Baba" Nunes was the 2019 Champion Trainer and has been applying that prefix to his name ever since. He made that identical error last year. This year, the calls for 18-time Champion Wayne DaCosta's crown have become more intense as their decibel levels exceed those of taxi drivers' horns when the traffic light turns green.
But the leading exemplar of this visionless, misconceived fixation is the Official Race Programme's resident guru who goes by the nom-de-plume of "Jimmie". To be fair to Jimmie, he's not alone in his inability to demonstrate an understanding that what's needed is analysis, NOT a likeness to a weather forecaster whose research begins and ends with opening the window.
When looking at future events like Trainers' Championships, one reality is of primary importance. It's that every horse racing season, like every football match, is a game of two halves. The season's first half, featuring the classics, belongs to three year olds. For the past 25 years or so, it's become gradually easier to dominate these races due to the increasing export of our best yearling bloodstock to Trinidad and Tobago in return for 30 (or more) pieces of silver paid to breeders. The "what lef'" is usually below par so, if you get a good one and can keep it sound (easier said than done) you'll prosper January to July.
Caymanas Park opened in 1959. Until 1981 (Royal Dad), there were zero Triple Crown winners. Two more followed in the 1980s (Monday Morning; 1987 and Lui Chie Pooh 1988). Since the advent of the gold rush from Trinidad there've been seven more (two in the 1990s; five since Y2K) so the acceleration of the decline in the quality of three year olds staying at home is obvious. No filly won the Triple Crown before 2002 when Simply Magic broke the glass rails.
The second half of every racing season belongs to older Graded Stakes campaigners who, unless there's an exceptional three year old, are sure to boss the younger generation around. So, the secret to a Trainers' Championship (apart from being an outstanding conditioner and strategic placer of horses) is to be able to have a stable with depth and variety so that even if you're dominated in one category, you can hang on until your turn comes. NOBODY has been better at doing this than the iconic Wayne DaCosta, so why media keeps writing him off months before the end of every year never ceases to amaze me.
Last year, after training genius DaCosta suffered a body blow setback in the Diamond Mile due mainly, in my opinion, to negligence by starting gate attendants, our glib guru "Jimmie" wrote (December 11):
"Anthony Nunes trainers' championship coup de grace continues…" and "Leading defending 17-time champion trainer Wayne DaCosta by $1.576 million, Nunes is beyond recall following the turn of events in the Diamond Mile". He described Nunes' lead as "unassailable".
Yawn.
Three weeks later, the 17-time Champion became the 18-time Champion with an exhibition of conditioning and strategic understanding of the condition book second to none. By the year's final race day, Jimmie was writing "Reigning Champion DaCosta starts the day in the driver's seat for an 18th overall and 13th consecutive title….."
DWL!
Has he learned anything from that analytical debacle? Nah! This year, with Nunes comfortably dominating the three year old races and landing a Triple Crown, his lead in the Trainers' Championship at the end of July was a whopping $19.2 million. The chirping began in earnest. Surely, THIS TIME, they had the perennial champ where they wanted him?
On September 6, Jimmie proclaimed the contest over, referring to "all but crowned Anthony Nunes and soon-to-be-dethroned 18-time Champion Wayne DaCosta". Even as the Great Man relentlessly chipped into the huge deficit, Jimmie stuck to his guns, with a screaming headline on September 20 "Nunes cruising with $16 million advantage" and, looking like a deer in the headlights, a lengthy diatribe on Sportsmax TV on Superstakes Sunday as to why DaCosta's apparent iron grip on the Grade 1 races wouldn't be enough. He assured sycophants that Nunes was not "a standing target" as he had Stakes, allowance and claiming horses capable of winning races. So, does Jimmie believe Wayne DaCosta has none of those?
Anyhoooooo, after Saturday October 12's race day when DaCosta posted two winners in restricted stakes races, the deficit has been reduced to less than $11 million and it's very much game on with more than 2½ months still to go.
Clear-thinking observers KNOW that we've been down this road before and that Wayne DaCosta, who personified Prince Buster's "Hard man fi dead", will NOT give up his title without a fight to the very last race. This contest is NOT over. It will provide some excitement yet, which I hope the promoter uses to boost sales.
May the best man win!
DEPARTMENTS:
Clocked-In
This regular review of local performances is based on REAL times.
Abbreviations: CT = "Corrected Time"; TV = "Track Variant" (a calculation of the effect of track conditions on official times to arrive at "real" or "corrected" times); TVs are in fifths of a second; "minus" means a fast track; "plus" a slow track (e.g. -2 means fast by 2/5th of a second). Variants beside horse's names represent the difference between its official time and the grade standard.
OCTOBER 6, 2019 [TV-0.1 per 200m (Round); +3 (straight)]
My Little Princess (-6) seemingly has her problems but they appear to be behind her as she destroyed rivals by 6½ lengths (R4; 3yo maiden condition; 1100m; TV -1) in 1:07.2! Her CT (1:07.3) is already 2/5th second faster than nw2. She's obviously progressing so should have no trouble at that level.
N.B: My Little Princess ran on October 12 (3yonw2; 1400m) but was hampered 800m out and weakened from over 300m out. She's not to be written off and remains one to keep onside when returned to sprints.
Stranger Danger (-4) was again imperious in victory (R8; Graded Stakes; 1600m; TV-1) beating Uncle Frank by seven lengths in 1:36.3! The winner's CT (1:36.4) is 3/5th second faster than Grade 1 standard with more sure to come.
The 2nd's CT (1:38.1) is more than a full second faster than Open Allowance. The same applies to the third Fayrouz (3/4 length behind Uncle Frank)
With the Diamond Mile coming up, readers will appreciate the following comparison on speed between the top two contenders.
Stranger Danger's speed rating (1600m; October 6) = 124p
She's A Maneater (July 20; 1500m) produced a speed rating of 127
The former is the unexposed one who can be expected to improve (hence a small "p" added) while the latter is the object of a repeated comment from regular partner Omar Walker that "since the trainer change the groom, she's a different horse!"
For what it's worth, my usually impeccable sources tell me there's a tug-o-war going on between Omar (who wants to ride She's A Maneater) and his agent who insists he ride Stranger Danger.
What a preckeh!
Overseas Betting Opportunities (OBOs)
Last time we put up Cumberland Lodge winner Morando at 2/1 and Veracious who was a gallant second in the Sun Chariot at 10/1.
It's Champions Day at Ascot tomorrow and, at this early stage, I'll try to mark the high quality card for you. Begin with course specialist The Tin Man in the sprint (1335GMT); then take Coronet to turn the tables on 2018 winner Magical in the Fillies and Mares (1410GMT); Stradivarius (Banker) in the Long Distance Cup (1445GMT); English 1,000 Guineas winner Magna Grecia, coming off 5 months break after seeming amiss in the Irish 1,000 Guineas, in the QE II (1520GMT); and Elarqam at double-digit odds in the Champion Stakes (1600GMT).
I've already warned Maximum Security won't run in this year's Breeders Cup (November 1 and 2). I'll be previewing that meet in detail next issue. Meanwhile, remember Public Opinion deadlines are early so readers should check on me on Twitter @TheTerribleTout for updated race day selections.
Time for a notebook horse for the jumps:
Looks Like Murt [6yo b.g Well Chosen – Ninetypenceapound (Treasure Hunter)] was impressive during a winning chasing debut for Lucinda Russell. After a brief hurdling career (2 starts; 1 second; 1 third) during which he always shaped like he would be better over fences, given time, he pulverized rivals and is very much one to keep on the right side this winter, especially at Ayr, Carlisle and Hexham (where the stable does so well) on testing ground.
Good Luck!