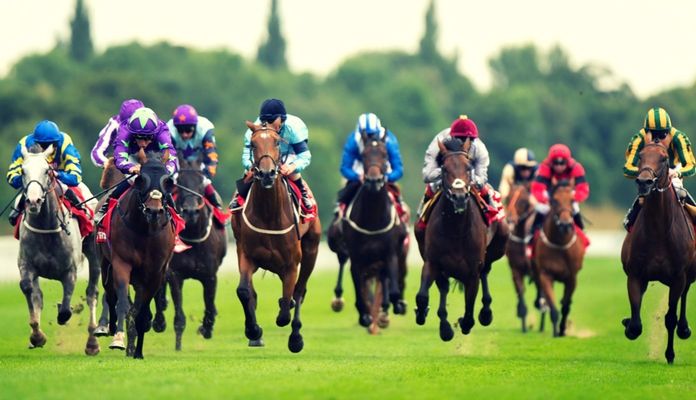 When Chris Armond and I were students at iconic Campion College our teachers were mostly excellent.
One standout exception was a Geography teacher who we nicknamed "Ratty" due to the shape of his head and a tiny beard he grew closer to his neck than chin. "Ratty" was a treat. He taught Geography the old fashioned way. Each student rose to his hind legs and read a paragraph from the text book. Out. Loud.
One day a student drew the short straw. The one that broke Ratty's back. He was reading about exports of a nation dependent on fishery. They included salmon. Ratty stopped him as soon as he spoke the word.
"Boy," he sternly corrected "that should be sallmon. Now read it again".
The hapless trainee, accustomed to saying it right, repeated his "error". Ratty lost it. "Boy, if I've told you once I've told you a thousand times. The word is sallmon. Sahmon is, when yu want to call somebody, yu sahmon dem!"
I recalled Ratty's lesson in the language of Geography as I listened to local racing's various public hypesters (none are "analysts" properly-so-called) advising the betting public to back odds-on favourite after odds-on favourite to win race after race. If I've told you once I've told you a thousand times. DON'T. BACK. SHORT. PRICED. FAVOURITES!
It's a worldwide statistical fact that, long term, favourites win one of three races. So, if you habitually back favourites starting at less than 2/1 (a rarity in Jamaica where a rapacious promoter confiscates 30%+ of stakes before declaring dividends) it won't take a Rocket Scientist to understand you're on the road to fiscal suicide which leads to horseplayers' Hell — the Alms House.
Let's take a small sample of races run at Caymanas Park in 2021. Fifteen horses have started at odds-on. EIGHT have lost! The losers were (January 1) Sudden Flight (1/9); Burlin (4/5); (January 2) Royal Vibes (1/2); Sir John (1/2); (January 9) Big Black Nation (4/5); She Boom (3/5); (January 16) Top Shelf (2/5); Taurus Boy (3/5). The seven odds-on winners started at 4/5; 3/5; 4/5; 2/5; 4/5; 1/5; and 3/5. You do the math and tell me how much hard-earned was lost by backers of these odds-on favourites!
So far in 2021, favourites starting at evens or better lost 17 of 23 races. In one race both joint favourites lost. Not one winning favourite started at 2/1 or better. The winning evens+ favourites were (January 1) Miss Hazel (1/1); Generational (8/5); Sure Curlin (1/1); (January 2) NONE; (January 9) NONE; (January 16) Bern Notice (1/1); Father Patrick (3/2); Victory Turn (6/5).
In 2021, at Caymanas Park, favourites have won 13 of 38 races run.
Hopefully you took notes because it's exam time. Take out your calculators. Work out how much you won betting on THESE 38 favourites. You there! The bespectacled boy in the back! What's that you say? Nothing? Backers actually lost a fortune? Go to the head of the class.
Now repeat after me. One. In. Three. Favourites. Win!
For pity's sake, if you can't find a value alternative (one whose odds are longer than your assessment of its winning chances) to a favourite starting at shorter than 2/1, don't bet. God gave you two thumbs and many other digits for the purpose of turning race book pages to seek value elsewhere.
Horse races are like buses. Miss one? No problem? There's another in 30 minutes. Hail the value-bet bus and its route won't end at the Alms House.
DEPARTMENTS:
Clocked-In
Our regular review of local performances based on REAL times returns but not before the woodwind section points out that both of our Five to Follow from last issue to run so far (Bern Notice and Father Patrick) won.
For Clocked-In regulars, Abbreviations: CT = "Corrected Time"; TV = "Track Variant" (a calculation of track conditions' effect on official times to arrive at "real/corrected" times); TVs are expressed in fifths of a second; "minus" (-) means a fast track; "plus" (+) a slow track (e.g -2 is fast by 2/5th second). Variants beside horse's names represent the difference between its official time and the grade standard.
Here are 2021's clock clues.
JANUARY 2, 2021 [TV-0.2 per 200m (Round) -3 (straight)]
Purple Wayne (-22) found a perfect spot (Race 2; $650,000 claimers/5yonw4; 1600m; TV-2) and won as he liked by 7 lengths in 1:39.4! His CT (1:40.1)is 2/5th second slower than Overnight Allowance standard but there's more in his tank especially over further. He can win a restricted Overnight Allowance and in the claiming ranks up to $850,000.00
JANUARY 9, 2021 [TV-0.2 per 200m (Round)]
Race 10 (5yonw3; 1400m; TV-1') is a KEY RACE!
Blind Faith (-15) produced a scintillating effort proving THIS is his trip (should stay 1600m) and winning by 8¾ lengths in 1:26.2! Her CT (1:26.3') is only 3/10th second slower than Overnight Allowance standard but TWO SECONDS faster than 5yonw4 where she's a cinch to repeat.
Latapy (2nd)/MamasharondarlinG (3rd)/Milkman (4th) (-6) were separated by a neck/head for joint CTs of 1:28.2 – a second faster than the grade. Each has a 5yonw3 to win as does the 4th Bloodsweatandtears (-5) whose CT (1:28.3) is 4/5th second faster than nw3!
Overseas Betting Opportunities (OBOs)
Forty-three year old Tom Brady read the writing on the wall after winning six Superbowls with the Patriots; bolted to join under-performing Tampa Bay Buccaneers; and brought great tight-end Rob Gronkowksi out of retirement to join him. The result? The Bucs head to Lambeau Field for the NFC Championship game after retiring 42-year-old Saints Quarterback Drew Breese on Sunday.
The New England Patriots failed to make the play-offs for the first time since Whoppi kill Phillup.
Can the Grand Old Man do it one more time? Can he succeed where many have fallen at the visitors' graveyard that's Lambeau Field in January? The last time the Bucs visited Lambeau was December 2017. Then they lost 20-26. Now they have Brady. The Packers won a weak division and look vastly over-rated to me so I'm with Tom. Take the Tampa Bay Buccaneers (+3½) to create yet another upset and play in a Superbowl at home.
On the AFC side the Bills have been a revelation this season, none more so than third-year QB Josh Allen who has blossomed into a big time player and developed a remarkable connection with Wide Receiver Stefon Diggs. The Bills will travel to Arrowhead Stadium to play defending Superbowl champs Kansas City Chiefs who hung on grimly to beat the upstart Cleveland Browns after Wunderkind QB Patrick Mahomes left the game in the third quarter with a suspected concussion.
Will Mahomes play on Sunday? I don't think it matters because the Bills are showing every sign of a team of destiny. Iconic former Bills QB Jim Kelly predicted a year ago Allen would break all his records. He's well on the way. The Chiefs are favoured by three points but I expect the Bills to win outright and head to Tampa.
The Bills last visited Arrowhead in November 2017 and won 16-10. In the last ten Chiefs/Bills matchups the road team is 8-2 against the spread (ATS). Bills are 9-1 ATS their last ten games while the Chiefs (winning but failing to cover some generous spreads) are 0-8 ATS their last eight games on grass.
Take the Buffalo Bills (+3) to send Arrowhead into depression.
Tomorrow's racing at Ascot features the Grade 1 Clarence House Chase (2m167y; 1535GMT; 10.35a.m Jamaica Time). The big favourite Politologue , a strong galloping front runner who has won 10 of his 21 Chases including the Grade 1 Tingle Creek at Sandown (December), is most deserving of his status but the entire tenor of this week's column should warn you I'll be looking elsewhere for value. At time of writing (Monday) the ground is already soft and 24-27 centimetres of rain are forecast for the week.
Ruth Jefferson's surprise late supplementing of Waiting Patiently (expected to relish underfoot conditions) after his excellent staying on second in the King George (3 miles) has caused upheaval in the betting and lengthened the odds of last year's winner Defi Du Seuil who lostfans when he pulled up at Cheltenham last time out (November 15). He has an impeccable profile including winning the 2019 Tingle Creek (Waiting Patiently a length 3rd); is sure to be presented spot on tomorrow; and is the one to be on.
Finally, one more Notebook Horse for your Cheltenham Festival portfolio:
Sharjah [8 b.g. Doctor Dino-Saaryeh (Royal Academy)] has been laid out for the Champion Hurdle (March 16) by top Irish trainer Willie Mullins since 2nd last year to Epatante (returns as the big favourite). He has only raced three times since — twice on the flat then returning over sticks with an impressive win in the Grade 1 Matheson Hurdle (Leopardstown; December 29). He'll arrive at Cheltenham better than ever.
Good Luck!