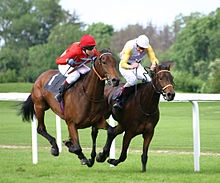 Guineas anticipation is at a high after an impressive reappearance by pre-season favourite Wow Wow and flashy, clock-stopping efforts by "talking horse" Mahogany.
Wow Wow returned onFebruary 9 (3yo Graded Stakes; 1,300m) where he showed an impressive change of pace staying on well past Nipster (one for the notebook). The regret is Nipster is likely to be highly tried in the coming months so may never be able to go through his conditions where he'd be one to follow.
This Wow Wow is an enigma because, before now his style of running and conformation all screamed sprinter, but his latest effort (corrected time was 1/5th second faster than Overnight Allowance standard) suggests 1,600m won't be a problem.
Much has been made of the fact that Wow Wow's half brother Crimson stays forever but that one is by Mineshaft sire Nuclear Wayne who already sired a Guineas winner (Nuclear Affair) and stayers like Bruce Wayne and Trinidad and Tobago Derby winner/2018 Horse of the Year Cape Canaveral.
Mineshaft was a multiple Grade 1 winner in the USA, including the 10f Suburban Handicap and the 9.5f Woodward Stakes. He also won a mile at Newmarket in England and was 6l 10th of 31 in the one mile Brittania at Royal Ascot.
Nobody mentions that Wow Wow's half-sister Sarah Lee (by Taqarub) was a sprinter and 1,000m (straight) specialist.
Wow Wow's sire Casual Trick (2nd in the 8½f Gulfstream Park Derby but never won a stakes race) is out of an Epsom Oaks winning mare Casual Look and his sire Bernardini won the 10f Jockey Club Gold Cup and was second in the 2006 Breeders' Cup Classic so a mile should be well within Wow Wow's compass as a 3yo.
Mahogany [Sensational Slam-Mete-Orite (Traditional)] is a different kettle of fish altogether. He has three scintillating runs on the clock since fitted with blinkers but all have come while loose on the lead and without stress. Another note of caution is that it took blinkers to get him to concentrate on the job at hand. Blinkers aren't guaranteed to work every time and, when he gets company on the lead, he could once again become distracted.
Mahogany's sire was a Canadian-bred sprinter whose 3 wins (two on Woodbine's polytrack) came at 5½/6f. His dam is a half-sister to the legendary Menudo (Derby and Superstakes winner) but Menudo was by The Medic (offspring stays forever) while Mete-Orite is by Traditional, traditionally (ouch) a sire of sprinters.
I wouldn't like to have my not-so-hard-earned cash on Mahogany in a fast run 1,600m classic, but he could prove the undoing of Wow Wow and cause the race to run perfectly for thorough stayer Tomohawk who seems sure to be best when the two turn classics come around.
In other good news Supreme Soul returned home last week, as this column predicted. The better news is that my usually impeccable sources report the "keep and care" bill was slashed in half by USA authorities and the Jamaica Racing Commission agreed to absorb the cost.
All's well that ends well.
DEPARTMENTS:
Clocked-In
This regular review of local performances is based on REAL times.
Abbreviations: CT = "Corrected Time"; TV = "Track Variant" (a calculation of the effect of track conditions on official times to arrive at "real" or "corrected" times); TVs are in fifths of a second; "minus" means a fast track; "plus" a slow track (e.g. -2 means fast by 2/5th of a second). Variants beside horse's names represent the difference between its official time and the grade standard.
Last time I warned you: "Baltusrol ran into a tartar named Formal Fashion on January 26 and was beaten 1¾l into 2nd over a shorter trip (1100m)….and….needs only a bit more real estate (1200m should be enough) to be a good things at 4yonw3."
Well, it turned out that 1,000m (round) was enough on February 16 as Baltusrol (ridden all the way to keep up) won going away at 3/2. Twitter followers were advised that Baltusrol was The Terrible Tout's NAP OF THE DAY!
I also told you that, from the same Key Race as Baltusrol: "Eye Candy used her experience to beat a slew of 4yo non winners of 3 in 1:12.3! Her CT (1:13.0) is a tick slower than Overnight Allowance standard so she should win at any high claiming tag without difficulty. If her connections don't tire her out trying for an elusive Overnight Allowance win she's one to be on when dropped to high claiming."
Since then Eye Candy came up a shade short in another Overnight Allowance on February 16 (2nd to importee Harry's Train) and contributed to a significant exotic payout ($4,446.00 Exacta; $1,689.00 Quiniela). That win in high claiming is just around the corner.
Let's see what happened since we last met:
FEBRUARY 8, 2020 [TV -0.33 per 200m (Rd) –2 (Raw Liquid) -0 (Patriarch)]
RACE 11 (4yonw3; 1400m; TV-2) is a Key Race!
Universal Boss (-14) often tried too highly and over unsuitable trips as a 3yo but is a 4yo to follow. His CT (1:25.3) is a tick faster than Overnight Allowance standard so he has races to win at around this trip where he remains relatively unexposed.
The 2nd, Duke (-8½) continues to frustrate slightly but ran into a smart one here and has also been poorly placed as a sprinter. His CT (1:26.4') is more than a second faster than nw3 standard. Compensation awaits.
Coco Chanel (-7), 3rd, produced a CT of 1:27.0, a second faster than nw3.
Extruder (-6½), 4th, (CT 1:270') is 9/10th second faster than nw3.
Yet Again (-6), 5th, (CT 1:27.1) is 4/5th second faster than nw3.
Mr. Lfch (-8) made an auspicious debut (R8; 3yo maiden condition; 1,200m; TV-2) making all and clocking 1:13.2! His CT (1:13.4) is 3/5th second faster than nw2. He should improve markedly for this and is a smart prospect.
FEBRUARY 16, 2020 [TV -0.1 per 200m (Rd) -1½ (800m straight)]
Race 5 (4yonw3; 1000m Round; TV-0.5) looks another Key Race.
Baltusrol (-8) overcame what seemed an inadequate trip to win in a smart time of 1:00.0! CT (1:00.1') is 3/10th second faster than nw3/OT so, given more real estate, he can repeat up in grade.
The best prospect from this race is the second Casual Drink (another seemingly needing further). Her CT (1:00.2) is all of 1 1/5th seconds faster than the grade. She could be a filly to follow in February/March.
The 3rd, Father Patrick (-6) ran as if needing the race after 8½ months absence yet produced a CT (1:00.2') also more than a second faster than the grade standard. Losses are only lent.
Overseas Betting Opportunities (OBOs)
If the weather permits, three big races will be on offer in England tomorrow, namely the Eider Chase (Newcastle; 4m1½f; 1425GMT; 9.25am Jamaica time); the Group 3 Winter Derby (Lingfield; 10f; 1515GMT; 10.15am Jamaica Time) and the Grade 3 888Sport Handicap Chase (Kempton; 3m; 1535GMT; 10.35am Jamaica Time).
The second-named (on polytrack) is the least likely to be affected by currently appalling weather so gets top billing here. The two to concentrate on are Bangkok (impressive on polytrack debut February 1 winning a listed 10f event by 4½ lengths from Court House) and Dubai Warrior (progressive).
Bangkok, who set a course record when winning, is the obvious choice but connections are still hoping for an invitation to the Saudi Cup and will swerve this should that dream materialize. So, while ante-post markets still have Bangkok as an odds-on favourite, it could pay to oppose him with John Gosden's Dubai Warrior who also beat Court House comfortably over course and distance in December and is very much on the upgrade.
The Eider Chase is likely to be a dour test of extreme stamina so early favourite Very First Time, a quirky sort who seems to need better ground, is vulnerable to the likes of Glittering Love (four for four over fences last season before falling on re-appearance and running as if still feeling the effects next time out at Newcastle) who is likely to be much better tomorrow.
At Kempton, early favourite Adrien Du Pont is another unlikely to appreciate very deep ground so is opposed with stable-companion Black Corton whose experience could be the deciding factor.
Let's add another Notebook horse to the Cheltenham portfolio:
Chantry House [6yo br.g. Yeats-The Last Bank (Phardante)] looks a perfect fit for the Festival's opener, the Supreme Novices Hurdle (Grade 1; 2m½f; March 10; 1330GMT; 9.30am Jamaica Time). He won both starts this season in taking fashion with plenty in hand; is highly regarded; and still at double-digit odds. Yum, yum!
Good Luck!