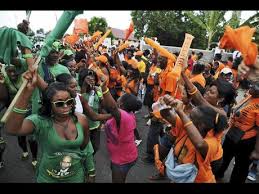 What was hidden from the wise and prudent, now revealed to the babes and sucklings – No Baptism by The Ethiopians.
Jamaica is finally showing signs of recession from terror. The general election campaign of 2020 bears little resemblance to those of 1976 and 1980 when bullets were the order of the day and the night. Days and nights when a man could lose his life simply by wearing the wrong party colours; days and nights when Jamaica was besieged by the foreign press visiting in droves to record our violent elections.
Forty years later we can pause and ask what was behind all this.
Nine days after the JLP's Edward Seaga won the October 30, 1980 elections 40 years ago, he placed an advertisement in several American newspapers. The advertisement (here reproduced from the Wall Street Journal) showed a text with a picture of a smiling Seaga extending a warm welcome to the people of America on behalf of the people of Jamaica. The text read:
"On behalf of the people of Jamaica, I extend a warm welcome to the people of America.
"The Jamaican people have just made an important decision about the direction our country will take in the years ahead.
"By the most overwhelming majority in our history our people have rejected anti-America pro-Cuban trends and have chosen a new future. And all this was done by the democratic process – a great achievement which speaks loud and clear for the stability of our little nation.
"Our government has a great deal to accomplish in the years ahead, particularly in restoring our historic friendships to the position it once held.
"In the recovery process we can depend on two of our richest resources – the warmth of our people and the natural beauty of our country – and restore our tourism industry to the leadership position it once held.
"I believe that Jamaica's tourism industry is vital to a strong economy. In the coming months, we will do everything we possibly can to restore and promote and develop tourism in Jamaica. Our people are committed to this.
One problem is behind us: the period of uncertainty about the political future is over. A giant step has been taken to preserve freedom and democracy in this hemisphere.
"The future for all Jamaicans is bright. As is the future for all others who share in our rebirth.
"We welcome you.
"Sincerely,
Edward Seaga
Prime Minister"
Jamaicans in Jamaica never saw that advertisement as it was not published in Jamaica. The big focus was on restoring tourism, but while the word "thanks" does not appear anywhere, the smiling face in the advertisement conveys a huge thank-you message. Thanks for what?
Forty years ago, on October 30, 1980, Jamaica's bloodiest election campaign came to an end. Some 900 Jamaicans were killed in that campaign which, as is now widely known, was won with the assistance of Uncle Sam. The main objectives of the campaign were fully satisfied:
Topple Michael Manley and the People's National Party from government
Install Edward Seaga as Prime Minister
When Seaga succeeded Hugh Shearer as JLP leader he found that he did not have the strength or money of the Bustamante Industrial Trade Union to back him up. That power – which was the foundation of the JLP – was safely in the hands of Mr. Shearer, Lady Bustamante and Miss Edith Nelson who held the moneybags. Nor could he count on the support of what used to be the party newspaper, The Voice, ownership of which was now officially settled in the person of its editor Mr. Joseph McPherson.
Where could he find support?
First there was West Kingston and Tivoli Gardens. Designed by gerrymandering to ensure he would never lose the seat as long as he wanted. And manned by gun-toting supporters who chased PNP candidate John Maxwell and later forced Dudley Thompson to respond in like kind when his supporters came back and told him they could not face guns "with sling-shot."
But that support was not enough to win the bloody 1976 election. He had to look outside.
One very important source of support was the US Heritage Foundation, a US right-wing think-tank. A September 2, 1986 article by Timothy Ashby of the Heritage Foundation appears to throw some much needed light on what was happening and why.
Most commentaries have sought to identify Cold War policies as the driver of the atrocities in Jamaica. But not Mr. Tim Ashby who, by his article, was close to the action. Not a word about Cold War. Instead, the article gives a great deal of attention to bauxite and free market policies.
Entitled 'Seaga has not kept his promise', the article also suggests that there was a quid pro quo in which Yankee assistance would be given in exchange for Seaga's promise. And it was clear that Michael Manley's bauxite levy, passed unanimously in Parliament in 1974, was a major irritant the Americans wanted removed, as was further made clear by a Wall Street Journal editorial in January 1980 which said "Seaga would remove the bauxite levy."
"He has not kept his promises to mobilize and unleash free market forces to resuscitate his nation's economy, Ashby complains. "Falling world prices for bauxite/alumina should have prompted Seaga to look for ways to make Jamaican production of the commodity competitive. Yet Seaga reduced only slightly the oppressive levy on pre-export profits that had been imposed by the Socialists.
"In January 1981 Seaga visited the White House as Reagan's first foreign guest." (As Consul in New York at the time, I made some of the arrangements and accompanied Prime Minister Seaga on that visit).
"A U.S. Business Committee on Jamaica was launched to promote private investment on the island. Headed by then Chase Manhattan Bank Chairman David Rockefeller, the committee was composed of 25 U.S. corporate chiefs. With the complaint that Seaga wouldn't let them do anything as he was resolutely in control, that committee packed its bags and left Jamaica shortly after it arrived.
"Seaga's Jamaica Labour Party (JLP) swept to electoral victory on October 30, 1980, with a mandate for change as great as that won by Reagan less than a week later. On becoming Jamaica's new Prime Minister, Seaga promised an ambitious programme to reverse eight years of socialism that virtually had destroyed the island's economy. To do so, he promised to pursue a free market strategy. To show his strong pro-Western stance on foreign policy, Seaga broke relations with Cuba and downgraded ties with other Soviet bloc nations.
"Today, Jamaica's great promise remains unfulfilled. To be sure, declines in world prices for bauxite and alumina, principal Jamaican commodities, have slowed the government's development programmes leading to heavy borrowing abroad and a 3.2 billion foreign debt."
Not a word about Cold War. Not a word about Cuba.
1980 was not the only bloody Jamaican election. The blood-letting began on January 5, 1976 leading up to an election that failed to accomplish its objectives – which were the same as the following one in 1980.
However, it should also be noted that those two elections were the only ones in Jamaica's electoral history, from 1944 to the present, in which Edward Seaga was trying to unseat Michael Manley. They were the only ones that employed the terror of houses set on fire and backed up by men armed with M16 rifles in order to move voters out of certain regions. Gerrymandering by terror. Followed up by bullets to persuade ballots.
To be clear, there was no bloodshed to speak of when Michael Manley won over his friend Hugh Shearer in 1972. Neither was there any bloodshed to speak of in the 1989 election when Michael Manley won power back from Seaga. To be explicit, those two campaigns of the seventies, dominated by barking guns and well-armed men, are what mashed up Jamaica.
Which is not to say that the PNP did not participate in the atrocities. It did, but found itself heavily outgunned as the JLP's US-sourced M16s made their presence and dominance felt.
I was drawn into these reflections after seeing photographs of the most recent September 3 election campaign. They showed Jamaicans apparently of both JLP and PNP persuasion, mingling freely and dancing with one another, their radiant faces sparkling with good humour and gaiety as their green and orange-clad bodies swirled in carefree dance or in friendly embrace. There is still violence, of course. Gun violence. And far too much of it. But the tribal political divisions now seem to be a thing of the past.
Forty years! That's what it took.
Ewart Walters is an author, journalist and former diplomat.