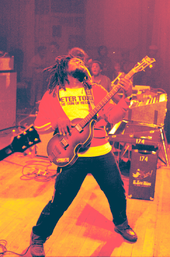 This week I continue to share thoughts on the 58 albums by the greats who have contributed to the development of our music.
45. Tease Me – Chaka Demus & Pliers – 1993 – Mango Records
John Taylor (Chaka Demus) and Everton Bonner (Pliers) were already established local music stars when they decided to team up as Chaka Demus & Pliers in 1991. Chaka Demus had found local success with One Scotch, One Bourbon, One Beer, a collaboration with fellow dancehall deejay Admiral Bailey and later with the Skengdon-produced Young Gal Business in 1987. Pliers' biggest hit before the collaboration was the Dennis Star-produced I Wanna Be Your Man in 1990. Pliers is the brother of established reggae singers Spanner Banner and Richie Spice.
Tease Me was the second studio album combining the deejaying skills of Chaka Demus and the smooth vocals of Pliers. Sly Dunbar, Robbie Shakespeare, Lloyd "Gitsy" Willis, Chester Walker, Colin "Bulby" York, Junior Edwards, Lynford "Fatta" Marshall and Mervyn Williams were the creative minds behind this hugely successful album. Chevelle Franklin, Brian and Tony Gold also added their vocals to the Trish Farell-produced album.
Of the 14 tracks on the album, six were Top 40 hits in the UK with Twist & Shout reaching number one on the UK Singles Chart and staying there for two weeks while being on the singles chart for 35 weeks.
Murder She Wrote, Tease Me, I wanna Be Your Man, She Don't Let Nobody and Gal Whine were the songs that ruled the British charts between late 1993 and early 1994 and gave the duo a plethora of new global fans. Pliers' cover of Toots Hibbert's Bam Bam, under the piercing drum and bass of Sly & Robbie, is my favourite song on the album.
Tease Me was named Q Magazine's Album of the Year in 1993 and was included in the Oliver Cachin & Bertrand Lavaine book, 100 Albums Essentiels Du Reggae. The album also found chart success in The Netherlands, New Zealand, Ireland, Germany, Sweden and Australia. It was certified Gold in both the UK and Australia.
44. Light of Saba – Cedric Brooks – 1974 – Flixu Records
Cedric "I'm" Brooks is one of the foundations on which our music was built. He was a member of the Skatalites, Sound Dimensions, Mystic Revelation of Rastafari and the Divine Light, among several other groups.
Brooks was a pupil at the celebrated Alpha Boys' School and in his late teens took up tenor saxophone and the flute. In 1970, he teamed up with Count Ossie and released such classics as, Black is Black & So Long Rastafari Calling. Both men would later form the Mystic Revelation of Rastafari. Brooks left the group in 1974 to form a new band; the Divine Light, later called the Light of Saba.
The Light of Saba was Brooks' first album with his new band and he handpicked the personnel: Michael Ashley, Eleanor Wint, Austin "Bingi" Brown, Levi "Sleeves" Cornelius, Lynford "Son" Myles, Ralston Kelly, David "Little D" Trail, Maurice Gregory, Winston "Shan" Fulton, Liz Campbell and Ronald "Nambo" Robinson; were the musicians and vocalist involved in making this eccentric mix of funk, jazz, roots, reggae, dub, mento, afrobeat, African percussions, Cuban music, nyabinghi and 1970s disco.
Sylvan Morris was the engineer who oversaw the making of this most compelling album.
Free Up Black Man, Outcry, Rebirth, Africa, Satta Massa Gana and Lambs Bread Collie; are my favourite songs on the 19-track album.
Music critics have associated Brooks with African giants such as Hugh Masekela and Felu Kuti and Light of Saba has been described as being way ahead of its time as it is now being classified as world music but was made long before the term "world music" was coined.
Brooks died on May 3, 2013 in New York City at the age of 70.
43. Macka Fat – Jackie Mittoo – 1971 – Studio One
Donat Roy Mittoo was born in Brown's Town, Saint Ann, Jamaica and began playing piano under his grandmother's tutelage from age 3. He was a member of Jamaica's greatest band, the Skatalites and was the music director at Studio One. Mittoo, like most musicians of that era, was a member of several groups; The Sheiks, The Soul Brothers, The Soul Vendors and The Soul Dimension.
Macka Fat was Mittoo's fifth studio album and his most popular, and being a Studio One-produced album, the Soul Dimension/Vendors was the backing band. All 12 songs on the album are seminal reggae instrumentals, with: Henry the Great, Lazy Bones, Macka Fat, Ghetto Organ, Whoa Whoa and Good Feeling; among the most recognizable pieces from Jamaica's master keyboard player. The mellow, seductive; Henry the Great, is my top track from the album.
Mittoo's song, Free Soul, was interplayed in the 2006 Lily Allen song, Smile, and in 2013, Mittoo was referenced by Superchunk in their song, Me & You & Jackie Mittoo, from their album I Hate Music.
Mittoo died on December 10, 1990, at the age of 42 in Canada. Upon hearing of Mittoo's death, Clement Dodd commented, "He was an ambassador of our music worldwide, there can be no doubt. Read the legacy this young man has left behind. May his name be remembered and his music lives on."
The name of Jackie Mittoo will never be forgotten and his music has and will continue to live on.
42- Bonafide – Maxi Priest – 1990 – Charisma Records
Max Alfred Elliot is the only vocalist born outside of Jamaica who is included on this distinguished list. Elliot was born in the UK to Jamaican parents and has gone on to become one of the most successful reggae acts of all time. Reggae great Jacob Miller and Maxi Priest are cousins.
Priest started his career in the early 1980s, singing on reggae sound system Saxon International before releasing his debut album, You're Safe, in 1985.
Bonafide was Maxi's fifth studio album and remains his marquee recording. Cleveland Brownie, Luis Jardin, Peter Rose, Sly Dunbar, Leo Grant, Nellee Hooper, Robert Lyn, Carlton Ogilvie, Martin Philipps, Dennis Rollins, Robbie Shakespeare, Dean Frazer, Handel Tucker, Stanley Andrews and Danny Browne were the heavyweight team assembled by Maxi, who also doubled as Executive Producer. Donavon Germaine, Gussie Clarke and Geoffrey Chung, shared production duties
The album spawned Maxi's biggest hit, Close to You; which reached number one on the US Billboard Hot 100 chart on October 6, 1990, peaked at number two in Australia and number seven on the UK Singles Chart.
Just a Little Bit Longer, Space in My Heart, Human Work of Art, Temptress, Sure Fire Love, You and Never Say Goodbye; are Maxi's karaoke songs when he performs in Jamaica and the female fans especially are particularly pleased during his performances.
Peace Throughout the World and Prayer For The World, are not songs usually associated with the soulful singer but both are most appropriate at this time: When I look at the darkness all around us, I feel like I'm losing control, so many people who just don't know where to go, listen to me now, not a song goes unsung, not a voice goes unheard, ooh I'm hanging on every word, say a prayer for the world, only love can save us now.
The album was released during the 1990 Gulf War and at the time I thought Maxi's team missed an opportunity to release, Peace Throughout the World as a single: War for money, war for land, tell me how long it's going to be before we understand, people of the world, it's time we get things straight, cause if we don't get it together, it's gonna be too late. In a world where people's feelings don't matter, in a world where people just don't care, I search the high and low to find an answer, nothing seems to mater, no one seems to care.
Close to You, charted in Australia, New Zealand and several European countries and was certified Gold in Australia and Sweden. The song has been covered by a number of artistes, including American boy band B3 on their 2004 Album, Living for the Weekend, Dutch Singer Jay Leno on his debut album Close To You in 2007, The Uptown Band released a contemporary jazz version on their 2014 album, Heart, Soul, Body & Mind, and in 2016 Jay Sean sampled the song in his single, Make My Love Go, featuring Sean Paul.
41. Jezebel – Justin Hines & the Dominoes – 1976 – Island Records
Justin Hines was born in Steer Town, St. Ann and started his musical career singing in bars and on the beaches of Ocho Rios. Hines was turned away by Coxone Dodd but was signed by his main rival, Duke Reid and his first recording Carry Go Bring Come (1963), which was done in one take, was a massive hit locally. According to noted musicologist Bunny Goodison, the song gave Coxsone "headache and sleepless nights" as it topped the charts for two months. The song was eventually displaced from the number one spot by The Wailers' first local hit, Simmer Down. Denis Sinclair and Junior Dixon, both co-workers of Hines, were The Dominoes, and the name was inspired by American great Fats Domino.
Described by music critics as one of purest roots album of the 1970s, the 10 tracks are an equal mix of popular ska singles initially released in the 1960s and new songs. All the songs on the album are, however, deep roots reggae, with The Dominoes' mystical harmonies soaring above Hines' unwavering delivery.
It was Jack Ruby who had persuaded the trio back into the studio and his Black Disciple band: Tony Chin, Tyrone Downie, Bobby Ellis, Richard "Dirty Harry" Hall, and Bernard "Touter" Harvey under the supervision of engineer Ossie Hibbert, never missed a beat in the arrangement.
Outside of the dance-inspired Dip and Fall Back, the other songs are predominantly deep roots rock reggae: Natty Take Over, Fire, Babylon Children, Prophesy, What You Don't Know and Spotlight are among the most potent. There is, however, no getting around my favourite song on the album; Carry Go Bring Come/Jezebel. Carry Go Bring Come is a protest song criticizing the political elite at the time, unlike most ska songs at the time, and as such the version included on the album correctly places the message where it belongs among Jamaica's music genre – reggae and specifically roots reggae; the genre that has been at the forefront of awakening people globally : It's time to seek a home in Mount Zion high, instead of keeping oppression upon an innocent man, Time will tell on you, you old Jezebel, How long shall the wicked reign over my people?
Carry Go Bring Come was covered by British Ska Bands The Selector, The Specials and local icon Desmond Dekker. The track was described by esteemed Ghanaian music aficionado Zahid Choha as "simply wonderful; belongs in any reggae fan's collection". Hinds also participated in Keith Richards of the Rolling Stone's 1995 Wingless Angels project, by creating an acoustic album of traditional Rastafari chants recorded in the open air in Steer Town.
Hinds died on March 16, 2005 at the age of 62.
40. On Top – The Heptones – 1968 – Studio One
Leroy Sibbles, Earl Morgan and Barry Llewellyn first came together as Earl Morgan & the Swinging Squirrels in 1965. Morgan later chose the name Heptones and the group had their first hit with the risqué Fatty Fatty (1966), which was deemed not fit for airplay at the time. Those standards are evidently non-existent today. Sibbles was more than just a recording artiste at Brentford Road, as he also played bass on countless songs and along with Mittoo was the chief studio arranger.
Sibbles is widely considered one of the most important figures in Jamaica's music, not only for his work as lead singer of The Heptones and session bass player but also for his role as musical director at Studio One during the formative years of our music.
On Top was The Heptones' second studio album and my late father's favourite rock steady album. I can still remember him telling me to look at the album's title because that's "where it stands among all rock steady albums". The Soul Vendors along with Jackie Mittoo and Ernest Ranglin were the musicians who played on the album with Sylvan Morris being the engineer.
The 12 songs on the album are dominated by Sibbles' adventurous bass playing, the soulful arrangement of the songs and, of course, the incomprehensively sweet harmonies.
Pure Sorrow, I Hold the Handle, My Baby is Gone, Take Me Darling, We Are in The Mood, Sea of Love, Pretty Looks isn't All and I Love you are traditional rock steady songs addressing relationship and love issues. Pretty Lookd isn't All, with Earl Morgan on lead, is among my top song from the rock steady era. The four other songs on the album — Equal Rights, Heptones Gonna Fight, Soul Power & Party Time — are the gems that set On Top apart from most other rock steady albums. The advice given in Party Time has always been my mantra: We've got to live some life before we're old, we've got to live some life, and before we're cold, time is short, so hear me man, let's live the life the best we can, don't try to work your soul away, remember there's another day.
The Heptones had their biggest international hit with the Barry Llewelyn-written Book of Rules, which was one of the few songs on which Llewellyn sang lead.
In the documentary from Soul Jazz Records, Studio One Story, the late pioneer Sugar Minott opined that On Top was the greatest album in the history of Jamaican music. Almost all the songs and music on the album have been covered/reworked on numerous occasions and I am certain this will continue for years to come.