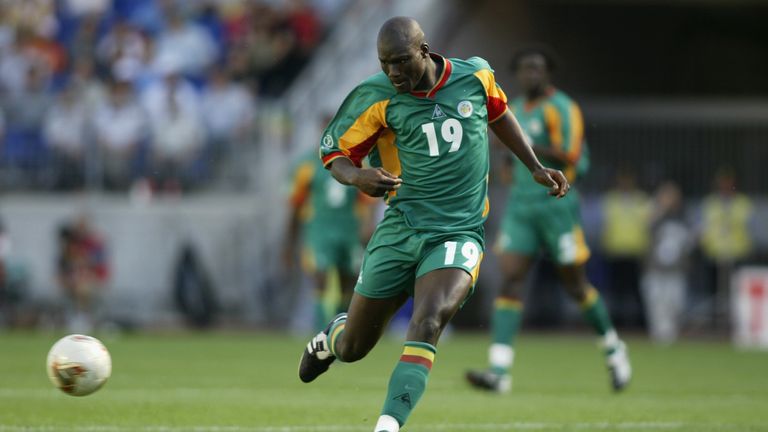 November 29th, 2020 was a sad day for football, it was the day that Papa Bouba Diop died at the age of 42. For those too young to remember, 18 years ago Diop along with his Senegal team did what was unthinkable, in their first match at a world cup against the defending champions France they won beginning a roll which would see France becoming the first reigning champion not to make it past the first round while Senegal went on a dream run which only Ghana has managed to equal.
Diop scored the only goal of that match and that act cemented his name in history, but the game was poetry as if written by the gods for many reasons. Senegal was a colony of France, raped and ravaged like all of French-West Africa. Her people were France's corvee labour, manned her armies of imperial aggression and provided the raw materials needed to further enrich the metropole. Senegal won, on their first attempt when it mattered. Here a small, impoverished nation beat the reigning World and European champions it was jaw dropping.
The match was for the young generation which watched it and appreciated it as they got older, akin to watching the West Indies beat England for the first time or become the dominant world player. Senegal played 5 matches that World Cup, making it to the Quarter Finals. No one thought that this team of young 'journeymen' coached by a French expat who had 'gone native' could have done it, but they did in spite of financial hiccups and issues with the local FA. They not only beat, nay embarrassed the old colonizer, but they showed a whole generation, whether wittingly or unwittingly, that black pride is a good thing and that we are indeed lesser to no one, that we can in fact compete with and even put to shame our supposed betters.
The gods have a sense of humour, France, the most multi-cultural squad, a squad who almost to a man finds their roots either in Africa or the Caribbean came up against a purely African side. The indigenous, those who remained on the continent met those who were taken or forced by economic circumstances from the continent, who we can be sure were taught that the continent was bad and backwards (even if they didn't believe it and I don't think they do). Those who remained prevailed, they showed those who are temporarily away from home if you will, that home can be so sweet and it should be noted that even in the midst of despair the Afro-French players could still see reason to celebrate the achievement Senegal had made. It was in footballing terms, the most beautiful embodiment of black power and black liberation and is a moment which is burned into the minds and hearts of those who witnessed the events.
Papa Bouba played all five matches, he scored 3 goals and was without a doubt their standout player of the tournament (even if it was El Hadji Diouf who first made the major move to England). He played in France, Switzerland, Greece and England (not to mention his home Senegal), and was one of the best defensive midfielders the English league has seen with energy to spare and an excellent football brain knowing when to be in the right place at the right time in order to break up play. This was a trait so strong that he could even switch to a box to box midfielder or play at centre half.
He may not have many trophies from major leagues to his name, but he is a legend. The man is immortal, and it is fitting that he has passed in a month which other luminaries have passed, most recently El Pibe, Maradona, but also El Comandante en Jefe Fidel. The three in their own way, in their own times brought pride and hope to the downtrodden, Fidel to Cuba, Maradona to Argentina and Diop Senegal but their actions have transcended their boundaries. Fidel is a third world icon, a God of the global south, Maradona is Naples as he is Argentina, while Diop and his 2002 Senegal team belong to the entire black world, the black world who cheered their every kick 18 years ago.
Rest in Peace Papa, you have fought the good fight, brought pride and glory to your people and brothers and sisters across the world who basked in that glorious moment. Your bout with illness is over, you are at peace. We are sad, but we cherish that moment in particular. Thank you for that.