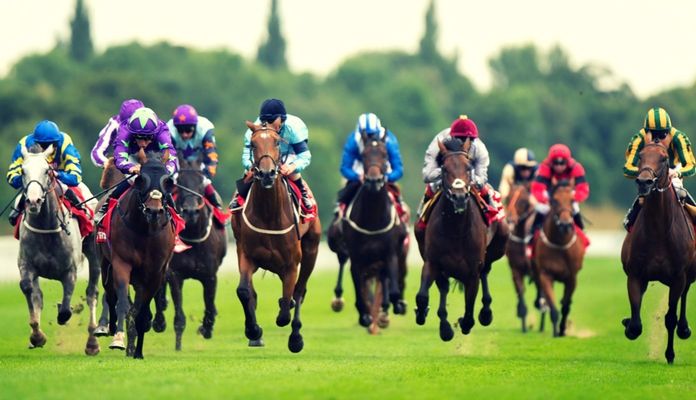 I first learned the fundamental mantra "Pace makes every race" in 1969 when I read a book titled "How to win Money at the races" by American professional horseplayer Nate Perlmutter.
It was a wonderful beginners' primer on horserace betting. Nate was adamant there was a superior method of picking your own winners than whispers from railbirds or tips from sleazy touts. So I've him to thank for kick-starting a lifetime of satisfying, successful punting.
My eyes were opened to a fact of horse racing life that, even today, remains unknown to the majority of punters and, sadly, public tipsters who continue to make horseracing all about weight. That fundamental fact is no horse, no matter how great, can gallop at full speed for more than 600 metres.
Once this becomes known, many horseracing mysteries are solved and the importance of jockeyship becomes stark. A jockey must not only try to ensure a trouble free trip but, most crucially, must decide when and how to utilize a horse's 600 metres of full speed. The trick is to time your move when others aren't also planning to use theirs so as to grab the most decisive advantage. No point going off like clappers if several others have the same idea. You are sure to fall victim to more patient riders who are making their move when you're gasping for air.
Let's use the 2021 classics as learning exercises.
Both Guineas were run on June 5 when the track variant (another topic for another day but regular readers of the Clocked-In Department know what I mean) was +0.5 per 200m (or the track was slow by 0.5 fifths of a second per 200m). 1,000 Guineas splits were 23.0; 45.2; 1:10.3. Final time was 1:41.3. When "corrected" for the Track Variant: 22.4; 45.0; 1:10.0; 1:40.4!
The filly She's a Wonder made all that day and was always well clear. If you look at her race by quarters this is what you see: 22.4; 22.1; 25; 30.4. She used her blazing speed in the first 800 m; nobody tested her so she was so far in front that she could still win despite slowing down significantly up the stretch. Her opposition was weak – only Amy The Butcher made ground from behind but was unable to trouble her.
The 2,000 Guineas splits were 23.2; 46.3; 1:10.4. Final time 1:39.2. "Corrected" splits: 23.1; 46.1; 1:10.1; 1:38.3! Miniature Man broke sharply from the outside stall but was restrained by Dick Cardenas and raced in midfield, well off the early fractions (which were not as fast as 1,000 Guineas splits). He was five lengths off the pace 800m out before making a sharp move. The race's third quarter was run in 24 seconds (faster than the 1,000) but he covered it in a sharp 23.3. This perfectly timed run brought him alongside Nuclear Noon who had been much closer to the early pace but, because that pace wasn't frenetic, Nuclear Noon was able to fight on before the winner finally took his measure in the last 100m. Miniature Man's last quarter was completed in 28 seconds which was much slower than his third quarter but much faster than She's a Wonder's 30.4 and good enough to defeat those who has used their speed earlier.
Lesson Number 2: When you think you see a horse "flying" in the final furlong it's an optical illusion. All of them are slowing down but some aren't slowing down as much as others.
The St. Leger was run on a quicker track (Variant -0.1 per 200m) but the splits were: 24.3; 51.1; 1:16.0; 1:41.3; 2:08.4. This time, after most were discombobulated by sloppy work from starting gate staff, Miniature Man rushed to lead in a quick first quarter split for a 2,000m race; Further and Beyond was forced wide at the first turn before rushed to dispute the lead, while eventual winner Calculus was held up with the backmarkers for 800m with She's a Wonder (disadvantaged by starting gate delays) also well off the early pace. The result? Miniature Man was beaten long before stamina became an issue but Calculus was able to make a sharp move to join the leaders 900m out; received a brilliant ground saving and position saving ride by Shane Ellis, and drew off up the straight. She's a Wonder, whose misadventures in the gate inured to her benefit, ran on for third.
So, come Derby day, we're looking for more professionalism at the gate; FURTHER AND BEYOND (keeping on best at the end of both Classics despite being used up too early in the St. Leger) racing less keenly; a fast early pace (candidates to contribute include She's a Wonder; Nuclear Noon; Simba the Lion); and a reversal of St. Leger form as FURTHER AND BEYOND stays on best of all to finally win a Classic – this time the most important one.
DEPARTMENTS:
Clocked-In
Abbreviations: CT = "Corrected Time"; TV = "Track Variant" (a calculation of track conditions' effect on official times to arrive at "real/corrected" times); TVs are expressed in fifths of a second; "minus" (-) means a fast track; "plus" (+) a slow track (e.g -2 is fast by 2/5th second). Variants beside horse's names represent the difference between its official time and the grade standard.
Last time we were together Clocked-In advised "FEARLESS CHAMPION finally came good in third time blinkers winning in 1:33.4! His CT (1:33.1) equals Overnight Allowance standard so one of those should be his. On his way there, a 4yonw4 (Standard 1:34.0) should be no problem"
On July 31, Fearless Champion duly brushed aside 4yonw4 as a banker for all exotics. Today we can look at a performance that was squeezed out of last issue by space concerns
JULY 3, 2021 [TV-0.1 per 200m (Round) -5 (straight)]
PRIMAL FEAR (-9) was only second in a fast race (Race 6; 4yonw3; 1,000m straight; TV-5) one length behind K.D. Rocket's 0.57.4 but his CT (0.59.0; untreated with Lasix for the second time) signals a welcome return to 2020 form and is 4/5th second faster than the grade average. He remains relatively unexposed so, having beaten Big Big Daddy (subsequent won a nw4) and Sencity (won nw3/ 3rd behind Big Big Daddy at nw4) at 1600m in 2020, he almost certainly has one of these in his near future.
Overseas Betting Opportunities (OBOs)
The popular English Premier League (EPL) turns on August 13.
In transfer news, Leon Bailey is headed to Aston Villa as a replacement for the talismanic Jack Grealish who seems sure to find a new home at Manchester City (who were also tracking Bailey but reportedly preferred to pay £100 million for Grealish than £40 million for Bailey). Sparked by Grealish's brilliant creativity, Villa improved markedly in their second season as EPL returnees and could progress even further with Bailey who has the talent, ability and style to be better than Jack Grealish. So, with a highly motivated Leon Bailey and an equally motivated team anxious to prove they can do it without Jack, a top four finish wouldn't surprise. I confidently expect ASTON VILLA to start with an away win at Watford on Saturday, August 14.
The wonderful Saratoga Spa Summer meeting continues tomorrow with the Grade One Whitney Stakes featured. Godolphin's 2021 has been very rewarding so far including winning a first USA Classic with Essential Quality in the Belmont. New York could provide the Dubai operation with another Grade One winner in MAXFIELD who comes to the Whitney in peak shape. By Street Sense out of a Bernardini mare he has won seven of his eight career starts including the Grade 2 Stephen Foster Stakes at Churchill Downs in June. He's working brilliantly with Jose Ortiz culminating with an easy five furlong spin at the Spa on July 31 in 1:01.3.
Trainer Brandon Walsh was quoted as saying "I think the best part of it was the gallop out from the wire to an eighth out. I had him out in 1:13 and change. He's doing good. I couldn't ask for more than that."
I'm expecting MAXFIELD to score his eighth win tomorrow.
Here's another "Notebook Horse" from the Newmarket July meeting:
ROYAL SCIMITAR [3yo b.c. Territories-Prequel (Dark Angel)] failed to get home over a mile at Goodwood and Royal Ascot then kept on in fine style on the "wrong" side in a valuable 6f Heritage Handicap at the July meeting (won the race on his side) to be only ½ length fourth overall. He has only one win (6f Newbury Novice in July 2020; keeping on well) from seven starts but remains with potential especially if tried over seven furlongs. He was withdrawn from a hot 6f handicap at Glorious Goodwood (unsuitably soft ground) as one of the favourites. He's obviously well handicapped so is one to be on over six or seven furlongs on fast ground.
Good Luck!