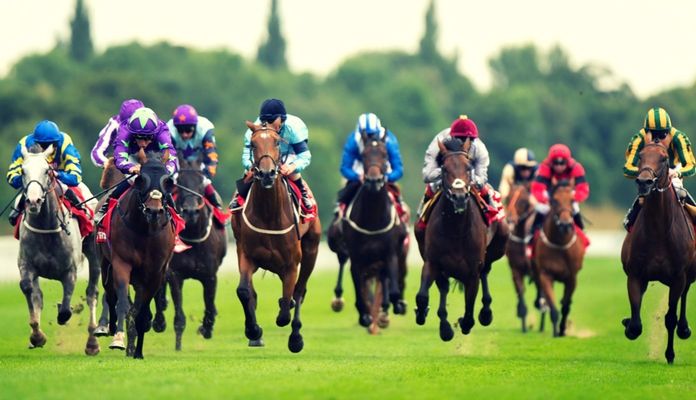 Tomorrow is a big deal in local horse racing as Caymanas Park hosts Jamaica Derby's 100th running.
One more and we could make a movie.
The first Derby, run at Knutsford Park, was won by Buck Dancer bred by Jamaican sire Starlight out of the Rosythe mare Dream Dance. Not much is known of Rosythe (bred in Great Britain) but her grandson was foaled here.
Little known fact: National Hero Norman Washington Manley was a lover of horses and an avid racehorse owner. In tribute to a lifetime spent championing advancement for the less fortunate the Norman Manley Trophy race is contested by lower grade horses every Independence Day. What's less known is Norman Manley was the owner of Roysterer who won the 1936 Jamaica Derby at Knutsford Park.
Roysterer,named after NW's beloved brother Roy who died on a World War I battlefield, was by British sire Callonby out of Giddy Girl. Callonby was described in a 1935 Gleaner report as "a very fine grey horse" and son of top English sire Hurry On (by Marcovil). In 1929, four years before Roysterer was foaled in Jamaica, English newspaper The Referee, reported that Hurry On was among the top selling sires at the Yearling Sales. "He had 27 live foals of which eight were sold at an average of 1,702 Guineas."
For readers born the day before yesterday, a guinea is one pound and one shilling or 21 shillings.
Legendary trainer Abbie Grannum saddled 10 Derby winners at Knutsford Park, including three in a row in Sharafelden (a young Herbert Hall, later Life of Jamaica co-founder and driving force behind Jamaica Association for the Deaf, who grew up in an Arnold Road family home next door to Abbie's stables, had fond memories of helping with Sharafelden's grooming); Jim Crackerjack and Brown Bomber (1941-43). In 1957, he saddled his last Derby winner (Tam O'Shanter) who, with the help of a young graduate nurse named Emma Chen (in charge of vitamins and medications), won in record time, lowering Aledec's 17-year standard. Emma eventually enjoyed a long and distinguished career as a trainer.
Six Knutsford Park Derby winners won the Triple Crown: Mont Clare (1924); Saraband(1926); By Jove (1930); filly Money Moon (1937); George Metaxa (1939); and Mark Twain (1950).
Caymanas Park's first Derby winner was the filly Blush owned by popular Jockey Club President Andrew H.B. Aguilar whose highest distinction was to have married my Grandmother's sister, Vera. It took Caymanas 22 years to produce its first Triple Crown winner, the celebrated Royal Dad (Baghdad-Royal Snob) trained by the incomparable Kenneth "Kiddie" Mattis.
As usual, tomorrow's Derby will be all about stamina. What makes analysis more complicated than most is racing's truism that a horse rarely wins a race at a distance differing from its optimum distance by more than 100m. How to identify a horse's optimum distance? Two useful guides:
If it has won a race within a year at this exact distance; or
If it has finished close to the winner in a respectable time
Since Derby hopefuls won't have tried 2,400m, both "useful" guides are useless tomorrow. The same Herbert Hall (whose downfall in life was to have been my uncle) would preach that the most important factor in picking a Derby winner is breeding. I agree. Find those bred to stay.
The other crucial factor is stamina shown in races of 1,800-2,000m which can only be accurately assessed by calculating the time of each starter's final 400m in these races. You must be able to calculate daily track variants (see "Clocked-In" Department) then know how to assess lengths behind the leader/weight changes flexibly based on experience. Dogma promulgated by maths-obsessed public tipsters doesn't help. On Jamaica's deep dirt track, a final 400m (corrected to 57kg) of 25 seconds is remarkable.
Finally, the third major factor is the going. Bad weather is with us so the track may be very wet tomorrow. If so, focus on those with form in similar conditions; or, failing that, with round actions or plenty knee-lift in their actions,. They should relish sloppy underfoot conditions. Quick actioned horses are unlikely to flourish in the mud.
It's too early for in-depth analysis. Follow me tomorrow on Twitter @TheTerribleTout for that. But, as a teaser, I'll tell you Khozan, a miler trained by Todd Pletcher, has plenty speed in his pedigree (by Distorted Humor out of a Danzig mare). Golden Bucket (by Mass Media out of a Kris S mare) was an out and out sprinter.
If entered, their son Eroy will have a difficult stamina query to answer.
DEPARTMENTS:
Clocked-In
Our regular review of local performances based on REAL times makes a welcome return.
Abbreviations: CT = "Corrected Time"; TV = "Track Variant" (a calculation of track conditions' effect on official times to arrive at "real/corrected" times); TVs are expressed in fifths of a second; "minus" (-) means a fast track; "plus" (+) a slow track (e.g -2 is fast by 2/5th second). Variants beside horse's names represent the difference between its official time and the grade standard.
OCTOBER 10, 2020 [TV-1.0 per 200m (Round) -4 (straight)]
Eroy (-17) confirmed himself a high-class miler (Race 9; 3yonw4; 1600m; TV-8), quickening well 400m out and holding off King Arthur (-15'),staying on, by 1½ lengths in 1:37.0! Eroy's CT, 1:38.3, is a second faster than Open Allowance standard (King Arthur 1:38.4') so both are going places.
Polly's Gal (-9) did her best work final 100m to win going away (Race 2; 2yomsw; 1000m Round; TV-5) by a length from She's a Wonder (-8) in 0.59.2! The winner's CT, 1:00.2, is only 2/5th second faster than nw2 but, sired by a son of Breeders Cup Classic winner Tiznow, she's sure to improve over further. The second's CT, 1:00.3, is 3/5th second faster than maiden standard.
Overseas Betting Opportunities (OBOs)
OBOs have been on a roll. After predicting an 8/1 winner of the Mill Reef Stakes (Alkumait) two columns ago, I wrote last time regarding Enable's try for a third Prix de l'Arc de Triomphe:
"She's now six years old and the likelihood of a slog in heavy ground may not be what she relishes these days. She was beaten last year on very soft ground;….Eleven of her fifteen career wins have come on good or faster.
So, at likely skinny odds the value must lie in opposing her."
My idea of the winner then was French 4yo Sottsass who I told you "appears to have been laid out for this race by outstanding French trainer Jean-Claude Rouget"
Sottsass duly obliged at 17/2. Yum, yum!
High quality OBOs are available worldwide next week starting in Australia where the two-mile Melbourne Cup is scheduled for November 3 at 3.00 pm Melbourne time (0400GMT; 11.00pm, November 2, Jamaica). Rain is forecast so the going should be soft. At time of writing, ante-post favourite is 3yo Tiger Moth (Aidan O'Brien) who won the 12f Group 3 Paddy Power Stakes at Leopardstown by 4l and seems sure to stay two miles. But his worst result (4 career runs) came on soft ground. No 3yo has won the Melbourne Cup since 1941 (Skipton). He gets the old Spanish Archer ("El Bow").
Aidan's son Joseph has a chance second-to-none with Master of Reality (disqualified; placed 4th after finishing 2nd last year). He has obviously been laid out for this; revels in the mud; and will run very fresh after easily winning at Down Royal (soft) on September 4. Currently quoted at 25/1, he's a mouth-watering bet!
On November 7 an unusual Masters will tee off at Augusta as the final of only three majors this year. I've long liked Spaniard Jon Rahm to make his major breakthrough here and not even a COVID-ravaged year has changed my mind. Others likely to play well include Justin Thomas (fits perfectly here); Victor Hovland (a young gun knocking at the door who finished tied 10th at the US Open); and "dark horse", Swede Alex Noren, an excellent putter whose game is on the up again after a couple years in the doldrums.
Then the Breeders Cup returns to Keeneland three days after USA's bitter general election. Breeders' Cup Classic (November 12; 10f; 5.13pm ET) promises to be a humdinger. I'm confidently expecting Maximum Security to prove superior to a substandard crop of 3 three-year-olds and compensate connections for a desperately unlucky 2019.
Now trained by Bob Baffert Maximum Security breezed five furlongs on October 18 in 0.59.4! Bob's comment "I think that was the best he's ever worked" is good enough for me.
Time for a Notebook Horse over the sticks:
Boothill [5 bb.g. Presenting-Oyster Pipit (Accordion)]:A lone run in a warm February Kempton Bumper, despite a convincing win, doesn't say much. But Boothill was acquired for a six-figure sum and, with stamina in his pedigree (dam a half-sister to smart staying chaser Frantic Tan) the win around sharp Kempton is very encouraging. He has lots in the tank.
Good Luck!