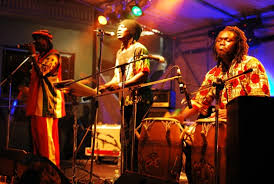 In this issue I continue the list of 58 albums which are the works of pioneers in our rich musical history.
51. Where There is Life – Luciano – 1995 – Island Records/Exterminator
Jepther McClymont OD provides the spirituality to this exclusive list and what a blessing it is! When Garnett Silk died in 1994, Luciano was the artiste most expected to continue that style of consciousness and 25 studio albums and one live album later — his Grammy-nominated A New Sign (2001) being my favourite— the Messenger has not disappointed.
Where There is Life was Luciano's 4th studio album, produced by the late Phillip "Fattis" Burrell, featuring the legendary Sly Dunbar, Robbie Shakespeare and Dean Frazer along with guest artistes Terror Fabulous and Louie Culture alongside Robert Murphy and Paul Daley as the engineers.
The 12-track masterpiece showcased the Messenger at his spiritual best on It's Me Again Jah, Lord Give me Strength, He is My Friend and He. While he highlights the indiscretions of humanity his pleading to Jah and mankind for a better world is distinctly heard on Your World and Mine, Good God, Where there is Life and Heaven Help Us All. It's however on There Is no Love in The World where that pleading is most fervent:
"If you could stop for a while and look for a minute maybe you'll see, there is something to be done and we just got to do it in urgency, there is no love, no love in our hearts, mankind is drifting, drifting apart, there is no lo-lo-lo-lo-lo-love, no love in the world, there is no lo-lo-lo-lo-love, no love at all. I'm not saying some people aren't trying to do their best, but in order to make any meaningful progress, we need the rest, hands and hearts together we should work as one…."
It's surely a message that Jamaica and the world need to hear and adopt in this pandemic.
Where There is Life was listed in the 1999 book, The Rough Guide: Reggae: 100 Essential CDs.
50. Sunday Coming – Alton Ellis OD – 1970 – Studio One
The Godfather of Rock Steady and Jamaican music's most influential producer, Alton Nehemiah Ellis OD, and Clement Seymour Dodd OD, respectively make their entry on the list with an album released six months before I was born.
Ellis was already an established star by the time Jamaica got "Independence" in 1962, having scored a number one hit with the R&B styled Muriel in 1960 as part of the duo Alton & Eddie with Eddy Parkins.
Girl I've Got a Date is considered one of the foundation songs of the rock steady genre and Ellis's Rock Steady was the first song to refer to name of the new genre.
Sunday Coming was the Godfather's second studio album and featured Studio One's house band, Soul Dimension/ Soul Vendors: Richard Ace, Headley "Deadly" Bennett, Cedric Brooks, Karl Bryan, Fil Calender, Enid Campbell, Eric Frater, Boris Gardener, Vin Gordon, Joe Isaacs, Denzil Laing, Robbie Lyn, Jackie Mittoo, Ernest Ranglin, Leroy Sibbles, Leroy "Horse Mouth" Wallace, and Eric Frater.
The 13-track album highlights the loving theme of the era with covers and originals all conveying messages of cheerfulness, harmony and affection; delivered most soulfully by arguably one of Jamaica's greatest vocalists. These Eyes, It's True, What Does it Take (To win Your Love), The Picture was You, Gotta Take a Miracle and You Make me Very Happy; don't need "money pull up" to be played multiple times at Rae Town, while on the funky James Brown-inspired, Alton's Grove, the Godfather shows his vocal flexibility. My favourite track however is The Gaylads original, Joy in the Morning:
"Every now and then, I wonder why, now why I should be so bad, why not play it cool, stick by the rule."
To underline how unified the music was back then, The Gaylads provides exceptional harmonies for Alton's version. Bobby Melody also has a very popular version of Joy in the Morning, however the Delano Stewart, Harris Lloyd Seaton and Winston Wilberforce original is my favourite version.
Sunday Coming was re-issued by Heartbeat Records in 1995 and the album is highly recommended for people who crave a deeper understanding of rock steady.
Ellis died on October 10, 2008 in London, England at the age of 70.
49. Night Nurse – Gregory Isaacs OD – 1982 – Island Records/African Museum
Milo Miles writing in the New York Times, described Gregory Anthony Isaacs OD as "the most exquisite vocalist in reggae" and with over 80 albums, he certainly made good use of that voice.
The Cool Ruler made his recording debut in 1968 with a Byron Lee-produced track, Another Heartache, but never got his first local hit until 1974 with the Ernie Ranglin-produced Love is Overdue.
Night Nurse was Gregory's 12th studio album and he was already a bonafide star by then, with numerous number one songs at home and abroad. Errol "Flabba" Holt, Lincoln "Style" Scott, Dwight "Brother Dee" Pinkney, Eric "Bingy" Bunny, Wycliffe "Steely" Johnson along with Errol Brown, Godwin Logie and Wally Badarou; were the personnel involved in putting together Gregory's most well-known and my favourite album from the Cool Ruler.
Objection Overruled, Not the Way, Cool Down the Pace and Sad To Know (You're leaving), find the Cool Ruler's voice just floating on rhythms with love being the only theme. Stranger in Town has, however, been a perennial favourite of mine:
"Now I may not be familiar with your language, but I sure would like to cross over your bridge, said I may not dress in style as the men in your town do, but I know how to say I love you."
Despite the language barrier, the fact that they are strangers and he only pops around occasionally, the intentions are clear.
Hot Stepper and Material Man are authentic Rastafari roots reggae that are also skilfully handled by Isaacs.
Night Nurse, the album, reached number 32 in the UK while a cover version of the album's title track, by Sly & Robbie featuring Simply Red reached number 13 in the UK in September 1997. The song was also used in adverts for an over-the-counter cold & flu remedy of the same name in the UK.
Gregory Isaacs OD died on October 25, 2010 at the age of 59 in the UK.
48. Mr. Rock Steady – Ken Boothe – 1968 – Studio One
Kenneth George Boothe OD, is my favourite artiste of the rock steady era and among Jamaica's finest singers, with vocals that were still in excellent condition when I last saw him perform live in Negril during December 2019.
Boothe started his career at Duke Reid as part of a duo with Stranger Cole in 1963, who was already an established artiste and Ken's neighbour. Boothe's first solo tracks were recorded in 1966 after being signed by Clement Dodd to his Studio One label.
Ken was only 20 when he recorded my favourite rock steady album and no credible collection of Jamaican music would be complete without the debut album from Jamaica's Wilson Pickett.
The hit laden album had Studio One resident band, the Soul Dimension/Soul Vendors as its backing band and the 14 tracks represent the golden age of Jamaican music: Puppet on a String, Don't Cry Little Girl, Let The Water Run Dry, My Heart is Gone, The Girl I Left Behind and Give Me The Right are staple at Rae Town on a Sunday night.
The Bob Andy-written I Don't Want to See You Cry, written for Delroy Wilson who didn't come to the studio on that day, remains my favourite song from the icon:
"I've got to tell you goodbye babe, and I don't want to see you cry babe, I'm leaving you behind, but it's just for a time, it's not my wish that we could part, don't worry baby I won't break your heart, I'm going to a faraway land, I'm going to make life for you and me please understand."
Both Wilson and Andy, among other musical luminaries, have subsequently covered the song, but Boothe's soulful voice with that perfect diction, make his version superior. While a love song to most listeners, the track details a common feature of the period — Jamaicans moving overseas to seek out a better life thus breaking up the family. This migration in the late 1960s brought the "barrel children syndrome" to the fore in the 1980s and beyond. Some of the current social issues can be traced back to this period.
Ken Boothe found international success in 1974 when the Lloyd Charmers-produced cover of the Breads' Everything I Own reached number one on the UK Singles chart and stayed at the top for three weeks. Crying Over You also reached number 11 on the UK singles chart during the same year.
Ms. Dynamite sampled When I fall in Love in 2005 while Dub Spencer & Trance Hill covered the same song in 2010. UB40 covered I Don't Want to See You Cry on their Labour of Love IV album in 2010.
As the only foundation member of the rock steady fabulous 4 still alive — Delroy Wilson, Alton Ellis, John Holt, being the others — we must treasure his legacy and consistently show our appreciation for his contribution to Jamaica's musical influence globally.
47. Grounation – Count Ossie & the Mystical Revelation of Rastafari – 1973 – Ashanti & Vulcan Records/New Dimension
Oswald Williams set up a Rastafarian community in Rockfort in the early 1950s, where many musicians came to learn about the levity of Rastafari. He later formed the Count Ossie Group, and perfected the nyabinghi style of hand drumming. This form of drumming is derived from Jamaica's Kumina traditions and has its roots in the Bantu traditions of Eastern Congo. The ancestral links remain, despite the authority's deliberate plans to disconnect us from our roots.
Count Ossie later formed a group called the Mystic Revelation of Rastafari and recorded a few singles in the late 1960s although several local artistes used the group as percussionists for their own recordings.
Grounation is considered the zenith of Rastafarian-inspired music as Count Ossie and Cedric "I'm" Brooks recreate a spiritual gathering of Rastafarians to include readings and chanting in praise of Emperor Haile Selassie I. John Templer and Arnold Wedderburn produced the classic, with Wedderburn sharing engineering duty with Delroy Butler.
Rastafarian philosopher Sam Clayton, Ras Jose, Little Bop, Tony Time (Count Ossie's son), King Royo, Joseph Ruglass, Bunny Wailer, Pablo, Moses, Ras Sam II, and Nambo Robinson were the pioneers who played on and/or added vocals to this masterpiece, that some critics have described as "heavy Jamaican spiritual jazz".
The 15-track album is dominated by the title track, which is 30 minutes, yes 30 minutes of powerful philosophical chanting and drumming that both seem to communicate a similar message. Rastafarian chants, reasoning and poems are the primary themes on the album. My favourite pieces from the seminal recordings are the title track and Lumba, a Jackie Mittoo & Soul Vendors original. The popular Oh Carolina is also included on the groundbreaking album and although it is not the original, the mesmerizing drumming makes this version particularly unique.
Reggae Vibes magazine in its September 2016 edition called Count Ossie one of the foundation stones on which the music is built.
Count Ossie died on October 18, 1976, in a road accident at the age of 50.
46. Africa Must Be Free By 1983 – Hugh Mundell – 1978- Greensleeves Record
Hugh Mundell's father, Alvin, was a successful lawyer and Hugh attended Kingsway Preparatory and Ardenne High schools, which immediately sets him apart from most Jamaican singers of that period who grew up in inner-city communities and attended public school at the primary level.
Hugh Mundell recorded this revolutionary album when he was just 16 years old, under the guidance of the great Augustus Pablo and Errol Thompson with an all-star cast including Robbie Shakespeare, Noel Benbow, Pablove Black, Geoffrey Chung, Jacob Miller, Leroy Sibbles, Earl "Chinna" Smith, Leroy Wallace and Carlton "Santa" Davies. The album has been reissued on several occasions to include the dub versions of some of the songs but the original album had nine tracks.
The young protégé captures the original essence of what Rastafari is about, as his distinct falsetto passionately embraces each song. Why Do Black Men Fuss & Fight, Let's all Unite, Day of Judgement, Book of Life and Jah Will Provide; are songs that belie Mundell's young age when he wrote them. Run, Revolution A Come is however the standout track on the album:
"Run, run, run, revolution a come, some a dem waan socialism, some a dem waan capitalism, some a dem waan communism, they all waan all kind of ism. The press must free, so we all can see, your wrong doings and your brutality."
Mundell was a major influence on Junior Reid and he was the first to record Reid. Reid paid homage to Mundell on his 1990 hit Long Road.
Africa Must Be Free By 1983 received five stars from Rolling Stones magazine when it was released and was included in Tom Moon's 2008 book, 1000 Recordings to Hear Before You Die. The album, with the dub versions of six of the songs, was reissued by RAS Records in 2003.
Mundell was shot on October 14, 1983, while sitting in his vehicle on Grants Pen Avenue, Kingston, Jamaica. Mundell's wife was in the passenger seat and Junior Reid was in the back seat, at the time of the shooting. He was 21 years old.