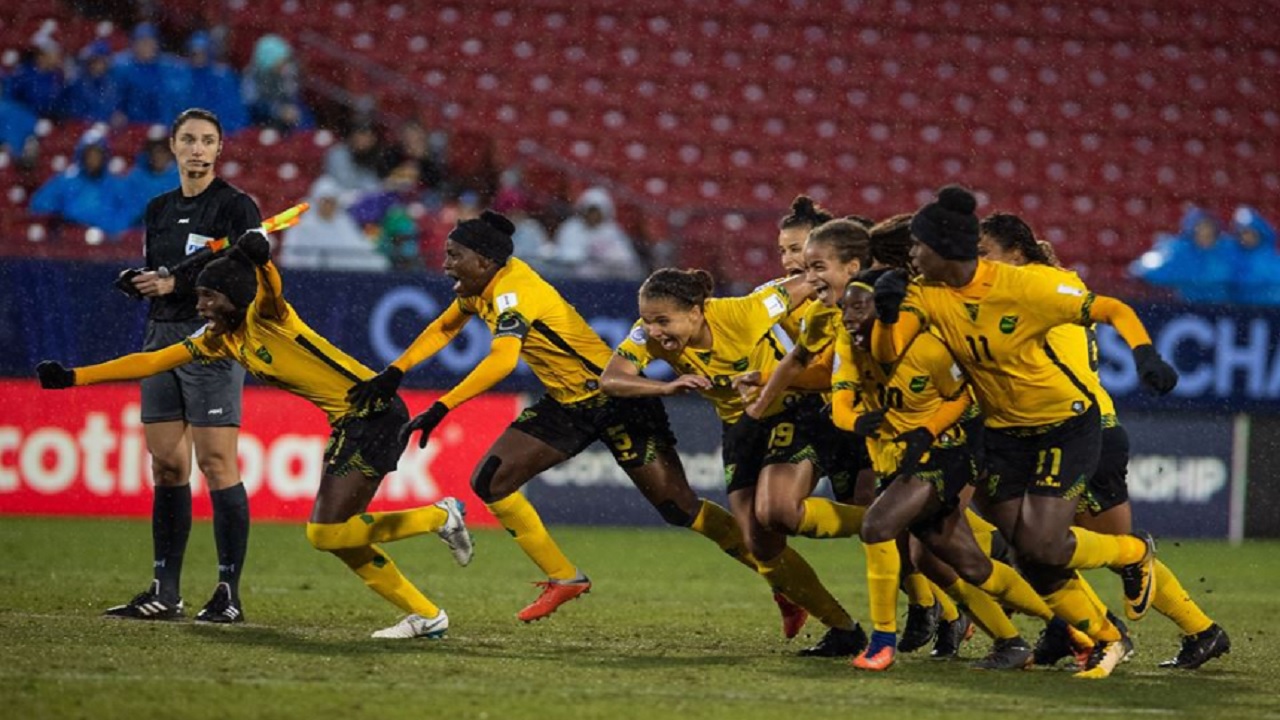 Women's football is now in national sporting headlines with the success of our under 17 women's World Cup squad in the Dominican Republic. They have convincingly beaten their Caribbean/CFU counterparts, showing good technical and tactical skills – supported by a mature approach by Coach Chambers in rotating the squad to maximize tired legs.
Dane and Merron Gordon would have been two of our young coaches that Vin Blaine (former football director) would have recommended that the Jamaica Football Federation (JFF) invest in, and their roles at Garvey Maceo and in our national programmr are now bearing fruit.
Their final first-round game, in an evenly contested encounter against Canada (CONCACAF) shows that if not for unluckily drawing the USA at the quarter-final stage (being blown away in that encounter by a much better program and team), Jamaica may have deservedly reached the semi-final round.
The USA beat a plucky Mexican team 2-1 in the finals, with Canada placing 3rd — all qualifying for the World Cup finals in India later this year.
The JFF's problem continues. Without a proper financial structure, how can we keep this promising under 17 squad together to transition eventually into the next under 20 national unit?
Regrettably, this is all overshadowed in the news by the senior women's football squad's letter to the JFF rejecting their national coach Vin Blaine and his coaching staff as being incompetent to manage their programme for the challenging World Cup qualifying CONCACAF round in July in Mexico.
Vin is probably our most seasoned local coach and would have answered the JFF's urgent call instinctively to assist when coach Busby had to be relieved of his responsibilities. From a human point of view it must be very painful to see your youthful prodigies, those you have nurtured and have now matured into professional footballers, turn against you in this manner.
The JFF and the country at large have chosen to embrace all overseas Jamaican women football players as the core of this team (similar to our men's World Cup qualifying team).
A few are coming from international teams, accustomed to first world facilities and coaching and training methodologies. Though it is a dangerous precedent allowing players to select their coach, or sponsor(s) to run national programmes, this JFF has inherited that from the inception of this senior women's programme.
Like our men's team some are educated professionals and comparably more advanced than their JFF counterparts who they are dealing and negotiating with.
Jamaica is a nation without a female football culture —very weak in its women's football programme and without the national passion or financing to meet the needs of the players or the international programme.
We should be very grateful, therefore, for Cedella Marley and those other international sponsors who have stepped forward to make our female international programme a reality and give us an outside chance of competing against much better funded programmes in CONCACAF.
Cedella herself is an international star — also a fashion designe — who has not only financed but given her time and camaraderie to the female programme. It is only natural therefore that the girls would gravitate towards her (she who pays the piper calls the tune).
Bonding on female issues is natural and will eventually morph into football issues.
Vin is not specific in his allegations of foreign interference. On being appointed, if he had taken the time to communicate with his predecessors, he would have realised the position both himself and the JFF face in this regard — sponsors are entitled to know where their money is going /has gone and try to ensure that it is spent in a responsible, transparent and accountable way.
I had the privilege, as a former JFF administrator, of learning at the feet of some of the best — Franz Botek, Jack Warner and Sepp Blatter.
Collectively their advice would have been:
When sponsors intrude and overstep their bounds in the game, tell them to "take their ball and go home with it". Another sponsor will come along eventually.
Any ultimatum given to management must be ignored, ring leader(s) identified and convinced to comply, or the programme moves on without them. Setting the wrong precedent will surely come back to haunt you.
Jack, in particular, would insist that at the first sign of a problem call all the protagonists into one room immediately and as president supervise them in solving the problem. Knock fists if you must — have a drink and resolve it would be Jack's preference — but on leaving the room everybody must commit to the programme going forward positively.
Good advice but there is still a 'foul on the play', given all that JFF has inherited and allowed to fester resulting in the lack of trust prevailing in the female programme (similar to the men's national programme). Coaching competence is not the only thing being challenged; more importantly, is the competence of the JFF administration.
The core of this squad is that of the 2018 World Cup in France which carried the JFF administration like an anchor through that programme and where the administrative incompetence of the JFF was clearly exposed.
Our Minister of Sports (God bless her) has to act as a mediator in a meeting with players and sponsors but glaringly without our national coach Vin and JFF's head of women's football. With the best of intentions, babysitting the JFF in this manner could only make matters worse.
The solution simply lies in putting Jamaica's qualifying first, and the girls at the centre — tone down the egos — then maybe everybody could commit themselves to the very difficult job ahead.
This would require facing some hard truths:
Disregard innuendos. If unable to be proven they serve as distractions and both Vin and the Reggae Girls are professionals.
Throw away the political legacy ambitions.
In football terms, neither Vin nor the team have exceeded expectations — so far so good as expected — but the main challenges are ahead.
Vin Blaine and Bradley Stewart are probably two of Jamaica's most senior coaching instructors but I would think twice about appointing Bradley as a national senior coach because of the applicable skill sets. An instructor, for instance, is not necessarily a good motivator and a national coach needs to be both. The Reggae Girls' complaints are not only about Vin but also about his coaching staff — one of which, in my view, is not competent at this level.
Difficult as it might well be, accept Vin's position as "untenable" — as he himself has declared. Painfully, this means that the Reggae Girls have fired their coach. We have come to accept that teams usually respect and play for their coaches, which clearly isn't the case here. Blaine stepping down seems the only recourse here.
Hue Menzies was the Rene Simoes of Jamaica's female football and I am sure the girls would consider him the best option, given his international competence, knowledge of the programme and experience in World Cup qualifying, especially so in the limited time frame and financing (camps) available. The maturing of our national programmes, with the amount of money being spent, should have, by now, rectified national coaches reporting to a General Secretary. They should report directly to the Technical Director. Hue, in resigning from the programme, was unequivocal in his desire not to work with one particular administrator in the JFF.
Can the egos be sorted out in Jamaica's favour?
I doubt it, but since national interest is above all else, Lorne Donaldson, who was Hue's technical assistant throughout our France 2018 World Cup campaign, should be considered. Importantly, he has good working relationship with both the Reggae Girls and sponsors. Lorne has always been a team player and his decision would be supported by Hue should he decide to accept.
No disrespect intended, but this seems the best possible outcome reflecting on the critical July timeline as other foreign coaches would neither be familiar with the programme nor the team.
Coach Andrew Pryce, in his pivotal role as motivator and 'vibes master', should be considered a part of this national coaching staff as he has an outstanding relationship with the Reggae Girls and is already part of the JFF's coaching set-up.
We need to focus on the US$1.4-million that FIFA pays to each qualifying team.
Time is of the essence!
The JFF has all the facts to make a principled and wise decision in the best interest of Jamaica's Women World Cup team and their pursuit to qualify for this premier event.