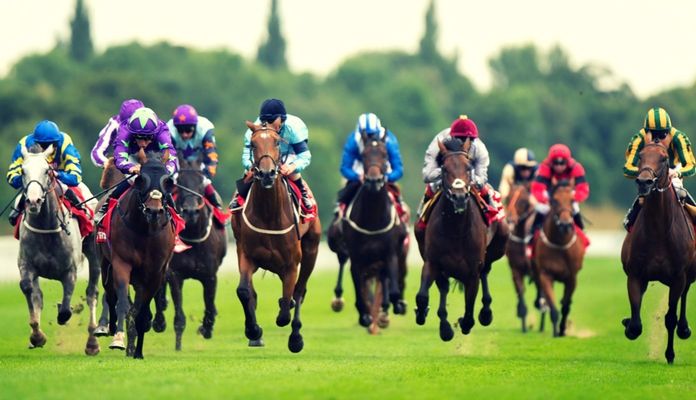 By The Terrible Tout
Lots of misinformation and rumour are usually bruited about regarding Caymanas Park's track bias.
A cultish commitment to the advantage of a high number draw has become the most consistent thief of punters' cash especially in races on the straight course where low number draws have become punters' poison as cult leaders instruct us that horses must be drawn high to win. This has permeated through to the trainers' ranks so jockeys drawn low are usually commanded to drift away from the far rail as soon as they can for "better going".
But Charles Hussey, famous for his exploits up the straight, always knew that the key to riding the five straight was to be found in the name. Jockeys need to be like Bajan directions:
"Oh you want to go Calvin's place? Ok, keep driving til you come to di firs' roundabout. Ef yu turn lef' dere you'll pass Miss Matty shop what her grandfadder did die and leave to she because she fadder was a bum. Yu know dat shop?"
"Yes"
"Ok don't turn dere. Keep straight!"
Some of our best jockeys fall into this trap. Take, for example, Champion Jockey Anthony Thomas who rode Armageddon in a 1,000m straight race from the number one draw on October 16. A.T. carried his mount across the track to finish under the stands rail but was beaten by 4½ lengths into 2nd behind Mr Ambassador who drew 13 but raced in the centre of the track. Armageddon lost at least ten lengths running sideways like a crab. The Promoter's website used to provide stats showing winners by post position at all distances. I can't find them anymore but they recorded pretty much the same percentage of winners up the straight from all sections of the track.
It's true that, before track reconstruction was undertaken in the 1990s, the race track was like Hope Road and high number draws were favoured up the straight. Since the deepening of the surface accompanied by regular grading, the advantage is in keeping a straight course, not in the post position.
Caymanas Park's round course is sharp with a short homestretch and tight turns so handy, adaptable types have an advantage. Big, far striding horses are disadvantaged except at 1,600-1,800m races from out the chute. There's a draw bias in sprints favouring low to middle number draws (the turn comes up quickly so those drawn high can be severely victimized) and, for the same reason, in two turn races especially at 1,820m. But, from 1,400 to 1,800m, a high number draw is preferred as horses have a long time to settle down before having to negotiate any turns. In those races, horses drawn low are at a disadvantage as they often have to be used up early to get good positions.
So, take heed. Like everywhere else, track biases at Caymanas Park change depending on who and where you are.
DEPARTMENTS:
Clocked-In
Abbreviations: CT = "Corrected Time"; TV = "Track Variant" (a calculation of track conditions' effect on official times to arrive at "real/corrected" times); TVs are expressed in fifths of a second; "minus" (-) means a fast track; "plus" (+) a slow track (e.g -2 is fast by 2/5th second). Variants beside horse's names represent the difference between its official time and the grade standard.
Last time, I wrote up the 9th race on October 2 as a KEY RACE including:
"Sweet N Smart/Tomohawk/Ajita (-4) finished 3rd/4th/5th respectively jointly clocking 1:27.1 (CT 1:27.2) which is 3/5th second faster than the grade. The 3rd, an importee, remains unexposed especially over 1400+ and ran in first time visors so should have more to come. The 4th needs further (should be best around two turns) while the 5th has the least scope for improvement but is best suited by around 1400 and, as a filly, can be depended upon to continue to blossom in 2021."
On October 23, Sweet N Smart and Tomohawk fought out a terrific stretch duel over 1600m and were eventually separated by a short head. The winner (best suited by the trip) started at 2-1 ($152.00 to win). The Exacta rewarded Clocked-In readers with a $727.00 payout. Ajita, also in the race but with her stamina stretched at 1600, faded after being in contention for a long way.
Here we go again!
TUESDAY, OCTOBER 19, 2021 [TV+0.5 per 200m (Round) -10 (straight)]
Roy Rogers (-2) made most and won easily (Race 7; Overnight Allowance; 1600m; TV+4) clocking 1:39.2 – the day's fastest time against grade standard (1:39.4) on a slow track (on the round). His CT (1:38.3) is a second faster than Open Allowance standard. He's a hard knocking type that needs to dominate his races so, with likely limited opportunities at this level to do that, his prospects are restricted. But, if that chance presents itself, he's your guy.
OCTOBER 23, 2021 [TV+0.1 per 200m (Round) +1 (straight)]
Jordon Reign's (-7) confirmed exercise reports with a facile debut win (Race 7; 3yonw2/Imported Maidens; 1,000m (straight); TV+1) clocking an impressive 0.58.3 on a slightly slow track. HIs CT (0.58.2) is already equal to Overnight Allowance standard so he's an exciting prospect.
Tomohawk (-8)/No Identity (-5)/Kay Boy (-4½) 2nd/3rd/4th respectively behind imported winner Sweet N Smart all ran well above standard (Race 9; 4yonw3/Imported nw2; 1,600m; TV+1). Tomohawk, 2nd by a short head, clocked 1:40.4. This converts to 1:40.3 which is almost two seconds faster than nw3 average (1:42.2) so he's nailed on to win when next finding a race in that grade at 1600m+. No Identity, 3rd, produced a CT of 1:41.1 and Kay Boy, 4th, already in this department as a winner-in-waiting of a nw3, has a CT of 1:41.1'. Both CTs are more than a second faster than grade standard.
Overseas Betting Opportunities (OBOs)
The Breeders Cup, acknowledged as the World Championship of Horse racing, is scheduled for November 5 and 6 at Del Mar in California. It's much too early for firm selections but I've been in love with Godolphin's Essential Quality to win the Classic for a very long time and no amount of hype around 5yo Knick's Go (firm ante-post favourite) is going to change my mind.
But, before that, the world's most popular horse race, The Melbourne Cup, (a Group 1 handicap over 2 miles) will be run, as always, on the first Tuesday in November at Flemington race track in Australia at 3.00pm Australia time (15 hours ahead of Jamrock). This year's renewal features a howling favourite in 5yo Incentivise a winner of his last nine races. He trounced seventeen quality rivals in the Caulfield Cup (Group 1 handicap; 12f; Caulfield; good to soft) on his last run (October 16) winning by 3½ lengths from previous Group 3 winner Nonconformist. He has been handed a 1.5kg penalty for that win carrying him to joint top weight of 57kg with second favourite and fellow 5yo Spanish Mission (a head 2nd to Stradivarius over 2m½f at York in the Group 2 Lonsdale Cup).
Of the eleven horses to have completed the Caulfield Cup/Melbourne Cup double only Rising Fast (1954) carried 57kg or more so Incentivise has a huge task on his hands at very skinny odds for such a competitive event. My idea of the one best equipped to beat him is Grand Promenade. He has high-class form at Flemington, a more galloping track that the turning Caulfield circuit (akin to Chester for those familiar with English tracks), and who seems sure to have more to come at two miles.
Those looking for a viable outsider can try front-running Delphi who can turn this into a procession especially if the rains stay away.
We shall close with another Notebook Horse for the jumps. Readers are encouraged to sign up for an online tracking service (most are free) and enter these Notebook Horses for notifications of their next starts:
I Like To Move It [4yo b.g. Trans Island-Nobratinetta (Celtic Swing)] finished a respectable ninth in last season's Champion Bumper and made a winning start over hurdles at Worcester this month. Despite his inexperience, he jumped efficiently and stormed up the hill to beat highly-rated Tritonic. Cheltenham seems to suit him perfectly so the Grade 2 novice hurdle at the November meeting should be perfect for him and he could easily develop into a Supreme or County Hurdle contender at next year's Festival.
Good Luck!