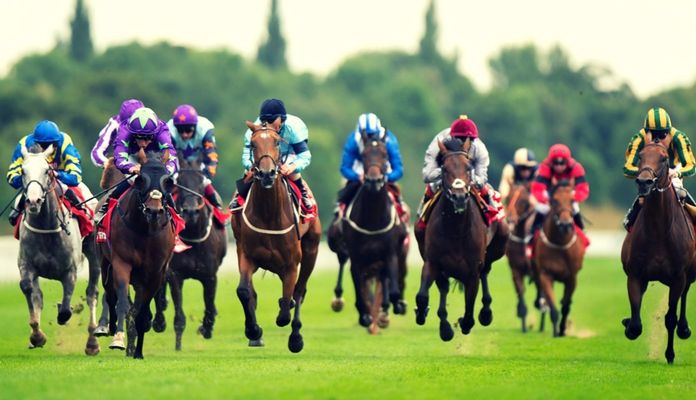 Congratulations to 2019 Champion Trainer Anthony Nunes on a comprehensive and emphatic victory in the championship race.
After his obvious disappointment in 2018 he put his foot on the gas from the outset in 2019 and never let up. His handling of the classic season was outstanding and resulted in a Triple Crown winner and a $20-million lead over his nearest rival by the end of July.
But even better was to come because the anticipated never-say-die fight from the previous champion did materialize as he steadily and determinedly chipped away at the massive lead until it had been reduced to less than $5 million. But then, the new champ produced a last two months of the year that proved his mettle. He never gave an inch; landed the first five-timer of his career on the day before the Diamond Mile which all but negated the one-two punch delivered by the former champion in that rich race. Instead of the intended knock-out blow, that result merely made the deficit respectable. Then, in November and December the new champion put out winner after winner to put the issue beyond doubt.
So this was a well-deserved title and one I'm sure Anthony Nunes will carry with distinction. The family triumvirate is finally complete as Dad Nigel was Champion Trainer in 1976; older brother Andrew won a championship in Barbados in 2016; and now "Baba" is himself at the pinnacle of his profession. No doubt matriarch Hillis Nunes is the happiest mother in Jamaica today. I wish "Baba" continued success in 2020.
Lest we forget, congratulations also go to Champion Owner Michros; perennial Champion Breeder HAM Stables Ltd; Champion Jockey Chris Mamdeen and Champion Groom (winners) Delroy Blake.
Happy New Year to one and all!
DEPARTMENTS:
Clocked-In
This regular review of local performances is based on REAL times.
Abbreviations: CT = "Corrected Time"; TV = "Track Variant" (a calculation of the effect of track conditions on official times to arrive at "real" or "corrected" times); TVs are in fifths of a second; "minus" means a fast track; "plus" a slow track (e.g. -2 means fast by 2/5th of a second). Variants beside horse's names represent the difference between its official time and the grade standard.
When last we met (November 14) I wrote this about the November 8 performance of Big Black Nation:
"…squandered $250,000 claimers…..clocking 1:00.1 in the process. His CT (0.59.2) equals the standard for $650,000 claimers so he can win as he likes whenever sound."
Big Black Nation stepped up to $350,000 claimers on November 16 and won, as predicted, at the whopping value price of 6/1!
Also on November 14, I highlighted the November 10 effort of a two-year-old maiden (second-time-starter) Above and Beyond who was 6 ½ lengths second to Wow Wow and commented:
"The second is obviously also an exciting 3yo prospect who has all her conditions still intact."
Well, on December 14, Above and Beyond won a maiden race by 2 ½ lengths from Mahogany with Glock a further 9 ½ lengths third. This makes for a perfect segue into my New Year's gift of five horses to follow for 2020.
Horses To Follow 2020:
Above and Beyond [3 ch.f. Blue Pepsi Lodge-Rumble (Graeme Hall)] confirmed herself an exciting 3yo prospect when clocking a fast 1:18.3 for 1300m beating a colt (gelding in reality) Mahogany who returned to slam some good maidens on December 28 in 1:04.3 for 1100m. Glock, who was third on December 14, duly released her maiden tag on New Year's Day so this Above and Beyond is very much one to follow and one to keep on the right side for the 1,000 Guineas.
God of Love [4 b.g. Adore the Gold-Shanda D (D'Wildcat)] doesn't have many miles on the clock (only 13 starts) and is a late foal (May 14) so significant progress is expected as a 4yo. He completed a successful autumn campaign winning 3 of his 4 races and progressing with each start so it wouldn't surprise if he turns out to be a top class sprinter in 2020.
Money Monster [3 b.c. Casual Trick – She's Traditional (Traditional)] impressed when winning on his 2nd try over an obviously inadequate 1,000m (round) trip before flopping next time (nervous in preliminaries). But he ran a race full of promise on Boxing Day to be 5½ lengths 3rd to Wow Wow in the Two Year Old Stakes. He's an imposing looker with a huge frame to be filled out as a 3yo and very much impresses as the one to take from that race for the 2,000 Guineas. It doesn't hurt that his dam won the 1,000 Guineas.
Pharoah It Is [3 b.c. Market Rally-Noon It Is (Yankee Gentleman)] only had one run in a back-end maiden over 1,000m (round) where he was slowly away and took a long time to work out what was required running green early in the straight as well. But he came home well enough (hands alone) to run a fair fourth. His dam Noon It Is was a high class imported mare who won the Easter Sprint Cup and was multiple grade one placed including 3rd in the Imported Mile. As a grand-daughter of Belmont Stakes winner Touch Gold she's certain to be an influence for stamina as is his sire Market Rally so it's safe to expect this nice looking colt to show marked improvement when stretched out over 1,600m+. He looks a smart prospect.
Princess Annie [4 b.f. Northern Giant- Millenium Princess (Mutakddim)] A surprise Oaks winner who went off the boil in the summer but returned to her best with a bang in a 1,600m Overnight Allowance (December 14) showing the kind of turn of foot that suggests there's more to come. As a half sister to Derby winner Future King, she seems certain to make her mark in high class two turn races in 2020.
Relax, I haven't forgotten to update you on December's clockwise highlights.
DECEMBER 21, 2019 [TV -0.4 per 200m (Round) -5 (straight)]
Race 4 (2yomsw; fillies; 1000m Round; TV-2) should be a KEY RACE!
Suasion (-5) stayed on determinedly in the final 200m to win going away by a length in 1:00.1. Her CT 1:00.3 is 2/5th second faster than 3yonw2 but she is bred for further and runs like further will suit so she's a good prospect.
Debutante Speechless (-4) 2nd (CT 1:00.4 3/5th second faster than 3yo maidens) is by the Henny Hughes sire Chitu out of the Montbrook mare Fast Action so should show marked improvement over further while the 3rd Native Gold (-3) seems best at the minimum trip for now and produced a CT (1:01.0) that's 2/5th second faster than 3yomsw.
Overseas Betting Opportunities (OBOs)
The NFL play-offs move into the divisional round tomorrow. The Seattle Seahawks will have to travel to Lambeau Field where I expect them to limit a slightly out of sync (Desafinado) Aaron Rodgers. Then they should move on to gain revenge against a 49ers team that only won the number one seed from the Seahawks because of a careless delay-of-game penalty followed by a completed pass to a receiver who was downed one millimetre from the end zone.
The AFC's South Division eliminated the East last week when the Texans came from behind to pip the Bills while the zombie apocalypse arrived at Gillette Field in the form of the Tennessee Titans. The fallout saw Tom Brady and Bill Belichick leaving the field defeated in a play-off game for the first time since Noah built the Ark.
This could well pave the way for a Ravens Chiefs Championship Game. I am expecting two of today's great coaches, Andy Reid and Pete Carroll, to face off at the Big Show in Miami.
As usual we'll close with a Notebook Horse over the sticks in English racing:
Tronador [4yo ch.g. Lope De Vega-Autumn Leaves (Muhtathir)] is the type to do better over hurdles than he did on the flat. His hurdling debut at Leopardstown was full of promise despite being badly hampered in an incident causing another starter to fall. He finished with a flourish to be 3½ lengths fourth. With a clearer passage he looks like a winner in waiting.
Good Luck!