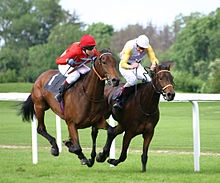 Everybody knows I'm no fan of Sunday racing.
I'm concerned about interference with family time; with occupational license holders' day of rest; and encouragement of punter fatigue which could come with an irresistible temptation to source more betting funds than advisable from questionable sources.
But, recently, I've noticed another "worrying trend". Because I know how to calculate Track Variants which are invaluable in comparing times of horses running on different days or at different distances (and made available to readers in my Clocked-In Department) I've recorded an unusual quickening up of the track on Sundays. For example, Track Variant (TV) for Saturday January 25's first six races (rain after) was +0.1 (which is expressed in fifths of a second so SLOW by 1/50th of a second) per 200m (Round). The following day's TV was -0.9 (or FAST by 9/50th of a second/almost 1/5th second) per 200m (Round).
Saturday February 15 and Sunday February 16 produced identical TVs (-0.1 per 200m) but, after the Covid break, the disparity was even more glaring. On Sunday July 5 the track was FIVE TIMES FASTER than the previous day (TV -0.5 from -0.1 per 200m) and Sunday, July 12's track (TV-0.6 per 200m) was four times faster than Saturday's (TV-0.2). Sunday July 26's track (TV-0.7 per 200m) was more than twice as fast as the day before (-0.3 per 200m). Obviously, lack of time for prep work between Saturday and Sunday race meets is at least a part of the problem.
This observation places two matters into perspective. The Gleaner story of August 2 "Work to be done On Caymanas Track" becomes easier to understand. The report begins:
"Following mounting pressure from racehorse trainers and jockeys, who complained about the poor condition of the racetrack at Caymanas Park, chairman of Supreme Ventures Racing and Entertainment Limited (SVREL), Solomon Sharpe, said upgrading work on the surface is scheduled to begin at the end of this month.
The surface, which was last re-graded in December 2019, is badly in need of repair work and has been a major concern for some trainers, who blame the uneven track for injuries to their horses."
DECEMBER 2019? Really? Seriously? Racetracks with deep dirt surfaces like Caymanas Park should be graded twice per month. Is THIS the subsidiary of a multi-billion-dollar parent company who lobbied relentlessly for the race track? Did it not know that basic responsibilities like grading the race track were part of the package? THIS is the company being bailed out by occupational race horse stakeholders to the tune of $13 million+ per month for the duration of the covid break and now can't afford regular track grading? Those same stakeholders weren't assisted with $20m per week expenses during the same lock down?
Sigh.
The second important matter is that the apparently wide disparity between the winning times of ABOVE AND BEYOND (1,000 Guineas; July 25) and WOW WOW (2,000 Guineas; July 26) is exposed as illusion. The filly clocked 1:38.4 to the colt's 1:37.3 making it seem a wide chasm separated them. But the filly's corrected time is 1:39.1 while WOW WOW's is 1:38.4 which effectively separates them by only two lengths.
Both are bred to improve over further but the filly has far more scope than the colt and will enjoy a 2kg sex allowance so the battle of the sexes in the St. Leger/Derby should be worth going miles to see. Let's pray both keep sound and well.
DEPARTMENTS:
Clocked-In
Our regular review of local performances based on REAL times makes a welcome return.
Abbreviations: CT = "Corrected Time"; TV = "Track Variant" (a calculation of the effect of track conditions on official times to arrive at "real" or "corrected" times); TVs are in fifths of a second; "minus" means a fast track; "plus" a slow track (e.g. -2 means fast by 2/5th of a second). Variants beside horse's names represent the difference between its official time and the grade standard.
Last time we met I advised INSPIRED MIRACLE (3rd in July 11's 7th race) earned a CT "2/5th second faster than the grade but this was too sharp. His name is on one of these at 1600m+." So, on July 25, he duly obliged in a 4yonw2 over 1820m at the decent price of 8/5.
Let's see what's on today's menu.
JULY 18, 2020 [TV-0.5 per 200m (Round); +2 (straight)]
DOOM PATROL (-10) stepped up on belated debut 14 days previously (Race 1; $180-150,000 Claimers/5yomdn/6yonw2; 1100m; TV-3) and discombobulated a weak field of bottom-of-the-barrel claimers winning by 13 lengths (going away) in 1:09.0! His CT (1:09.3)is 2/5th second faster than 5yonw2 but, more importantly, he found his best stride in the last 200m and is bred for further. He obviously has more in the tank if kept sound.
JULY 25, 2020 [TV-0.3 per 200m (Round); +2 (straight)]
GENERATIONAL (-8) wore down long time leader CITY COUNSEL (-6') late on (Race 3; 3yo maiden condition; 1100m; TV-2) clocking 1:07.0! The winner's CT (1:07.2) is 3/5th second faster than nw2. He should repeat.
The second is unexposed and on the upgrade. Her CT (1:07.3') is a full second faster than maiden company so she's nailed on to recoup losses.
WEEKEND JAZZ (-7) although only second (Race 11; 3yonw2; 1100m; TV-2) was clearly the best but his jockey (Tevin Foster) was comprehensively out-ridden by Dane Dawkins on Laban (-8) so he lost by 1¼ lengths after blowing the start; rushed to contend; and out-manoeuvred in the straight. His CT (1:07.0) is a second faster than the grade. Losses are only loaned.
SUNDAY JULY 26, 2020 [TV-0.7 per 200m (Round)]
HARD WORKING MAN (-9) failed by a short head to shed the maiden tag (Race 2; 4yo maiden condition; 1600m; TV-6) clocking 1:42.4 which converts to a CT of 1:44.0 (3/5th second faster than 4yo maiden special weight and 1 2/5th second faster than 4yo maiden condition). He should win soon.
ROY ROGERS (-9) was beaten a neck by an importee (Race 7; 4yonw3/OT; Imported nw3; 1400m; TV-5) so preserves his eligibility for the grade. His CT (1:26.2) is 4/5th second faster than the grade so compensation waits.
KINGSWOOD (-15) refitted with visors, in which his two best runs were recorded, romped a weak race (Race 4; 5yonw3; 1300m; TV-4') in 1:20.1! His CT (1:21.0') is 7/10th second faster than nw4 where he should repeat. It's also equals the standard for $650,000 claimers.
Overseas Betting Opportunities (OBOs)
By the time this is published, Round One of golf's first Major (PGA Championship) should've been completed at Harding Park in San Francisco (currently a covid-19 hotspot). The pandemic has already severely up-ended the season in that, as Bob Dylan prophesied in 1964 in his monster hit, The times they are a changin', the last (PGA Championship) shall be first and the first (Masters; rescheduled to November 12) shall be last.
This West Coast venue should suit the singularly focused TIGER WOODS to a "T" (for "Tiger") and I'm confidently expecting him to successfully apply his superior will to win. Readers looking for an outsider could try Brandt Snedeker who is unlucky not to have won a Major and now has the maturity to make a bold bid.
Last week's UK racing tip Anthony Van Dyck was scratched and there's not a great deal on offer this weekend. The Group 3 Sweet Solera (2yo fillies; Newmarket; 7f; 1520GMT; 9.20a.m Jamaica Time) in England and the Group 3 Give Thanks (fillies and mares; Cork; 12f; 1725GMT; 11.25a.m Jamaica Time) in Ireland are the best two races scheduled tomorrow.
The Sweet Solera should go to Mark Johnston's DUBAI FOUNTAIN who is top rated and progressive. He should handle expected good to firm ground.
In Ireland, if the Aga Khan's filly Kastasa finds 12f too short (five of her six wins have come over further) and Dermot Weld's Search for a Song remembers her bad experience at Cork (slipped on the bend and had to be pulled up) Joseph O'Brien's BOLLEVILLE could capitalize. She impressed winning on last after 14 months off and seems sure to stay this trip.
Last issue's Notebook Horse Maydanny was kind to us by winning a big handicap at Glorious Goodwood by five lengths at 5/1! Let's try to repeat that feat with another Notebook Horse this time coming out of Goodwood.
Meraas [3b.c Oasis Dream-Rehn's Nest (Authorized)]. He ran a cracker in the Stewards Cup as a 3yo racing on the unfavoured far side (2¼ lengths 6th of 27) and encountering fast ground for the first time. This unexposed, progressive colt from Mark Johnston's high-powered barn is an exciting prospect and one to keep onside for big autumn sprints when the going eases.
Good Luck!