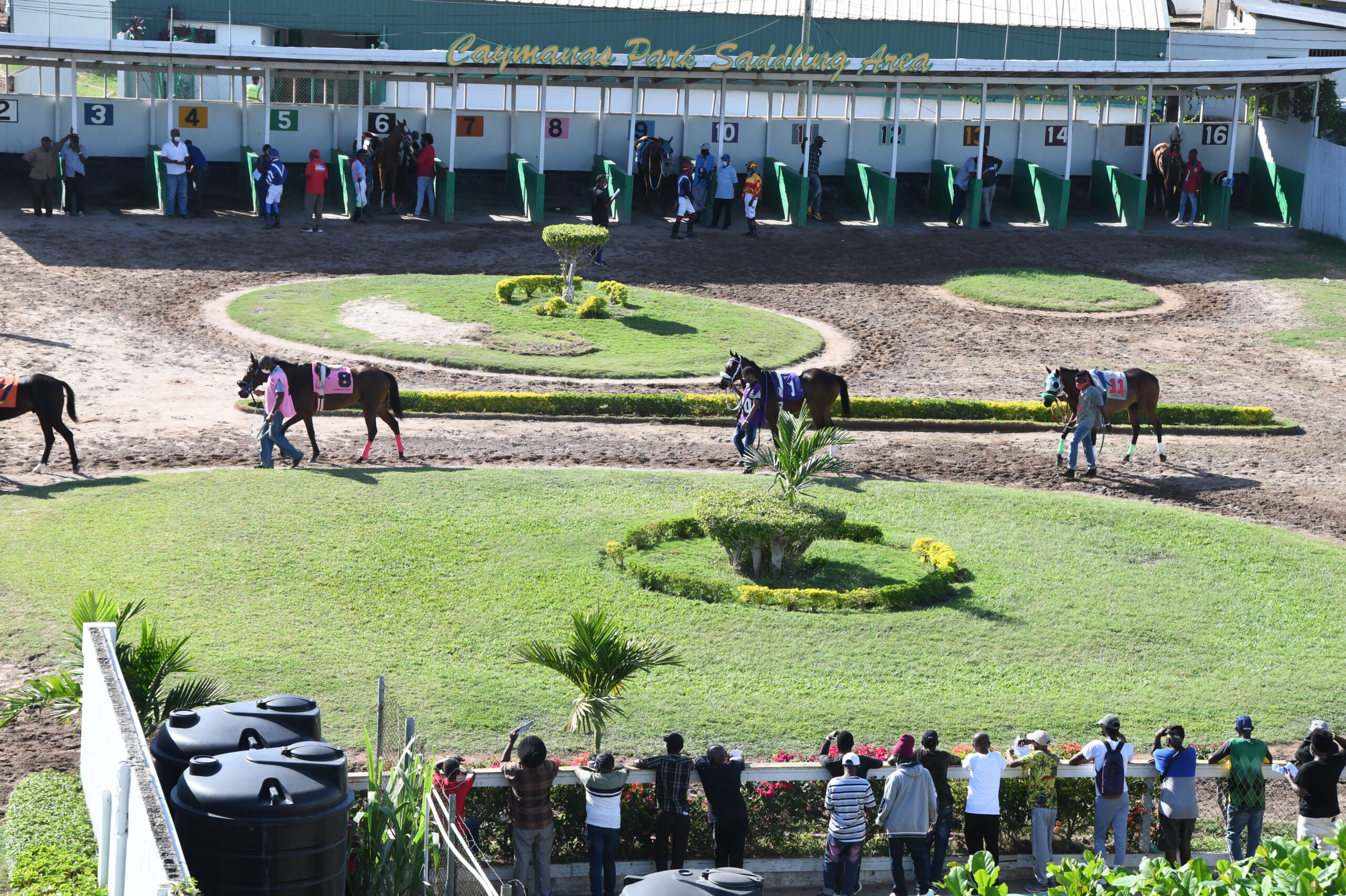 For decades, Jamaican horsemen and purveyors of horseracing opinion have debated whether Jamaica should introduce a tote monopoly.
The "debate" has proceeded on the premise that we currently have two players in the system, namely SVREL and legitimate bookies. That premise being incorrect, it's difficult to take a side in a debate that calls for the elimination of one of those players.
To begin with (generally), I'm not a supporter of tote monopolies which, contrary to popular expression, haven't succeeded anywhere. Anyone doubting this assertion need only ask any American horseman how comfortable he is with the purses on offer there and how many breeding operations are profitable. Many American racetracks have been forced to fuse tote wagering with playing of slot machines to keep their heads above water.
Nobody in Jamaica seems to have noticed that the most adjacent example of a failed tote monopoly system is right here at home. Although our betting regime is a de jure mix of racetrack promoter and licensed bookmakers, the de facto situation is a hybrid form of tote monopoly wherein almost every single bet placed on horseracing, regardless of the licensee, is wagered at tote starting price odds. Our so-called "bookmakers" are really acting as agents of the tote in ensuring that, directly or indirectly, the bets they take either find their way into the tote or are reliant on the tote for amount of payout. Where there's a "level-playing-field" problem, is that the recognized tote agents (OTB operators) earn a 5% commission on sales but the "agents-in-bookmakers-clothing" earn over 90% commission (depending on the quantum of SVREL's "rights fee").
I remember way back in the day when I was a young lawyer (dinosaurs roamed the earth) and Burger King first came to Jamaica, I was approached by the owner of the local King Burger to seek an injunction to prevent Burger King from coming here or at least from using that name. My advice to him was not to look a gift horse in the mouth because the effect on his business would be positive. The addition of a new hamburger product (with all the expected media blitzing) would only increase sales of all hamburgers. Of course, he wanted legal not spiritual advice and so promptly took his business elsewhere. Since that time, we've seen the advent, not only of Burger King, but also of McDonald's (temporarily) and Wendy's. Local burger restaurants still prosper.
The lesson here isn't that more is better. It's that variety spices everything, including life. The burger franchises have only one thing in common — they all sell hamburgers. However, each franchise's product is different and distinctively so. There are customers who wouldn't be caught dead in a particular franchise but swear by another. What the advent of these very different burger franchises has done for Jamaica is to increase the burger market by catering to all tastes in burgers.
As we now stand, because "bookmakers'" product is only minimally different from SVREL's, the result is they compete for the identical customer. Every customer that attends a bookie establishment possesses the same profile as a racetrack customer, and so comes from the same market. Apart from the fact that the racetrack's existence is paramount (since, no racetrack, no bookie), each dollar so diverted from the track returns a minuscule percentage to purses compared with the amount that would've been contributed had that dollar been spent in the tote. Add up the total annual sales of bookies on local racing and do the math. You'll be alarmed.
So, currently, bookies don't expand the betting market. They only ensure a chronic shrinking of SVREL's share of a stagnant market. What's required is for Government to make a decision to introduce a system that produces an expanded betting market for the benefit of all. The options are
A system that mandates all bets go into the tote (tote monopoly); or
Bookies bite the bullet and let go of their free ride on the tote's back.
It's eeether or eyether.
My preference is for option (2) because, again, (1) is a harbinger of stagnation. Bookies must act as real bookmakers and make their own book. They should also offer ante-post betting on Grade 1 races and big sponsored events and offer early odds overnight for selected races on the next day's card. If they want to take bets during actual racing, they must offer their own odds (based on the stakes in their "book") fixed as at receipt of the bet but which can change for subsequent punters depending on their updated spreads. They should also offer betting on a variety of sporting events and accumulator options among sports including horseracing.
No racing promoter needs a "rights fee". What SVREL needs is players in the market who will promote market expansion for everyone, including SVREL. These players should provide true competition in a realistic free market and not act as parasites attached to the tote adding zero value.
DEPARTMENTS:
Clocked-In
Abbreviations: CT = "Corrected Time"; TV = "Track Variant" (a calculation of track conditions' effect on official times to arrive at "real/corrected" times); TVs are expressed in fifths of a second; "minus" (-) means a fast track; "plus" (+) a slow track (e.g -2 is fast by 2/5th second). Variants beside horse's names represent the difference between its official time and the grade standard.
Two highlighted finishers from my February 26 Key Race have since won as predicted. Ring Charmer trotted up by 4¾ lengths in a 4yonw3 (April 2) at 9-5 while Cruella won her nw3 (March 26) at 5-2. Yum yum.
So, we try again.
MARCH 26, 2022 [TV+0.6 per 200m (Round) +2 (straight)]
Princess Alani (-6) after 6 months' absence impressed, winning only her 3rd completed run (Race 1; 3yo fillies maiden condition; 1100m; TV+3) clocking 1:08.0 (staying on well last 200m; going away). Her CT (1:07.2) is 3/5th second faster than open non-winners of two but she clearly has lots more to come over further. She's an attractive outsider for the 1,000 Guineas.
APRIL 2, 2022 [TV+0.9 per 200m (Round) +10 (straight)]
Atomica (+2) ran very green (still) but won the Thornbird as she liked (Race 9; 3yo fillies Graded Stakes; 1400m; TV+6) clocking 1:27.0 (same time clocked by the Colts April 3). Her CT (1:25.4) is some distance ahead of this level; 2/5th second faster than Overnight Allowance standard; and good enough, if she stays 1600m, to win the 1,000 Guineas.
Overseas Betting Opportunities (OBOs)
Two "big" betting races remain in the Jumps season, namely the Irish Grand National (Handicap Chase; Fairyhouse; 3 miles 5 furlongs; April 18; 1700GMT; 11.00a.m Jamaica Time) and the Gold Cup Handicap Chase (Sandown; 3m5f; April 23; 1532GMT; 9.32a.m Jamaica Time).
Gordon Elliott flopped big time at Cheltenham but his stable is in much better nick now and he saddles Farclas for the Irish Grand National. His staying on 5th in last year's Aintree Grand National proves he has no stamina issues. Since then he took 165 days off then raced twice, finishing a creditable seven lengths 2nd of 16 to Run Wild Fred (8-1 second favourite for this year's Grand National but fell at the Canal Turn first time around) over 3 miles at Navan. Farclas looks a good thing.
In the Gold Cup Handicap Chase (not to be confused with Cheltenham's Grade 1 Gold Cup) Win My Wings and Kitty's Light (1st and 2nd in the Scottish Grand National at Ayr over 4 miles) renew rivalry three weeks later. Discerning punters, concerned about the effects of such a hard race would be justified in swerving both at unattractive odds.
Kitty's Light (hampered by a faller four fences out in the Scottish Grand National and 12lbs better off at the handicaps) is now the favourite for this race in which she was also hampered last year when finishing strongly on the run-in (3rd past the post; promoted to second). I prefer last year's disqualified winner Enrilo to make amends for his loss in the Stewards' room due to greenness. He returns more experienced yet off a handicap mark only one pound more and enjoyed a nice prep at Kempton (February 26; 4th of 14 to Cap du Nord; Grade 3 Coral Trophy Handicap; 3 miles) after 78 days break.
Let's welcome the 2022 flat season with our first notebook horse:
Rogue Bear [4yo br.g. Kodiac-Rancho Montaya (High Chaparral)] Six of the first seven in the Lincoln (Doncaster) came from single-figure stalls. The 1st and 2nd (drawn four and three) also benefited from being ridden close to the pace. So Rogue Bear, drawn 19 and who came from behind to finish 3rd less than two lengths behind the winner, was eye-catching, especially as this was only his sixth race. He clearly has more to come, especially over further and is of great interest tomorrow.
At time of writing he's entered in the Newbury Spring Cup. He should be even better if tried beyond a mile.
Good Luck!