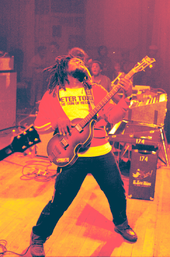 This series of articles about Jamaican musicians continues with information about Sean Paul, Judy Mowatt, Linton Kwesi Johnson and the Mighty Diamonds.
35. Dutty Rock – Sean Paul – 2002 – Atlantic Records/VP Records
Sean Paul Ryan Francis Henriques has surprisingly emerged as one of dancehall's most globally recognized ambassadors and arguably the most commercially successful artiste of the genre. And I say surprisingly because Sean's background and career path are unlike major dancehall acts of the past but his discipline, penchant for hard work, determination and surrounding himself with a highly professional team; have allowed him to reap immense global, especially among Latinos.
Sean Paul had come to the attention of the local music fans with, Hot Gyal Today, a collaboration with Mr. Vegas, and Infiltrate, the latter which appeared on his debut album, Stage One, in 2000.
Dutty Rock was Sean's sophomore album and the 22 tracks, 20 on the 2003 re-release edition, illuminated music charts word wide. Cleveland Brownie, Sly Dunbar, Delroy Foster, Lloyd James, Wycliffe Johnson, Louis Malcolm, Steven "Lenky" Marsden, Robbie Shakespeare, Shocking Vibes Team, Scott Storch, Troyton, Ward 21 and Andre Tyrell; were the wide ranging production teams involved in the making of the album with Beyoncé, Busta Rhymes, Cécile, Chico, Fahrenheit and Sasha; all adding vocals to the album diverse mix of dancehall, pop and hip hop. Jeremy Harding was the head cook and bottle washer, as he played the role of; composer, engineer, producer and Executive Producer. The Neptunes, Mark Ronson and Beyoncé; also shared production duties.
Dutty Rock sold 65,000 copies in its first week, produced 5 top 15 hits on Billboard Hot 100 and featured 2 US number one singles, Get Busy and Baby Boy which featured Beyoncé. Gimme the Light, Like Glue, and I'm Still in Love with You (featuring Sasha); all occupied top 6 positions on the UK Singles Chart. The album also reached number 2 on the UK Album Chart and number 9 on the US Billboard 200 albums charts. It was certified Gold in Australia, Austria, France, Mexico, Netherlands, New Zealand and Sweden; Platinum in Switzerland, Germany, Japan; double Platinum in the United States and the UK; and triple Platinum in Canada.
My favorite songs on the album are: Get Busy, on Lenky's irresistible Diwali riddim; I'm Still in Love With You, a cover of Alton's Ellis 1967 hit and the infectious Can You Do The Work which features "bad gal" Cécile.
Sean Paul's immensely successful album won the Best Reggae album in 2003 while the song, Top of the Game, was featured in NBA Live 2004.
34. Black Woman – Judy Mowatt OD – 1979/80 – Caroline International/Shanachie Records
As I had opined when I reviewed Marcia Griffiths album, the dearth of albums by female singers in Jamaica is a glaring imbalance that hopefully will be addressed over the next 58 years.
Judith Veronica Mowatt recorded her first song with the Gaylettes (also known as the Gaytones) in 1967 and had her first major hit, Silent River, with the group in 1968. The all female trio also included Beryl Lawson and Merle Clemonson. The Group disbanded in 1970 but Mowatt continued as a solo artiste and had another hit in 1974, I Shall Sing, a cover version of South Africa legend Miriam Makeba global chart topper. Judy also contributed her immense song writing skills to the Wailers 1973 Burnin' album as she wrote; Pass it On and Hallelujah Time. She also wrote the prescient Reincarnated Souls, which appears on Bunny Wailer's Blackheart Man album in 1977 and was a member of Marley's backing vocal trio the "I Threes", from 1973 until Marley's death in 1981. Both Pass it On and Reincarnated Souls, are personal favorites of mine and more will be written about both songs later in the series.
Black Woman was Mowatt's second studio album and she assembled a star-studded cast to ensure perfection on the 10 tracks. Howard Badessie, Headley Bennett, Arnold Brackenridge, Dalton Brownie, Harold Butler, Everton Carrington, Herbert Chang, Tony Chin, Geoffrey Chung, Stephen " Cat" Coore, Tyrone Downie, Enroy Grant, Freddie McGregor, Donald Greaves, Mikey Hewlette, Ewan Lewis, Ian Maskel, Anthony Nelson, Noel Simms, Earl "Chinna" Smith, Ras Inefire Troi, Leroy Wallace and Orville Wood; were the musicians who played on the songs. Anninicia Banks, Pam Hall, Sharon Tucker, Joy Tulloch and Freddie McGregor; also added their vocals to the timeless album. Groundbreaking female producer Sonia Pottinger produced the soulful, rootsy album that showcases Mowatt's gospel background throughout.
Concrete Jungle, Put it on and Down in the Valley; 3 cover versions of Bob Marley songs, are included in the set along with Freddie McGregor's, Zion Chant. It is however the other 6 songs, all written by Mowatt, that are my favorites. Joseph is a most beautiful tribute to Bob Marley, while Strength to Go Through, Sisters' Chant and Slave Queen, are songs of inspiration, hope and a wakeup call to Black Queens. It's however on the title track that her rallying cry for the Black Goddesses becomes more haunting : We were forsaked once in the plantation, lashes on our skin, on auction blocks we were chained and sold, handled merchandise, highly abused and warmth we were refused and thrown in garbage bins, but no need for that now, free us, stand on back now and help me sing my song. Black woman, ooh, black woman, I know you've struggled long, I feel your afflictions, to you I dedicate this song.
Studio albums by female artistes in Jamaican music in the 1970s/early 1980s, are as rare as a Trump supporter who thinks he fairly lost the 2020 Presidential election and as such Judy Mowatt's pioneering efforts in not only releasing 2 studio albums in the 1970s, but also producing the albums and founding her own label, Ashandan; makes her and this album enormously influential in terms of demonstrating to other females that they can still achieve their musical goals in the exaggeratedly male dominated Jamaican music industry.
Black Woman is widely recognized as the best reggae studio album by a female artiste and the title track has been a source of pride for black women globally since it was released 40 years ago.
Mowatt was the first female reggae artistes to be nominated for the Grammy Award, for her effort Working Wonders in 1986. The album was also nominated for a NAACP Image Award in the same year.
33. Dread Beat an' Blood – Linton Kwesi Johnson – 1978 – Front Line Records
Linton Kwesi Johnson, LKJ, was born in Chapelton, Clarendon but immigrated to Britain at age 11 with his father. His mom had immigrated to Britain shortly before Independence in August 1962. Johnson gained a degree in Sociology by 1973 and worked as an Education Officer shortly after graduation. LKJ's background immediately sets him apart from the most local musicians of that era, or any other era.
Johnson wrote for several Black Music magazines; New Musical Express, Melody Maker and Black Music in the 1970s; and while freelancing he would also wrote biographies of reggae artistes signed to Virgin Records. His writings/poems were largely political and mainly dealing with the ghastly experiences faced by African-Caribbean people living in Britain during that period.
Johnson poems first appeared in the journal Race Today, which published his first collection of poetry, Voices of the Living and the Dead, in 1974. His second collection Dread Beat an' Blood was published in 1975. Most of the tracks on the album are based on the poems that appeared in the second collection.
The term Dub Poetry was coined by Johnson in 1976 and his album Dread Beat an' Blood was the first of its kind in the genre. Oku Onuora's Reflection in Red (1979) was the first Jamaican recording of a dub poem. Benjamin Zephaniah and Mikey Smith are also pioneers in dub poetry.
Floyd Lawson, Lloyd Donaldson, Winston Curniffe, Everald Forrest, Dennis Bovell, Vivian Weathers, John Varmon and Desmond Craig; were the musician that played on the groundbreaking album with Lila and Vivian also adding their vocals. Dennis Bovell, the mastermind behind the project was the engineer.
The 8 songs on the album all carry a similar theme of racist policing and laws that support same, police violence against people of Caribbean background and the predictable confrontation that ensue. This album is masterful, compelling and prophetic, as it not only predicted the Brixton Riots in 1981 but it has also left an indelible wealth of knowledge as it relates to the history of Caribbean people in Britain.
Five Nights of Bleeding, Doun de Road, Song of Blood, Come Wi Goh Dung Deh and Man Free; all share tales of grief for a group of people searching for justice and equality in a heartless country whose leaders seem all too willing to deny them even the basic rights as human beings. It Dread Inna Inglan and the prophetic All Wi Doin is Defendin', are however my 2 favorite songs from an album steeped in authentic spellbinding dub music. It Dread Inna England immortalizes George Lindo, framed for robbery in Bradford and later released with 25,000 Pounds compensation: Dem frame up George Lindo in Bradford Town, but de Bradford blaks dems a rally round, Maggi Tatcha on di go, wid a racist show, but a she haffi go. Several songs, including Eddie Grant's, Electric Avenue and Black Uhuru's, Youth of Eglington, were released after and drew attention to the Brixton Riot in 1981. LKJ's, All Wi Doin is Defendin' however brought the issues to the fore, 5 years before the Riot: War… war, mi seh lissen, Oppressin man, hear what I say if yu can, wi have a grievous blow fi blow, we will fite yu in di street wid we han, we have a plan, so lissen man, get ready fi tek some blows, doze days of di truncheon, an doze nites of melancholy locked in a cell, doze hours of torture touchin hell, doze blows dat caused my heart to swell, we're well numbered and are now are now at an end. All wi doin is defendin, so get yu ready fi war… war.
Dread Beat an' Blood influenced future icons like Mutabaruka and Yasus Afari and all future dub poets ought to use this seminal album as an important guide to the Gold standard in the genre. Johnson is one of the few prophets who has been honored in his own land as he is the recipient of the Silver Musgrave Medal for eminence in the field of poetry and was awarded the Order of Distinction, Commander class, in 2014. In July 2020, it was also announced that Johnson had won the PEN Pinter Prize 2020, for his unwavering commitment to political expressions.
Dread Beat an' Blood was listed in the Book, The Rough Guide: Reggae: 100 Essential CDs.
32. Right Time – Mighty Diamonds – 1976 – Channel One/Virgin
Donald "Tabby" Shaw and harmony vocalists Fitzroy "Bunny" Simpson and Lloyd "Judge" Ferguson became friends at school in the mid1960s and formed a group called The Limelight in 1969. They later adopted the name Mighty Diamonds after Shaw's mom started calling them the diamonds.
The Group recorded for various producers; Stranger Cole, Derrick Harriot, Bunny Lee, Lee Perry and Rupie Edwards; but it was the Pat Francis produced Shame and Pride which gave them their first hit in 1973.
Virgin records subsequently signed the Group and their debut album Right Time followed shortly after. Ansel Collins, Vin Gordon, Tommy McCook, Radcliffe Bryan, Tony Chin, Anthony Creary, Sly Dunbar, Pat Ferguson, Ossie Hibbert, Herman Marquis, Bertram Mclean, Robbie Shakespeare, Uziah Thompson, Leroy Wallace; were the creative minds behind the 10 tracks recorded at the famed Channel One Studios with the Hoo Kim brothers, Ossie Hibbert and Lancelot McKenzie being the engineers.
Donald Shaw has one of the best voices in the history of Jamaica's music and he is the lead vocalist on 9 of the songs while Lloyd Ferguson, an incredible falsetto, takes the lead on Go seek Your Rights.
Right Time is among my top 10 reggae albums of all time and as such all the songs are personal favorites. From the title track with Sly's double tap across the rim intro, that foresees an escalation in social unruliness and the battlefields that will result; to decrying the widespread lawlessness afflicting young black men on Why me Black Brother Why; the album is rich in quality throughout. Them Never Love Poor Marcus highlights the way our National Hero was treated by those in authority and denounces " Bag a Wire", the alleged betrayer of the noble man and on the delightful Africa, Tabby's voice conveys sincere hope that we will return to the Motherland one day.
Roof Over My Head, already my 4 years old grandson favorite song, takes the album to another level. The horns and riddim section, the background vocals and the lead vocals; are all worth listening separately as Maslow's Needs have never sounded so sweet. Bunny's and Judge's distinct Motown like harmonies belting out: Remember Garvey say, say time a go dread, every gully a go run red, every man a lose dem head and Tabby's pure, exquisite voice, seemingly effortlessly uttering: I need a roof over my head and bread, I need some bread on my table, with love in my heart, with love for everyone; is magical.
Rolling Stones described Right Time as "simply one of the finest reggae LPs released and Pop Matters list it as among the "Five Reggae Albums You Cannot Live Without". Virgin Records lack of marketing foresight adversely affected the album and the Group but good music has no expiration date and as such the albums, like Diamonds have lasted forever.