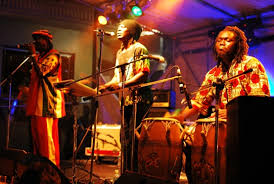 The idea of examining the global impact and influence of Jamaica's music, since independence, has always been high on my agenda, as I firmly believe that our musical legacy has been grossly ignored and that the pioneers of our music have been largely forgotten.
Jamaica's culture represents the greatest untapped economic growth potential available to the Government and people of Jamaica but that economic potential has largely been overlooked due to:
lack of national plan and policy as it relates to entertainment;
lack of successive governments' support for entertainment and related sectors (to include sound systems, dancers, studio owners, food and alcoholic beverage industries, informal vendors);
lack of knowledge of the music by radio announcers/sound system operators and the discomfort that the playing of Jamaican music has always brought to particular demographic of Jamaicans;
It is not up for debate that Jamaica's culture, especially our music, has been the country's most influential and persuasive contribution to the world since August 6, 1962. From Millie Small's My Boy Lollipop in 1964, Skatalites' Guns of Navarone in 1967, Desmond Dekker & the Aces' Israelites in 1969 to Koffee's Toast in 2018 and every period in-between, our music has influenced artistes and generations globally.
To say Jamaica has punched above its weight musically, would be the understatement of the past 58 years. Ska, Rocksteady, Reggae, Dub, Dub Poetry and Dancehall are the genre of music that Jamaica has given to the world since independence. These genres are still being enjoyed globally and continue to influence new sounds through collaborations and samplings with/by younger artistes.
In an interview in March 2020, Buju Banton questioned the growth of the music over the 10 years since his incarceration and alluded that Vybz Kartel was the one "running" the place in 2010 and was still doing so in 2020.
I have always asked myself that question through the decades and comparisons are inevitably made between the first global pioneers and other Icons who have contributed and influenced the global growth and acceptance of our various music genres.
This article primarily addresses these questions: Has our music grown? How influential is the Jamaican sound globally today compared to previous eras and which albums have provided a global platform for the growth of the various genres? Global in this regard includes all seven continents and not just North America and Europe.
Let me clarify that this article is neither about the most popular albums recorded by Jamaicans nor the albums that have received the most awards or sold the most copies. It is a recognition of pioneers who opened doors for other Jamaican musicians but may not have had commercial success or awards to show for those efforts. Some albums have, however, straddled both categories successfully.
In keeping with my personal modus operandi, I will also be including a raft of recommendations geared towards preserving, acknowledging and incentivizing our culture and its innovators. This will ensure that our music industry and legacy can become a source of economic growth through greater collaborations/partnership between and among industry players, government representatives, private sector and education institutions.
I have chosen 58 albums because it has been 58 years since Jamaica's 'independence' from England. I would like to thank both Earl "Chinna" Smith and Bunny "The Mighty Burner" Goodison for providing additional insights into some of the albums, therefore assisting me greatly in reducing the original list of 500 to the present number. I would like to make it clear however that neither esteemed gentlemen had any influence on the final listing and ranking.
I have also included the musicians who played on these masterpieces, as all great albums are the perfect synergy among songwriters, musicians, producers, engineers and recording artistes.
There are some key highlights of the albums that made the list and these include:
There are 36 albums covering Reggae, to include: soul, lover's rock, instrumental, roots rock, and spiritual.
There are five albums each covering Rocksteady and Dancehall.
There are four albums each covering Ska and Dub.
There are two albums covering Dub Poetry and two which are a mixture of Ska/Rocksteady/Reggae.
Thirty-four of the albums were released in the 1970s, which makes the decade our most influential musically.
Seven albums each were released in the decades of the 1960s, 80s and 90s.
Three albums were released in the decade of the 2000s, with no album included after 2005. (Buju's question given an unequivocal answer).
Island Records was responsible for 13 of the albums, which shows how beneficial the company has been to the music over the years.
Lee "Scratch" Perry has seven productions on the list, which again shows that a king has no honour at home as the younger generations of musicians and radio announcers are generally unaware of his monumental role in the development of Jamaican music.
These 58 albums represent, in my humble opinion, the perfect representation of the most influential recordings to emerge from Jamaica, and by listening all 58 one should get an accurate history of our global musical influence since August 1962.
There are 10 albums that should get honourable mentions and these are:
Man From Wareika– Rico Rodriquez
Conquering Lion – Yabby You
King Yellowman– Yellowman
Best Dressed Chicken– Dr. Alimantado
Rastaman Vibration– Bob Marley & the Wailers
Chronology – Chronixx
Ini Kamoze – Ini Kamoze
Live– Bob Marley & the Wailers
A Moment In Time – Protoje
Beat Down Babylon – Junior Byles
Both Chronology and A Moment in Time have countless "hidden" gems and over time will be seen as hugely influential albums.
Next edition: The list of albums