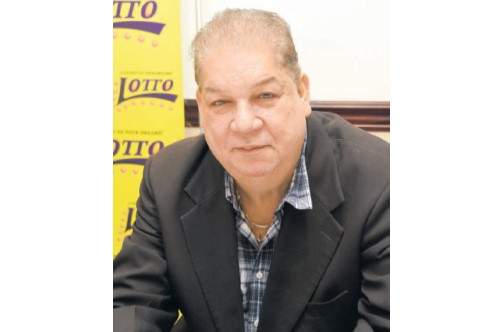 I first met Christopher Joseph Armond over 55 years ago when, in September 1965, we both entered the hallowed halls of Campion College (née "Campion Hall").
We entered with different perspectives. I was the timid one. Even then, Chris was an imposing figure with a self-confidence that belied his relatively few years. My earliest memory of Chris was during a first form football game during which I played as a striker in the Gerd Muller mould (stayed to have tea with opposing goalie until something came my way). I scored my only lifetime goal in that game from an assist by Chris so accurate it bounced off my toe and ended up in the back of the net. That game taught me footy was not for me so I moved on to my childhood love which was cricket.
In second form, we were on opposing class cricket teams. Yes, in the Jurassic era, with classes of no more than 25 each, every class had a football and a cricket team. I recall opening the innings with my friend Herbie Chung (of Honey Bun fame). The game was played on a "second" pitch adjacent to Hope Road. Herbie and I were going along nicely when Chris came on to bowl from the Hopefield Avenue (western) end. His first delivery was short and I deposited it into Hope Road for six. His second delivery was short enough (I thought) so I pulled again but this time straight into the lap of traditional mid-wicket (Michael "Sarge" Sasso who later became school team captain) who was kind enough to drop the "dolly". Herbie and I went on to have a rollicking opening partnership before fatigue caused me to run myself out. In those days, one didn't have to be fit to play cricket. I took full advantage.
Chris and I could always be counted among the boys who sat in the back of the class with transistor radios hidden in our desks and earphones to listen and take down the draws for post position broadcast weekly. Who can forget the oft repeated intro from the popular live broadcast's sponsor "The Bookmakers' Association has a part to play and a contribution to make to society". Jamaica Raceform was published on Tuesdays. Punters later filled in declared jockeys and post positions from that broadcast.
A few years later, I returned for summer holidays from studying horseracing (oops, sorry, "law") at the Garrison Savannah in Barbados. Gene Autry and I spent our first Saturday afternoon, as usual, listening to horseracing commentary on the radio. I expected to reconnect with Vin Lumsden or David "Wall of Horses" Vernon but instead heard a vaguely familiar voice with a completely different style.
This commentator was BRILLIANT. He went through the field from first to last several times during the race. He was fluent, creative and intelligent. His tempo picked up towards the end along with the suspense of the race. He actually transported listeners to the track as none had done before. I turned to Gene "Who the devil is that?"
"You don't know?' It's our old schoolmate Chris Armond". Wow!
So, circa 1990, when I was dragged into horseracing administration by the great Danny Melville, it was no surprise to me that he'd also sent for Chris. I've had a hands-on, front-row seat to witness Chris' monumental contribution to the sport's development in Jamaica and the Caribbean for the last 30 years. He reacted to an early setback (horseracing's version of the current pandemic) with his trademark innovation. When equine flu shut the local industry down, he leaned on his international contacts to introduce simulcast racing from Gulfstream Park. That novelty kept the racing promoter's financial head above water but also so caught the imagination of Jamaican horse players that simulcast racing from a variety of tracks worldwide is now a Jamaican staple.
Danny made sure Chris had a free hand to do what he did best while Danny saw to the big picture by bending government's arm to allow a new Tote into Jamaica duty-free and introducing novel Off Track Betting parlours (OTBs) directly linked to the Tote to create larger betting pools. Chris revolutionized the bets themselves, introducing exotic wagers like Super-Tri; Superfecta; Super Six and Pick Nine to generate lottery-type jackpots to which the public flocked willingly.
Then Chris turned his creative mind to anti-corruption measures and imported the USA claiming system with adjustments for local realities. These innovations changed the local horseracing landscape forever and increased the promoter's betting market share from around 20% (in 1989) to 75% by 2000.
Chris Armond's invaluable contribution to local racing deserves to be immortalized with national honours. But, for now, I'll just record that, like HBO, he's simply the best!
DEPARTMENTS:
Five to Follow for 2021
It's a new year's tradition for this feature to substitute for "Clocked-In". That department returns next time.
Bern Notice [3yo ch.c. Bern Identity- Blufield (Haynesfield)]. Foaled April 2 so it was no surprise to see this strong colt take time before showing real signs of what may be to come on his fourth start (December 26; 2yomsw; 1200m) saving ground throughout from an unfavourable inside post and staying on determinedly to end up a length second to promising debutante Magenta who clocked a smart 1:13.1!
His sire was a smart USA multiple stakes winning sprinter but there's plenty stamina on his dam's side (a grand-daughter of late-bloomer Quiet American who won the NYRA Mile and San Diego Handicap at four). Bern Notice's half sister Princess Lizzy (by Atreides) has already advertised the family's stamina by winning at 1820m. He could develop into a classic contender.
Balkrishnen Sagan-Maraj (Anthony Nunes)
Double Crown [4yo ch.g. Bellamy Road-Salty Talk (Midshipman)]Another late foal (April 24) who missed his 2yo season but started with a bang winning two 3yo restricted stakes in fine style before the COVID break. He ran respectably after racing's return but was tried highly in classics that may have come too soon for him. A two-months break after the Derby and the fitting of cheek-pieces clearly worked as he now looks certain to fulfil his unlimited potential after a smashing all the way win (previously was s.i.s/reared gate in 5 of his 8 career starts) in a 3yonw3 (December 23; 1500m) clocking a smashing time (1:31.0) and defeating classy, unexposed, progressive importee Excessive Force out of sight.
He's definitely a 4yo to follow at around 1600m.
P.J.K. Team (Ian Parsard)
Father Patrick [5yo b.g. Nuclear Wayne-Late Appeal (Appealing Guy)] An intriguing sort thought to be a smart sprinter but has improved markedly since stretched out to 1400m+ winning as he liked on last (December 19; Overnight Allowance; 1400m) against quality opposition. It's unusual for a five year old to make a list like this but he's relatively unexposed especially beyond sprints and clearly boasts an upwardly mobile profile.
He needs only a little encouragement to make up into a Grade 1 miler.
P. Ellis, T. Pragnella, H.Pratt and Alexander Cools-Lartigue (Ian Parsard)
Nuclear Noon [3yo b.c. Nuclear Wayne-Noon It Is (Yankee Gentleman)]proved himself aclassy two-year-old sprinter likely to progress further in 2021 when easily making all on his third attempt (December 12, 2yomsw; 1,000m round) by 6¾ lengths in 0.59.1!
He's the second foal of high class mare Noon it is who won the Easter Sprint Cup but stayed a mile (Storm Cat and Touch Gold in her pedigree) so Nuclear Noon has options including a real chance at becoming a 2,000 Guineas contender!
Michros (Gary Subratie)
Katalina [3yo ch.f. Ride on Curlin-Alienate (Graeme Hall)] The Andrew HB Aguilar Memorial Cup (November 28; 2yo msw; 1600m) usually throws up some unexposed prospective stayers stretching out for the first time. This year the well bred Katalina, having only her second start (blinkers/tongue strap removed after debuting over an inadequate sprint trip), stood out. She raced fluently throughout and kept on well in the final 200m (not knocked about) to finish 2¼ lengths second to Rusty with Nuclear Noon (also keeping on) a further 2¼ lengths 3rd.
Her sire is a son of 2007/08 USA Horse-of-the-Year Curlin. Her dam won once and is half sister to several multiple USA winners. So Katalina should have no difficulty winning her fair share of "conditions" races and would be worth an each way ante-post flutter for the Oaks at double-digit odds.
M&S Syndicate (Gary Crawford)
Overseas Betting Opportunities (OBOs)
Unfortunately, space only permits me to add another Notebook Horse to your Cheltenham Festival portfolio:
Queen's Brook [6 b.m. Shirocco-Awesome Miracle (Supreme Leader)] Cheltenham's Champion Bumper is usually a dependable guide to future smart hurdlers and 2020's renewal looked a high quality one. Athletic mare Queen's Brook finished 5¾ lengths 3rd to Willie Mullins' hotpots Ferny Hollow/Appreciate it (the latter ante-post favourite for 2021's Supreme Novices). So her entry for the less stressful Mares Novices on March 18, where she's currently at a juicy 16/1, seems the right move.
Good Luck!