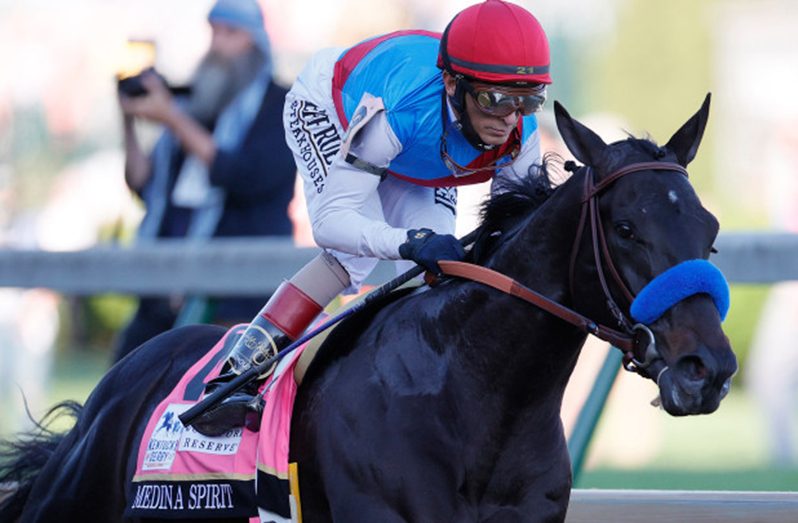 The world is all agog at the international scandal brewing after Kentucky Derby winner Medina Spirit tested positive for betamethasone.
A post-race sample was found to contain 21 picograms of the anti-inflammatory drug — more than twice Kentucky's allowable threshold. Medina Spirit's win was trainer Bob Baffert's seventh Derby winner, making him the winningest Kentucky Derby trainer.
Betamethasone is a corticosteroid (i.e. a man-made steroid that resembles cortisol, a natural adrenal gland produced hormone). The drug and other corticosteroids (e.g. hydrocortisone; prednisone) suppress inflammation, and can also suppress immune systems (according to Mayo Clinic).
Betamethasone specifically can be used to "relieve redness, itching, swelling or other discomforts caused by certain skin conditions" (Mayo Clinic). In humans, corticosteroids are used to treat rheumatoid arthritis, inflammatory bowel disease, asthma and allergies. But the Clinic notes corticosteroids are "different from male hormone-related steroids some athletes abuse."
Kentucky Equine Research has found corticosteroid drugs administered into joints can provide relief from discomfort for horses. It's legal in Kentucky as a therapeutic. But any raceday positive is a violation. The Kentucky Horse Racing Commission (KHRC) labels betamethasone a Class C drug. Class C drugs are approved by USA Food and Drug Administration and have a lesser degree of potential performance influence than Class A or B drugs.
For Class C drug violations, trainer penalties can include up to 60 days' suspension and a fine of $500 – $5,000, depending on how many prior violations exist. The owner can face disqualification and loss of purse.
Baffert was immediately suspended from making entries at Churchill Downs. The racecourse said:
"The connections of Medina Spirit have the right to request a test of a split sample and we understand they intend to do so.
"If the findings are upheld, Medina Spirit's results in the Kentucky Derby will be invalidated and Mandaloun will be declared the winner.
"Failure to comply with the medication protocols jeopardizes the safety of horses and jockeys; the integrity of our sport; and the reputation of the Kentucky Derby and all who participate. Churchill Downs will not tolerate it.
"Given the seriousness of the alleged offence, Churchill Downs will immediately suspend Bob Baffert from entering any horses. We'll await KHRC investigation's conclusion before taking further steps."
In addition to split-sample testing, Baffert has demanded hair testing plus DNA analysis of the positive sample, claiming the horse had never been treated with the medication and he'd been "wronged".
Baffert told reporters "This is the biggest gut-punch I've had in racing and it's for something I didn't do. It's an injustice. I don't know what's going on in racing now but it's not right.
"I cannot believe that I'm here. I don't feel embarrassed, I feel like I was wronged. We'regoing to do a complete investigation. He's a great horse and he doesn't deserve this."
There's no doubt Baffert has been a superstar trainer whose good looks, affable disposition, charm and forthcoming nature have made him a media darling and the face of American horseracing globally. But it must be noted he has faced intense scrutiny after a string of positive tests for horses in his care over the last 18 months. Before last year's Breeders' Cup he issued a statement in which he pledged "to do better".
Nevertheless, the trainer lashed out at what he felt was unfair pressure: "There's definitely something going on – why is this happening to me? There are problems in racing but it's not Bob Baffert. We're going to fight this.
"I know I'm the most scrutinized trainer and have millions of eyes on me. I don't have a problem with that. The last thing I want to do is jeopardize the greatest two minutes in sport. This is terrible but we have to deal with it.
"I'm not going to speculate and I've no idea where it came from. We're aware of being extra careful – being clean, washing our hands – so for this to happen at the biggest day, this really hurts. I don't know if there's a problem somewhere but it didn't come from us."
Only last month, Baffert was successful in overturning a 15-day ban and disqualification of two of his horses – Gamine and Charlatan – after they returned positives for the illicit raceday medication lidocaine, which was attributed to cross-contamination from a pain-relief patch worn by the trainer's assistant. Baffert was instead fined US$10,000.
Baffert also faced high-profile hearings into positives for Justify (after the Santa Anita Derby), Hoppertunity, and Gamine (third in 2020's Kentucky Oaks). The cases against Justify and Hoppertunity were dismissed by the California Horse Racing Board while Baffert was fined US$1,500 and Gamine disqualified from the Oaks after Bob waived his right to a KHRC hearing.
But Bob is right about one thing. The problem isn't Bob Baffert. The bigger problem is that raceday medications are allowed at all. This has led to a decline in the quality of the breed in America as chronic problems, masked throughout a horse's career, are passed on to progeny at stud.
In this regard, America sneezed and Jamaica caught lasix fever.
Also, drugs in racing have reached Olympian proportions. Either trainers use the best available "help" or finish last. It's that simple. Regulatory testing will never keep up with modern drug peddlers. Government testing labs can't find whatever drugs may be in any urine sample. They must use specific tests for specific drugs. Usually when something "new" is found it's a result of some malcontent "ratting out" a trainer. There's a furore; a media-frenzied scandal; then all and sundry find something else for which government chemists aren't (yet) testing.
And Bob's your Uncle! The illegal raceday medication catch-me-if-you-can sport resumes.
DEPARTMENTS:
Clocked-In
Abbreviations: CT = "Corrected Time"; TV = "Track Variant" (a calculation of track conditions' effect on official times to arrive at "real/corrected" times); TVs are expressed in fifths of a second; "minus" (-) means a fast track; "plus" (+) a slow track (e.g -2 is fast by 2/5th second). Variants beside horse's names represent the difference between its official time and the grade standard.
MAY 1, 2021 [TV+0.8 per 200m (Round) +4 (str)]
Sensational Ending (-5) was closing relentlessly (Race 8; 3yo Graded Stakes (fillies); 1500m; TV+6) when the post intervened with her still ¾l behind howling favourite She's a Wonder. Her CT (1:32.4) is 2/5th second faster than Overnight Allowance standard. This was only her 4th lifetime start and 3rd since a 6 months absence after a winning debut so she's catapulted into genuine Guineas reckoning. She's an exciting staying prospect who should be even better going two turns so a likely big player in the Oaks.
Overseas Betting Opportunities (OBOs)
On May 20 the PGA Championship tees off at the Ocean Course on Kiawah Island, South Carolina. The course was the venue of Rory Mcllroy's over-powering eight stroke win in 2012's PGA. Rory returned to his best form in the nick of time winning last week's Wells Fargo in North Carolina. So he should be hard to beat at Kiawah.
However, since this course is likely to be windy; has a links feel to it; and should reward great scramblers, I'll be opposing 2021 Rory (a shadow of 2012 Rory) with a trio of Americans led by Jordan Speith another multiple Major Champion recently back to his best after a lengthy slump. Dangers include Patrick Cantlay (knocking at the door and seems sure to win a major) and Keegan Bradley who is playing much better these days; won the PGA in his rookie year; and was tied for third here in 2012.
Tomorrow's Group 1 Lockinge (Newbury; 1 mile; 1535GMT; 9.35a.m Jamaica Time) is likely to be run on soft ground. Hot senior citizen Frankie Dettori rides odds-on favourite Palace Pierwinner of 6 of 7 starts. His only loss (3½ lengths 3rd of 14 to The Revenant) came on soft (Group 1 Queen Elizabeth II; Ascot; October) but something went amiss during that race and he previously won on heavy (Deauville). He returned as good as ever winning a four-horse Group 2 at Sandown in April.
But this is his stiffest task to date and progressive types oppose including Top Rank who featured as my Notebook Horse on April 2. I wrote he "continued to progress after an upwardly mobile 4yo career when winning the listed Doncaster Mile in fine style under a 5lb penalty for his 2020 Group 3 win. He goes well on soft ground…." So he steps up to Group 1 on ground he should relish at a value price. He's my selection.
It's time to open your Royal Ascot portfolio with a Notebook Horse:
Came from the Dark [5 gr.g. Dark Angel-Silver Shoone(Fasliyev)]
He suffered traffic trouble when stepping up to Group 3 (Palace House Stakes; Newmarket) yet just failed to get up and was in front soon after the line. He's relatively unexposed at five and at double-digit odds to step up again in the King's Stand. He's a mouth-watering each way wager.
Good Luck!