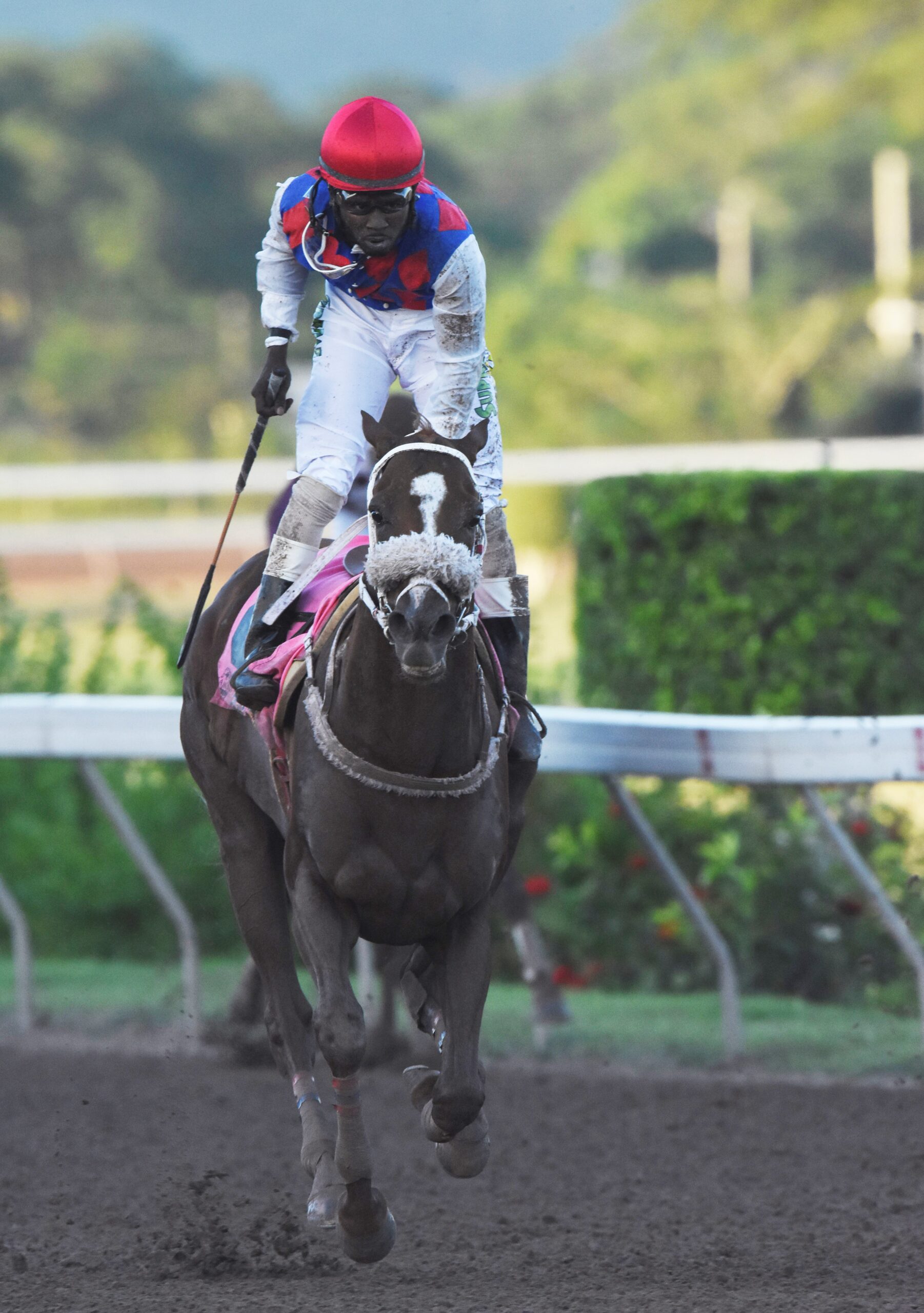 Monte's Stitch's 1972 Gold Cup weight-carrying feat was one of many by local champions those days. No horse's career was memorable without at least one weight-defying performance that could fuel arguments at street corners, in bars and around domino tables. Legendary sprinter None Such was nicknamed 'The Train" for repeated weight-carrying feats defying the maxim "weight can stop a train". Derby winners were rated only if subsequent weight defying exploits in "A" class merited it.
In 1972, Balladier, a "dark horse" coming off a lowly "E" Class handicap win, did the unimaginable by winning a Derby boasting one of the best fields ever assembled including Adonis (by Zaleucus out of prolific winner-producing mare Beauty); Gabriela (Governor's Cup winner); Guineas winner, Piccolo Pete (the little boy's pick) all from "Billy" Williams' barn; Out Yonder (trained by Michael Silvera); Rebeldeen (George Hosang for famous owner/trainer combo UN4/Gerry Skelton), Paddy's Doll and Zareba (another Zaleucus-Caroline Park offspring owned by illustrious Derby winning partnership J.W. "Judge" Hardie/Dr. Victor Magnus).
Who was the unheralded Balladier? Del Weller:
"Balladier appeared to be the most illogical of the declarations.
He had his first taste of combat on February 12, in 'D' Class at 5½ furlongs and had been last but one. On this performance, the Classification Committee rated him 'E'. His trainer, Nigel Nunes, renowned polo player and son of a [Jockey Club] Steward …., had been granted a license only a few months before this race and was therefore a 'babe in the woods' to all and sundry.
But after his initial appearance, Balladier won his only two races since — the first over 8 furlongs and the other over 10 furlongs in the Eggie Sutherland Memorial Cup on June 3 …. After which he was promoted to 'D'. His chances were considered slim by most as evidenced by his 25 to 1 starting odds"
Balladier made a mockery of those odds under visiting Panamanian, Jose "Juicy" Bravo, winning as he liked from Rebeldeen (staying on) with Zareba, Piccolo Pete and Adonis next. This wasn't the first time a horse rose from obscurity to win the Blue Riband event. Eight years earlier, Duesbury (trained by Michael Silvera for "Judge" Hardie; Drs Magnus and Dryden) accomplished a similar feat as had Right of Way ("Gussie" Douglas up) in the last Derby at Knutsford Park. In 1977, lightening struck again as the indomitable Legal Light, down the field in the Governor's Cup and beaten out of sight (though second) by Bounty Hunter in his Derby prep, silenced the stands by winning at 9-1.
The similarities among the triumvirate Legal Light, Balladier and Reca who all went on to scintillating weight carrying performances in "A1", are remarkable in retrospect. Legal Light was the most durable and his longevity puts him at number one but all three habitually carried 133 lbs in "A1" and defeated much lighter weighted rivals over long distances. To this day, despite the recent mollycoddling of great champions such as Eros, The Viceroy and War Zone, it remains the mark of a true champion to be able to carry top weight to victory like Legal Light, Reca, Balladier and the incomparable Monte's Stitch. This unnecessary pampering of Derby winners denies them the opportunity of proving themselves equal to predecessors.
By the time Legal Light won his Derby, the commentary booth was controlled by the amazing Chris Armond, who brought a whole new style of race calling to the radio. Every horse's position was noted on several occasions during the race and every finish was full of excitement. He dominated radio for JBC.
RJR countered with the team of a young and brash Howard Abrahams in the commentator's chair and Cliff Williams as analyst but, as sound as that team was, none could usurp King Chris' throne. Chris had the distinction of calling the thrilling winning sequence of Caymanas Park's first Triple Crown winner, Royal Dad (1981) who also set a new record for consecutive wins which stood for 15 years until eclipsed by War Zone.
Chris tried with many "apprentices", among them was Donald Thompson. But Donald had great difficulty wrapping his tongue around the language. The little boy (now an adult) remembers listening to races on radio one Saturday afternoon with his favourite Uncle who was watching golf on TV at the same time. The boy tried to keep the radio volume as low as possible so as not to disturb his Uncle's golf. All of a sudden, his Uncle leapt to his feet and, without a word, strode purposefully to the telephone. He dialled (yes "dialled") a number. "JBC?" he barked into the phone "Delapenha please".
A short hiatus followed and then "Delapenha? Hall here! I'm calling to thank your station for letting me know Caymanas Park's topography has changed since I was last there." Another pause, "Well, I now understand the furlong poles have been removed and replaced by trees." Another puzzled sounding silence then, "Well, Delapenha, your race commentator, one Mr Thompson, has just informed me that the horses are passing the tree furlong pole!!" Donald Thompson didn't last much longer.
Chris finally mined gold in a timid young apprentice named Brian Rickman whose first few trials beside Chris were tremulous at best but who turned out to be a quick learner and a fluent commentator. Brian "Spuddy" Rickman has been the voice of racing for decades and has developed into one of the best race callers anywhere. "Spuddy" was rewarded for his diligence by simulating his mentor's experience when he was behind the microphone for the exploits of Simply Magic who, in 2002, became the first filly to win a Triple Crown. Alsafra (2008) and She's a Maneater (2017) have followed suit.
Other Derby winning fillies include Hello Poochie Liu (also won the 1983 1,000 Guineas and Oaks); Thornbird (her less than two lengths fourth, under an overweight Emelio Rodriquez, in the 1984 Caribbean Classic in Panama is still our best finish in that prestigious race); Distinctly Native (went on to become Jamaica's best ever broodmare, throwing consecutive Derby winners A King is Born and Distinctly Irish); Poorlittlerichgirl (whose terrific 1991 battles with Khadullah gave Spuddy lots to shout about); Restless Babe (whose 1993 win for second generation trainer Andrew Nunes gave Jamaica its first father and son Derby winning trainers — Baby brother Anthony was to close the family treble in 1998 with Terremoto); Good Prospect (1999); and Awesome Power (2001).
It has been simply magic for the little boy to have followed this exciting sport for 60 years, especially via radio and TV commentaries by those remarkable race callers. Only a limited number can get to the racetrack or an OTB so the sport's lifeline will continue to be public broadcasts. When the little boy came to racing in 1962 radio commentary was king. In this new millennium where video games, YouTube videos and USB drives have rendered vinyl recordings, audio tapes and physical sport practically redundant, only visual broadcasts will attract a future generation of "little boys" to become lifetime fans. Voices will always be needed but pictures are now a must.
The little boy? Well, he grew up to be a Terrible Tout.
DEPARTMENTS:
Clocked-In
Abbreviations: CT = "Corrected Time"; TV = "Track Variant" (a calculation of track conditions' effect on official times to arrive at "real/corrected" times); TVs are expressed in fifths of a second; "minus" (-) means a fast track; "plus" (+) a slow track (e.g -2 is fast by 2/5th second). Variants beside horse's names represent the difference between its official time and the grade standard.
Last time I nominated February 28's 5th race as a Key Race! Two from that race have won (March 26) namely Ring Charmer (9-5) and Cruella (5-2).
Pay Pool, Pay!
March 19, 2022 [TV+1.2 per 200m (Round); +9 (straight)
Action Ann (-1),progressing rapidly now, beat standard on a very slow track (R7; 4yonw4; 1500m; TV+10). She clocked 1:33.4 (going away). Her CT (1:31.4) is 4/5th second faster than Open Allowance standard. She's one to follow at around 1,600m..
Overseas Betting Opportunities (OBOs)
Horseracing's most popular race, the Grand National, is scheduled for April 9 (Aintree; 1715GMT), over a gruelling 4 miles 2½ furlongs featuring 30 of the most fearsome fences anywhere. Aintree is a flat, sharp track so horses that jump well and race prominently have an advantage. Experience over these fences is often also crucial.
Last year's favourite Cloth Cap was tracking the leader when he stumbled 4 out; soon weakened and pulled up. Trainer Jonjo O'Neill reported he made a respiratory noise.
After wind surgery and 196 days off, he ran reasonably on the first two of three races (jumped poorly and eventually refusing at Ascot's unsuitable right-handed track). Another 77 days off preceded an eye-catching prep at Doncaster on softer-than-suitable ground. He's 4lbs lighter than a year ago and a mouth-watering each-way proposition at 33-1. Notebook horse Mount Ida remains a big danger.
Good Luck!