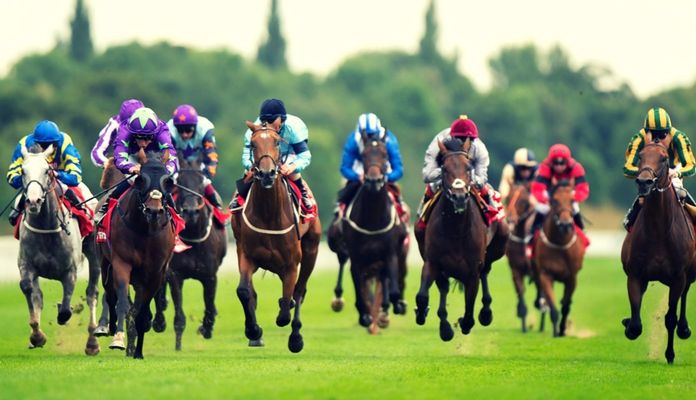 We're a week away from the season's biggest racing weekend as, sadly, the Diamond Mile has replaced the Superstakes as the year's championship race.
How was this illusion constructed? As usual, it's all about the money as the Betting Gaming and Lotteries Commission has, on at least suspect authority, spent millions of tax payers' dollars making the Diamond Mile the calendar's richest race. It's unclear if taxpayers will permit this sleight-of-hand with government revenue for much longer but, for now, this is where we are.
This year the race has generated Bolt/Gatlin excitement as the anticipated clash between She's a Maneater (winner of 2017 renewal and three consecutive Superstakes) and Stranger Danger (unbeaten imported three year old whose 9th win was in the Grade 1 Invitational Mile on Superstakes Sunday) has every tongue wagging and every mind agog.
But the early field is sixteen strong (plus 6 "Also Eligibles") so, while the focus is appropriately on the top two, I'll give you a an in-depth look at all ("TTSF" = Terrible Tout Speed Figure; "p" means improvement is expected; "+" means horse may be better than its rating):
Horse (weight) TT Handicap Rating TTSF (projected time)
Another Bullet (57kg) 100 114 (1:38.4)
7yo relatively unexposed beyond sprints. Still, he may find a strongly run 1600m in the highest grade a bridge too far.
Bigdaddykool (57kg) 106 106 (1:39.3)
Don't be fooled by his mediocre speed figure as he comes from off the pace. He's a thorough stayer who needs a strong early pace at this trip (a bare minimum for him) and is likely to get one.
Drummer Boy (54kg) 107 106 (1:39.3)
Disappointing since winning 2018 Governor's Cup but has placed behind the top two in his best efforts this season. Needs to dominate so unlikely to get the run of this race.
Fayrouz (52kg) 109 122 (1:38.0)
Better than ever this year but recent clashes with Stranger Danger suggest her best won't be good enough to win but a minor placing is not beyond her
Houdini's Magic 111 116 (1:38.3)
Thoroughly exposed but game and genuine. Another front-runner who is unlikely to have things his own way.
Princess Annie 103
An enigma wrapped in a puzzle. But her best shouldn't be good enough even though she seems sure to get the fast early gallop she desperately needs. Suited by 2000m.
Princess Ava 117 114 (1:38.4)
Late foal that's improving at the right time and should relish the way the race is run. Needs to find more but that's not beyond her.
Saratoga Sight 112 110 (1:39.1)
One-eyed lover of the rail. He'll stand or fall on his post position. If he's drawn low, he has an outsider's chance.
Sentient 113 112 (1:39.0)
Ran above expectations in the Classics and gave the distinct impression 1600m would be his best trip. Still has more to find and others are preferred.
She's A Maneater 122+ 127 (1:37.2')
The best local bred filly/mare to race in Jamaica who has returned better than ever as a 5yo and swept all before her. Seemingly has only her classy imported 3yo stable mate to beat. Her courage under pressure is well established so she won't go down easily.
Stranger Danger 122p 124p (1:37.4)
What more can be said about this unbeaten 3yo importee who has passed every test with flying colours? Nine for nine culminating with the Grade 1 Invitational Mile on Superstakes Day (on a common canter) says it all. This will be his stiffest test to date but he has the talent and potential to prove hard to beat
Superluminal 107 110 (1:39.1)
Tough and consistent front runner who is fit and fresh so should help to ensure an honest pace. Would prefer a more relaxed pace over further but shouldn't be ignored.
Supreme Soul 100+ 110 (1:39.1)
Below form twice after a triple crown winning classic campaign and his style of running means this could be a bare minimum trip for him. Needs to bounce back and can do so because he won't have to press the pace. He could be the fly in the ointment
Toona Ciliata 122p 122p (1:38.0)
Improving leaps and bounds and swung into the straight in the Superstakes on level terms with She's A Maneater failing by only 4 lengths in the end. He's suited by all conditions here and is the big danger to the top two.
Uncle Frank 100 112 (1:39.0)
Genuine sort but lacks the class
Uncle Vinnie 120 112 (1:39.0)
Likely surprise package if on a going day. Another who should be pressing the pace but he can hang on for a share
VERDICT: This race is likely to be all about pace so speed figures won't be as decisive as they are in sprints. Proven class should be the winning attribute because the winner must survive a hectic early pace and still have enough to finish best. In this regard SHE'S A MANEATER stands out so is expected to rewrite the history books yet again. Dangers are headed by Toona Ciliata (progressing as Supreme Soul regresses) and Stranger Danger (in the "could-be-anything" category).
Of the "Also Eligibles" the one who could cause problems to all if getting a run is Summer Sun another importee on the rapid upgrade.
DEPARTMENTS:
Clocked-In
This regular review of local performances is based on REAL times.
Abbreviations: CT = "Corrected Time"; TV = "Track Variant" (a calculation of the effect of track conditions on official times to arrive at "real" or "corrected" times); TVs are in fifths of a second; "minus" means a fast track; "plus" a slow track (e.g. -2 means fast by 2/5th of a second). Variants beside horse's names represent the difference between its official time and the grade standard.
Fourth quarter racing is often spoiled for clock watchers by rain and 2019 has been no exception. So there are no noteworthy performances upon which we can rely on dry tracks but the track variants since October 6 are set out below
OCTOBER 12, 2019 [TV-0.4 per 200m (Round); -4 (American Invader) -1 (Rojorn Di Pilot)]
OCTOBER 19, 2019 (TV-0.9 per 200m (Round) +0 (Whatever) -2 (Cairo)]
OCTOBER 21, 2019 [(Heroes Day) TV-0.45 per 200m]
OCTOBER 26, 2019 [TV-0.3 per 200m (Round) -6 (straight)]
Overseas Betting Opportunities (OBOs)
This weekend, the Breeders' Cup is on at Santa Anita where 2019 has been a controversial year during which there were calls for the meeting to be transferred due to an inordinate amount of injuries and deaths attributed to the track surface. But Santa Anita survived and two days of the highest quality international racing will be on display.
Santa Anita is a very sharp circuit so speed will be emphasized in every race. For me the weekend's best bet comes in the Breeders' Cup Classic at the very end where VINO ROSSO a 4yo son of Curlin out of a Street Sense mare who won the Gold Cup over course and distance in May seems all set to make a triumphant return to the scene of his best effort. His dam sire Street Sense won the 2007 Kentucky Derby and his sire Curlin was 3rd in that same race before winning the 2007 Breeders' Cup Classic (Monmouth) and then running 4th to Raven's Pass in the 2008 Classic run at Santa Anita on pro-ride.
There'll be a surfeit of betting opportunities and value bets will be widely available but, at this early stage, I'd also encourage readers to back KIMARI, trained by Wes Ward, renowned for his genius with two-year-olds, for the Breeders Cup Juvenile turf sprint later today. Her narrow defeat by Raffle Prize (subsequent winner of the Group 2 Duchess of Cambridge and neck second in the Group 1 Prix Morny) was already good enough. She returned Stateside with a 4l beating of Abscond (since won the Grade 1 Natalma) at Saratoga, and a sensational performance in the Grade 1 Indian Summer Stakes at Keeneland last time out.
My top three for the Breeders Cup includes America's best turf miler BRICKS AND MORTAR in the Breeders' Cup Mile. Europe's record in this race is somewhat flattering but the Europeans are truly best at the 12f turf rather than the mile. BRICKS AND MORTAR, on the other hand, has been a revelation since missing his 4yo career with injury having won six in a row this year including the Pegasus World Cup Turf and the Arlington Million.
Time for another notebook horse for the jumps:
KALASHNIKOV [6yo br.g Kalanisi – Fairy Lane (Old Vic)] confirmed he's best on flat, sharp tracks when winning the Grade 1 Manifesto Novices' Chase in April (2m4f) then returned after 206 days off to run second to Forest Bihan there in the Old Roan Limited Handicap Chase on much softer ground (2m4f) on October 27. He remains with untapped potential over fences, particularly when faced with an adequate test of stamina, and looks one to keep onside especially for a big race next spring.
Good Luck!