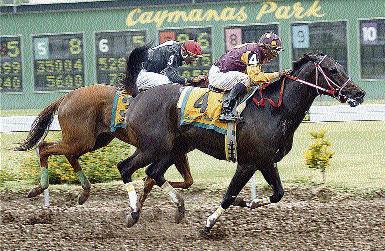 Last time out we spoke of the effects of different headgear on thoroughbreds.
This time we offer a primer on how to assess a horse's condition pre-race. Most people pay little or no attention to this. Most public tipsters instead provide a regular mathematics class in a course called "how to tip losing favourites". To be fair to them, they are forced to publish selections a day before races so are compromised by being unable to see on-the-spot evidence. However, they never bother to qualify their pronouncements with that disclaimer. So, it's a fair guess their selections don't change due to any disciplined pre-race work.
One popular commentator proves he's really not so Abel by, despite being privileged to broadcast live races, tediously repeating ad nauseam his selections from the night before. Instead he should be informing listeners (unable to make it to the track but with the ability to bet remotely) about the starters' condition and behaviour. Maybe he has improved (I stopped listening years ago) but I doubt it.
Every other sport's live broadcast (and most other horseracing broadcasts I've heard or seen) focuses on what broadcasters see before them and not on what they thought last night. It's time Jamaican media provide long suffering customers with professional broadcasts instead of tipping contests.
Before the horses in any race enter the starting gates, punters are afforded several opportunities to assess their condition and readiness. Few take the opportunities, preferring to attach their ear to a tipster's lips and follow the misinformation like moths to a flame. But, by now, you should be aware that all tipsters need to boast is good memory. For example, in a race with ten starters they tip each starter to ten different customers. After the race is over they visit the lucky recipient of the winning tip with a gap-toothed grin and an outstretched palm.
Jeez! Let's see if we can pick our own losers, shall we? So let's be like the First Edition and just drop in to see what condition your condition is in.
The pre-parade happens behind the saddling barn as horses arrive an hour before the race and mill around awaiting their turn to enter the saddling barn. With the help of a decent pair of binoculars you can see how they look without tack or jockey. Horses are people too and know when they must "muscle up" as a jockey gets aboard because that's the signal it's hammer time. In the pre-parade they are relaxed. If not, draw a line through that entry because it's unlikely to ever relax. You'll see who, in relaxed mode, looks well in its coat or is well muscled without encouragement.
In the saddling barn, look to see which horse takes the saddling exercise in stride and which becomes antsy. Which horse has bandages removed (good sign) and which have front bandages attached (not so good). If a trainer has more than one entry take note of the order in which he saddles them. The last one to be saddled is usually the one the trainer "likes". A very important issue is that some are walked around the saddling ring before entering the barn to be saddled. They are arthritic types who need warming up. If recent form is also bad, rule them out.
Then horses enter the parade ring where most jockeys are thrown up. Watch for horses whose heads are held either too high (sign of temperament) or too low (could be asleep or too high in the quarters or weak up front). If the groom is constantly picking the horse's head up in the parade ring, that isn't a good sign. Now look closely at their coats. A shiny, well-muscled coat is a very good sign of well-being. A dull coat or too much weight up front (may need gelding) or below (unfit) aren't good signs. Finally, their walk tells a lot. At all times a horse must be seen to plant his feet firmly on the ground and it's an excellent sign to see it striding out confidently flicking its forelegs athletically, THAT one is ready like Freddy.
Now jocks are up and the post parade starts before the stands. Most perk up at that stage but you've already eliminated one or two fancied runners based on your more detailed due diligence. A close look at legs is essential here now that weight is added. A horse jogging disjointedly (on its toes) is a very bad sign. It means either it's hurting (somewhere) or is uncomfortable with the track surface. Leave that one alone. Again, you want to see a horse plant its feet without any reaction and canter to post fluently with the jockey needing to do very little to control it. Horses that pull hard to post or travel too freely are wasting valuable energy they should be saving for the race.
Behind the gates you are looking for more of the same (relaxed behaviour; no fidgeting or skittishness; and definitely no fractiousness). If you've found one or two who stand out from the rest; if they confirm your pre-race day calculations; and one is starting at an overlay price (longer than it deserves) then run, do not walk, to the betting windows and bet on that nag. Keep betting until you hear a voice say "Bet no more!"
DEPARTMENTS:
Clocked-In
Abbreviations: CT = "Corrected Time"; TV = "Track Variant" (a calculation of track conditions' effect on official times to arrive at "real/corrected" times); TVs are expressed in fifths of a second; "minus" (-) means a fast track; "plus" (+) a slow track (e.g -2 is fast by 2/5th second). Variants beside horse's names represent the difference between its official time and the grade standard.
OCTOBER 8, 2022 [TV+0.2 per 200m (Round)]
Race 7 (2yonw2; 110m; TV+1) is a KEY RACE
Thalita (-7; 1st)/Legit Boss (-6; 2nd)/Sistren Treasure (-6; 3rd) finished in a heap but this was a rare occasion when the clock indicated all were high quality two-year-olds. The 3rd was closing hand over fist late and would have won in another hop so is particularly of note. The CTs of 1:06.0 and 1:06.1 compare favourably with the standard for Open Allowance (1:06.0). The 3rd looks a Guineas contender.
Madelyn's Sunshine (-8) confirmed herself a Grade One sprinter in the making with a facile win (Race 10; Overnight Allowance; 110m; TV+1) in 1:04.3! Her CT (1:04.2) is already 3/5th second faster than Grade One standard and she clearly has much more to come.
Overseas Betting Opportunities (OBOs)
It's British Champions Day at Ascot tomorrow likely on soft ground. Here's a very early preview of the races:
Long Distance Cup (Group 2; 1m7f209y; 1325GMT)
This should end up as a showdown between new super-star and winner of six from six this year including the Gold Cup, Kyprios, and the more ground dependent winner of last year's Long Distance Cup, Trueshan. On likely soft ground the latter is expected to successfully defend.
Sprint Stakes (Group 1; 6f; 1400GMT)
I've always fancied Tenebrism to be a sprinter and he's returned to six furlongs for the first time this year after flings at international Group Ones over further. He fits perfectly here and is currently at double-digit odds.
Fillies and Mares Stakes (Group 1; 1m3f211y; 1440GMT)
Emily Upjohn was dreadfully unlucky in the Oaks and should relish this track and underfoot conditions far better than then conqueror Tuesday. The former is taken to turn the form around.
Queen Elizabeth II Stakes (British Champions Mile; Group 1; 1520GMT)
Inspiral (Banker Bet) produced her best effort on good to firm at Doncaster in the Group 2 May Hill Stakes but has won six of her seven career starts (two of her last three on softer than good) and is established as the best miler in England regardless of gender. Whatever beats her tomorrow wins!
Champion Stakes (Group 1; 1m1f212y; 1600GMT)
It's impossible to see beyond superstar Baeed who is ten for ten life time and has dismissed all on a variety of ground conditions.
Balmoral Handicap (Class2; 1 mile; 1640GMT)
Astro King (Nap) was 4th in the Royal Hunt Cup in June (102 handicap mark) and 2nd last year (98) both on good to firm. His breeding (out of a Montjeu mare) strongly suggests he should step up for this his second run on soft and first since October 2020 (3rd of 5 over 10f) now down a pound to 101.
Here's a notebook horse for next year's classics:
Royal Scotsman [2yo b.c Gleneagles-Enrol (Pivotal)]
He took a huge step forward and ran a stormer in the Dewhurst staying on determinedly to get within a head of impressive winner Chaldean. He looks a more likely Dante/Derby type than a Guineas sort but the stiff mile at Newmarket could suit him as well after a winter's development. Very much one to keep on the right side.
Good Luck!