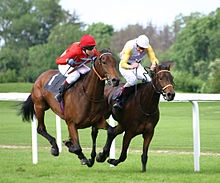 So, local horse racing is not only on furlough but finds itself smack dab in the middle of a parish lockdown.
Men are getting antsy. This seems to have severely damaged their ability to reason. In a sincere attempt to help, the Jamaica Racing Commission (JRC) recently waived all 2020 licensing and registration fees which was the equivalent of a $3 million grant from a perennially cash-strapped regulator.
Was Trainers' Association President Ryan Darby grateful? Of course not. Darby, president of an association with an oxymoron for a name — the United Trainers Association — and who was one of the signatories to a letter asking Government through the JRC/BGLC to give the industry a $180 million grant, was far from happy. He was quoted by The Star as saying "We are very disappointed with the response we have got from the commission based on the assistance that we asked for. We think they could have offered some more assistance for the industry players."
Reportedly, Darby's nose was out of joint because annual insurance premiums for racing participants, which form a large percentage of the cost of licensing, weren't also waived. Apart from being told Oliver-Twist-style ingratitude isn't attractive, somebody needs to remind Ryan the JRC isn't an insurance company and has absolutely no ability to waive insurance premiums. As a regulatory body, JRC's task is to ensure premiums are paid as a part of the due diligence required for every licensing process.
So, Ryan, for Pete's sake, STOP the bitching and moaning. This isn't the time for standard trainers/jockeys' reflex of looking gift horses in the mouth. Instead of channeling Oliver, try being more like the 1963 Derby (not Darby) winner (work it out – it's comic). Right now JRC/BGLC (same difference) has a huge fight on its hands against SVL/SVREL that sued it for an injunction to prevent a second lottery licence being issued. If you aren't careful how you proceed, you could find horse racing (which in my opinion has NEVER been SVL's priority) lost in the shuffle.
Ryan, all of us in Jamaica are suffering now. Those who learn to "tu'n wi han' mek fashin" will survive. Those who bitch and moan won't. It's that simple. Tell me what have trainers and jockeys considered they can do to keep the sport that provides them with a livelihood alive? What are you putting back? Have you considered reducing the burden on owners by waiving trainers' fees above actual cost (especially for non-racing horses) for a month? Or do you prefer showing up with monotonous regularity at JRC's door with your hands out?
Grooms President Fabian Whyte, whose members are the most vulnerable of all, took a different approach. He was quoted thusly: "We have to give thanks for this move because it will take some pressure off us. How I see it is that 'every mickle mek a muckle' and anything we get right now, we appreciate."
Have trainers or jockeys considered giving back a portion of their exorbitant purse "bonuses" for a time after racing resumes? Trainers could return 5% and jockeys 2½% to owners as a show of appreciation for those who have borne the brunt of the financial burden during the furlough.
Don't ask those who don't need horseracing to do something for you. Ask what YOU can do for horseracing.
DEPARTMENTS:
Horses to Follow
With local racing still on lock down, our regular "Clocked-In" department remains on enforced leave. Instead, let's add some more Horses to Follow after the break based on 2020 performances.
Baltusrol [4 b.g. Blue Pepsi Lodge-Star Flyer (Dayton Flyer)
He has shown steady progress since fitted with a pair of visors on January 11 since which time he has been no worse than second in four starts (2 wins). His last run strongly suggested there was still more to come as he finished 5l 2nd to out-of-class stable companion Universal Boss with whom he engaged in a duel for 800m before not being knocked about in the straight when defeat was obvious. Still he finished 3l clear of the 3rd Royal Aviator himself no slouch. He's still relatively unexposed; eligible for 4yonw3/OT races; and is just the type to progress to win even better races for Champion Trainer Anthony Nunes.
Big Big Daddy [3 b.c. Natural Selection-Just a Flutter (Vanadium)]
This is just the sort of lightly-raced, late blooming 3yo (foaled May 11) who seems nailed on to relish the break from racing and show marked improvement in the last third of the year. He has only run three times (debut January 11) over distances apparently sharper than he'll eventually prefer. With blinkers fitted and treated with first time lasix on March 21 he was 6½l 5th of 11 behind 4½l winner Native Gold over a woefully inadequate 800m (straight). In the very astute hands of Gary Subratie, readers can look forward to a profitable autumn campaign.
Cold Pursuit [3 dkb.c. Northern Giant-Liquid Lady (Liquidity)].
Two runs in back-end maidens last year were promising enough (14l 2nd of 9 to Mahogany second time out) but seems to have regressed as a 3yo proving a handful for young apprentice Abbie Able (twice) and veteran Simon Husbandsin three starts yet still managing 10½l 4th of 14 to impressive 8l winner Green Gold Rush and 7¾l 3rd of 8 to Sentient.
This is a perfect example of an unexposed 3yo who should benefit from the racing furlough in the hands of eighteen-time Champion Trainer Wayne DaCosta who seems sure to correct whatever went wrong. He's by the champion European miler Giant's Causeway sire Northern Giant who could only manage 12th in the Preakness after winning an 8.5 furlongs Oaklawn Park Allowance. His dam Liquid Lady (unraced as far as I can tell) is by Liquidity who, although having lots of stamina in her breeding (by Breeders Cup Classic winner Tiznow out of 2007 1,000 Guineas winner Lady T) has thrown mostly sprinters with the exception of shock Governor's Cup winner Kronus. Cold Pursuit and has hinted at being able to stay 1,600m so he could very well be a miler to follow when he returns.
Contractor [5 ch.g. Blue Pepsi Lodge-Princess Terri (Royal Minister)]
It's not often that five year olds find themselves in lists like these but this is a lightly-raced 5yo with unlimited scope to progress even if eventually dropped into high claiming company. He was off the track for 18 months after flopping badly in the 2018 St. Leger (had been 5l 6th after 1600m of the Derby and only 7l 5th after rearing at the start in the Governor's Cup).
On his return he has gone from strength to strength (2 wins; 3 seconds from 6 starts) progressing again on February 26 (1,500m) when slamming a decent field of mixed high claimers and 5yonw3/OT by 5l in a fast time.
You can be confident his shrewd trainer, Patrick Lynch, won't have a difficulty finding him more winning opportunities in 2020.
Overseas Betting Opportunities (OBOs)
OBOs are in shorter supply than toilet paper in USA these days but two high quality horse races are available this weekend starting today when the Grade 3 Fantasy Stakes at Oaklawn Park (8.5f) tries its best to substitute for the postponed Kentucky Oaks. Post time is 5.38 pm EDT (4.38 pm Jamaica time) and local cable subscribers can watch live on NBCSN.
In a race likely to feature lots of early speed including hot favourite #2 Venetian Harbour (may have been flattered by her 9¼l win against 4 rivals in the Grade 2 Las Virgenes at Santa Anita, a sharp circuit, over a mile as 3/10 favourite and runs off a 3 months absence). So I'm looking for a closer at value odds. The two to concentrate on are #1 Ice Princess, daughter of 2013 Belmont Stakes winner Palace Malice, who has been begging for this sort of trip and gets the plum draw, and #7 Shedaresthedevil who showed a nice turn of foot between horses to win the Grade 3 Honeybee Stakes over course and distance on March 7. The latter is preferred. Joel Rosario replaces Joe Talamo for trainer Brad Cox.
On Sunday at Kyoto (Japan) the spring running of the bi-annual Grade 1 Tenno Sho ("Emperor's Prize") is scheduled over 3,200m (longest Japanese Grade 1 race). It's difficult to see beyond favourite Fierement a son of 2006 winner Deep Impact who won last year and has been laid out for a repeat having been campaigned sparingly at shorter trips afterwards. He warmed up at Nakayama on December 22 in the Grade 1 Arima Kinen (2500m) with a staying on 6¾l 4th of 16 to Lys Gracieux.
Good Luck!