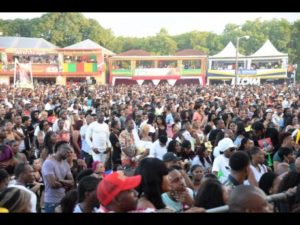 Reggae Sumfest is known by probably every Jamaican and every reggae music fan as one of the best reggae festivals perhaps in the world.
The event, in picturesque Montego Bay, celebrated its 27th year with dynamic performances by world renowned artistes like Buju Banton, Beres Hammond, Chronixx and local musicians growing their own worldly popularity like Koffee, Govana, and Jahvillani. I attended the Friday night show in my second Sumfest appearance and was blown away by both the artistry and the production quality.
The venue was simple, well lit and had clearly designated lines. The numerous corporate sponsors' logos bombarded the eyes with colour and design. Caribbean Airlines even had little planes hanging overhead. Inside the venue the showmanship continued with giant sponsored two-storey booths surrounding the field which contained the crowd of excited concert goers.
Each artiste brought their best to the stage performing with passion and style. The sound quality and video were fantastic, allowing the entire audience to feel every beat. Although each artiste's performance was unique and true to their own persona, there was a unifying thread as many — in song or in conversation between songs — spoke about reducing violence through the creation of more jobs for youth.
Spice shared her thoughts through song:  "What if I run for Prime Minister unno wan know what me woulda do? Crime rate woulda cool it down… Jamaica woulda been paradise, crime free and everything woulda nice…mi woulda build job opportunity, build infrastructure, the youth would have an opportunity for a better future…"
Chronixx also spoke about the importance of jobs for the youth in his conversation with the crowd in-between songs.
This message, that creating jobs for young people will reduce crime and improve the quality of life for Jamaicans, comes up again and again not only from artistes but in day to day conversations and, for me, at work.
This issue, being literally centralised on stage, forced me to ask the question,: "What does Reggae Sumfest or similar large shows do for the young people of Jamaica?" The same young people that Sumfest eventually profits from when they emerge as dancehall artistes like "the 6" from Montego Bay who the crowd was very disappointed to miss after the police lockdown at 8:30 am.
Along with the artistes themselves, the music industry profits from the trauma of poverty that many of these artistes sing about: the guns, the violence, the hunger. These stories become cultural production —performed on a stage seen live by tens and eventually hundreds of thousands of people through watching streams online.
Through my research I was able to find that Sumfest owner Joe Bogdanovich does do charitable work including a recently developed foundation, "Caribbean Love Now", devoted to helping Caribbean hurricane victims. I however did not find any music specific charitable work. Which leads me to my proposal. Shows like Sumfest should not only have free tickets available to young people coming from violence-ravaged communities like Flankers or Rose Heights in MoBay.
(This is something I have thought about many times, including at the recent Reggae Girls match in which I saw children from communities surrounding the National Stadium taking on the role of parking lot administrators for a small tip but not inside the actual stadium where they should have been).
Free tickets could have been distributed by community service organizations or schools working in those communities that could even provide a chaperone. It could be part of the youth programming portfolio for community service organizations but have programming for them which encourages and creates space for them in the music industry.
Not every young person can be a famous reggae/dancehall artiste but the music industry is so much larger; there is a huge list of careers like producer, manager, booking agent, sound technician, light technician, cover art designer, music journalist etc etc.
Big events like Sumfest should have programmes for young people, which could be funded by any of the many, many corporate sponsors listed on their website. For example, a programme leading up to the event, that exposes and teaches skills to young people interested in music. Young people could receive training in a specific field or vocation related to the music industry. It could culminate with programme graduates attending the concert, with chaperones, or being part of the actual production of the concert.
It is the angry, hurt, young people who participate in violence but who also are largely responsible for creating the culture known as reggae dancehall. Many reggae dancehall artistes are already behind projects involving the young people of Jamaica which shows they understand the value of music as a positive intervention.