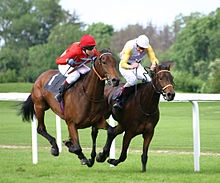 Recently a jockey was found with a battery (allegedly) and another fined and suspended for betting on a race in contravention of a rule that restricts jockeys to betting on (and through the owner of) the horse he/she rides.
So, this once again brings the bogeyman of corruption in horse racing to the fore. An in-depth discussion of the subject would take several books (some fictional) so, today, we'll talk only about the horse race itself. How do we expose and deter "non-triers" which was the bane of the old handicapping system and, although requiring more cerebral activity these days, still proliferate? It would be a good idea to begin at the beginning namely a committed acceptance that the only visible offender against what I call the "non-triers rule" is the jockey.
But jockeys, congenitally corrupt in my biased view, don't have a monopoly on leanings toward larceny of punters' cash. Owners and trainers have been known to harbour these tendencies (believe it or not by Ripley) albeit from the safety of the stands. It has been entertaining watching successive sets of racing regulators trying to expose likely aiders and abettors of idiotic jockeys unable to "pull up" a horse other than with both feet on the dashboard by questioning at "investigations". "What were your instructions?" is a favourite but useless investigatory tool. "Di traina tell mi fi mek every post a winning wan sah" is the standard and usually truthful answer.
Look I've been there and seen all there is to see at the race track for almost 60 years. So I can assure you only the most retarded trainer (a few exist) ever tells a jockey to "pull up" a horse. These days, since Nationwide radio's Saturday Afternoon Live started the media practice of interviewing jockeys after each race, there has been some improvement but Jamaican jockeys capable of completing a coherent sentence are still few and far between. Do you believe a trainer with larceny in his heart would ever entrust his license to a member of that motley crew? Not on your life!
Any jockey caught with his britches down (or whip up) who offers to "give up the trainer" is simply lying out of the most base of motives which Santa's helpers would call elf-preservation. There are umpteen training methods; innumerable changes of equipment (some of which, like the crossed or sheepskin nosebands, breathing strips and bandages, remain undeclared); and several virtuous sounding instructions (completely unsuited to the horse's temperament) available to a scheming trainer before he's forced to let Jockey Crab or Jockey Louse in on his/her plans.
Maybe the Racing Commission knows of retarded trainers in the past or present who instruct jockeys to "pull up" but I know of none. So it's time to stop this insipid use of Spanish Inquisition tactics to get behind public displays of non-trying by jockeys. Our young Prime Minister keeps talking about a digitized Jamaica. But the race track doesn't even weigh horses before each race. I doubt the Promoter even owns a scale for the weighing of horses. Instead, horses are asked to report for duty an hour before the race and wander around with their grooms for 30 minutes before saddling up.
Weigh them.
Any unusual weight change should be reported to the public before the race and an explanation sought from the trainer. "Explanations" should be recorded for later use. Most "non-triers" aren't properly conditioned and will run last with the jockey flailing away at the whip to no avail. One of the first signs of lack of condition is loss of weight.
Even if there's no weight change, trainers should be asked by the Stewards immediately after the race to explain any but the most easily explicable poor performance. The explanations should be recorded for posterity and published. This should ensure that a particular larcenous method can only be used once (acknowledging always that strange things happen). If Trainer Slippery says Jockey Crab covered up the horse too long (or it didn't like the wet track) then if it wins covered up next time (or in the mud) Slippery and Crab are in trouble.
Then there's the issue of deterrence. Long suspensions of jockeys are necessary but the horse must also be suspended for at least three months. We must reduce Trainer Slippery and Owner Bigmoney's options to simple use another jockey. He who feels it (in the pocket) should be thinking twice about trying (or non-trying) it again.
DEPARTMENTS:
Clocked-In
Our regular review of local performances based on REAL times makes a welcome return.
Abbreviations: CT = "Corrected Time"; TV = "Track Variant" (a calculation of the effect of track conditions on official times to arrive at "real" or "corrected" times); TVs are in fifths of a second; "minus" means a fast track; "plus" a slow track (e.g. -2 means fast by 2/5th of a second). Variants beside horse's names represent the difference between its official time and the grade standard.
SEPTEMBER 5, 2020 [TV-0.7 per 200m (Round)-1 (600m str; -2 (1000m str)]
SWEET TOPPINS (-11),although a neck second to Redford (Race 6; 3yo maiden condition; 1500m; TV-4), is the one to follow from the day. Her final time (1:33.3) converts to a CT of 1:34.2 which is already 2/5th second faster than nw2 (where the winner should be competitive) but all of 1 2/5th seconds faster than maiden special weight. She's a cinch next time at 1600m+.
N.B. unfortunately she re-appeared before this issue could be published when she showed improved form to romp a maiden special weight over 1820m. A nw2 at that kind of distance is well within her scope.
MADAM SECRETARY (-7) down in Grade (Race 9; $350,000 claimers; 1000m straight; TV-2) won comfortably by 2¼ lengths from Jamal James in 0:59.1! Her CT (0:59.3) is 3/5th second faster than $450,000 claiming so she can win again. The second's CT (1:00.0) is 3/5th second faster than $350,000 claimers.
SPECIAL COUNSEL (-8) confirmed her right to inclusion in this department on her July 11 run by making all over the minimum trip (Race 7; 4yonw2; 1000m round; TV-3') and winning by four lengths in 1:00.2! Her CT (1:01.0') is half-second faster than nw3 where she should win at this trip.
Overseas Betting Opportunities (OBOs)
Tomorrow features the Ayr Gold Cup for which I've loved notebook horse Meraas for months but, having flopped in the Portland a week ago on fastish ground, he has been withdrawn. Always bearing in mind that Public Opinion's Tuesday deadline makes life difficult for English racing predictions, ARECIBO (4th by 4 lengths in the Portland) seems likely to be better for the anticipated soft ground and is now the pick.
There's a feast of attractive races on at Newbury (going probably good; good to firm in places) including the Group 2 Mill Reef Stakes (6f; 1525GMT; 9.25a.m Jamaica Time). Lightly raced Rhythm Master (Richard Fahey) is the early favourite but may need further and has only raced (twice) on easy ground. So a chance is taken at likely double-digit odds on #1 ALKUMAIT a Showcasing colt whose dam was a winner in Italy up to six furlongs and who has shaped with promise on both starts (green on debut at Newbury then winning at Goodwood again getting the plot late). He seems certain to improve and is well worth each way support here.
By the time this is published the first round of the U.S. Open Golf will have been completed at Winged Foot a tree-lined course that seems a perfect fit for promising young Englishman MATTHEW FITZPATRICK who can go close at odds of 100/1 or more. Phil Mickelson, who threw away a certain U.S. Open win on the 72nd hole when the tournament was last at Winged Foot, is a sentimental pick at 50 years old but Rory McIlroy, who hits it long and straight, is a big danger and Mexican Abraham Ancer, although still a PGA Tour maiden, is another who loves to play difficult courses and has absolutely no fear of any competition.
Now it's time for another Notebook Horse.
Music Society [5gr.g Society Rock-Absolutely Cool (Indian Ridge)] produced a much better effort at Ripon (September 1) than at Glorious Goodwood despite being blocked on the near side when making headway two furlongs out and having to be switched towards the middle of the track. He ran on strongly in the closing stages to finish 2¼ lengths fifth. He could squeeze into the Ayr Bronze Cup (Friday 1625GMT; 10.25a.m. Jamaica Time) where he'll compete off the same mark that he won from in 2019 but, even if he misses the cut there he has one to win this autumn.
Good Luck!