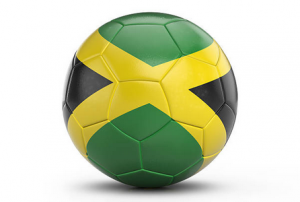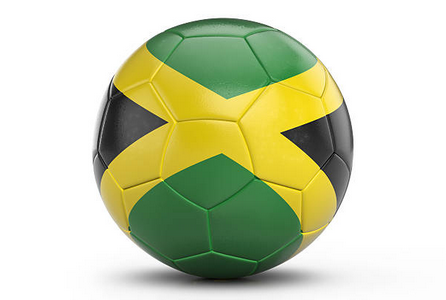 An early goal, nervous first 20 minutes with unnecessary turnovers, meant that despite excellent goalkeeping, and Jamaican determination right to the final minutes — Brazil 3 (ranked 10 in the world) Jamaica 0 (ranked 53 in the world) was not unexpected.
As we sat in Grenoble's full stadium with probably 30% in Jamaica's national colors, Chungie and Captain must have been smiling to hear Jamaica's national anthem being sung vociferously (my family brought Captain's bun not only for MAXIMUM RESPECT but for sheer survival with the cost of French food).
The second game in Reims, again another early goal with a few rookie Jamaican mistakes from the "Girlz" rotational squad was more disappointing but showed that we are unprepared for football at this level.  Let's see if the rotation works against group favorites Australia (world ranking #6) in the final group game.
A reflection on "France 98" results at this stage is interesting but not necessarily meaningful– Croatia 3 Jamaica 1, second game Argentina 5 – Jamaica 0 and the final game Jamaica 2  Japan 1 (Tappa Whitmore 2).
The REALITY CHECK really comes from understanding that internationally, a single point (drawn game) or even a single goal for an entire World Cup tournament has not been achieved by most Caribbean teams who have reached junior world cups (Under 17 and Under 20 age groups).
To focus on the positives may seem redundant to those who expected Jamaica to advance past the first round, but as a nation that expected to win with relatively little or no investment in the game, it is Jamaica who have to "hug up" the undermentioned negatives, not the GIRLZ.
The lack of a proper local female programme, inclusive a continuous senior women's league, despite FIFA's insistence and their minimal investment in infrastructure.
The corresponding lack of interest in developing a culture for the female game starting from most schools, despite the growth of the game internationally and the success of the previous Women's World Cup held in our backyard in Canada in 2015.
The few training camps and other denied requests that the JFF in its current insolvent position, just cannot afford.
The inexperienced travel and other administrative arrangements.
Jamaicans should see France 2019 as a stepping stone to reaping one of the lowest fruits on the CONCACAF and FIFA qualifying trees and have faith in the female game by investing in and assisting the JFF in this programme.
Instead of being disappointed at our France 2019 experience, our focus should be on the positives…
The entire Jamaican World Cup squad have been given retainer contracts for 12 months. It's not the minimal amount but the fact that our female footballers for the first time ever are being paid and in US dollars. Kudos to the JFF for putting this in place, given their own financial constraints.
Thanks primarily to the guidance of our coaching staff, most of the Girls who were not already in overseas contracts, have now been placed, primarily with European clubs, with Kadisha "Bunny" Shaw taking pride of place.
A united/ professional Jamaican coaching staff, led by Hue and Lorne who understand the bigger picture of an entire women's programme– Pan Am games, Olympic games, Junior and Senior FIFA World Cups and the need to "take the flak" for focusing at times on the DEVELOPMENT COMPONENT in friendlies and targeted competitions, if we are to meet our long term winning ambitions at the senior level.
A patriotic, committed, welcoming squad environment which reinforces the "All for one/ One for all" principle and prioritizes attitude, camaraderie and work rate, as key ingredients for squad inclusion. Players can have confidence that despite a 54 member rotating squad, "when the right time comes" the coach is not afraid to give them exposure.  This is a vast improvement over the Reggae Boyz that almost imploded in '98 due to dissent.  Our unheralded heroines, our female referees are "at the party", having shown increasing competence in both local and international football in the region.
FIFA have put aside USD$8 Million for compensation to clubs, for players utilized in France 2019. Again, it is not so much the amount, as the principle of FIFA reinforcing their mandatory policy of training compensation. FIFA's attempt to reward the many clubs forming football's base who undertake the essential, very expensive, voluntary development of young players male or female. In Jamaica, Harbour View and Reno stand to gain the most but also include St. Ann and Los Perfectos as representatives of some of the critical pioneers of female football locally, along with Barbican, Waterhouse and GC Foster College. Similar to France 98, maybe these FIFA payments will motivate the JFF and its affiliates to properly formalize and encourage training compensation, with the registration of players, as an essential component of its club youth programmes.
The essential positive is that brand Jamaica is on "front page" on international TV and media, along with the warmth of our Jamaican people with our multitude of flags and national colours invading France, once again, with the support of Jamaica National and the Jamaica Tourist Board. The government has to lead this national thrust, with dedicated funding for sports if we are to have any real chance of consistently qualifying for the excellence that world cup qualifying demands.
God bless Sherwin Williams (locally) and Cedella Marley (internationally), but the women's football programme cannot be their total responsibility.