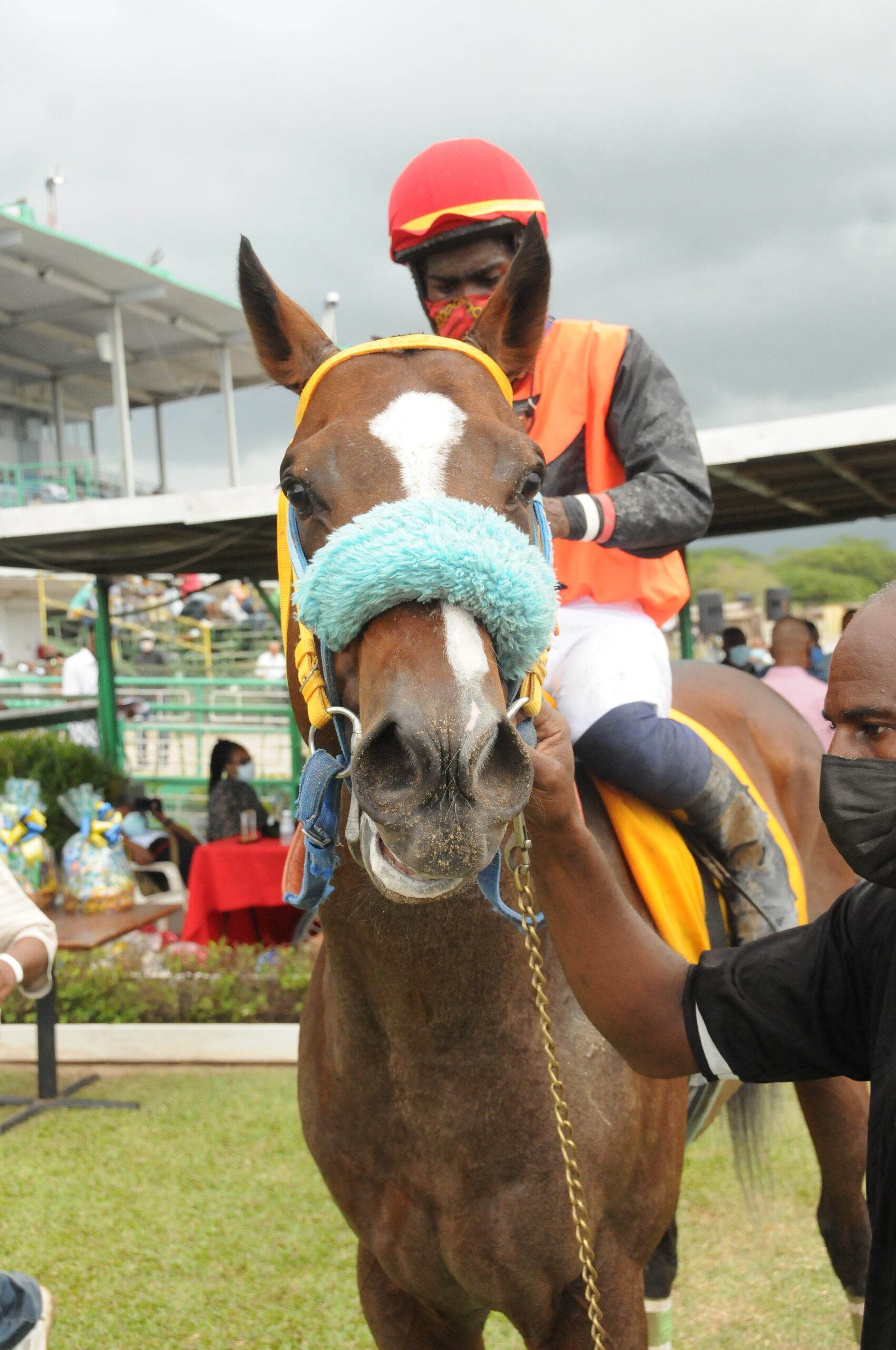 Ryan Darby, President of United Racehorse Trainers' Association (URTA), seems to have fallen deeply in love with promoting company SVREL.
Some of his recent statements have been almost fawning in their praise for SVREL's less than stellar performance, especially developmentally when compared with seductive promises made when bidding for control of the track. For example, SVREL announced new "incentives" in February in the form of quarterly "prizes" for leading owner ($400,000); trainer ($300,000 but must have a barn of over 30 horses); jockey ($150,000); and groom ($100,000). This represented a grand "investment" in a maximum of 16 people of less than $4,000,000 per year.
A Trafigura appellant might exclaim "Chicken Feed!"
In 2010 (latest Racing Commission Annual report on its website) JRC licensed over 1,000 people including 500 owners. How many are there now?
But, on February 20, The Gleaner reported:
"United Racehorse Trainers Association president Ryan Darby said they (sic) are very happy for the new incentives……."
WHAT? How many members does URTA have? The President is "very happy" that a maximum of FOUR of those members have been promised annual pocket change disguised as "incentives"? Jeez!
But Ryan didn't forget that "more" was needed. Just not from SVREL. The Gleaner report continued:
"…but he's calling on Government to put more resources into the racing industry."
In Ryan's mind, it's Government that's responsible for increased purses and NOT the promoter that produces and pockets profit from horseracing. That's the same horseracing promoter to which Government granted a monopoly and that has used its monopoly as leverage to gobble up almost the entire "bookmaking" industry. Ryan wasn't finished:
"They [SVREL] have been very creative with some new plans that they are coming with and we are supporting them with this. However, we would like to talk about the main purse, which is the yearly purse increase on a separate basis, because this is very important to trainers and owners.
"We would like Government to see what incentives it can put into racing, not for Supreme Ventures, but racing."
I won't even bother with the backward mentality that applauds "plans" and "promises" since it's the same "sweet mouth" that gets governments elected. But I'm appalled at the constant looking to Government for "more" like an orphan in a State-run children's home offering up an empty porridge bowl with "Please, Sir, may I have some more?"
But, Oliver, from whence shall "more" come? Government has already handed SVREL every imaginable incentive including a horseracing monopoly; a reduction of pool betting duty; rent relief; and an oversight committee that seems to suffer from glaucoma. Or maybe just coma.
It's time for "racing stakeholders" to understand "more" can only come from them NOT Government. There's no external saviour. Racing is racing's only resource. Racing personnel must get together with SVREL and chart a way forward involving contribution by everyone to "more" by each taking less and working harder at increasing the pie. For example
Tote takeout is extortionate. It must be reduced to a maximum of 20% (win and place); 25% (exotics);
Promoter's percentage must be reduced to 7.5% maximum. Cut costs. Introduce comprehensive, customer-friendly online betting. Boost the handle with innovations like ante-post bets on classics; accumulator bets; and sports wagering;
Licensed personnel MUST take less in percentage terms. No trainer in a developed country gets more than 10% of an owner's purse as bonus. Training fees should cover expenses and provide modest profit. It's dangerous to reward Jockeys for losing so their "bonus" should be 7.5% of winning rides only (except in Graded Stakes); and grooms 2.5%.
Regulatory bodies must be merged and expenses cut. Online monitoring should be the norm. Stewards should be employed by SVREL not by the regulator. JRC can provide one senior steward on a panel of three. What's the point of appealing decisions of stewards to stewards' employers?
There's more, but the bottom line is: Firstly, racing personnel are the source of their own misfortune and should be the source of any fortune. Secondly, less is more. This is every wholesaler's founding principle and the basis of their whopping profits. Horseracing stakeholders should realize taking more to make more is begging for bankruptcy.
DEPARTMENTS:
Clocked-In
Abbreviations: CT = "Corrected Time"; TV = "Track Variant" (a calculation of track conditions' effect on official times to arrive at "real/corrected" times); TVs are expressed in fifths of a second; "minus" (-) means a fast track; "plus" (+) a slow track (e.g -2 is fast by 2/5th second). Variants beside horse's names represent the difference between its official time and the grade standard.
FRIDAY APRIL 23, 2021 [TV+1.1 per 200m (Round) -5 (str)]
Race 5 (5yonw2; 1100m; TV+6) is a Key Race!
Don Almighty (-3) has been hinting at a return to early progress and duly obliged (visor removed) winning by three lengths in 1:09.2! His CT (1:08.1) is more than a second faster than the standard for non-winners of 3. He's nailed on to win again.
Second He Can Dance (+0); third Blood Fire (+0'); and fourth Star Boy Flyer (+1) earned CTs of 1:08.4/1:08.4'/1:09.0 respectively in a grade with a standard of 1:10.0 so each can win in turn. The third and fourth (benefitted from a refitting of visors after several efforts in blinkers) should be even better over 1600m+.
One Of A Kind (-2) and Nipster (-1) confirmed they're on their way to the top (Race 7; Open Allowance; 1600m; TV+9) finishing seven lengths clear of third in 1:39.1! The winner's CT 1:37.2 equaled Grade One standard and the second (best around two turns) was only 1/5th second slower.
Third Sentient (+6) earned a CT of 1:39.0 which is 3/5th second faster than Open Allowance standard so he can win one of these.
Overseas Betting Opportunities (OBOs)
An exciting weekend of international classics looms. UK's 2,000 Guineas (Newmarket) and USA's Kentucky Derby (Churchill Downs) are on for tomorrow. It's back to Newmarket on Sunday for the 1,000 Guineas.
Godolphin has been having a glorious 2021 and its One Ruler is ante-post favourite for the 2,000 Guineas. The son of Dubawi will make his seasonal debut tomorrow after closing off last year showing marked improvement in two soft ground pattern races winning the Group 3 Autumn Stakes (Newmarket) and second to Mac Sweney in the Group 1 Futurity (Doncaster).
He's likely to encounter very different ground conditions here. Also one mile two-year-old winners rarely win this classic so I prefer Thunder Moon who won a seven furlong Group 1 (Curragh) on good ground before running just a bit below that form on soft ground next time. He too will make his reappearance tomorrow but that's the norm these days for Irish-trained classic contenders. He looks a good thing for Joseph Patrick O'Brien.
Across the pond, I confidently expect Florida Derby winner Known Agenda (overcame a speed favouring track bias to win) to thwart yet another Godolphin-owned favourite Essential Quality whose credentials include an impressive win in the Blue Grass Stakes at the very sharp Keeneland race track. He did win his maiden over 6f at Churchill Downs but has since shown an affinity for Keeneland wining three times there.
On Sunday, the UK 1,000 Guineas is a trappy affair as is any fillies' classic early in the year. Father and son O'Brien duo send two exciting prospects in Santa Barbera (Aidan) and Pretty Gorgeous (Joseph). The former is a short-priced favourite after an impressive maiden win in September (Curragh; one mile; good) being her only lifetime run. She won by 2½ lengths from Kailash who subsequently failed to win three times before finally breaking his maiden on April 23 at Cork in first time blinkers. She's simply too short in the betting to be an attractive punt although it's obvious she's highly thought of at home and working brilliantly.
Of the two I prefer Pretty Gorgeous who won the Group 1 Fillies mile (Newmarket) in October and should make her experience advantage count. But, again, a mile at three may be her bare minimum. I expect her to be more of an Oaks contender.
This could be a long overdue English triumph as William Haggas' Sacred looked the part winning the Group 3 Nell Gwyn over seven furlongs (Newmarket; April) in the manner of a filly with lots of scope for improvement. She should be spot on for Sunday.
Finally, a Notebook Horse:
Evaluation [3 b.g. Dubawi-Estimate(Monsun)]
Nobody is better at "aiming" one toward handicaps at as advantageous a mark as possible than Sir Michael Stoute whose stoutly (ouch!) bred son of Gold Cup winner Estimate is now so qualified after a third run in a 10 furlongs Novice at Windsor (a track notorious for difficulty coming from behind). He was never able to land a blow, having been held up further back than ideal but kept on nicely inside the final furlong looking all over a sure improver with more emphasis on stamina.
Good Luck!