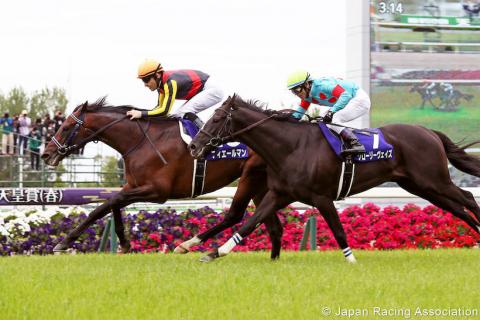 Despite the obdurate obstacles of a pandemic, 2021 has been a breakthrough year for Japanese sport.
Hideki Matsuyama's historic victory in the Masters at Augusta in April gave Japan its first male Major Golf Champion and the Land of the Rising Sun's ecstasy was unrestrained when, in October, the home town hero returned to Japan to win a seminal PGA Tour event — the ZOZO Championship.
But there was more to come as, after years of focused international participation without huge success, Japan scored its first win at the Breeders' Cup (generally acknowledged as the World Championships of Horseracing) on Saturday, November 6, at Del Mar racetrack in California, when 5yo mare Loves Only You won the Grade 1 Filly and Mare Turf (run over one mile three furlongs) at odds of 4-1. Loves Only You, by Japanese sire Deep Impact, was bred in Japan at Northern Farm, a major Japanese stud farm owned by the Yoshida family and the fulcrum of Japan's racehorse breeding industry. She's owned by DMM Dream Club Co. Ltd, a Japanese ownership group; trained by top class Japanese trainer Yoshito Yahagi whose flair and talent have long been acknowledged in Japan and who traded his customary cowboy hat (shades of Shingo Katayama) for a more modest fedora; and brilliantly ridden by 36-year-old high quality Japanese jockey Yuga Kawada.
That should've been enough to make all Japanese horse racing fans' glad bag buss. Yahagi said (through an interpreter after his excitement caused him to reveal his fluency in English and he reverted to his native tongue) "Now I can die happy."
But a mere two hours later Yahagi's Marche Lorraine produced a stunning upset in the nine furlongs Grade 1 Distaff at 50-1. Also bred at Northern Farm by a Japanesee sire (Orfevre) Marche Lorraine is owned by Carrot Fram Co Ltd (another Japanese conglomerate) but, this time, was ridden by three-time English Champion Jockey Oisin Murphy (has previously ridden for Yahagi).
The celebrations among Yahagi and his team after each win made for exciting television and the fact that they all accepted strict COVID travel protocols (including a compulsory two-week quarantine on return to Japan during the height of Japan's horseracing season) to run in California speaks volumes about the Japanese commitment to international racing. In particular, hats off (no pun intended) to the Japanese jockeys who have effectively been put on two weeks' no-pay suspension.
The results weren't accidental. Japan has long offered one of the world's best horseracing products and has, for years, participated with distinction in races in Europe, Australia and elsewhere.
Modern horse racing in Japan began in 1936 after decades of government-subsidized horseracing that banned all betting. Intense lobbying from prominent legislators, businessmen, and breeders convinced government horseracing promotion would expand breeding; improve Japanese horses' quality; and fuel the economy.
In 1923, horseracing legislation had established a new horseracing era characterized by legalization of betting. Shortly thereafter, the Imperial Racing Society (IRS) was established as a horseracing authority of 11 racing clubs and was responsible for the rules of racing. The clubs and IRS were merged under a new 1936 Horseracing Law that created the Japan Racing Society. This reform brought favourable ratings to Japanese horseracing; a complete change and improvement in racing itself; and dramatic increases in turnover and attendance marking the birth of modern Japanese horseracing.
The war years were turbulent and disruptive so, in 1954, the Horseracing Law was amended to enact the Japan Racing Association Law. This established the Japan Racing Association (JRA), which took over all horseracing functions and operations. The law provided for "national racing" in Japan, also for legalization and operation of "regional public racing" (localized tracks) as a separate system to national racing.
Horseracing in Japan is characterized by fair racing held with integrity in a systematic, orderly manner as prescribed by the Horseracing Law. All authorized racing in Japan, by law, must be conducted by JRA (a public enterprise established by the national government) and local government entities. Furthermore, the law doesn't permit wagering other than through racing authorities' pari-mutuel (Tote Monopoly).
Japan horseracing now ranks as the world's most popular. Betting turnover is number one worldwide. Globally, Japan breeds the fifth highest number of thoroughbreds. JRA operates under the oversight of the Ministry of Agriculture, Forestry and Fisheries.
Hopefully, now that Japan horseracing, on November 6, announced "Konichiwa seken" ("Hello World") Jamaica might sit up; take notice; and try to emulate Japan's successes. In Jamaica's horseracing heyday, there was "regional public racing"; "Tote Monopolies"; and fair racing with its integrity jealously protected by regulators with wide knowledge, deep experience and a stake in the sport's success.
In 2021, Government, still believing taxes are be-all and end-all (instead of a welcome spin-off from properly regulated industries including horseracing/betting), has placed an agricultural and commercial industry within the Finance Ministry run by horseracing ignoramuses (ignorami?) at bureaucratic and political levels.
Until we devise systemic reform, Jamaican horseracing will continue to run around in ever decreasing circles until it disappears up its own rear end.
DEPARTMENTS:
Clocked-In
Abbreviations: CT = "Corrected Time"; TV = "Track Variant" (a calculation of track conditions' effect on official times to arrive at "real/corrected" times); TVs are expressed in fifths of a second; "minus" (-) means a fast track; "plus" (+) a slow track (e.g -2 is fast by 2/5th second). Variants beside horse's names represent the difference between its official time and the grade standard.
MONDAY, OCTOBER 25, 2021 [TV+0.6 per 200m (Round) -3 (straight)]
Unexposed importee I Am Fred (-3) progressed again (Race 4; Imported nw3/NB 3/4yonw4; 1500m; TV+4½), after recording two wins and a third his last three, winning by four lengths from Bern Notice (-3) in 1:32.4! His CT (1:31.4') is more than a second faster than Overnight Allowance standard and 7/10th second faster than Open Allowance. He has more races to win.
The second is a locally bred 3yo non-winner of three running above his grade yet finished 2¼ lengths ahead of 3yo Den Street who has already won three times. Bern Notice's CT (1:32.3') IS 9/10th second faster than Overnight Allowance standard. He's one to follow!
SUNDAY, NOVEMBER 7, 2021 [TV+0.8 per 200m (Round) +2 (straight)]
Versatile Vision (-3) dropped several grades to run for a second-time tag (Race 2; $550,000 claimers; 1500m; TV+6) duly took rivals apart winning by 9½ lengths and clocking 1:34.3! Her CT (1:33.2) is only 1/5th second slower than Overnight Allowance standard so she's a winner at a $650,000 tag and competitive in any claiming race.
El Gringo (+0) finally exhausted his "conditions" (Race 8; 5yonw4; 1100m; TV+4) with a 2¾ lengths win in 1:08.0! His CT (1:07.1) means a $550,000 tag (Standard 1:07.4) should be his comfort zone.
Overseas Betting Opportunities (OBOs)
With the Arc/English Champions Day/Breeders' Cup all taking place in the last month and jumps season still in its early stages the only "big" race on for tomorrow is the Grade 3 Paddy Power Gold Cup (Handicap Chase) at Cheltenham's November meet. The 2½ miles race is scheduled for 1415GMT (9.15a.m Jamaica Time).
Six year trends show winners from 7 to 9 years old with 4 of 6 carrying 11st 11lbs or more. The last five winners raced within 35 days and the last 3 finished 2nd last time out (2017 winner was 4th last time out). Early favourite Protekorat is a 6yo that hasn't run since April 8 (won) so can be opposed.
Likeliest candidate is Joseph O'Brien's 7yo Assemble, the only one above 11.11 (at 11.12). He won impressively last time (September 22; Grade A Handicap Chase; 3 miles; good; Leopardstown) and should be suited by this stiffer test at 2m4f. Midnight Shadow,an8yo whose only win over fences in a short chasing career came over course and distance, is highly respected.
We close with another Notebook Horse for the jumps. Remember to sign up for an online tracking service (most are free) and enter these Notebook Horses to receive notifications of their intended starts:
Dragon Bones [6yo br.m. Passing Glance- Sainte Kadette (Kadalko)] dueled to the line with eventual winner Bardenstown Lad (October 22; Cheltenham; Novices Hurdle; 2m7f 208yds; good) and the pair drew ten lengths clear of the rest. Dragon Bones had good reason to claim she was unlucky after she was short of room at a crucial point on the turn for home.
She won five of her last six completed starts before heading to Cheltenham and was travelling beautifully into contention before being squeezed out. She never gave up so is one to note and may even have enough in the tank to compete with credit in Graded races.
Good Luck!