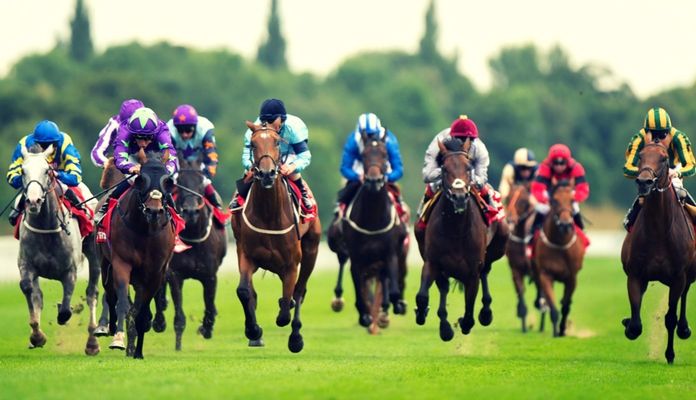 I've noticed local horse racing promoter (SVREL) is taking small steps towards online betting, including partnering with online betting services.
This is a good thing. Yet it continues to cram hundreds of unsuspecting members of groups most vulnerable to the novel coronavirus pandemic into small, unsanitary Off Track Betting Parlours (OTBs) islandwide, but especially in Kingston, St Andrew and St. Catherine which, I'm convinced, is a significant contributor to the high infection rates in those parishes for months and the root of a horrendous surge in COVID positives over the past few weeks.
OTBs have always, in my opinion, ensured the virus' spread stays ahead of mitigating policies, as gathering restrictions are ignored with impunity. Now that new, more contagious variants of the virus have taken up residence in Jamaica, there can be no better friend of COVID than SVREL's OTBs.
If you look in the dictionary for "COVID cluster" you'll see it defined as OTB. Yet other professional sports far more amenable to anti-COVID protocols, like football and athletics, remain under strict lockdown. Why? Unless there's a resource problem, COVID bubbles can easily be created for teams and limited numbers of spectators allowed in stadia. Why are thousands of punters allowed to gather in small OTBs but football stadia can't allow 25% capacity?
Everywhere else, professional sports are being played with or without spectators but in Jamaica, where the virus is alive and well — whether or not we lockdown sports — BPOs, street side vending, restaurants and bars are humming but we can't play a game of professional football! C'Mon man!
Clusters of inconsistent sporting regulation appear as contagious in Jamaica as COVID-19 clusters. Examples of apparent regulatory incoherence abound in local sports but nowhere more so than in gaming. The Betting, Gaming and Lotteries Commission (BGLC) moved with unusually impressive bureaucratic alacrity to license a new competitor to Supreme Ventures' (SVL) lotteries in the shape of Mahoe Gaming's Izizzi Lottery. At the same time Goodwill Gaming, a company whose application to operate has been pending since Joseph asked Mary "Yu sure?" was finally allowed through the lottery gate.
Almost immediately, Goodwill Gaming was ordered to cease operations because, according to Gleaner reports, it was offering unauthorized online e-wallet facilities. Why? I thought it was government policy to move Jamaica to a digital future. If the problem is the method of offering e-wallets (e.g not enough "Know-Your-Customer" information) then why was this not dealt with in the long, drawn out licensing process?
Anyway the good news is Mahoe Gaming has been allowed to take root and grow. Its website identifies three Directors, namely Michelle Myers-Mayne (Chairman); P.B. Scott, of Musson fame, and Lise-Ann Hoo-Harris. The last named is a daughter of former SVL Chairman Paul Hoo, who was let go by SVL after its subsidiary ran the race track for a year or so. To complicate matters, BGLC CEO Vitus Evans was an SVL consultant while Hoo was SVL chairman.
Things that make you go "Hmmmmmmmm….."
Despite intense opposition from SVL (who took its displeasure to the Supreme Court to no avail), Mahoe has the go-ahead. Goodwill, whose licence application languished for many years, received a simultaneous go-ahead followed by a stop order. There's no evidence of regulatory hanky-panky here but, in a small country, perception trumps reality every time. So this scenario is why the constitutional reform movement demands proposed appointees to important statutory bodies like BGLC should be publicly vetted by Parliament before being confirmed.
Or we'll be forever fuelling the opinion that, as a friend and well-known horseracing enthusiast would say,"Sump'n inna sump'n"
DEPARTMENTS:
Clocked-In
Abbreviations: CT = "Corrected Time"; TV = "Track Variant" (a calculation of track conditions' effect on official times to arrive at "real/corrected" times); TVs are expressed in fifths of a second; "minus" (-) means a fast track; "plus" (+) a slow track (e.g -2 is fast by 2/5th second). Variants beside horse's names represent the difference between its official time and the grade standard.
Before beginning our regular review of local performances based on REAL times I can't resist mentioning (modestly of course) that all the Five to Follow from 2021's first issue have already opened their 2021 accounts — four of them first time out. The filly Katalina was narrowly beaten on reappearance over an inadequate 1,200m before returning on February 13 with an emphatic win over 1,500m.
Now, to the clock!
JANUARY 23, 2021 [TV-0.25 per 200m (Round) -2 (straight)]
The progressive Princess Lauren (-14) was most impressive (Race 6; 5yonw3; 1100m; TV-1) winning by six lengths (going away) in 1:06.3! Her CT (1:06.4) is more than a second faster than 5yonw4 standard and only 2/5th second slower than Overnight Allowance standard. She has more to come.
Custer (-8) 2nd/Baby Star (-7) 3rd/Mamasharondarling (-6) 4th produced CTs of 1:08.0/1:08.1/1:08.2 against nw3 standard of 1:09.2! theyn should win in turn. The fourth needs further.
Excessive Force (-6) was very impressive (Race 8; Imported 4yonw2/Native Bred 4yonw3; 1500m; TV-1½) beating smart importee Awesome Treasure by 7 ½ lengths in 1:32.1. His CT 1:32.2' is already a tick faster than Open Allowance standard. He's going places
FEBRUARY 13, 2021 [TV-0.2 per 200m (Round) -2 (800s) -3 (1,000s)]
They finished in a heap (Race 7; 4yonw3; 1600m; TV-2) which is usually a bad sign (means they're all much of a muchness) but the clock insists they are all good so this is a KEY RACE!
Battle Dancer (-12)/LET HIM FLY (-12)/Awesome Treasure (-11)/Dejae's Boy (-10) were separated by a short-head/1¼ length/¾ length with the winner clocking 1:40.0 while earning a CT of 1:40.2 which is only 3/5th second slower than Overnight Allowance standard. He's still unexposed and now very progressive so sure to succeed up to and beyond that level.
The placed horses all have non-winners of 3 to win with CTs of 1:40.2/1:40.3/1:40.4 all vastly superior to the nw3 standard of 1:42.3!
Overseas Betting Opportunities (OBOs)
The Grade 1 Ascot Chase (2 miles 5 furlongs) is on tomorrow (1535GMT; 10:35a.m Jamaica time). At time of writing the ground is "frozen" but I'm hoping for no worse than soft come Saturday.
Ante-post favourite is many time Champion Trainer Paul Nicholls' Cyrname. He was pulled up after weakening quickly four out when 5/2 second-favourite for the King George (Kempton; 3 miles) on Boxing Day. His trainer's representative could offer no explanation (local Stewards should note that one was routinely sought) and the jockey said the gelding was never travelling. Three of his seven wins over fences have come over this course and distance including winning this race in 2019 by 17 lengths. So who knows?
He can't get my hard-earned at shorter than 2/1 after such a dismal performance so I'm taking Nigel Twiston-Davies' Riders On The Storm as the value option at double-digit odds to repeat his 2020 success in the race. Then he best Janika (re-opposes) by 14 lengths but fell next time out at Cheltenham before taking eight months off. Warm up races at Cheltenham (inadequate trip) and Kempton (quick track) should have him spot on for tomorrow when he'll return to his favourite course and distance.
NFL's miracle season despite a pandemic is over and Tom Brady proved beyond a reasonable doubt, despite a run on voodoo dolls and hatpins in Boston, that he, not Bill Bellichic, was the key to the Patriots' success. But the EPL presses on despite COVID surges all around it. This week's BEST BET is Aston Villa playing its finest football ever to surprise top-four team Leicester at home. Leicester is coming off an emotional 3-2 home win against Champs Liverpool and is ripe for an emotional letdown on the road against an inspired Villa. I also like Tottenham Hotspur, despite woeful current form, to have enough to win away at West Ham and look for a stubborn relegation-resistant DRAW between Burnley/West Brom now that Big Sam Allardyce seems to have finally got his defensively minded message across to the Baggies' back four.
Finally, one more Notebook Horse for your Cheltenham Festival portfolio:
Eskylane [7 b.g. Flemensfirth-Maple Lady (Saddlers' Hall)] is currently at 40/1 for the Ballymore Novices Hurdle (2 miles 5 furlongs; March 17) but his chances are much better than that based on his excellent 5th in last year's Champion Bumper. After a five months break he was immediately sent over sticks and won right away at Punchestown despite looking like needing the run. Since then he has run with credit in three hurdles (including a Grade 2 2½ mile event at Navan in December). On each occasion he shaped as if this might be his trip and he's likely to improve for getting a left-handed stiff track like Cheltenham. He's worth an each way flutter.
Good Luck!