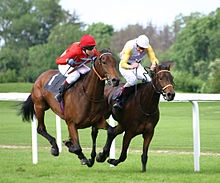 So, local horse racing has finally been sent on furlough.
This after weeks of stubborn resistance during which countless Jamaicans of modest means and most vulnerable to the current pestilence were herded into cramped, unsanitary Off Track Betting parlours (OTBs) to fiscally maintain horseracing by gambling away their meagre anti-COVID reserves. This disgraceful display of callous greed was only thwarted when police shut down several OTBs in breach of Government's anti-COVID regulations. Finally the racing promoter (SVREL) hoisted the white flag.
Racing has been away for only two weeks but, already, "stakeholders" have written to the Betting, Gaming and Lotteries Commission (BGLC) and Finance Minister demanding an almost $180 million bailout for the industry. No doubt they'd rather I didn't know but my impeccable sources have kept me in the loop. I've seen the correspondence.
It's disgusting.
The letter to the Finance Minister begins:
"The Horseracing industry understands and supports the Government of Jamaica's position relating to the delicate balancing of COVID-19 containment while maintaining the economic engine of the country going."
Going where? Holy tautology Batman!
Anyhoooo, it continues "Our industry is probably the most significant one in Jamaica that can meet these two goals. In addition, the Horseracing industry through its reach across the length and breadth of Jamaica has an overall positive philological (sic) effect on the nation"
DWL! I guess horseracing is the language spoken here!
This is the foundation upon which horseracing demands $180 million of taxpayers' money, used to pay 80% of purses for four months? WHAT? Taxpayers must pay prize money to owners of thoroughbred racehorses? Seriously? These horses were purchased for sums the rest of us can only imagine, to engage in racing for prizes offered by a PRIVATE COMPANY which bid for and benefitted from Government's highly touted public assets divestment policy. In a fiscally tight scenario where government has committed more than it can to help prevent layoffs in tourism as well as small/micro businesses, another $180 million must subsidize wealthy owners of racehorses for four months? KMT!
Despite mealy-mouthed announcements by SVREL seeking public sympathy for its plight, racing isn't promoted to "benefit" occupational workers. Not one trainer, jockey or groom is employed to SVREL. This is how the racing ecosystem works: Trainers and grooms are entitled to monthly fees and weekly salaries paid by owners of expensive equine investments. Jockeys don't get paid unless there's racing but jockeys make zero investment in the game. Not even saddles will Jamaican jockeys buy. So boo hoo to them.
Over the years, the race track has become a haven for all sorts of hangers-on who prey on punters and make a "living" only when racing is on. But horseracing is NOT an essential industry. It's a sport like any of the many postponed worldwide. Meanwhile, ALL of us are stuck at home with our incomes slashed. Government is doing its best with limited resources to help those in most need and desperately trying to avoid a return to the waiting arms of the IMF.
Now HORSERACING wants a bailout? C'mon man!
Perhaps, if the industry had been a little less selfish at the outset, it would have banked the moral authority to cry for help. Instead it deliberately endangered the lives of some of the most vulnerable in our society and doubled down when challenged.
The request itself assumes horseracing's entitlement to public funds without saying how stakeholders would be in need (no lay-offs alleged) AND promises to do better but bereft of the HOW. How will OTB restrictions be enforced (we're down to 10 people per gathering)? Essential services like supermarkets/banks with central locations are struggling to maintain physical distancing (I just can't write "social distancing" — an oxymoron).
This wake-up call for horseracing has been a long time coming. I've been preaching for two decades that online betting is the way forward. Hopefully COVID-19 will teach SVREL this important lesson the hard way (usually the best way). Horseracing needs to bail itself out.
Punters everywhere, regardless of location, can read all the form on every race worldwide; watch replays of races with a horse of interest by a single click; bet at competitive odds with either the Tote or one of many REAL bookmakers at odds that DO NOT CHANGE; watch every race live during raceday TV programmes of the highest quality with at-the-track information a'plenty; and collect winnings instantly.
But, if I want to bet on a race at Caymanas Park, I must drive miles through pot-hole and crime-infested terrain; park long distances from the stands; suffer harassment from pimps and touts; climb steep, knee-debilitating stairs for the privilege of betting into a Tote that confiscates 30% of stakes before declaring win dividends (40% for exotics).
Then all I can hear from "experts" is we need to abolish the claiming system.
RUBBISH!
There's an old saying. If you can't hear, you must feel.
DEPARTMENTS:
Clocked-In
This regular review of local performances is based on REAL times.
Abbreviations: CT = "Corrected Time"; TV = "Track Variant" (a calculation of the effect of track conditions on official times to arrive at "real" or "corrected" times); TVs are in fifths of a second; "minus" means a fast track; "plus" a slow track (e.g. -2 means fast by 2/5th of a second). Variants beside horse's names represent the difference between its official time and the grade standard.
We haven't met for four weeks so there are some pointers on the clock:
MARCH 7, 2020 [TV-0.3 per 200m (Rd) +2 (straight)]
Above and Beyond (-8) only had a maiden win on her resume (Race 7; 3yo Graded Stakes; 1600m; TV-2) but easily outclassed more successful rivals including smart colt Nipster (6½ lengths second). Her winning time of 1:39.3 converts to a CT of 1:40.0 which is 2/5th second faster than the 1,000 Guineas average. She's an improving filly with a big, imposing frame to be filled out so clearly has much more to come. She's a top contender for the fillies' classics!
The horse to take from the opener (Race 1; 4yonw3; 1,000m straight; TV+2)is the second, Action Run (-1) whose final time of 0:59.3 converts to 0:59.1 – 3/5th second faster than the grade standard. Compensation awaits!
TUESDAY, MARCH 17, 2020 [TV+0.2 per 200m (Round) +4 (800m straight)]
Double Crown (-7) laid down a classic marker (Race 7; 3yonw2; 1500m; TV+1½)drawing right away final 200m to score by 9½ lengths in 1:33.2! His CT (1:33.0") is a tick faster than Overnight Allowance standard. This was only his second start so his potential is unlimited.
Alhamdullah (-3)/Schlesinger (-2) second/third by head/¾l respectively (Race 3; 4yonw2; 1000m Round; TV+1) earned CT's of 1:01.1/1:01.2 both significantly better than the grade standard (1:02.0) so losses are only lent. The winner Bala Gris (-3) CT 1:01.1 is 2/5th second faster than nw3 standard.
Contractor (-4) proved much better than the grade (Race 2; 5yonw3/OT; 1500m; TV+1½) slamming decent yardstick Outrageous Taj by 5 lengths in 1:34.2! His CT (1:34.0') isn't good enough for Overnight Allowance (standard 1:33.1) but is 1/5th second faster than the standard for $650,000 claimers. He should fit perfectly on a $550,000 tag.
Overseas Betting Opportunities (OBOs)
OBOs are scarcer than honest politicians these days and 2 of our 5 Cheltenham festival tips were late scratches but we did manage to select Min, the winner of the Ryanair at 2/1 and Santini who was an excruciatingly close second in the Gold Cup at 5/1.
USA continues to race (without spectators) even after county health officials forced the closure of Santa Anita hours before the scheduled start of its March 27 meeting. Gulfstream went ahead with the Florida Derby on Saturday despite Hall of Fame jockey Javier Castellano testing positive two days before. Australia and Hong Kong also soldier on despite Victoria having to cancel races after Wednesday's first two as a participant had to be tested.
In Japan, the 10f Osaka Hai (similar to France's Prix Ganay/England;s Tattersall's Gold Cup) is scheduled for April 5 at Hanshin racetrack. The key factor in this race will be the 20 Japanese-trained horses (led by Almond Eye) that shipped to Dubai, only to be left high and dry when World Cup night was cancelled. They've left this race for Wagnerian and Makahiki (3rd/4th in November's Japan Cup) as leading contenders. The former is expected to confirm placing.
In golf, although postponed, I expect the Majors to be completed sometime this year as golf can be a lonely sport if it needs to be. I still fancy Spaniard Jon Rahm highly for the Masters and Rickie Fowler to finally break his major duck at Royal St. Georges in the 149th Open Championship. I've a sneaking liking for young Brit Matthew Fitzpatrick in the U.S. Open at Wingfoot (just the sort of narrow tree-lined course that suits his game) and, suited by the delay, Tiger Woods could add one more to his impressive Major trophy cabinet in the PGA scheduled for hard-hit COVID-19 victim San Francisco.
Good Luck!