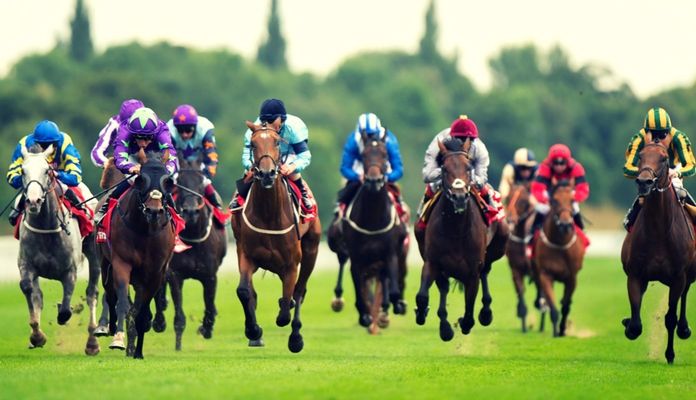 I've been asked if I ever win money betting on horses.
There's a straight (boring) and a tongue-in-cheek (entertaining) answer. Both are true. The boring answer is, in the long term, nobody wins betting on anything. The "House" always wins. Totalisators ensure this outcome by fixing the system so that a percentage of stakes is deducted off the top for the Promoter (House) before the balance is divided amongst winners. The standard percentage take-out by worldwide Totes is 12-18% (a higher takeout is permissible for exotic bets). In Jamaica the Promoter takes 30-40% making betting on horses a chronically losing proposition.
In sports wagering, the book is "dutched" (balanced) by spreads (sometimes combined with odds) that shift as betting comes in to ensure the Bookie takes 10% of every "pot". Sports with win-lose outcomes (like NFL) are usually offered with a "spread" (handicap) at 10/11 odds for each outcome to ebsure the Bookie's 10%. Card games are subject to house percentages of every pot and people with mathematical gifts ("card counters") are denied that advantage by being banned. Trust me, NOBODY wins long term. Expert bettors know that you pick your spots and bet ONLY when the odds are in your favour. Experts bet infrequently. Chronic losers bet on every available bet in every race and walk away from the race track with small fortunes only because they arrived with big ones.
Even experts win no more than once in three bets so are VERY careful not to bet on any horse offering lower odds than they were expecting and almost NEVER at odds-on. A recent exception to the rule was SHE'S A MANEATER, about whose Diamond Mile prospects I wrote in P.O's last issue:
"This race is likely to be all about pace so speed figures won't be as decisive as they are in sprints. Proven class should be the winning attribute because the winner must survive a hectic early pace and still have enough to finish best. In this regard SHE'S A MANEATER stands out so is expected to rewrite the history books yet again. Dangers are headed by Toona Ciliata (progressing as Supreme Soul regresses) and Stranger Danger (in the "could-be-anything" category)"
This was such a "sure" winner to all but the blind and ignorant that she was entered in my morning-line at 2/5 odds-on. As soon as she hit 4/5, punters should've run to the windows and invested massively. She eventually won like the out-of-country mare she is at 3/5. THIS was an overlay bet despite being at odds-on. It doesn't happen often.
The tongue-in cheek reply is I win more money more often than yacht owners; rum drinkers; or philanderers. Horseracing is a combo of entertainment and a crossword puzzle with the hope of a pot of gold at the end of the rainbow. It's not employment and it's no safer (or more unsafe) an investment than stock markets. As in any entertainment, there are moments of intense pleasure but, like all entertainment, there's mostly expense.
I don't drink (to excess); smoke (at all); or run around with reckless women so I spend my money on my preferred entertainment which is betting. In betting on horseracing, I was once told by legendary fast bowler Esmond Kentish (also a turfite) that the most attractive part of betting on the horses came on Friday night when Joe Punter "reads-up" his race book and makes his selections. The following day's betting is no more than a challenge to put your money where your mouth is and has very little to do with how much you won or lost except as a marker of success. I couldn't agree more.
What separates betting from other forms of entertainment is, in betting, your fun sporadically gives you something back in cash. The key to never "losing" is to ensure horseracing never gets THAT money back. Buy something permanent with your occasional winnings. Give the Bookie (or the Tote) money that comes in from another source at another time.
DEPARTMENTS:
Clocked-In
This regular review of local performances is based on REAL times.
Abbreviations: CT = "Corrected Time"; TV = "Track Variant" (a calculation of the effect of track conditions on official times to arrive at "real" or "corrected" times); TVs are in fifths of a second; "minus" means a fast track; "plus" a slow track (e.g. -2 means fast by 2/5th of a second). Variants beside horse's names represent the difference between its official time and the grade standard.
On October 17, readers were advised in this department:
"MY LITTLE PRINCESS (-6) seemingly has her problems but they appear to be behind her as she destroyed rivals by 6½lengths (R4; 3yo maiden condition; 1100m; TV -1) in 1:07.2! Her CT (1:07.3) is already 2/5th second faster than nw2. She's obviously progressing so should have no trouble at that level.
N.B: My Little Princess ran on October 12 (3yonw2; 1400m) but was hampered 800m out and weakened from over 300m out. She's not to be written off and remains one to keep onside when returned to sprints."
Well, she returned to 1000m (round) on Diamond Mile Day and won with authority at incredible value odds of 4/1 clocking a fast 0.59.4! Her CT (1:00.2') is 1/10th of a second faster than nw3 standard so, with normal improvement, she has at least another near at hand race to win.
Let's see what an analytical look at Diamond Mile weekend's times unearth.
NOVEMBER 8, 2019 [TV-0.6 per 200m (Round); +4 (straight)]
BIGBLACKNATION (-6) squandered $250,000 claimers (Race 6; Optional $250,000/6yonw4/4yomdn; 1000m straight; TV+4) clocking 1:00.1 in the process. His CT (0.59.2) equals the standard for $650,000 claimers so he can win as he likes whenever sound.
The second SUPER MAL (+1') clocked 1:01.3' which converts to CT 1:00.4'. The Grade standard is 1:01.2!
NOVEMBER 10, 2019 (TV-0.7 per 200m (Round) -3 (straight)]
SHE'S A MANEATER (-11), already reviewed above, is, like HBO and Tina Turner, simply the best!
STRANGER DANGER (-5) in second, produced a CT equal to Grade 1 standard so, still progressive, he should be a monster in 2020 as he matures.
WOW WOW (-12) continued to impress (Race 7; 2yo Stakes; 1100m; TV-4) clocked an eye-popping 1:04.4 in disposing of second-time-starter and maiden ABOVE AND BEYOND (-5'). The winner's CT (1:05.3) is already 3/5ths second faster than Overnight Allowance standard so marks him down as a sprinter to follow next year. The second is obviously also an exciting 3yo prospect who has all her conditions still intact.
Overseas Betting Opportunities (OBOs)
Last time we met, I wrote about the Breeders Cup:
"For me the weekend's best bet comes in the Breeders' Cup Classic at the very end where VINO ROSSO a 4yo son of Curlin out of a Street Sense mare who won the Gold Cup over course and distance in May seems all set to make a triumphant return to the scene of his best effort"
The result was a clear cut win at 9/2. I also put up BRICKS AND MORTAR as my early pick for the Mile but connections ran him in the Turf (12f) instead and duly obliged as the 11/8 favourite. Yum Yum!
Christmas is a comin' and the jumps' season is in full flight. Tomorrow's feature is the Grade 3 Bet Victor Gold Cup Handicap Chase (Cheltenham; 2m4½f; soft; 1425GMT; 9.25a.m Jamaica Time). Ante-post favourite Slate House was impressive on October 26 (his fifth try over fences) winning a novice chase over course and distance on heavy ground as he liked by eleven lengths from Garo de Juilley. Now turned out quickly in open company this may come too soon for him and the cramped odds on offer don't excite. There's plenty pace anticipated here so it could pay to take a chance with COUNT MERIBEL from the in-form barn of Nigel Twiston-Davies who was only two lengths behind classy Lost in Translation in a listed Carlisle chase on last; whose record at Cheltenham is one win in two outings (failed to stay 3 miles for the losing effort); and whose come-from-behind style of running should fit perfectly here.
Last issue's Notebook Horse Kalashnikov is entered in the Bet Victor Gold Cup with every chance but the forecast soft ground might prove unsuitable. Best to wait for proper spring ground with him.
Time for another notebook horse for the jumps:
JUST DON'T ASK [7yo ch.g Ask-Lucy's Mate (Supreme Leader)] ran encouragingly at Wetherby (November 2; soft) after nine months off seemingly finding the trip exacting in the conditions. He has only had four outings over fences and jumped magnificently at Wetherby (where he has already won) so is worth a decent bet next time especially at a shorter trip.
Good Luck!