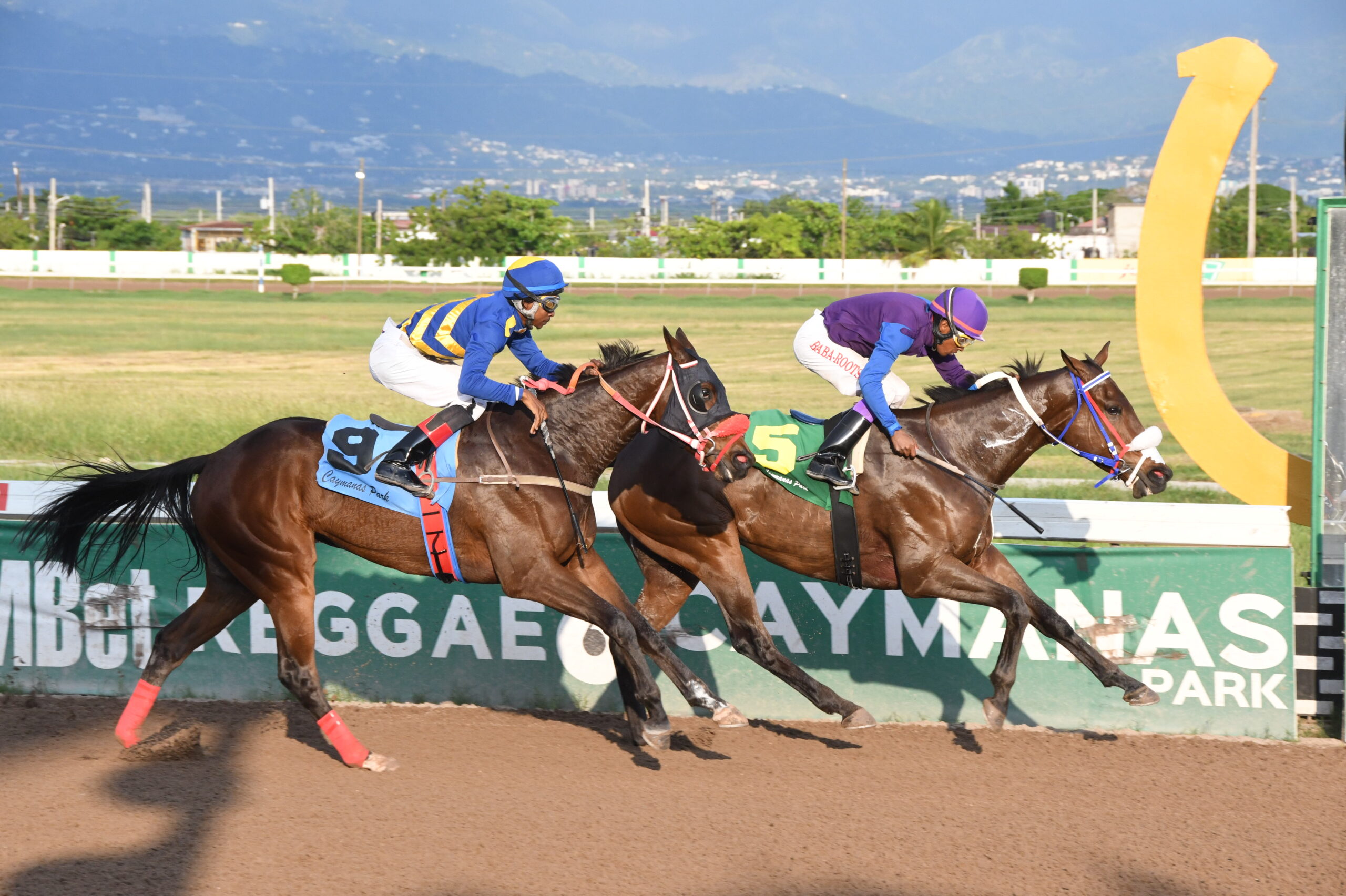 So, Thoroughbred Owners & Breeders Association of Jamaica (TOBA) President Howard Hamilton has been quoted by the Observer as saying the breeding industry is in a state of panic.
Ya don't say…..
With only 87 yearlings registered this year horseracing's nursery is drying up like the Rio Cobre in July. According to the Observer, Howard blames the claiming system: "It [the claiming system] has destroyed the breeding industry because why should I come to the sale and buy a horse for $1 million when I can go claim a horse for $300,000 and $400,000? When you buy a horse at the sale, you don't know if the horse can run or not, and at least when you claim a horse you know that the horse can run, whether it is lame or not, and that is the problem we have had."
Sigh.
Howard (and others) has been serving the same whine with their cheese since the Claiming System was introduced thirty years ago. The demon claiming seems to have taken a very long time to cast its spell over breeders who, despite the evil possession, sent 161 yearlings to the sale in 1995; 143 in 2012; and 130 in 2016. On every occasion, these were the "what lef'" after top trainers had toured the farms and snapped up many of the best conformed and bred youngsters at private treaty.
The FACT is that, despite the exodus of owners from the sport (a completely different issue) those remaining still pay upwards of $2 million for prized yearlings as evidenced by the most recent sale aborted in mid-stride by a freak storm after record sales were made. Before and after 1993, owners could buy racing horses at cheaper prices than yearlings. The Claiming System was intended (needs reform to return to that noble premise) to prevent elitist handicappers deciding where owners could enter their investments and to discourage corruption.
On June 24, 2022, my Public Opinion column pointed out:
"The breeding industry has been slowly choking for decades and is now in need of intubation….
There are many causes but none greater than Government ambivalence. Despite providing more than 90% of Jamaica's eventual racing product, breeders have been ignored by Government for decades. So it's no surprise the product has consistently declined in quality until our "Classics" rarely have more than one real contender."
The problem is Government neglect. It has NOTHING to do with the claiming system although, if the anti-claiming choir is to be believed, if only we returned to our former colonial masters' system of elitist non-investors telling you where to run your horse then all horseracing's ills would be magically cured.
Breeding in Jamaica is failing because breeders can't afford to invest as they should and Government refuses to recognize the back-end benefits of up-front subsidies. As I wrote then:
"Those farms that survived governments' gruesome gauntlet are operating at well below best practice standards. Zero vets are permanently employed to stud farms so have to be summoned from afar even in crises. Mares foal alone, often in the middle of the night. There are no pre-natal care facilities; no round-the-clock surveillance or supervision when foaling date is near; no assistance with delivery. Stud farm managers wake up the next morning; head to pasture and exclaim "Look, there's a foal!"
Claiming Schmaiming!
I was very specific then:
"The promoter has announced plans to import racing horses from USA (methods of re-sale/lease still unknown) to boost the racing product. Good on it but that's not a long-term solution.
It's time for Government to step in and invest in an industry from which it plans to earn massive back-end revenues. On March 4, 2022 ("Does Horseracing have a future") I proposed, amongst other reforms 'Government should incentivize breeders with a National Stud instead of breeders' bonuses.'
"In Jamaica's racing and breeding, quality is the problem. National economic deterioration and Government neglect have impoverished breeders so they buy cheap American bloodstock unwanted even in USA. Occasionally local breeders get lucky and a stallion or two is good enough to produce decent progeny, but the domination of one or two stallions over 20 years establishes that one-trick pony isn't cutting it.
American bloodstock comes from American horses habitually racing under the influence of Lasix….and "Butes"….. These are, in my opinion, transparently performance enhancers….but also come with unsafe side effects including water and salt/mineral loss (Lasix) and dangerously low white blood cell counts (Bute).
From a breeding perspective, when used as raceday medications instead of occasional off-training treatment, these drugs mask persistent problems which the animal carries to the breeding shed and passes on to progeny. Consequently we produce bloodstock prone to frailties and injury resulting in lower standards and smaller fields."
Quality control caused by economic restrictions driven by Government neglect is the problem NOT claiming! I advised:
"A National Stud would be able to purchase higher quality stallions from Europe and offer their "services" to local mares at reduced fees. Our breeders recognize the significantly higher quality of European bloodstock but complain that transportation costs (plus import duties) make these acquisitions prohibitive."
C'mon man, stop the constant complaining; emancipate yourselves from mental slavery; and get the show on the road!
DEPARTMENTS:
Clocked-In
Abbreviations: CT = "Corrected Time"; TV = "Track Variant" (a calculation of track conditions' effect on official times to arrive at "real/corrected" times); TVs are expressed in fifths of a second; "minus" (-) means a fast track; "plus" (+) a slow track (e.g -2 is fast by 2/5th second). Variants beside horse's names represent the difference between its official time and the grade standard.
SUNDAY NOVEMBER 6, 2022 [TV+0.2 per 200m (Round) +2 (straight)]
Taurus Boy (-4.5) relished the step up in trip (Race 8; 4yonw4/Imported 4yonw3; 1400m; TV+1) despite beaten ½ length by the progressive Johncrowjeff. The winner clocked 1:26.1 so Taurus Boy's CT is 1:26.0+ or more than a second faster than the grade. Overnight Allowance standard is 1:26.0. Taurus Boy obviously has more to come at around this distance.
SUNDAY NOVEMBER20, 2022 [TV+1.0 per 200m (Round) +7 (straight)]
Race 9 (Overnight Allowance; 1400m; TV+7) is a KEY RACE.
Laban (+0) won from Big Big Daddy (+1.5); Positive ID (+1.5) and Eagle One (+2). Winning distances were 1¼; nose; ¾.
The winner's time (1:26.1) produced a CT of 1:24.4 which equals Grade 1 standard. CTs for 2nd 3rd and 4th (1:25.0+ twice and 1:25.1) were 9/10th and 4/5th second faster than Open Allowance standard respectively!
Overseas Betting Opportunities (OBOs)
Last time we met I gave very early previews of the Melbourne Cup and Breeders' Cup. I proposed Caulfield Cup winner Durstan for the Melbourne Cup. He was scratched but Gold Trip, head second to Durstan in the Caulfield Cup, won at 20-1! Yum yum.
At Keeneland , although I warned it was "much too early to be sure of anything" we did spot winners Cody's Wish (Dirt Mile); Modern Games (The Mile) and Flightline (The Classic).
For the next three weeks, global sports talk focuses on the unique World Cup in Qatar (properly pronounced "Cutter" or, even better, "ghu-terh" with a kind of rolling "r" at the end). A World Cup in December you say? Well, bless middle-eastern moolah one and all!
It's clear conditions strongly favour the South Americans of which Brazil is by far the best. The Brazilians are weak in defense especially on the wings but deadly up front so are likely to play old-school Brazilian football "You score one; we'll score two (or three)!"
So, for the very first time since I started following the World Cup in 1962, I'm backing Brazil to win. I also like Ecuador to win Group A and reach further than over-rated Argentina — a team that continues to make World Cup appearances messy affairs. Uruguay should win Group H out of which I expect Ghana to surprise pundits by finishing second.
The Europeans, already at a location/weather disadvantage (even in December) are likely to be disappointing all round except for Spain who should win Group E. France has been dealt two crippling blows with Benzema and Pogba withdrawing (injury) while the perennially enthusiastic English will be chanting "It's coming home" until it doesn't.
Watch out for the African teams led by Ghana but including Senegal (without Sadio Mané). They can create upsets,
Readers should be keeping Notebook horses in one of the many Horse Trackers available so that notice of their entries is automatically received and you can asses which race suits best.
Here's another one for the jumps:
Allaho [8yo b.g. No Risk at All-Idaho Falls (Turgeon)] won seven of his twelve races over fences including dominating another Ryanair Chase at the Cheltenham Festival (also won in 2021) and then beating high class Clan Des Obeaux by fourteen lengths in the Grade 1 Punchestown Gold Cup. He looks the perfect fit for the King George VI Chase at Kempton on Boxing Day.
Good Luck!