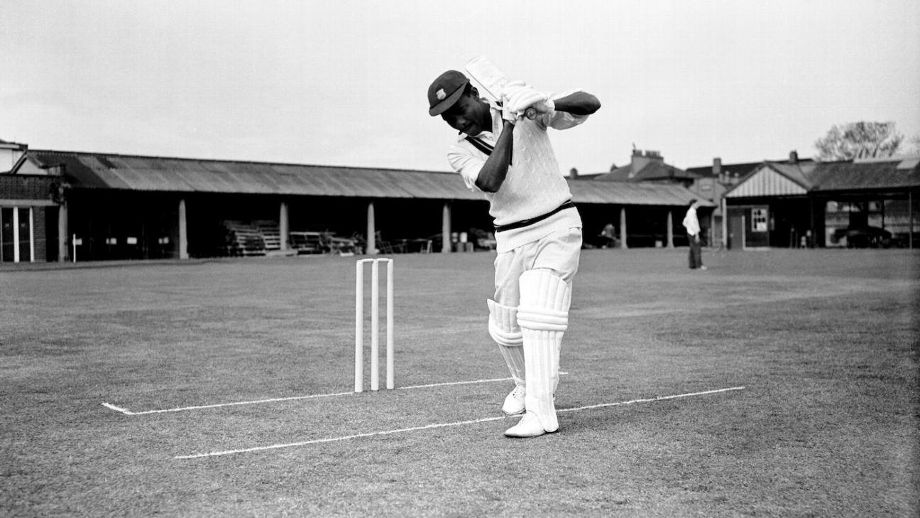 Good cricketers come in all shapes and sizes, especially bowlers. The best fast bowlers have been six foot something and well built specimens. Names like Michael Holding, Joel Garner, Wesley Hall, Glen McGrath, H. Hines Johnson, Ian Davidson, Steve Harmison and Charlie Griffith spring instantly to mind. Roy Gilchrist and Malcolm Marshall were not six-footers.
But the best batsmen are short — that is, under five foot eight.
Just in case you thought this was something I was making up, I have this on the excellent authority of the great West Indian batting star of yesteryear, the immortal Sir Everton De Courcy Weekes of Barbados, and the only man to make centuries in five consecutive Test matches. Sir Everton died in Barbados on July 1, 2020, five years short of his life's century.
As a schoolboy, I adored "ED" while the Frank Worrell fans, quoting the famed English commentator John Arlott, prattled on and on about their idol being "poetry in motion." That was true. You only had to see Frank Worrell employ the late cut to know what Arlott meant. But, as I reminded them, it is runs, not poetry, that compile match-winning scores.
Weekes was my hero. I practised to walk like Weekes, bat like Weekes, wrinkle my forehead like Weekes. I even parted my hair down the middle like Weekes. And, in those days, I was pretty close to Weekes's height.
Quick-footed, devastating and prolific, Weekes was blessed with an amazing variety of attacking strokes. The late West Indies and Jamaica opening bat Allan Rae told the story of an innings in which, having been out, he and another player were walking around the boundary watching Weekes bat. Rae was astonished at Weekes' command and placing of his strokes.
"As we walked around the ground, Weekes hit the ball exactly to the part of the field where we were," he said.
Weekes debuted against England in the West Indies in 1947-48 but was dropped for George Headley, although he returned in March 1948 for the Jamaica Test in that series to replace Headley who was injured. The Jamaican crowd thought the Jamaican batsman John Kenneth (JK) Holt should have been picked instead. As it turned out, the plane bringing Weekes from Barbados to Jamaica was delayed and the game began without him with Holt fielding in his place. So when Weekes replaced Holt on the field for the England innings he was booed lustily throughout. But when the West Indies batted he changed the boos to cheers as he responded with a century of 141.
On a personal note, I was at Sabina Park that day for my first Test match, tagging along with my father but was too young, at 8, to remember everything that happened. However, I do remember the controversy as it was reported in the Daily Gleaner in the following days.
Weekes's superlative run began with that 141, his maiden first-class century. He then went on tour to India and compiled four more centuries with 128 at Delhi, 194 at Bombay and then 162 and 101 in the third Test at Calcutta, an unprecedented five centuries in a row. He was on his way to a sixth century when he was dubiously run out for 90 in the fourth Test at Madras. In 1955 he also scored three back-to-back hundreds against New Zealand.
The next year, in England, Weekes scored 2,310 runs at 79.65, including a triple century against Cambridge, although he made only 338 at 56.33 in the Tests. Against India at Port-of-Spain in 1952-53 he made 207 in the first Test and another big hundred on the same ground in the third Test. He scored heavily against England in 1953-54, and in New Zealand in 1955-56 he hammered 940 runs at 104.44 in eight first-class matches.
His tour of England in 1957 was blighted by poor health, and aside from a gutsy 90 on a lively Lord's wicket, when he was struck a painful blow on the hand, he disappointed. Against Pakistan in 1957-58 he returned to form but he was increasingly troubled by a thigh injury, and after an unsuccessful operation he decided to retire even though he was still in his early 30s.
Weekes, who also played in English League cricket, toured with various Commonwealth sides, coached in Barbados, was awarded the MBE and the CBE, and also served time as an ICC referee. In 1995 he was the last of the three Ws to be knighted.
Two years earlier, in 1993, I had the pleasure of a few moments of conversation with Weekes when he was 68, as he strolled around the grounds at Rideau Hall in Ottawa in August. He was there, courtesy of the Barbados Tourist Authority which had arranged a Canadian tour for him and some younger former stars like Garfield Sobers, Seymour Nurse and Griffith. To my absolute surprise he was the wicket-keeper for the touring Barbadians. And he was much more than competent behind the stumps. When I expressed my surprise, he smiled broadly and said he always felt comfortable in any part of the game, or words to that effect. I don't think I inquired about his bowling career.
Himself a dapper man coming in well under the five-eight mark, Weekes was a batsman's batsman. In the days of the amazing three Ws — Weekes, Worrell and Walcott — there were endless arguments among schoolboys and cricket fans of all ages as to who was best. Weekes, the shortest, always came first. In my book, anyway.
It was in that 1993 talk that I was exposed to one of his batting secrets. With a Test average of 58.61 from 4,455 runs including 15 centuries and 19 half-centuries in 81 Tests, "ED" never hit a six! Told me so himself.
To be sure, there are writers who differ and say he hit not one six but two, both in Australia. I prefer to stay with Weekes. Even if his memory failed him the lesson here for batsmen today is that Weekes' focus was not on hitting sixes but on batting as long as possible, that is, without offering catches by keeping the ball on the ground.
The significance of it struck me immediately, of course. To hit a six, you must loft the ball. And every time you do that, you run the risk of not hitting it right, and getting out caught. By confining himself to fours, Weekes was significantly reducing his opponents' already limited chances of seeing him leave the crease early.
But back to the short bats. Weekes warmed to my observation that the batsmen under five-eight were the best. He noted in passing that the great Don Bradman had said Weekes was the greatest of the West Indies' batsmen and, savouring the thought, he ran down the list of greats with me: George Headley, Don Bradman, Lawrence Rowe, Len Hutton, Sunil Gavaskar, Hanif Mohammed, Roy Fredericks, Rohan Kanhai, Alvin Kallicharran, Richie Richardson, Brian Lara and Sachin Tendulkar. And, of course, Everton Weekes.
Was there anything about their lack of height that helped with their batting, I wondered, little remembering at the time that the key to great batting is great footwork. But even if I had remembered, it would not have struck me as being of any significance since all batsmen, not only the short ones, have to rely on good footwork.
A little smile played around the old man's face and then it broke out into a full grin, as, pointing first to his head and then to his feet, he said:
"Maybe it takes a little less time to go from here to there!"
A check with the record books confirms Weekes's supremacy. Walcott's stats are: 44 tests, 74 innings, 3,798 runs for an average of 56.68; and Worrell's 51, 87, and 3,860 runs for 49.48. While Walcott matched Weekes's 15 centuries, Worrell, who admittedly took over the demanding mantle of captaincy, had only nine.
Ewart Walters played club cricket for 40 years in Jamaica and Canada, and proudly remembers making three centuries. All three included sixes.