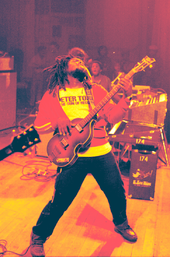 Last edition I outlined what went into my choosing 58 albums which are the works of pioneers who opened doors for other Jamaican musicians but who may not have had commercial success or awards to show for those efforts. Some albums, I reiterate, have straddled both categories successfully.
The 58 albums making the list, in ranking order, are:
58. Coming At You/Red Light – Beres Hammond, (OJ) 1983 – Willie Lindo (label).
Hugh Beresford Hammond is now considered the 'Chairman of the Board' and I am ever grateful everytime I get to see 'Cudjoe' take the stage.
Beres has released 19 studio albums since his debut effort, Soul Reggae in 1976, and I am sure reggae fans have a slew of favourite songs and album from the King of Lovers Rock. My favourite albums being: In Control (1994) and Music Is Life (2001).
Coming At You was Hammond's fourth studio album and was originally released in 1983 but re-released as Red Light in 2001. David Madden, Ronald Robinson, Ervin Lloyd, Franklyn Waul, Dean Frazer, Ervin Lloyd, Mickey Richards and Derrick Barnett, were the musicians that added the decorations to the mix of eight soul, funk and reggae songs.
Red Light, It's Not Easy, Don't Want to Lose You and Put Your Arms Around Me are the standards by which this category of reggae music is and will continue to be judged. It is, however, on the Willie Lindo-written You Were There, that the Al Green vocal similarity comes to the fore as Beres sings: "You were there, I saw ya, you were wearing that fancy red dress, you were there, I heard ya, when you gave that man your address, don't even lie, and it doesn't make sense to me if you cry, don't even try".
The only genuine reggae song on the album, Irie And Mellow, was a prelude to the lovers rock material that Hammond would make his own in future years: "You are that special one that a man is searching for, being around you makes me feel like I am a star, and just like a treasure find, I find you just in time, in just one simple way I'd like to say, You're irie and mellow, and in other words just sweet and kind".
57. Naturally – Marcia Griffiths (OD) (1978) – Shanachie Records
One of the conspicuous features of my research and in listening to Jamaican music over the years is the disparity in the number of male and female musicians and artistes. This disparity is one of the things I hope is addressed over the next 58 years, and with Koffee, Jah 9, Lile Ike and Sevana all coming to the fore recently, I anticipate that this disparity will be addressed in the future.
The Queen of Reggae has had an illustrious career since 1964. It was at the 'university' of Jamaican music, Studio One, where she recorded duets with Tony Gregory, Bob Marley, Jeff Dixon and Bob Andy. From Feel Like Jumping, her first hit song in 1968, through 1970 – 1974 when she worked with Bob Andy as the duo, Bob and Marcia, to between 1974 and 1981, where she was a member of Reggae music's most influential female backing group, The I-Threes, Griffiths' influence has been indisputable.
Naturally was her second studio album. It featured heavyweight musicians such as Herman Marquis, 'Ranchie' Mclean, Sly Dunbar, Radcliffe 'Dougie' Bryan, Earl 'Wire' Lindo, Glen DaCosta, Ansell Collins, Vincent 'Tramie' Gordon, Bobby Ellis. Bob Marley, Bob Andy, Bunny Wailer, Brent Dowe and Renford Cogle (both late members of The Melodians), who also composed tracks on the Sonia Pottinger-produced 10-track album.
Naturally includes Feel Like Jumping and Truly, which is on the same rhythm as Garnett Silk's Fill Us Up With Your Mercy. Griffiths' version of the Wailers' Lonesome Feeling communicates the sentiments of the song better than the Wailers' ska version, but it is on The Melodians' original, Survival, that I am fully captivated by the Queen's melodic voice : "You push me around like I'm just a clown, you wanna see me suffer, you treated me just like you treated the ground, you trampled me all over, but I'll get on my feet again, ride on a wave of happiness, burn all the hurting pain, in times like these where survival is the game, let's play on."
Dreamland, Mark My Word and I've Got To Go Back Home are some of the other songs on the hit-laden album.
Jamaica's 'First Lady' of song still performs today and despite international success with Young Gifted & Black in the 1970s and Electric Boogie in 1989, Naturally remains the Queen's quintessential album.
In 2017, North California Public Media Newsletter published a series of essays celebrating deserving artistes or albums that were not included on the National Public Radio (NPR) Music list of 150 greatest albums made by women. Naturally was one of the albums featured.
56. The Mystery Unfolds – Mutabaruka (OD) 1983 Shanachie Records
Mutabaruka, Rwandan for "one who is always victorious", has been the host of my favourite local radio programme, The Cutting Edge, for nearly 30 years. He has been the country's most popular dub poet since 1962 and one of the most influential Jamaican musicians. This influence started from as far back as 1977 when he had his first hit record, Outcry backed by Cedric Brooks.
A past student of Kingston Technical High School and worthy recipient of IRIE FM's, Lifetime Achievement Award in 2019, Mutabaruka became internationally known after his spectacular performance at Reggae Sunsplash in 1981, even though his poems were being published in Swing magazine from as far back as 1971.
The Mystery Unfolds was Muta's third studio album and his second for Shanachie Records. It featured legendary musicians Michael 'Ibo' Cooper, Christopher Meridith, Harry Powell, Basil Creary, Wilburn 'Sqiddly' Cole, Anthony 'Asher' Brisset, Leebert Morrison, Dean Frazer, Fazel Prendergast, Nambo Robinson and David Madden. Ini Kamoze and Marcia Griffiths also added their voices to this super album.
The 12-track album opens with the thought-provoking, The Leaders Speak, which details an imaginary conversation between world leaders and God. Other tracks are Bun Dung Babylon, Famine Injection, Walking On Gravel, My Great Shun, Revolutionary Words and Dis Poem — his most famous poem. While Outcry is my favourite Mutabaruka album, the influence and global appeal of Dis Poem makes The Mystery Unfolds indomitable. In 1990, Dis Poem was used as the Capella introduction of The Poem, a song by house-music and dancehall artiste/producer Bobby Konders and like most Jamaicans I was ecstatic when Mutabaruka performed Dis Poem on HBO's Def Comedy Jam on April 10, 2007.
To witness Muta delivering the poem in the authentic Jamaican language and receiving a standing ovation after his performance remains one of my proudest moments as a citizen of the Black Gold and Green. Lumumba, Kenyatta, Nkrumah, Hannibal, Akenaton, Ashanti, Mau Mau, Ibo Yoruba, Uhuru Namibia and Soweto are names that Dis Poem exposed me to 32 years ago. It is sad that our education system, if you can call it that, has not found ways to introduce such names to our curriculum, but Columbus, Frances Drake, Henry Morgan and other genocidal murderers are compulsory inclusion. No wonder our youths want to emulate the "heroes" and "great men" that they are taught about in school. As Mutabaruka so succinctly pointed out, "slavery is not African history, slavery interrupted African history". This fact needs to be brought to the attention of our educators at Heroes Circle as a matter of urgency.
55. Visions Of Dennis Brown – Dennis Brown 1978 – Laser/Lightning/Joe Gibbs
Dennis Emmanuel Brown is arguably the most loved Jamaican entertainer, easily one of the most prolific and one of the few local artistes to remain relevant, having hit records from the 1960s until his death in 1999. The Crown Prince, as he was also known, recorded his first song — Lips Of Wine — for Derrick Harriot at age 11 and has never left the limelight since then, as he recorded more than 75 albums between 1970 and 1999.
Dennis Brown is among my favourite local singers and choosing his most influential work was particularly difficult as Wolf & Leopards (1977), my personal favourite, Joseph Coat of Many Colours (1979), Foul Play (1981), Love Has Found Its Way (1982), The Prophet Rides Again (1983) and Inseparable (1988), all can lay claim to be as influential as the album I chose. What I have, however, observed with the Crown Prince's work is that the albums involving Joe Gibbs all have a distinct and special sound.
Visions Of Dennis Brown was the first album to be released after Brown's second stint with Joe Gibbs and this album played a significant role in making both men dominant players in the reggae scene in the late 1970s. Sly Dunbar, Lloyd Parks, Eric Lamont, Robbie Shakespeare, Lennox Gordon. Franklyn 'Bubbler' Waul, Errol Nelson, Harold Butler, Herman Marquis, Vin Gordon, Bobby Ellis, Uziah 'Sticky' Thompson and Tommy McCook, formed the all-star cast assembled under the direction of Errol Thompson, to produce this musical masterpiece. The album showcased Jamaica's favourite singer with his voice at its sweetest best and mixes themes of oppression, religion, politics, economic hardship and reparation with his usual lovers rock.
The album is loaded with what have now become classic Dennis Brown songs: Love Me, Oh Mother, Deliverance Will Come, Milk And Honey, Stay At Home and two perennial favourite reggae songs of mine — Malcolm X and Concrete Castle King on which he sings "Living in your concrete castle on the hill, you don't know what life is like in the ghetto, living in a two by four with no place to walk around, no-no, while you're in a castle all alone". Has this situation changed?
Visions Of Dennis Brown entered the Black Echoes Chart shortly after it was released and stayed there for almost the entire year, although it was only available in the UK as an expensive import. Despite this restriction however, it was voted Reggae Album of the Year by both Melody Makers writers and Black Echoes readers.
54. Flesh Of My Skin, Blood Of My Blood – Keith Hudson 1974 – Mamba/Altra Records
Keith Hudson, The Dark Prince of Reggae, was regarded by keen disciples of Jamaica's music as the prodigal son and seen as one of the early innovators of dub music. Hudson was born in Kington on March 18, 1946, and was an ardent follower of Coxone Dodd's Downbeat sound system. He initially worked as a producer, producing songs like Ken Boothe's Old Fashioned Way and Big Youth's S.90 Skank, among other songs for Delroy Wilson, Alton Ellis and John Holt.
In 1970, Hudson began to record his own vocal tracks and in 1974 released Pick A Dub, widely considered to have been the first deliberately thematic dub album, with tracks mixed specifically in dub style for the purpose of appearing together on an album.
Hudson migrated to the UK, where he signed to Brent Clarke's Altra Label and worked at Chalk Farm Studios in London with a number of British-based reggae musicians, overdubbing his Jamaican rhythms. The first album to emanate from these sessions was Flesh Of My Skin, Blood Of My Blood.
Described as a masterpiece by reggae critics, Flesh Of My Skin, Blood Of My Blood was one of the first proper reggae albums, rather than a collection of singles and fillers. The set, which was only released in the UK, was reggae's first concept album with lyrics relating to black history and other conscious themes.
Santa Davies, George Fullwood, Augustus Pablo, Count Ossie, Leroy Sibbles and Earl 'Chinna' Smith, were among the all-star cast who added the musical treat to Hudson's unconventional vocals. The opening track on the 12-song, critically acclaimed album — four of which are dub instrumental — Hunting, is a dub scorcher featuring another icon, Count Ossie & The Mystic Revelation of Rastafari. On Darkest Night, Testing My Faith and My Nocturne, Hudson highlights and wrestles with the African struggles from political, philosophical and religious perspectives. But my favourite track on the hauntingly unique album is Fight Your Revolution, a rallying cry for Black Men to "fight today or tomorrow", against the evils that they encounter.
Hudson had a huge influence on many punk bands. Ian Curtis of Joy Division was among his biggest fans, while 1980s English rock band New Order covered Hudson's Turn The Heater On, in their 1982 Peel Session. Hudson died in New York of lung cancer on November 14, 1984, age 38.
53. It's Growing – Garnett Silk 1992 – Bobby Digital
The term "gone too soon" was not a popular saying in the 1990s as it is today, but every time I hear the term, Garnett Silk is the image that appears in mind. Songs about 'matey' and murders dominated the local reggae scene from the late 1980s to the early 1990s but amidst the glorification of sex and guns, Garnett Silk emerged to drown out those negative sounds.
It's Growing was Silk's only genuine studio album, and what a legacy! The 10-track classic, instilled with messages of love, unity and protest, still sounds fresh 28 years after its release. It's Growing, Move on Slow, Commitment, Place In Your Heart and Come To Me, find Silk conveying messages of love in various forms. On, I Am Vex, Disadvantaged and Keep Them Talking, Silk takes the fight to oppressors. It is, however, on my favourite track, Bless Me, that his deep spirituality resonates most potently: "Father, they have dug their pit and are waiting to see me fall in it, yes they have great powers, so without your help I know I'll suffer, hear me when I call on you and help me to conquer, only you are fair, be with me everywhere, they're trying to see me fall, but with you Jah Jah I stand tall, bless me, bless me, mighty Jah Jah bless me".
Dancehall artiste Popcaan has done an exceptional cover version of, Place In Your Heart, while Sizzla sampled Bless Me in 1998, to emphasize Garnett Silk's influence, from the 1990s to today, 26 years after his death.
Garnett Silk's influence transcends the songs he wrote as the direction of the music took a positive turn after his emergence. Capleton, Ras Shiloh, Sizzla and Luciano are among top artistes today who would have benefited immensely from the emergence of the super-talented singer from Manchester.
52. Soul Revolution/Soul Revolution Part II – The Wailers 1971 – Upsetter/Maroon
Lee 'Scratch' Perry and members of the Wailers make their first of multiple entries on my list with an album released just before The Wailers released their international breakthrough album Catch A Fire.
There is some confusion as to the name of the album as on the original LP, on Perry's Maroon label, Soul Revolution is the title printed while, Soul Revolution Part II is printed on the LP's cover. A dub version with vocals removed was also released as Soul Revolution Part II, while both versions were released as one set in 1988. There is, however, no confusion as to the high quality of the album, recorded under the supervision of unquestionably reggae's greatest genius, 'Scratch' Perry and Errol Thompson. The 12-track album includes some Wailers/Bob Marley songs like Keep On Moving, Don't Rock My Boat/ Satisfy My Soul, Put It On and Duppy Conqueror, which later became standouts on future albums. The Barrett Brothers, Glen Adams and Alva Lewis were the icons who played on the album.
Personally, I prefer the version of these songs to the ones later released on future albums, especially Duppy Conqueror and Sun Is Shining. My two favourite songs on the album however, are Stand Alone, a beautiful love song where Bunny Wailer and Peter Tosh's harmonies "decorate" Bob's voice most beautifully, and African Herbsman, which has the line: "African herbsman why linger on, just concentrate cause your heaven lives on, retired slave will look with a scorn, with a transplanted heart, yes how quick they had to part".
The fact that this was The Wailers' final local album before being signed to Island Records has made the original LP a collector's items globally and even with the reissuing on CD in 1988, this has not stopped the original record from selling for as high as US$700.
Next Issue: Part 3…Continuation of the list