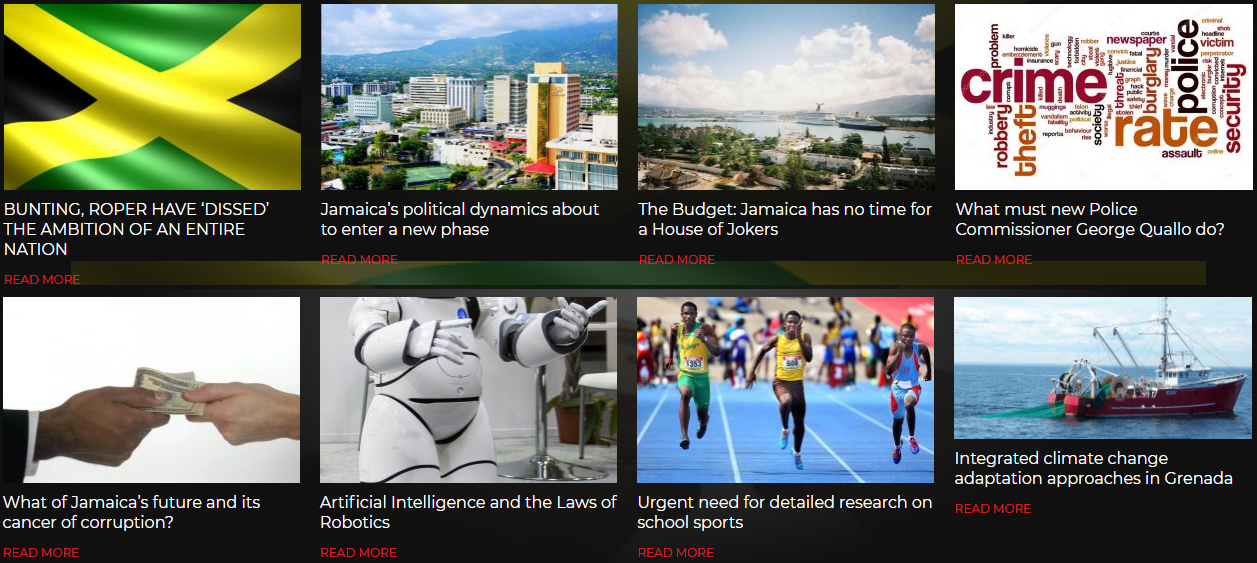 Happy First Year Anniversary to publicopinion.news and I wish you further growth in the future. It has been a roller coaster for my 25 articles but it has been enjoyable. Some people who would like to write on topical issues and current events should take the opportunity of adding their voices through this medium.
Many would-be commentators think "how can I write regularly and not repeat myself" and then choose not to write at all. What a mistake! This is Jamaica, and there is so much material that you have to leave some "outside the off stump", knowing full well that another will arise. In this country of outright lies, corruption, faux pas, innuendo, and plain stupidity, there is much to choose from. Every day we produce controversy and we thrive in the instant, knowing full well that it will lose traction tomorrow.
On my part I have tried to look at things that will affect our lives, society, and future success, with the hope that someone will read, understand, and take some action. Jamaica deserves our love, loyalty, and commitment at all times and those of us who criticize must try to offer alternatives. Over the past year I have tried to say things that are not always "politically correct" from the point of reference of the "stiff upper lip theorists" that tends to avoid the embarrassing truth. But Jamaica needs truth (and reconciliation) if we are to progress.
Most of the "politically incorrect" arguments surround discussions that demand change. Constitutional revision, political civility, law and order, justice, poor or corrupt business practices, better education and healthcare, proper use and retention of national assets. These are only a few of the uncomfortable scenarios that beg for that uncomfortable word "change".
I hasten to add that it is that very fear of change that has suppressed revolutionary actions that have occurred in other nations who have found conditions so threatening that they lost the fear of change. Perhaps we are moving towards the unknown fulcrum that will be a tipping point.
That fear is supported by the general lack of understanding that ensures that logical sequences are dismissed because they are tough, or that we fail to recognize that getting to the end without being at the start is a very dangerous concept that allows myriad opportunities for accidents or malfeasance. Even as we pass the baton from hand to hand we feel cheated if we are disqualified for stepping outside of our assigned lane! We therefore develop the aptitude to absolve ourselves from blame, and consequences simply become "dem a fight mi".
We pass these fallacies and stupidity down to our succeeding generations so that after some time we cannot discern truth, nor can we find an acceptable point from which to direct a societal moral compass. Therefore we wallow in misdirection, manipulation, uncertainty, and chaos, as we try to activate a series of defective and inaccurate compasses with which to direct the ship of state.
After centuries of slavery and colonial rule we still cannot come to grips with the logic that requires new structures, systems, and information flows. We are content to follow models and laws that pre-date the automobile, plane, radio, television, telephones, personal computers, and the Internet. But people are offended when we comment on these matters, even as we are unable to use our fancy smartphones because we have no credit.
If we could address some of our own fears in the second year of publicopinion.news then perhaps the veranda talk could actually become a catalyst for action, and our resistance could be significantly reduced. Your contributions to writing, speaking, and generally promoting dialogue will fulfil many of the criteria necessary for peaceful yet rapid progress for this country.
Responsibility, citizenship, and integrity, are definitely not group projects. Rather, they are individual choices. Make the change happen from within. Haloti Ngata Authentic Jersey