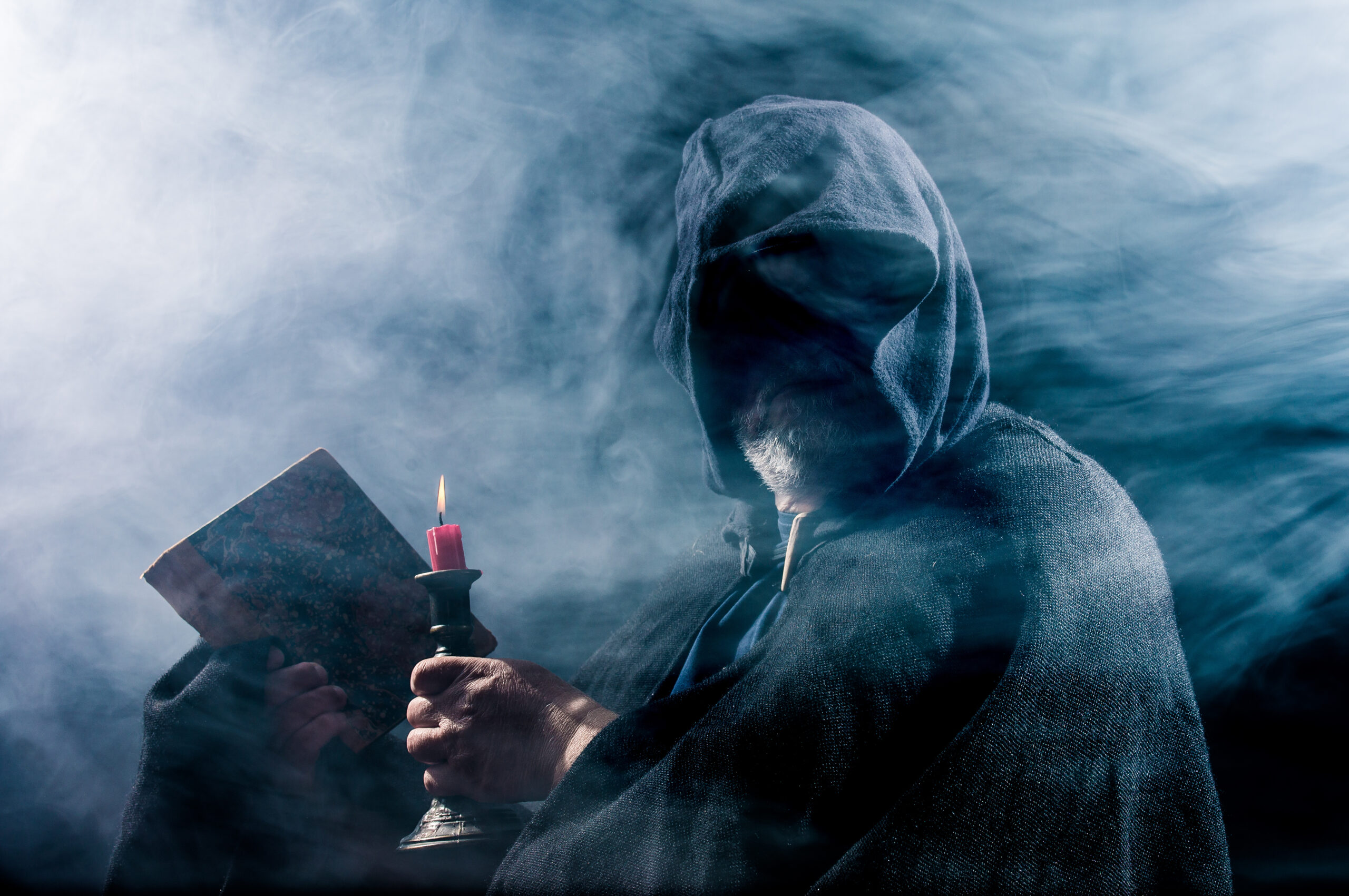 "I am going work de Laurence pon you, if you don't stop bothering me!"
Or, "This month has had all kinds of problems. Hmm, I wonder if somebody working de Laurence or Obeah on me."
Or, "I need to solve this nagging cough. Doctors not able to cure me, and the priest at the church is a joke. I need an Obeah man or a bush doctor to work some healing powers on me, to give me a balm, or give me a bath."
Or, "Mi tired of that croaking lizard behind the picture! I going get some crystals from the Obeah shop and burn them to smoke him out! You wait and see!"
These expressions serve to show, anecdotally, how ingrained the world of the occult or spiritism is in Jamaican life.
When the world of the occult is not viewed as an unconventional path towards addressing some of life's difficulties, it is a topic that is strenuously avoided by many because of the dark forces believed to be behind it. The terms "de laurence" and "Obeah", for example, exist for others on the intellectual and spiritual margins of Jamaican society, for those who consider themselves to be "mainstream", or "modern", or even "enlightened".
At the very least, they are part of the Jamaican vernacular, used as expressions in humorous banter. But, regardless of one's belief, it is a world with a powerful allure, especially for the curious at heart.
My brief experience in the world of "de Laurence" began after the passing of my maternal grandfather in Clarendon. As a curious teenager I secured an old copy of a book, written by "de Laurence" that was lying around the house. I took it back to Kingston along with another book, one containing pages which I frequented a lot on each family visit to the country, making each journey a pilgrimage. The latter was a Seventh-Day Adventist publication titled: Your Bible and You. The former was titled: The Master Key by L. W. de Laurence.
Although I am a Christian, I took the book out of curiosity. I heard talk, while growing up, of people's involvement in "de Laurence", and of individuals who consulted "Black Art" men, perhaps for fame, fortune, power and justice for themselves, or for revenge against others. And so, The Master Key was, I thought, a perfect opportunity for me to pull back the veil of mystery with regard to the secrets of "de Laurence". But to my surprise it turned out to be some sort of self-help book, with normal, if not, novel suggestions on how to enhance one's concentration, for example, and how to improve self-discipline.
I came away from the experience thinking that "de Laurence" was misunderstood and grossly overestimated. Though I did not dismiss the idea of spiritual malevolence, nor that of human agents who could invoke such powers, the jury was still out with respect to many who claimed to have access to such powers. The following lyrics made popular by The Mighty Sparrow, full of humour, was, in part, where I drew the line on the matter now being discussed:
You making yourself a papee-show Melda

You making yourself a bloody clown

Up and down the country looking for Obeah

And you perspiration smell so strong

Girl you only wasting time

Obeah wedding bells don't chime

And you can't trap me

With necromancy

Melda oh, you making wedding plans

Carrying meh name to Obeah man

All you do can't get through

I still ain't goin' marry to you
Someone stole the book and though I was upset at the trespass, I would have been angry if it was Your Bible and You that was taken. But my story on the topic continued — re-emerging a few days ago.
The subject of "de Laurence" arose in a conversation with a cousin. It was not the intended topic but, somehow, we started talking about the "Black Arts" and the influence of Mr. de Laurence on the Jamaican culture. Intriguing stories were shared and, of course, my own assessment of his impact was discussed. My cousin, skeptical of my evaluation on the matter, asked if I was sure that other books were not written by him. And so, I researched the matter. Publications were found, available for purchase online, with titles which suggested a great deal, not leaving much to the imagination.
In addition to The Master Key, there was, for example, Albertus Magnus Egyptian Secrets, which was said to be comprised of three volumes containing spells, prayers, tips on husbandry, healing, hunting, and much more. Then came Hypnotism: Magnetism, Mesmerism, Suggestive Therapeutics and Magnetic Healing, described as covering multiple methods of hypnotism and mesmerism. And, then I came across the following title which helped to further disabuse me of the purity of Mr. de Laurence's intentions: The Obeah Bible. The following was what was written in the description of that book:
"The Obeah Bible was originally published as The Great Book of Magical Art, Hindu Magic and East Indian Occultism in 1898 by L.W. de Laurence….The Great Book became an influential text in the practice of certain African-derived magic systems, including hoodoo, Voodoo and Obeah. The Great Book, along with all other books published by the de Laurence Company, remain banned in Jamaica due to strong associations with Obeah practice."
I was intrigued that his publications were banned in Jamaica. Who was L.W. de Laurence, and was the notion of his works being banned anecdotal or one of fact? And, if they were prohibited, then by what law? Every law comes out of a nation's socio-political history. What gave rise to this one?
Lauron William de Laurence was an American author and publisher on occult and spiritual topics. He was born in 1868 in Cleveland, Ohio. His publishing company (de Laurence, Scott & Co.), which was also a spiritual supply mail order house, was located in Chicago, Illinois. Mr. de Laurence was a pioneer in the business of supplying magical and occult goods by mail order, and his distribution of public domain books had a great and lasting effect on the African American urban hoodoo community in the southern United States as well as on the development of Obeah in Jamaica.
The facts having been established as to his penchant for the "Black Arts", were his publications a threat to society, unlike the light hearted and humorous caricature of Obeah portrayed in the lyrics of the song made famous by The Mighty Sparrow?
If a law exists, then are there accounts from history that could justify it? Were crimes committed due to the influence of Obeah with the support of people like de Laurence? Were there mass murders, or gruesome beheadings, or wanton destruction of property? Was it passed in the 1960s, 1970s, 1980s or in the 1990s? Such a law does exist, but it was passed much earlier than most might imagine.
The following is a publication of the Jamaican Customs Agency:
"Prohibited items are absolutely forbidden from entering Jamaica, some of which include:
All publications of de Laurence Scott and Company of Chicago in the United States of America relating to divination, magic, cultism or supernatural arts.
All publications of the Red Star Publishing Company of Chicago in the United States of America relating to divination, magic, cultism or supernatural arts."
The list of prohibited items is based, in part, on the 1898 Obeah Law of Jamaica. It was not instituted to grapple with the exigencies of modern Jamaica but fashioned out of concerns that the British Colonial government had about its possible effects on society back then. To my mind the implementation of it seemed strange, given the vast and formidable political, economic and military might of the British Empire. What was it about such beliefs and practices that the musket, cannon and sword could not subdue?
The 1898 Obeah Law, which evolved out of legislation dating to as far back as 1760, part of a sweepingly repressive act passed in the aftermath of Tacky's Rebellion in Jamaica — the largest uprising of enslaved people in the 18th-century British-colonised Caribbean — is outlined, in brief, as follows:
"'Obeah' shall be deemed to be of one and the same meaning as Myalism;'
'A person practising Obeah' means any person who, to effect any fraudulent or unlawful purpose, or for gain, or for the purpose of frightening any person, uses, or pretends to use any occult means, or pretends to possess any supernatural power or knowledge: and 'Instrument of Obeah' means any thing used, or intended to be used by a person, and pretended by such person to be possessed of any occult or supernatural power."
The punishment prescribed for those involved in the practice makes for interesting reading. In retrospect, I now view the theft of the book which I had in my possession as, perhaps, an act of divine mercy. It might well be that my name was spread abroad by the thief that I am a "Black Arts" man, masquerading as a devout Christian. That is, unless, he or she who stole the book did so in the hope of practising Obeah as espoused by de Laurence. Certain sections of the law with respect to its punitive measures are outlined as follows:
"Every person practising Obeah shall be liable to imprisonment, with or without hard labour, for a period not exceeding twelve months, and in addition thereto, or in lieu thereof, to whipping….
Whoever, for any fraudulent or unlawful purpose, consults any person practising Obeah shall be liable to imprisonment, with or without hard labour for a period not exceeding six months; and, in addition thereto, or in lieu thereof, to whipping….
Whoever, for the purpose of effecting any object, or of bringing about any event, by the use of occult means or supernatural power or knowledge, consults any person practising Obeah and agrees to reward the person so consulted for such consultation, shall be liable to a fine not exceeding Fifty Pounds, or to imprisonment, with or without hard labour, for a period not exceeding twelve months.
Whenever it is made to appear upon oath that there is reasonable cause to suspect that any person is in possession of any instrument of Obeah, it shall be lawful for any Justice of the Peace by warrant to authorize any officer of constabulary, constable, or rural policeman to enter and search any place, either in the day or in the night, and if any instrument of Obeah is found in any place so searched, to seize and bring it before him to be secured for the purpose of being produced in evidence in any proceeding before any Court of Justice in which it may be required….
Whenever upon any such aforesaid, any instrument of Obeah is found, the person in whose possession it is found shall be deemed, unless and until the contrary is proved, to be a person practising Obeah within the meaning of this Law, at the time at which the instrument of Obeah was so found….
It shall be lawful for any Officer or Constabulary, constable, or rural policeman to arrest without warrant any person practising Obeah."
Regardless of how one feels about this law and its relevance to a modern democratic, multi-cultural, multi-religious, pluralistic society one cannot escape the fact that its original intent was to suppress slave uprisings. Despite any religious or moral position one might have in respect to Obeah or to similar beliefs and practices which did not emerge from a European ethos, that which gave rise to it is fair game in any discussion which involves Jamaica effecting a complete break with her colonial past.
If Obeah, which is deemed by many to be of demonic origin, should be evaluated on that basis, and also on what the British back in the day saw in it as a threat to the status quo, then what of the history of the Church of England in Jamaica and its sordid involvement in slavery, out of avarice and lust for political power?
Professor Diana Paton, a British historian and academic, specializing in the history of the Caribbean, in an article published in July 2019, titled: "The Racist History of Jamaica's Obeah Laws", pointed out that the month before its publication, Jamaica's Minister of Justice, Mr. Delroy Chuck, suggested that the Government might repeal the 1898 Obeah Act.
Professor Paton stated that the backlash to the minister's announcement was swift. "Many Jamaicans," she wrote, "vocally stated their opposition to repeal, on the grounds that obeah is evil. Chuck qualified his statement, and Prime Minister Andrew Holness announced that his Government would 'not be distracted' by discussions of obeah. Still, the debate has disturbed assumptions that the illegality of obeah is a settled question. The divisions within Jamaica about the status of the law stem from the double meaning of the term. In everyday use, obeah names hostile spiritual practices that many Jamaicans fear. Yet the wording of the law and its historical use by the judicial system targets a much wider range of activities. Obeah was initially criminalised to protect slavery against uprisings; the current law was made to symbolise Jamaica's hostility to its African connections and to suppress poor people's religion."
Until the 1950s Jamaicans were regularly prosecuted under the Obeah Act for all kinds of religious rituals. In the early part of the 20th century balm healers, Revivalists, Garveyites, and people who later joined with Leonard Howell to form Rastafari were all prosecuted as people involved with Obeah, even though many of them were resolutely hostile to Obeah. A few cases involved people trying to harm others, and some, especially in Kingston, involved efforts to defraud people. The vast majority did not. Police constables, in disguise, reported stories of people and Obeah consultations connected to ill health, problems concerning love, employment, and business and not about efforts to harm their enemies. And so, in light of such findings, why is the 1898 law still on the books?
Can there be meaningful discourse about Jamaica becoming a republic, throwing off the shackles of psychological and cultural chains which had her bound for centuries, without addressing this matter as the Prime Minister seems hesitant to do? Had I been found in possession with The Master Key and arrested, how just would my incarceration and punishment have been due to an old law, a throwback to our long, oppressive colonial past, one I had no knowledge of until recently? This was never taught in my civics and history classes when I was in school. Whenever there were "Crime Stoppers" advertisements I never heard of rewards offered for the capture of individuals involved in "Obeah" or "de Laurence"!
Are we, to paraphrase the lyrics from The Mighty Sparrow's song, making ourselves a papee-show, making ourselves out to be bloody clowns?