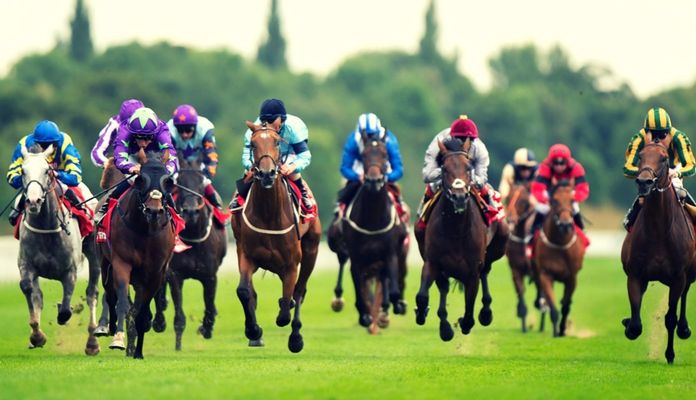 So Queen Elizabeth II described 1992 as an "annus horribilis".
What was her problem? She had some family issues that included three divorces among her children and their arranged-by-Royal-Decree spouses. Oh, and there was a fire at one of her many castles. Well, boo hoo. Now that we know what a real annus horribilis looks like we can be grateful it's finally winding down with hope (spelled V.A.C.C.I.N.E.) on the horizon and make wish lists for 2021.
I see (and hear) the Promoter's one-man clamour for the abolition of all import-related taxes on the importation of race horses. Stakeholders have been lobbying for this for too many years to expect sensible government — an oxymoron if ever there was one — to suddenly appear and implement that absolute necessity.
But, even if it did, that wouldn't be enough. Horse racing needs regular and sufficient infusion of new stock. Due to years of decline this has reached a level of crisis that can't be resolved by importation alone. So Government needs to open its mind; think clearly and futuristically; and provide incentives for local breeders that will help them to increase production. Then, insofar as is possible without subverting free-market principles, Government must disincentivize the export of locally bred horses. I've previously suggested a 25% tax on the export of thoroughbred horses from Jamaica. I do so again. More imports and fewer exports will cause a double-swing in favour of available entries for racing at Caymanas Park.
So no more import-related taxes is also an item on my 2021 wish list. But top of my list is for the Promoter to invest in the construction of a turf track and the conversion of the existing dirt track to a synthetic surface (ideally Polytrack or Tapeta). Adding a turf track would relieve the monotony of our American-style anti-clockwise oval dirt racing that further reduces competitiveness. The depth of our "dirt" surface also adds stress to joints that results in more frequent down time through injury; fewer entries; and uncompetitive racing. Turf and synthetic surfaces are notoriously easier on the legs than dirt.
There are vast under-utilized areas available for the creation of an inner turf track. So, SVREL, instead of relying solely on crying into the deaf ears of greedy Government, why not try some self-help strategies including building a turf track?
My 2021 wish list includes the long overdue introduction of secure, attractive online betting opportunities. Online wagering is already the main earner in the rest of the world. Betting into a Tote Monopoly, whether live or virtually, isn't appealing to the modern punter. Online wagering should include alternative bookmaker-created odds as an option to betting into the Tote; sports wagering and the ability to perm bets among horse-racing, sports and other punting opportunities including lotteries and even politics.
C'Mon, SVL/SVREL, wake up and smell the 21st century! Your gambling monopoly is ending. It's time to become creative and customer-friendly or die.
Finally, you know I'm going to return to lower Tote takeouts. I see the Promoter has been dipping its toe into the water in this regard with success as Exacta takeouts have been lowered. It's time to do a full triple somersault and double twist from the ten metres diving platform. Reduce win/place takeouts to 20% and exotics to 25%.
There's more. Introduce show betting. When purchasing a new Tote system (not just a new Tote Board) ensure it can sell accumulator bets (what Americans call "parlays"). Introduce ante-post betting on the classics by opening the Tote for two to three weeks on January 4 offering bets on 15 of the best two-year-olds to race in 2020 and "any other" as #16. Odds at the close of the Tote (say, January 15) would be permanent and non-runners losing bets. Open the Tote again in early March (especially for the Derby). Step outside of the box. Don't plan for Government to be of any help. To borrow from Tom Jones, Help Yourself!
DEPARTMENTS:
Clocked-In
Abbreviations: CT = "Corrected Time"; TV = "Track Variant" (a calculation of track conditions' effect on official times to arrive at "real/corrected" times); TVs are expressed in fifths of a second; "minus" (-) means a fast track; "plus" (+) a slow track (e.g. -2 is fast by 2/5th second). Variants beside horse's names represent the difference between its official time and the grade standard.
DECEMBER 6, 2020 [TV-0.5 per 200m (round) +2 (straight)]
Papa Albert (-8) produced one of his better efforts these days (Race 10; $250,000 claimers; 1200m; TV-3) beating another decent yardstick and old timer Musketoon (trip sharp for him) by 5¾ lengths in 1:16.1! His CT of 1:16.4 is 3/5th second faster than the standard for $350,000 claimers so, if he stays sound, he can win again.
DECEMBER 12, 2020 [TV-0.5 per 200m (round) -1 (800m straight)]
Mahogany (-11) produced a scintillating performance dropped to 1,300m in Open Allowance company. His winning time of 1:16.1 converts to a CT of 1:16.4 or 1 1/5th second faster than Grade 1 standard. He should take all the beating in any sprint in Jamaica.
Secret Traveller (-12) was dropped several grades as a feature of the late season Trainers' Championship duel (Race 9; $450,000 claimers; 1,300m; TV-3) and duly won by 10 lengths. But he was also impressive on the clock (1:19.3) and his CT of 1:20.1 is 1 2/5th second faster than the standard for $550,000 claimers. He'll be competitive at a $650,000 tag (standard 1:20.1)
Nuclear Noon (-10) is a classy two-year-old sprinter; easily made all on third attempt (Race 7; 2yomsw; 1,000m round; TV-2'); and won by 6¾ lengths in 0.59.1! His CT 0.59.3' is 9/10th second faster than 3yonw3 and just 1/10th second slower than Overnight Allowance. He's a sprinter to follow!
Overseas Betting Opportunities (OBOs)
Last time we were together I put up two for Aintree's December meeting but both were non-runners. This only emphasizes the difficulties presented by Public Opinion's early deadline. Still, we soldier on.
Christmas traditionally features three exciting and classy races starting with the Grade 1 King George VI Chase run on Boxing Day over 3 miles around Kempton's very quick right-handed oval. Post time is 1500GMT or 10:00 a.m. Jamaica Time. Last year's first and second (Clan des Obeaux and Cyrname respectively) renew rivalry this time as joint favourites. Last year, Cyrname was the big favourite but blundered (not for the first time at Kempton) and seemed uncomfortable right-handed. He was beaten 21 lengths in the end. Since then, he fell at Ascot (right-handed) in February as the 4/11 favourite but returned with a bang at Wetherby (left-handed) on October 31.
Clan des Obeaux, laid out for this by iconic trainer Paul Nicholls, is a confident pick to score his third successive win in this prestigious race.
Then on December 27, the handicappers are featured in a popular marathon for the Grade 3 Welsh Grand National at Chepstow over 3 miles 6 furlongs (1450GMT; 9:50 a.m Jamaica Time). This usually turns out to be a gruelling slog in very soft ground and, climate change willing, it could be so again. In what is always a tough one to call, I like the chances of David Pipe's Ramses de Teillee who revels in the mud; has the necessary class; and proved his ability for this stiff test by beating highly fancied Yala Enki (another Paul Nicholls inmate who re-opposes) by a head at Cheltenham in November on soft ground over 3½ miles. Those two could provide readers with profitable returns from a Reverse Forecast ("Exacta Box" in USA) bet.
Finally, the Grade 1 Leopardstown Christmas Hurdle is scheduled for December 28 (1350GMT; 8:50 a.m Jamaica Time) at 3 miles around that flat, galloping Irish track. This should suit trail-blazing front-runner Fury Road perfectly and he's tipped to close your each-way Christmas treble.
It's time for another Notebook Horse for the Cheltenham Festival portfolio:
Santini [8 b.g. Milan-Tinagoodnight (Sleeping Car)]: Now what kind of Cheltenham Festival portfoliowould we have without one for the Gold Cup? Santini was a most unlucky loser of last year's renewal as my confident selection (neck 2nd to Al Boum Photo after having to switch right for room between the last two fences and producing a storming finish on the run-in). I confidently expect Cheltenham Master Trainer Nicky Henderson to have his revenge come March 19.
Have a happy Christmas and a safe, prosperous and healthy New Year.
Good Luck!