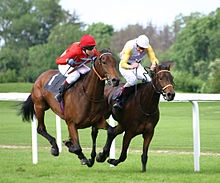 The track is agog regarding an alleged battery finding last Saturday.
The horse was withdrawn and Allen, the jockey, sidelined pending investigation. But, on Monday, before any "investigation" could commence, Racing Commission Chairman Clovis Metcalfe was quoted in The Gleaner:
"We asked him why he had it and he said it was to assist the horse so that the horse can hold up his head and run better, so he was seeking an unfair advantage,"
Good God Almighty! Whatever happened to due process? He continued:
"We subsequently disqualified Jon Marshall from the race and this was the same horse that we also caught a jockey on with a battery last year."
The embarrassment didn't end there. The Gleaner report continued:
"Apprentice Jawani Forbes was the jockey Metcalfe made reference to being caught last year… He was given a two-year ban and fined $250,000…
Metcalfe said Allen's actions seem much more deliberate so he's facing a much harsher punishment from the JRC.
'The last punishment for an offence like this was two-years and $250,000 fine, but this one looks more blatant and it could carry him well over two years'."
Well, that's that. No evidence, investigations or explanations needed. Off with his head! Sigh.
For some reason, this "report" had me thinking of race-day medication, which is a far more dangerous practice that Jamaican regulators — mesmerized by American horse racing policies channeling Sparrow's Capitalism Gone Mad to the detriment of the breed — have permitted.
The effect on a horse's performance by batteries is grossly exaggerated. It's mostly psychological (in the jockey's head). Far more harm comes from overuse of the whip which local regulators routinely ignore. And race-day medication!
Lasix and Bute have been administered to 99% of American horses on race-day for over 40 years. The UK refused to follow suit, insisting that the sports' long-term interests are damaged by race-day medication.
In a column written for another publication about 15 years ago, I wrote:
"The most popular race-day medication used is lasix (for bleeding, right?) And butazolidin (bute) for joint pain.
But, apart from making the job of a trainer easier and pumping up a promoter's starters per race statistic, is race-day medication necessary or even useful? Let's start with Lasix, that wonder drug that's supposed to be used to stop bleeding. It's time to lose the smoke and mirrors and speak some immortal truths. To begin with, 100% of horses 'bleed' while galloping from the tiny alveoli and capillaries surrounding the lungs. That particular phenomenon is called Exercise Induced Pulmonary Haemorrhage (EIPH). This is because these blood vessels come under a hammering during exercise due to the striking of the diaphragm from behind by an out of sync intestine (swinging like a pendulum in a sac of ligaments during fast gallops) and the contraction of the diaphragm (so the horse can exhale) when the horse lifts its front feet off the ground. These tiny blood vessels, especially those surrounding the tapering end of the lungs, are literally crushed by the impact with the diaphragm and the intestine resulting in bleeding.
However, only 5% of horses bleed so badly that it's visible with the naked eye and all bleeding incidents cure themselves with a couple of days of the occurrence without the need for any medication. Lasix doesn't cure bleeding. It's said to prevent it by reducing the blood pressure and by acting as a powerful diuretic thus reducing the fluid in the body generally. But the sequelae of Lasiz, in my opinion, gives the treated horse an unfair advantage for three reasons.
Firstly, any athlete will tell you that, if you can reduce your heart rate (blood pressure) your performance will be enhanced. Secondly, the large amount of fluid usually excreted as a result of the lasix treatment can wash away traces of any other prohibitive substance used as well as cause the horse to carry less weight that it would otherwise have carried in the race.
All trainers know lasix isn't applied on a race-day purely to stop bleeding and that's why any trainer worth his salt knows that, in order to get his horse on lasix, he need only order a strong five furlong gallop followed by a scoping by the vet. The bronchoscope will find traces of blood in back of the lungs and, voila, the horse is termed a "bleeder" and goes on the lasix list. Thereafter, lasix masks all sorts of evils until the horse reaches the breeding shed when those evils are passed on to the next generation.
Bute is worse as it masks pain so no-one knows that a horse is in serious trouble until it breaks down….."
In my opinion, the steady decline in the quality of our racing product and the contraction of our breeding industry can be traced directly to the unquestioning importation of the American practice of permitting race-day medication and the commercially captive importation of American stallions and broodmares. But, even in USA, the conversation is changing. The following excerpt comes from USA Today (April 30, 2019):
"The deaths of 23 horses over three months at Santa Anita in California have roiled the racing industry and prompted abrupt changes in race-day medication rules that would alter the Triple Crown series beginning in 2021.
With interest among the general public at its highest… the sport — and the drug lasix — is under intense scrutiny….
The high number of deaths at Santa Anita has stoked palpable fear in California about the possibility of a statewide ballot initiative in 2020 asking voters whether horseracing should continue. It would require about 620,000 signatures to get on the ballot.
Investigators from the racing board are working with those assigned by the Los Angeles County District Attorney's Office to try to figure out the cause of the fatalities… Most of the necropsies involving the dead horses have been completed, although results have yet to be made public.
Lasix has become a central issue in reform discussions. Though it hasn't been linked to any horse deaths, lasix is the only medication allowed on race day… It's given… about four hours before a race to help prevent pulmonary bleeding. Lasix also works as a diuretic that causes horses to urinate and lose 20 to 30 pounds of fluid, which can increase their ability to run faster.
Whether the discussions about race-day medication and use of whips are just kneejerk reactions to placate critics or represent meaningful change in the sport is an ongoing debate within the U.S. racing industry."
Those of us with ears to hear…
DEPARTMENTS:
Clocked-In
Our regular review of local performances based on REAL times makes a welcome return.
Abbreviations: CT = "Corrected Time"; TV = "Track Variant" (a calculation of the effect of track conditions on official times to arrive at "real" or "corrected" times); TVs are in fifths of a second; "minus" means a fast track; "plus" a slow track (e.g. -2 means fast by 2/5th of a second). Variants beside horse's names represent the difference between its official time and the grade standard.
Last time we met I advised DOOM PATROL's effort on July 18 was "2/5th second faster than 5yonw2" but that "he obviously has more in the tank if kept sound." As expected, he romped a nw2 on August 16.
What have we for you today?
AUGUST 6, 2020 [TV-0.7 per 200m (Round)]
PUSKAS (-9) clocked 1:13.1 (Race 8; 3yo maiden condition; 1200m; TV-4) beating promising Big Big Daddy by 6½ lengths. His CT (1:14.0) is 2/5th second faster than nw2. He's open to improvement so should win again.
AUGUST 8, 2020 [TV-0.4 per 200m (Round) +2 (800m) +3 (1000m) straight]
GLOCK (-10) finally confirmed early promise (Race 9; 3yonw2; 1000m (Round); TV-2) quickening away from a strong field by 6 lengths in 0:59.0! Her CT of 0:59.2 (already 1/5th second faster than Overnight Allowance standard) suggests she could be a Grade One filly in time.
AUGUST 15, 2020 [TV-0 (First 5) -0.3 per 200m (wet, rest) -6 (400m str]
They finished in a heap but Race 7 (3/4yonw4/Imp 3yo+nw3; 1600m; TV-3) is a KEY RACE! Punters must apply the caveat that it was run on a wet track.
EROY/NIPSTER/GREENGOLD RUSH/DOUBLE CROWN (-7) were separated by less than a length. The winning time (1:39.3) converts to between 1.40.0/1:40.1 at least 4/5th second faster than nw3 for which all are eligible. The problem is all are likely to be tried highly. The two seemingly best suited to further are Green Gold Rush and Double Crown.
Overseas Betting Opportunities (OBOs)
Not much on the UK racing calendar this weekend but last issue's selection DUBAI FOUNTAIN (at 5/2, finished one length 2nd to a 66/1 outsider0 returns for the Group 2 Debutante Stakes (Curragh; 7f; yielding; 1545GMT) and can be expected to recoup losses.
Last issue's Notebook Horse Meraas, entered in the Ayr Gold Cup (September 19), is perfectly suited by that race likely to be run on soft. Don't forget him!
Good Luck!