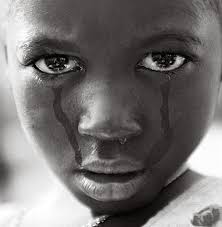 Never let a good crisis go to waste, is a popular maxim credited to Churchill which contains a great deal of relevance to our present situation in Jamaica as we are about to allow the opportunity presented by the COVID 19 pandemic to go to waste.
The purpose of this article is to encourage our leaders to use the opportunity that COVID 19 presents to publicly recognize our past errors caused by wrong policies being implemented many of which were for self-interest of maintaining political or other office or simply not being conceptualized with the rigor that is required to be implemented. Having publicly recognized that errors have been made we need to change course in order to ultimately achieve Vision 2030 where Jamaica becomes the place of choice to live, work, raise families and do business1. The present policies will not achieve this vision with only a decade to go.
Commencing in 1962 our forefathers who fought for Independence gave us a legacy of US$464 each. This is referred to as the Per Capita Income. This amount given to us was comparable to what each person in Singapore got and marginally greater than what was given to the people of South Korea, Barbados, St Kitts and Nevis but slightly less than what the nationals got in Trinidad and Tobago and Bahamas. Please see the chart below.
These 6 other countries were selected to reflect a wide range of cultural practices, geographical locations and political styles.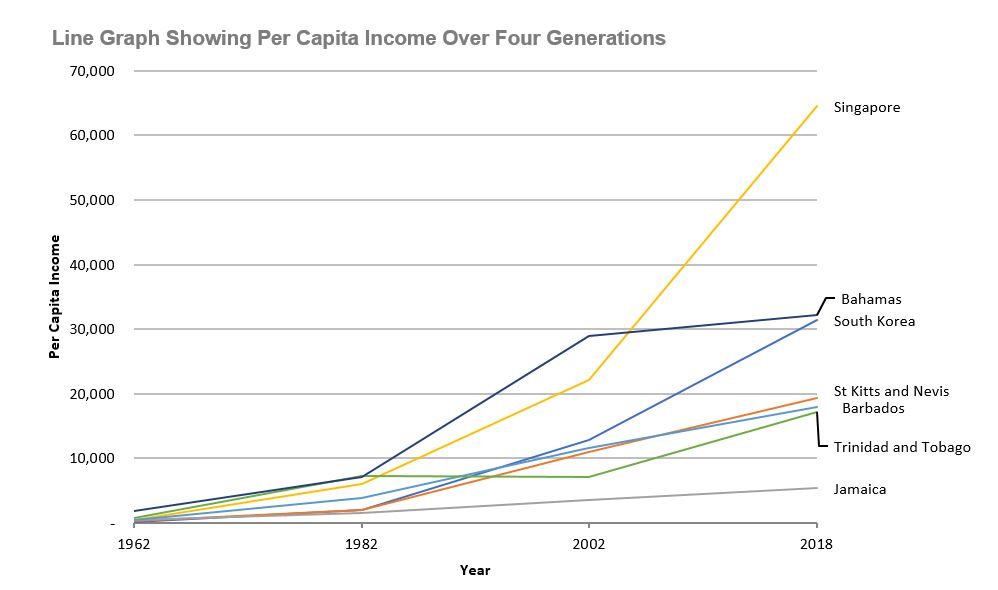 As reflected above we in Jamaica, in 2018, had only been able to convert our 1962 legacy to a Per Capita of US$5,354 when compared to Singapore's US$65,000, Bahamas' US$32,000, South Korea's US$31,000, St Kitts and Nevis' US$19,000, Barbados' US$18,000 and Trinidad and Tobago's US$17,000.
What the chart shows is that during the 3 generations that followed our Independence, of the 7 countries that started with comparable legacies only Jamaica has fallen asleep. There is no other polite way of expressing the performance of our successive governments other than dismal.
What has caused a nation that has produced the best athletes, musicians and sought after professionals and other workers to only convert our legacies to US$5,354 when others far outpace us in terms of performance? There are many reasons proffered for our dismal performance but I will try to summarize, in my opinion, the top 3 reasons.
I am cognizant that there are many doubtful Thomases who will be auguring that we are culturally different from Singapore and South Korea however they will be hard pressed to find an excuse for the poor showing when compared to the performance of the Bahamas, St Kitts and Nevis, Barbados and Trinidad and Tobago apart from their size which, in my view, cannot legitimately be a reason.
Let's briefly look at my top 3 reasons that have led us along this path.
The introduction and proliferation of garrison constituencies. Irrespective of the origin of these inhumane settlements the concept has been embraced and relied on to win elections by both political parties. These communities have contributed vastly to the extremely high murder rate in our society which is approximately 50 persons per 100,000 persons whereas in the UK it's close to 1 and the USA 5. It cannot be beyond our imagination and collective agreement to move our rate closer to international norms which would save over 1,300 Jamaican lives each year.
The impact the reduction in murder rate would have on the level of investments and employment in the economy would be spectacular. All Inclusive hotels grew in Jamaica on the notion of shielding our tourist from the criminal elements. Imagine if most of our hospitality sector was based on the European Plan concept where tourist are able to wine and dine freely outside the enclave of the hotels as they do in the rest of the Caribbean! The impact on our economic fortunes would be transformative as more of the tourist spend would circulate in the local economy allowing more persons to share in the economic spoils.
The second reason for our dismal performance is ineffective leadership. We have allowed past leaders to indulge in frolics that were self-serving and damaging. Recall the 5 flights a day to the USA and how many productive souls we lost in that craze? Further, leaders have continuously dismantled the Civil Service to place political operatives who between them have no idea of free market mechanisms and geo political trends and have bastardised these institutions to achieve their end game. There is no better example of what ineffective leadership can do to a country than Venezuela; in our case ineffective leadership has left us the poorest English speaking Caribbean country just like Venezuela is the poorest in South America. We need urgently to strengthen our civil service making it a highly paid, intelligence driven sought after job organization void of political cronies.
The third reason is inappropriate policies. Let's look at 2 policies that have had catastrophic consequences. In 1974 the Bauxite Levy was introduced to collect funds from companies operating in that industry. During its life we collected US$4bn. Unfortunately for Jamaicans we have squandered the funds on various recurrent expenditure including free education2. Had these taxes been placed in a fund, similar to what Norway has done and what Guyana is about to do with its new found oil wealth we would be earning for the country US$200,000,000 (J$28b) each year assuming a 5% return which is enough to finance 3 Ministries, ( Justice; Industry, Commerce, Agriculture and Fisheries and Labour.) The levy was misused2 and as a consequence we have nothing to show. The current generation has been deprived of the direct benefits which has been made worse as a high percentage of Jamaicans that it was used to educate migrated in mass to the USA and Canada. The misuse of funds can also be seen in Petro Caribe but that is another story.
Equally catastrophic were the policies of the 1990s resulting in high interest rates that caused the collapse of the financial sector. The financial cost of the bailout, estimated to be $140bn or US$4bn, has been a noose around the country's neck in terms of debt servicing which has stifled our economic development by crowding out the private sector from capital for much of the years from 1996. The net effect of these policies, the criminalization of the private sector leaders and mass migration of captains of industry and the professional class since the late 1990's have taken an immeasurable toll on the economy.
These are significant errors and space does not permit me to catalogue scores of others. These errors, wrongs, whether deliberate or not, need to be formally acknowledged stating the calamitous effect on the country. Further, in the formal acknowledgement an apology is necessary so that we can move forward knowing the economic and social damage that can happen when political corruption takes root in a system, and to ensure policies have the desired outcome of achieving vision 2030.
I for one offer my unreserved apology to the now generation burdened with the financial cost of past mistakes and the fact that we allowed it to happen.
1 Government of Jamaica Vision 2030.
2 Carlton Davis 14th May 2014 Gleaner.